Battle For Control Of Congress Remains Relatively Stable, And Good For Democrats
The Generic Congressional Ballot has tightened in some recent polls, but on average the battle for control of Congress continues to favor Democrats.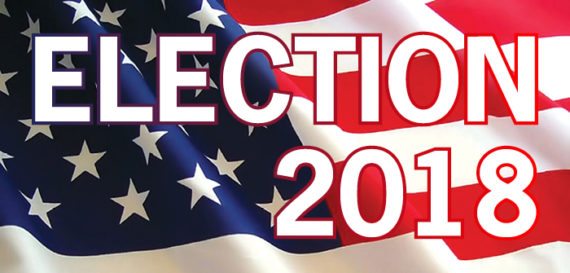 A new poll from CNN/SSRS finds that the Democratic Party's lead in the Generic Congressional Ballot has shrunk from the sixteen point margin the poll showed in February to just three points this month, but other polling continues to show that the race for control stands in relatively the same place it has been for the past several months:
The generic congressional ballot has continued to tighten, according to a new CNN poll conducted by SSRS, with the Democrats' edge over Republicans within the poll's margin of sampling error for the first time this cycle.

About six months out from Election Day, 47% of registered voters say they back the Democratic candidate in their district, 44% back the Republican.

Voters also are divided almost evenly over whether the country would be better off with the Democrats in control of Congress (31%) or with the GOP in charge (30%). A sizable 34% — including nearly half of independent voters (48%) — say it doesn't matter which party controls Congress.

The Democrats' advantage in the generic ballot dipped from 16 points in February to six points in March to just three points now. The party's advantage has waned among enthusiastic voters as Republican enthusiasm has grown (in March, 36% of Republican and Republican-leaning registered voters said they were very enthusiastic about voting; that's up to 44% in the new poll), but the Democrats still have a double-digit lead among those most excited to vote this fall (53% of those who are very enthusiastic about voting say they'd back the Democrat in their district vs. 41% who say they favor the GOP candidate). Those enthusiastic voters also say by a 10-point margin that the nation would be better off with Democrats in control of Congress than Republicans.

By 48% to 43%, registered voters say they would rather back a candidate who opposes Donald Trump than one who supports the President. That margin has narrowed from the 52% who opposed Trump to the 41% who supported him in January.

The results come from the same poll this week that found nearly six in 10 saying that things in the country are going well amid improving approval ratings for the President's handling of major issues, including the economy, immigration and foreign trade. Trump's overall approval rating, however, held steady at 41%.

About two-thirds of voters (64%) say they consider Trump to be extremely or very important to their vote for Congress this year. Among enthusiastic voters, he's an even larger factor: 78% consider Trump important to their vote this fall.

On more traditional issue priorities, voters are now more apt to say the nation's economy will be an important factor in their vote than they were in February (84% call it extremely or very important now, up from 79% in February), with immigration (from 72% important to 76% now) and taxes (from 67% important to 73% now) are also on the rise. At the same time, health care has dipped somewhat as a priority (from 83% important to 80%, with the most meaningful shift coming in the share who call it "extremely important," which dipped from 53% in February to 46% now), along with sexual harassment (from 64% to 58%) and the Russia investigation (from 45% important in February to 40% now).

Gun policy, an issue that spiked in salience for voters following the school shooting in Parkland, Florida, in mid-February, has remained a top issue, with 76% calling it extremely or very important to their vote this fall, about the same as the 78% who said so then. The gap between Democrats and Republicans on this issue has narrowed, though. In February, Democrats were significantly more likely than Republicans to consider the issue important (87% to 72%) and now there is no meaningful difference between the two parties in the share who consider the issue important (79% of Democrats and 76% of Republicans call it important).

Partisan shifts are driving other changes in issue priorities as well. Republicans are increasingly likely to consider immigration important (80% now vs. 70% in February) while Democrats are turning away from the issue (78% important now vs. 83% in February). The shift on taxes is more due to an increase in salience among Republicans (+13 in importance to 83%) than Democrats (+6 to 72% important), and the softening on sexual harassment stems more from GOP dropoff (from 48% important then to 38% now) than any fade in Democratic attention to the issue (80% rated it important in both polls).

Majorities of voters on both sides of the aisle say they want their parties to nominate candidates who share their positions on major issues more than wanting candidates who can beat their counterparts on the other side. Republicans and Republican-leaning voters are more apt to feel this way, 76% prefer candidates who share their views vs. 67% among Democrats and Democratic-leaning voters. Perhaps surprisingly, the most enthusiastic voters on each side are a bit less wedded to issue purity: 61% of Democrats who are very enthusiastic about voting say they want candidates who agree with their views, and on the GOP side, that figure stands at 70%.
This poll was released one day before a poll from Reuters/IPSOS that shows the Democratic advantage down to a single point. However, it's possible that both of these polls could be outliers. Another poll conducted over the same time period by The Economist and YouGov. for example, showed Democrats with a nine-point advantage. Earlier polling also shows a wider Democratic margin than what we're seeing from these two recent polls, including a Pew Research poll that gives Democrats a five-point advantage, a Monmouth poll that gives Democrats an eight-point advantage, a Harvard-Harris poll that gives them a nine-point advantage, and a Quinnipiac poll that gives Democrats a nine-point advantage. Taken together, these seven polls were conducted over a period beginning on April 20th and May 8th.
Looking at the polling average, we find that the Generic Ballot remains at about the same level. RealClearPolitics, for example, shows 45.4% of voters saying that they would vote for a Democratic candidate and 39.3% saying they'd vote for Republicans, giving Democrats a 6.1 point advantage on average. This compares with a 9.6 point advantage in February, a 5.8 point advantage in March, and a 5.5 point advantage in April. The Pollster average, meanwhile, shows Democrats getting an average of 45.0% and Republicans a 38.0,%, which of course translates to a 7.0 point advantage for Democrats. In February, this average showed Democrats with a 10.0 point advantage, in March that lead had shrunk to a 5.8 point advantage, and in April they had a 6.9 point advantage. Finally, the FiveThirtyEight average shows that 46.7% of respondents saying they'd vote for a Democrat and 40.5% saying they'd vote for a Republican for a Democratic advantage of 6.2 points. In February, this average gave Democrats a 10.0 point advantage, in March it was down to 5.7 points, and last month it stood at 6.9 points. In other words, while the Democratic advantage has shrunk from the double-digit leads we saw at the end of last month and the early months of 2018 it has remained relatively stable since then and still stands at a level that suggests Democrats making gains in November, this shows up most prominently in the RealClearPolitics chart: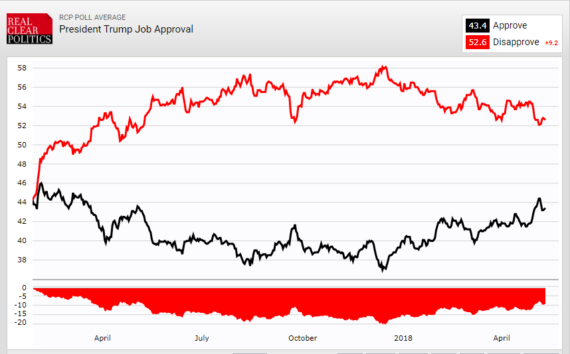 Looking at other polling indicators, the numbers continue to look favorable for Democrats although they have tightened somewhat over the past several weeks. With respect to President Trump's Job Approval, for example, RealClearPolitics showed an average of 43.4% of Americans approving of the job the President is doing while 52.6% disapproving, for a gap of -9.2 points. In February that gap stood at -13.0 points, by March that gap had narrowed to -11.2 points, and in April it stood at -11.6 points. In the Pollster average, Trump stands at 43.1% and his disapproval stands at 51.4% for a gap of -8.3 points. In February, that gap stood at -9.5 points, in March it was at -9.6 points, and in April it stood at -10.5 points. Looking deeper into the Pollster numbers, Democrats remain overwhelmingly negative on the President, Republicans remain overwhelmingly positive, and among independents, we see that 37.0% approve of the job the President is doing while 50.4% disapprove, for a gap of -13.4 points. In February, that gap stood at -11.5 points, in March it stood at -20.8 points, and in April it was at -22.3 points. Finally, the FiveThirtyEight Average shows 42.0% approving of the job the President is doing and 52.0% disapproving. In February, that gap stood at -16.8 points, in March it was at -12.7 points, and in April it stood at -13,2 points. In other words, while the President has seen some improvement in his job approval numbers over the past three months, on average the numbers remain relatively stable and, as has been the case since last year, at historic lows for a newly elected President as the RCP chart shows: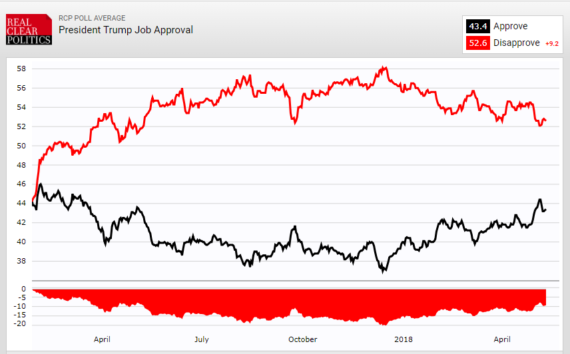 All of this continues to suggest that the picture looks relatively good for Democrats as November gets closer. While some individual polls have shown the gap between the two parties shrinking to within the margin of error, the poll averages continue to show a Democratic advantage that ought to be concerning for Republicans. In reality, though, it's still far too early to jump to any conclusions about what might actually happen in November, especially given the fact that there's much that could happen between now and November both domestically and internationally that could have an impact on the November races. It's also worth noting that, at this point in 2010, the Generic Congressional Ballot stood at roughly the same place it does know with the difference that it was Republicans that had the advantage rather than the Democrats. In the end, of course, Republicans ended up winning control of the House of Representatives that year and making significant gains in the Senate. At that point the pre-election Generic Ballot was giving Republicans a 9.4 point advantage. Additionally, as Scott Trende of RealClearPolitics noted on Twitter, the gains we've seen Republicans make since February aren't really that impressive:
Call me when the D edge in the RCP Average for the generic ballot goes below 5.

— Sean T at RCP (@SeanTrende) May 10, 2018
Even if Democrats don't gain Senate seats, it is still a rough outcome for Rs medium-term. Rs have four obviously vulnerable Senate seats in 2020, and six in 2022. By my, count, Democrats have two.

— Sean T at RCP (@SeanTrende) May 10, 2018
In other words, things continue to look good for Democrats.