Democrats Need A Big Wave To Take Back The House. They Might Not Get It.
If the polls are any indication, Democrats may fall short in their bid to take back the House in November.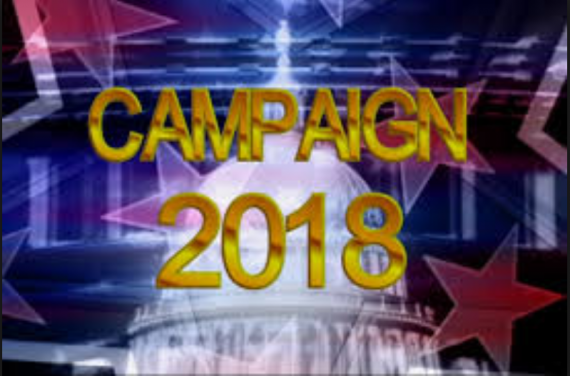 A new report indicates that Democrats would need a wave unlike anything we've seen in politics in four decades in order to take back control of the House of Representatives in the upcoming midterm election:
A report released Monday suggests Democrats might have to temper their enthusiasm about climbing back to power during this year's midterm elections.

To win a majority in the U.S. House of Representatives, Democrats would need a tremendous electoral wave not seen in more than 40 years to overcome Republican advantages from gerrymandered districts in key states, according to an analysis from the Brennan Center for Justice.

The report projects that Democrats would need to win the national popular vote for congressional districts by a nearly 11 percentage point margin over Republicans to gain more than the roughly two dozen seats they need to flip control of the Republican-led chamber.

That would take more than the typical Democratic wave that history suggests would occur for the party out of power during a midterm election.

"It would be the equivalent of a tsunami," said Michael Li, a senior counsel who heads up redistricting work for the center, which is based at New York University School of Law. "Democrats would have to win larger than any sort of recent midterm wave — almost double what they got in 2006 — in order to win a narrow majority."

The Brennan Center opposes what it calls "extreme gerrymandering" in which political parties draw legislative districts that virtually ensure they will hold on to power.

The center has filed a court brief in a case to be heard Wednesday by the U.S. Supreme Court supporting a lawsuit by Republicans alleging that Maryland's former Democratic governor and legislature unconstitutionally gerrymandered a congressional district to their advantage.

It also has filed court briefs supporting Democratic lawsuits alleging unconstitutional partisan gerrymandering by Republicans in states such as Wisconsin and Pennsylvania.

The center's analysis notes that Democrats gained 31 seats when they won the national congressional vote by 5.4 percentage points in 2006. Yet under the current districts, which were redrawn after the 2010 Census under GOP control of many state capitols, a similar national victory margin in the November election is projected to net Democrats only about a dozen new seats.

The report projects that a 10 percentage point national margin would gain 21 seats for Democrats — still shy of the 23 or 24 needed to claim a House majority. An 11-point margin is projected to gain 28 seats for Democrats, but they haven't achieved such a large midterm victory since a nearly 14 point margin gained them 49 seats in 1974.

"Even a strong blue wave would crash against a wall of gerrymandered maps," the Brennan Center report says.

The analysis is based on an assumption that as a political party increases its share of the statewide vote, it will see a similar percentage increase in most congressional districts. The report does not account for particular factors at play this year in each district, such as whether incumbents are retiring or whether voter demographics have shifted.
To a large degree, of course, the difficulties that Democrats may have ahead of them in winning back control of the House are rooted in the fact that there are far fewer competitive districts around the nation than there have been in the past. While it's likely true that a good part of this is attributable to district lines that have been drawn in ways that favor one political party over another, that clearly isn't the only factor making the road ahead so difficult for Democrats. Historically speaking, it's simply a fact of the matter that incumbents running for re-election have a tremendous advantage over challengers that applies regardless of how partisan an individual district's composition may be. As this chart from Open Secrets that shows House re-election rates from 1964 to 2016 shows, for the House of Representatives the re-election rate has in recent years been somewhere between 90 and 97%, and has only fallen below 90% on a few very limited occasions: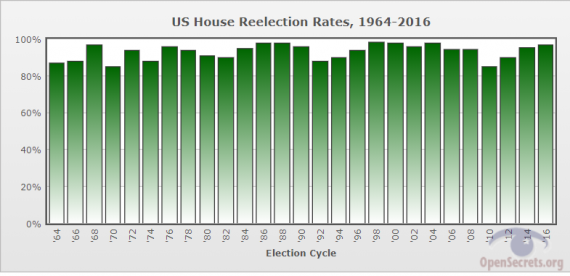 The numbers are a bit different from the Senate, but they also show that the percentage of incumbent Senators re-elected has seldom dropped below the high 80% range at any more since the 1980 election when Republicans took back control of the Senate for the first time since the 1950s: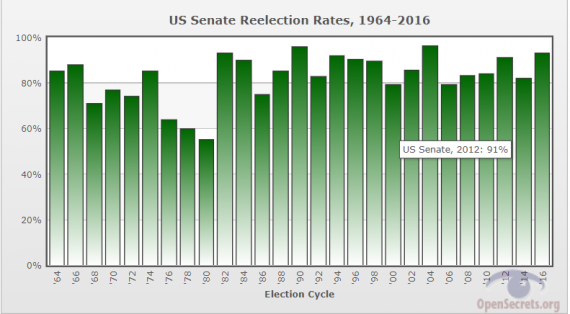 While Democratic efforts to retake the House may be made easier to some extent by the number of open seat elections made possible by the decision of roughly 23 Republican members of the House to decline to run for re-election, these numbers suggest that winning the number of seats that it would take to get even a bare majority in the House is not going to be quite as easy as many Democrats may hope or expect.
Looking at the numbers today, there doesn't appear to be much of evidence of the kind of wave that Democrats would need to win back the House, at least not yet. The two most recent Generic Congressional Ballot polls from Fox News Channel and Marist College, for example, both show that the Democratic advantage in the nationwide poll has shrunk to five percent, lower than it was in both polls in past iterations. The polling averages aren't pointing in the Democrats direction sufficiently to show the existence of a wave that could win back the House for them. The RealClearPolitics Generic Congressional Ballot, for example, gives Democrats (45.5%) a 5.8 point advantage over Republicans (39.7%). The Pollster average meanwhile gives Democrats (42.9%) a 5.4 point advantage over Republicans (37.5%). Finally, the FiveThirtyEight average gives Democrats (46.0%) a 5.7 point advantage over Republicans (40.3%). While these numbers are all positive in the Democratic Party's favor, it's far short of where the numbers would generally need to be for the Democrats to have the kind of wave they need to win the House back. Perhaps of most concern for Democrats, though, is the fact that the gap between the two parties have been closing recently as we can see in this chart from RealClearPolitics: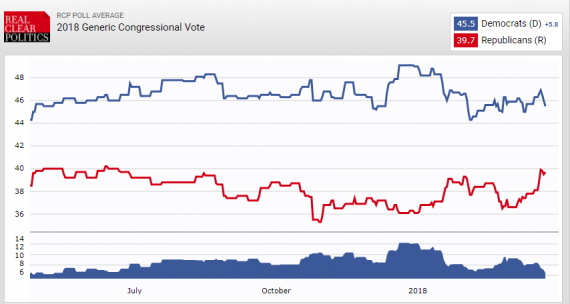 In addition to the Generic Congressional Ballot, another factor that is likely to play an important role is what the public thinks about the job that the President is doing. In that respect, things aren't substantially different from where they have been for the better part of the past year, and to some extent we've actually seen President Trump's number improve to some degree. Looking again at the Fox News and Marist polls noted above, those polls show the President with a seven-point and nine-point deficit between disapproval and approval respectfully. These numbers contrast with the most recent Gallup poll which shows the President's disapproval at 55% while his approval stands at 39%, a deficit of 16 points. Other polling from The Economist and YouGov and Quinnipiac both show a 13 point deficit.
The averages, meanwhile, are about where they have been for quite some time now. RealClearPolitics, for example, has the President's approval at an average of 42.0% and disapproval at 53,2%, making for an 11.2 point deficit. Pollster meanwhile shows the President's job approval at 43.1% and disapproval at 52.7% for a deficit of 9.6 points. Not surprisingly, Trump's numbers are overwhelmingly negative among Democrats and overwhelmingly positive among Republicans. Among independents, Trump's numbers remain worse than among the general population with 35.8% approving of the job the President is going and 55.9% disapproving, making for a deficit of a rather astounding 20.1%. Finally, FiveThirtyEight's average shows the President at 40.8% approve and 53.5% disapproval, making for a deficit of 12.7 points. Looking at the chart, there does seem to be some indication that the gap between the President's approval and disapproval is closing just a bit: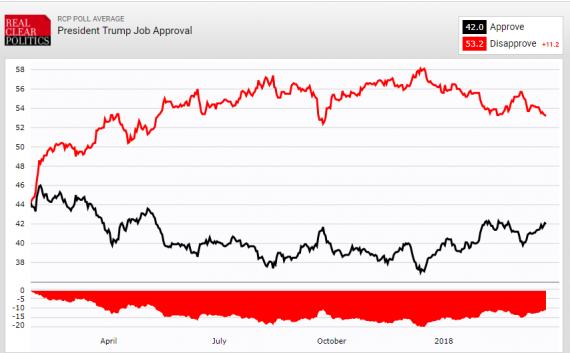 Again, while these numbers seem positive for Democrats they don't indicate the kind of wave they would need to win back the House. Perhaps that will change over the next seven months as the election gets closer, but so far at least it doesn't appear that the momentum for a wave is out there.