Do We Need A Bigger House Of Representatives?
Would increasing the size of the House of Representatives be the cure for what ails Congress?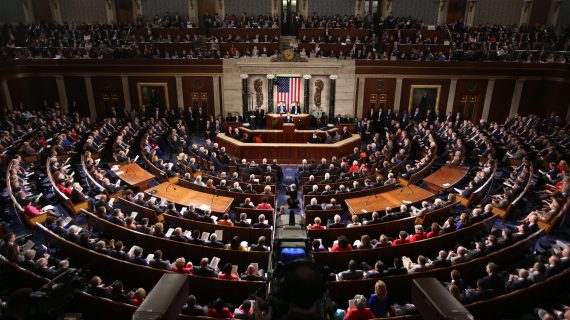 Brian Frederick asserts that the cure for what ails Congress is, well, a bigger Congress:
The American public's dislike of Congress is far from a new development in US politics. However, over the past few years the situation has gotten even worse with public approval of this institution hovering around historic lows.

The vast majority of citizens in this country think most members of Congress have lost touch with the people and don't represent their interests. There are not many simple answers to remedy this problem but one change that might help bring members of Congress closer to the people is to increase the size of the US House of Representatives to 680 members.

One hundred years at 435 seats

For almost a century the House has consisted of 435 members. This seemingly permanent fixture of American politics often obscures the reality that during the first century of the country's existence the House was increased almost every ten years after its original size of 65 members was established.
The idea of increasing the size of the House of Representatives in light of the increased population of the United States isn't a new one. Both James Joyner or and Steven Taylor wrote about similar proposals some four years ago, as have conservative columnists such as Jeff Jacoby, and in 2009, there was even a lawsuit filed by a very conservative group that primarily concerns itself with the school choice and homeschooling movements arguing that the 435 person limit was unconstitutional. Going back even further than that, the issue of a mechanism that allowed Congress to grow as the population of the country grew was something that the drafters of the Constitution and Bill of Rights actively considered at the time of the very beginning of the Republic. When the Bill of Rights was submitted to the states for ratification, for example, the very first Amendment was one that set out a formula to allow the House of Representatives to expand its size as the nation grew:
After the first enumeration required by the first article of the Constitution, there shall be one Representative for every thirty thousand, until the number shall amount to one hundred, after which the proportion shall be so regulated by Congress, that there shall be not less than one hundred Representatives, nor less than one Representative for every forty thousand persons, until the number of Representatives shall amount to two hundred; after which the proportion shall be so regulated by Congress, that there shall not be less than two hundred Representatives, nor more than one Representative for every fifty thousand persons.
Because it did not receive enough support, this proposed amendment was never ratified. Had it been passed, though, it would have required that the size of Congress be adjusted with every Decennial Census and the House of Representatives today would have as many as 6,000 members, one for every 50,000 Americans. After the House reached 200 members, of course, Congress would not have been required to make continual adjustments that were exactly in line with the formula set forth in the Amendment, of course, but it is at least conceivable that with such guidance from the Founder there would have been more care taken toward keeping both the population of individual Congressional Districts at a reasonable level and keeping the House itself at a reasonable level given those guidelines. After all, a Congress made up of 6,000 people would be unreasonable and probably would function worse than what we have now just due to the plethora of voices. However, a larger Congress where individual members had a smaller number of constituents than they do today likely would have resulted, and that would have made the House more representative, and probably more competitive than it is today.
For his part, Frederick suggests a House of Representatives made up of 680 members, just a little more than 50% bigger than it is today:
Why specifically do I support 680 seats as the appropriate size of the House?

The freezing of the number of seats in the House at 435 came about in a somewhat arbitrary manner. In most advanced democracies, the number of seats in the lower house of national legislatures happens to approximate a number that is the cube root of the nation's population. (The cube root of a number is a value that, when used in a multiplication three times, gives that number. For example, 27= 3x3x3 so the cube root of 27 is 3.) This is an observation, by the way, that was first made in a report on the British elections of 1909.

If we apply this "cube root law," as it's called by political scientists, to the current American population of 315,000,000 then it mandates that the US House ought to have a membership of 680 representatives.

There is a rationale that underpins this empirical regularity in other democracies' legislatures. All legislative bodies must balance the need to operate efficiently while providing effective representation to the citizens in their districts. Legislators need to communicate with their fellow members. They also need to stay in touch with their constituents. The cube root law allows the number of seats to reflect an increase in the country's population but on a proportional or graduated scale.

Legislatures are not designed to expand in direct proportion to the population because to do so would undermine the capacity to legislate effectively. However, if the average number of constituents in a district becomes too large, the legislator will be unable to communicate effectively with constituents.

The US House has clearly reached the point that the channels of communication between representatives and their constituents have been hindered by the 435 seat limit.

Increasing the size of the of the House to account for population growth in line with the cube root law of national assembly size is far from the only solution for remedying the lack of responsiveness of House members to their constituents, but it would certainly make a contribution toward bridging the divide that presently exists. If the average House district population size continues to expand, the prospect for greater divergence between constituency preferences and policy responsiveness will only be heightened.
A House of Representatives of 680 members would make the House of Representatives thirty seats larger than the British House of Commons, which has 650 members representing a population of some 64.1 million for an average constituency size of roughly 98,000 people. A House that matched this ratio would have over 3,000 members, which is obviously impractical, of course. By way of another comparison, the Indian Parliament has 795 members divided among a population of more than 1.2 billion people for an average constituency size of more than 1.5 million, which is larger than the roughly 700,000 people we have now and seems to be far too large a constituency for a nation such as ours. By contrast, a House of Representatives with 680 members would have an average District population of roughly 460,000 people. That's certainly larger than the numbers that the apportionment Amendment proposed in 1791 would have allowed, but it's certainly better than where things are now and allows for Members to be more responsive to their constituents because there are fewer of them to respond to, and for individual constituents in larger population districts to have a greater say in who represents them. After all, under our current system the ~580,000 residents of Wyoming have a greater say in the selection of their Member of Congress, and their two Senators, than, to pick an example of the ~750,000 people who make up the 13th Congressional District in New York currently represented by Charles Rangel, who has been serving in Congress for the last 43 years during which he has had only a handful of re-election bids that can be called truly competitive even after he was censured by the House for violating tax laws and House ethics rules.
We don't have to wed ourselves to Frederick's idea of a 680 member House, of course. The number could be somewhat smaller, or somewhat larger. As a practical matter, I would think that the upper limit ought to be somewhere around where he recommends, however. A House of Representatives of 700 or 800 members, or more, would seem to be impractical to say that least. As it is, debates on legislation on the House floor only allow individual members to speak for short periods of time, and don't really constitute "debates" in the sense that a normal person might consider them but of each party setting forth its position for the record and, of course, members getting themselves screen time on C-Span that can be seen on local television back home, or maybe even the national news. A House that is twice as large as it is today would mean longer periods for debate and that it would take more time for even the simplest legislation to get voted on and sent to the Senate if it passes. Additionally, there's the simply matter of physical space, both on the House floor itself and office space around Capitol Hill.
Some of the physical space problems that a larger Congress would create could be alleviated if we adopted some of the suggestions that have been made in the years since the September 11th attacks for a Congress that is more disbursed, with meeting locations around the country that are connected via video feeds and other technology. That solution, however, brings up one downside to a bigger Congress that Frederick seems to ignore. One observation that political pundits and former Members of Congress have made in recent years is that Congress is far less collegial than it used to be, in no small part because Members don't interact with each other across party lines as much as they used to. Today, instead of sticking around Washington on weekends when the House is in session, Members are likely to be seen rushing to National Airport to catch a plane home for the weekend. A larger House would mean even more likelihood that, say, the Republican from Alabama's 2nd District won't even know who the Democratic from California's 32nd District is, never mind what they look like, unless they happen to serve on the same committee together, and even then committee sizes will be larger and their functionality will be impacted as well. Over time, perhaps, that will change if enlarging Congress means that both sides much become less ideologically rigid, but it's a factor worth considering if we're ever going to do something such as this.
As Frederick notes, the likelihood that we'll see this kind of reform any time soon is unlikely. It wouldn't require a Constitutional Amendment, but it would require both Houses of Congress and the President to agree on the changes. Since these changes will have the potential to reduce the effective political power of both political parties, that's not necessarily likely. Additionally, given current public attitudes about Congress it's not going to be easy to convince the average American that the solution to their problem is more Members of Congress. That being said, this is an idea is a reform that is worth considering, especially if its combined with other more fundamental reforms such as multi-member districts, which would required a Constitutional Amendment, and Instant Runoff Voting, which is something that could be implemented at the state level without Congressional assent at all. At the very least, it's hard to see how such a world could be any more dysfunctional than what we have today.