Midterms Looking Good For Democrats
New Generic Congressional Ballot polls have good news for Democrats.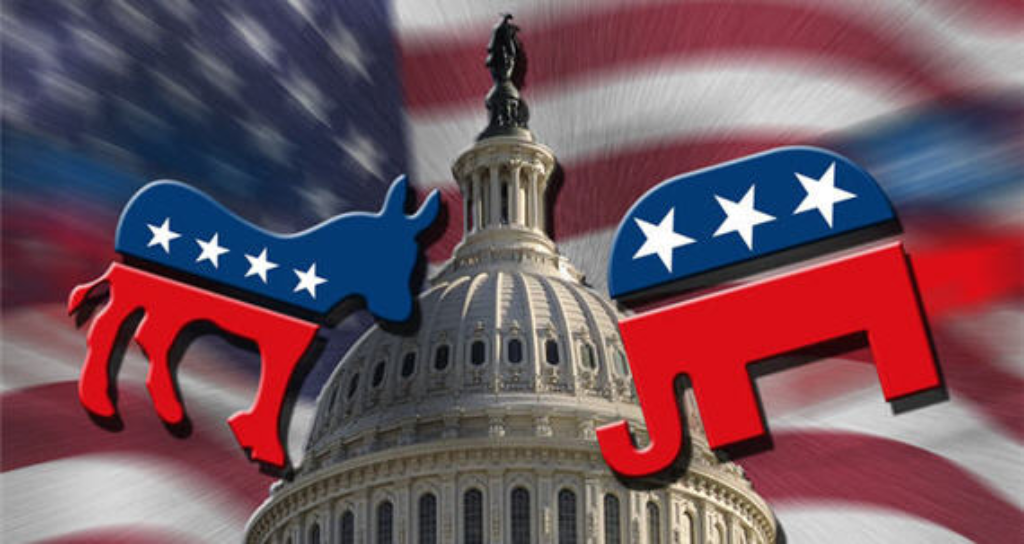 As of today, there are 83 days left until the midterm elections. In many states, the start of early voting is only a few weeks away. And, most importantly, school children are starting to return to school meaning that summer is ending and voters are starting to turn their attention to the upcoming elections and races that have largely been out of the minds of those of us not obsessed with politics on a daily basis. Because of that, it's getting to be that time when the polls actually start to mean something and we start getting a better idea of what we can expect this November. Based on recent polling, as well as the results of some recent elections, things are looking very good for Democrats in the first real electoral test since Donald Trump became President. While there is still plenty of time for things to change, the numbers right now are all pointing to what seems likely to be a good year for Democrats and a setback for Republicans.
First up, there's a new Generic Congressional Ballot poll from CNN showing Democrats with a lead in the double digits:
Democrats now lead Republicans by 52% to 41% in a nationwide generic Congressional ballot according to a new CNN poll conducted by SSRS and released Tuesday. The blue lead has increased slightly from eight percentage points in June of this year to an 11 percentage point difference in the most recent poll.

Despite Democrats' advantage on that measure, a plurality (48%) in the same poll believe Republicans will maintain control of Congress after the election, compared with 40% who believe Democrats will gain control.

Among those who favor the Democratic candidate in their district, 64% say they think Democrats will ultimately win control of Congress, while among those backing Republican candidates, 83% think the GOP will maintain control.

Compared to previous elections, 68% of registered voters say they're more enthusiastic to vote in this election than in the past. Registered Democrats and Republicans report being more excited to vote at similar levels, with 70% and 68% saying so, respectively.

However, Democrats have taken a much higher leap in enthusiasm vs. 2016 than Republicans. When CNN last asked the question, in September 2016, only 38% of Democrats said they were "more enthusiastic," while 48% of Republicans said the same. Registered Democrats jumped 32-points since 2016 and Republicans moved 20-points.

Health care tops the list of important issues voters will consider this fall with 81% saying it's extremely or very important to their vote for Congress, followed very closely by the economy (80%).

Immigration is on the rise as a critical issue — from 38% in May to 44% now. However, the issue's overall importance hasn't increased substantially.

Gun policy remains a deeply important issue for almost three quarters of Americans (73% call it extremely or very important to their vote), and corruption — an issue newly in the spotlight following Rep. Chris Collins' arrest on insider trading charges — outpaces trade policy and taxes in importance to voters (74% call corruption extremely or very important vs. 64% on trade policy and 71% on taxes).
A new Quinnipiac poll, meanwhile shows a similar double-digit lead for Democrats:
Democrats hold a 12-point lead over Republicans on a generic House ballot a little more than three months before the November midterm elections, according to a new poll.

Democratic candidates were favored over Republican candidates 51 percent to 39 percent in the Quinnipiac University poll released Wednesday.

The poll found that while Republicans and Democrats largely backed their own parties, 50 percent of independent voters would vote for Democrats, while 33 percent of independents backed GOP candidates."Although the Mid-term elections are more than three months away, Democrats, who are hoping to retake control of the U.S. House of Representatives, will be cheered by their double- digit lead on the so-called generic ballot," assistant director of the Quinnipiac University Poll Peter Brown said in a release.
These two polls are a decided shift from other recent Generic Ballot polls which have shown the Democrats still leading, albeit only in the single digits. As a result, the poll averages are not yet reflecting a major shift toward Democrats but there are signs it could be happening. The RealClearPolitics poll average, for example, shows voters favoring Democrats (46.9%) leading Republicans (40.1%) by +6.8 points, which is slightly higher than where it has been for the past several weeks. Similarly, the Pollster average, meanwhile, puts Democrats at 43.8% and Republicans at 39.7%, giving Democrats a far slimmer +4.1 point average. Finally, FiveThirtyEight's average shows Democrats (47.9%) leading Republicans (40.1%) with a +7.8 point advantage. What seems most significant is the fact that there's definitely an uptick for Democrats in the polls, as this chart from RealClearPolitics shows: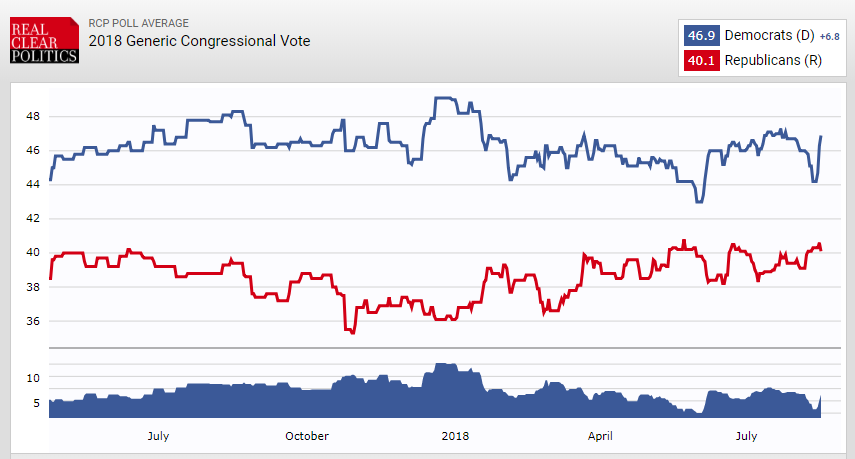 In addition to these polls, a new Morning Consult poll shows some interesting numbers regarding voter enthusiasm:
A trio of new polls show that Democrats are cutting into the GOP's longstanding turnout advantage in midterm elections, another encouraging sign for the minority party's hopes of winning the House in November.

According to a POLITICO/Morning Consult poll released Wednesday, roughly two-thirds of voters, 66 percent, said they were "very motivated" to vote in this year's elections — up significantly from 55 percent in May.

Three-fourths of GOP voters, 75 percent, said they are "very motivated" to vote, as did 72 percent of Democrats; the difference between the two is within the poll's margin of error. Fewer independents, 53 percent, said they were very motivated to vote.

In past midterms, other surveys have showed Republican voters were far more motivated than Democrats were to show up at the polls.

"With public interest in the midterms increasing as autumn approaches, our polling shows Democrats and Republicans are about evenly matched in voter enthusiasm," said Tyler Sinclair, managing director of Morning Consult.

If high levels of voter excitement continue to November, it could lead to greater turnout at the ballot box. Only 41.9 percent of eligible voters turned out in the 2014 midterms, according to the U.S. Census Bureau's Current Population Survey — less than 45.5 percent in 2010 and 47.8 percent in 2006.

A CNN poll, conducted by SSRS and released Wednesday, also shows historically high levels of enthusiasm for this year's midterms. More than two-thirds of voters, 68 percent, said they are "more enthusiastic about voting than usual" — far greater than even in the last presidential race. In early September 2016, only 42 percent of voters said they were more enthusiastic than usual.

The CNN poll shows both parties tied in enthusiasm: 70 percent of Democratic voters and 68 percent of Republican voters said they were more enthusiastic than usual.

A third poll, from Quinnipiac University, gives Democrats an edge in enthusiasm: 65 percent of voters said they were "extremely motivated" to vote in 2018 — including 73 percent of Democrats, 63 percent of Republicans and 60 percent of independents.

Democrats maintain a slight edge in the generic ballot on the POLITICO/Morning Consult poll, 42 percent to 38 percent, with 1-in-5 voters undecided. That is down marginally from a 6-point lead last week, and consistent with the party's long-term advantage, which has fluctuated 3 points to 8 points all summer long. (The CNN and Quinnipiac polls show larger leads for Democrats: 11 points and 9 points, respectively.)
In a similar vein, Ed Morrissey at Hot Air looked at the numbers from Tuesday's primary in Minnesota and found numbers that could spell trouble for Republicans:
In the gubernatorial election, Republicans received 319,276 combined votes, with Johnson getting 167,922 (99/8% of precincts reporting). Democrats got almost twice as many — 580,962 votes. Johnson got far fewer votes than Tim Walz got (242.162) in his plurality win over Erin Murphy for the Democratic nomination. In fact, Johnson got fewer votes than Murphy did for her second-place finish, 186,367, and only outscored third-place finisher Lori Swanson by 25,000 votes.

The same dynamic appeared in the primaries for both Senate seats, thanks to the one-party-only rule. Democrats had incumbents running in both primaries without much competition. Amy Klobuchar got almost 96% of the vote in her win, while appointee Tina Smith got 76% in hers. Both Democratic primaries still attracted 579K and 567K, respectively. In contrast, the more competitive GOP primary for the challenge to Smith didn't quite draw 300K votes, which Karin Housley won 62/36 over Bob Anderson.

This wasn't a case where one party didn't have a competitive race. Both parties had hard-fought gubernatorial primaries, and in the Senate races all of the real action was on the GOP side. And yet Democrat turnout beat Republican efforts by an almost 2appear on a

:1 margin. That's a huge red flag, or as someone quipped on Twitter last night, a huge blue flag. A blue wave may or may notnational basis in November, but one showed up here yesterday. It makes it seem highly unlikely that the state Republican Party will break its 12-year losing streak in statewide races three months from now.
These numbers from Minnesota are not dissimilar from others than we have seen from other races across the country. Breaking a norm that we have seen in midterm elections for decades now, it seems quite clear that Democrats are highly motivated and enthusiastic about getting out to vote while Republicans appear to be becoming dispirited and resigned to the fact that the Republican Party is going to lose control of one or both chambers of Congress in the fall. We saw similar enthusiasm gaps before the 2006, 2010, and 2014 elections, all of which were "wave" elections of one kind or another. If this trend holds up heading into November, then things could end up going very well for Democrats.
While I've cautioned against reading too much into the polls for the better part of the year, we're now at the point where this is arguably no longer the case. As I noted above, we're inside of 90 days until Election Day, schools across the country are starting to open, and early voting will be starting in many states as early as mid to late September. While it's still possible that things could change, and that factors in individual races could have an impact beyond individual districts, we're getting to the point where dismissing the poll numbers is unwise for those of us who are trying to figure out which direction the nation will head after November. It's always been likely that Democrats are likely to pick up seats in the House of Representatives, of course, but at this point, I would argue that there is, at least, a better than 50% chance that they will gain control of that chamber of Congress at least. The only question is what
Even though we're now less than three months away from Election Day, I'd submit that it's still a bit too early to start making projections based on these numbers. Most Americans, after all, aren't really paying much attention to the elections and won't begin to until we hit the end of summer at Labor Day and the campaign, as well as early voting in many states, begins to heat up. Notwithstanding that caveat, though, it seems true that things continue to look good for the Democrats, and that there seems to be at least somewhat of a consensus growing that they will not only gain seats in the House of Representatives, which would be in line with the historic norm, but that it is increasingly likely that they'll gain something north of the 23 seats they need to win in order take back control of the House. The only question appears to be how far north they'll end up and how big their majority will be. Things could change in the next 104 days, of course, but as things stand the odds are looking fairly good for Democrats in the House.