The Midterm Storm Clouds Are Gathering For The GOP
With just over six months to go before the 2018 elections, the storm clouds are starting to gather for the Republican Party.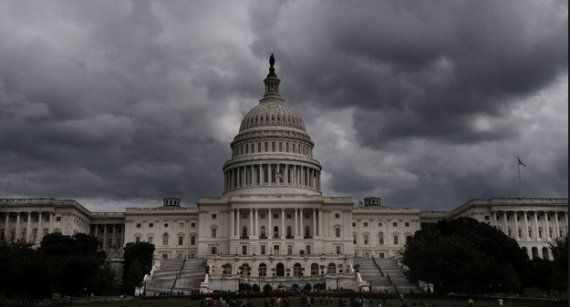 David Wasserman's latest assessment of the midterm elections for the Cook Political Report should have Republicans shaking in their political boots:
Multiple indicators, including generic ballot polls , President Trump's approval ratings and recent special election results, point to midterm danger for Republicans. But without robust race-by-race polling, it's trickier to predict individual races six months out. Are Democrats the favorites to pick up the 23 seats they need for a majority? Yes, but it's still not certain which races will materialize for Democrats and which won't.

Our latest ratings point to 56 vulnerable GOP-held seats, versus six vulnerable Democratic seats. Of the 56 GOP seats at risk, 15 are open seats created by retirements. Even if Democrats were to pick up two-thirds of those seats, they would still need to hold all their own seats and defeat 13 Republican incumbents to reach the magic number of 218. Today, there are 18 GOP incumbents in our Toss Up column.

That Toss Up list is likely to grow as the cycle progresses. Out of the 65 GOP incumbents rated as less than "Solid," 49 were first elected in 2010 or after, meaning more than three quarters have never had to face this kind of political climate before. And, Democrats have a donor enthusiasm edge: in the first quarter of 2018, at least 43 sitting Republicans were out-raised by at least one Democratic opponent.

In 2010, House Democrats suffered a backlash against their votes for two polarizing pieces of legislation: cap and trade (which died in the Senate) and the Affordable Care Act (which passed). 2018 may be a mirror image: House Republicans must defend their votes for the AHCA (which polled far worse than Obamacare and died in the Senate) and the tax bill. A new Gallup poll found voters still disapprove of the tax bill, 52 percent to 39 percent, four months after passage.
Wasserman's full analysis is at the link and utilizes both the numbers noted above and data from the Federal Election Commission and other data to identify a series of risk factors to determine just how vulnerable a particular seat may be to being flipped. From this, they have derived a list of seven risk factors for each seat. At present, there are at least 56 seats held by Republicans that are subject to at least three of those risk factors and many that are subject to many more risk factors, as this chart from the report demonstrates: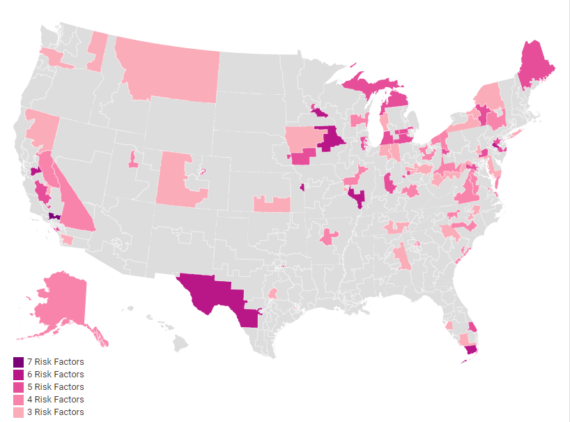 As you can see from the map, the list of vulnerable Republican House seats is quite large and stretches from one corner of the country to another. Perhaps the most notable state impacted by these numbers and the general public sentiment is in California, where virtually every Republican member of the state's Congressional delegation is vulnerable. The same is true of New York, which has already seen the Republican membership of its delegation decimated in recent years thanks to population shifts and the loss of Congressional seats after the 2010 Census. Even outside these blue states, though, Republican Members of Congress in red states are finding themselves facing political headwinds in a political year that already isn't boding well for them. The same problem appears to be developing for Republicans in states that President Trump won in 2016 such as Wisconsin, Michigan, Ohio, Pennsylvania, and Florida. While it's unlikely that all 56 of these Republicans will lose their re-election bids, or that Republicans will lose in the open seats that are also represented in this map, the fact that so many seats are vulnerable and that the list is likely to expand in the months to come is not good news for the GOP.
In addition to the Cook Report's analysis, veteran Republican strategist Alex Castellanos is projecting that the party stands to lose 40 to 50 seats in the House of Representatives in November and Gallup is finding in its polls that anti-incumbent sentiment is at levels similar to those that existed at this point in 2010 and 2014, both of which were years in which Republicans managed to defeat incumbent Democrats in both the House and the Senate:
U.S. voters are about twice as likely to say their U.S. House representative deserves re-election (51%) as they are to say most members of Congress do (26%). These readings are similar to voters' opinions just days before the 2014 midterm elections and remain among the worst for incumbents dating back to 1994.

(…)

In 2010, Democratic voters were more than twice as likely as Republicans to say most incumbents in Congress deserved re-election, and the Republicans recaptured the House. The opposite was true in 2006, when twice as many Republicans as Democrats said most incumbents deserved to serve another term. That year, Democrats regained control of both houses of Congress.

n general, re-election rates of incumbent members of Congress are high, but there are fluctuations in how high. For the five midterms before 2014, in years when voters were less likely to say incumbents deserved to serve another term, the incumbent re-election rate in the U.S. House of Representatives was lower. The converse has also been true: when U.S. voters were more positive toward incumbents, incumbent re-election rates were higher.

Yet the 2014 election did not follow the same pattern as the five previous midterms. In 2014, just days before voters went to the polls, less than one-quarter said most members of Congress deserved to serve another term. This was the lowest reading dating back to 1994. Historically, the expectation would have been for fewer incumbents to be re-elected, but 95% were. Republicans were able to build on the large gains they had made in 2010 and take advantage of President Barack Obama's flagging approval. And voter turnout in 2014 was the lowest since 1942.

Aside from 2014, in the years when the public was least likely to say incumbents deserved re-election — 1994, 2006 and 2010 — the opposition party gained control of the House.

Assuming the 2014 election was an outlier, the 2018 election is so far looking like the midterm elections of 1994, 2006 and 2010. Conditions in the U.S. are now similar to those years, with an unpopular president in office and his own party controlling both houses of Congress. These factors, along with a lower percentage of voters saying incumbents deserve re-election, could indicate that a wave election is brewing.
Earlier this week, I noted that the Generic Congressional Ballot was showing a narrowing of the gap between Republicans and Democrats, but that the enthusiasm appears to remain on the Democratic side of the aisle. Polling that has been released since then shows similar numbers. The new Economist/YouGov poll, for example, gives Democrats a five-point advantage in the Generic Ballot, as does the most recent poll from National Public Radio and Marist College. The newest Reuters/IPSOS poll, meanwhile, puts the Democratic advantage on the Generic Ballot at ten points, which suggests a bounce back from the recent narrowing but which could also be an outlier. All of this leaves Democrats with a 5.5 point advantage in the RealClearPolitics average, The Pollster average, meanwhile, gives Democrats a 6.9 point average, and the FiveThirtyEight average gives Democrats a 6.9 point average. Additionally, polling has shown that tax reform, which Republicans had hoped would be the issue that saves them in the upcoming election, is quickly fading from public consciousness, something that Republicans are now blaming President Trump for. Whoever is to blame, though, it seems clear that the political winds are blowing in a very specific direction, and it's not one that should make the GOP feel very good about their prospects in November.