Americans Still Hate Congress, But Incumbents Don't Have Anything To Worry About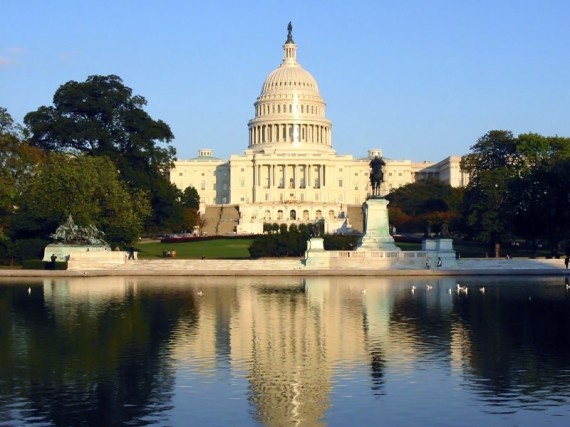 There's an old adage in American politics that Americans hate Congress, but love their Congressman. Historically, this has always seemed to be an accurate assessment of politics given the fact that re-election rates for both the House and the Senate are consistently high notwithstanding the fact that public approval of Congress as an institution continues to hit new lows on a regular basis. Those same polls, though, also have tended to show that Americans have a positive view of their own members of the House and the Senate notwithstanding their negative views of the institution as a whole. According to a new ABC News/Washington Post poll, however, a majority of Americans now have a negative opinion of their own member of Congress:
House members at home for August recess might want to hide their congressional pins: A new Washington Post-ABC News poll finds a record-high share of Americans disapprove of their own congressman/woman.

Just over half the public, 51 percent, say they disapprove of the job that their own member of Congress is doing in the new poll, rising above the 50 percent threshold for the first time in the quarter-century of Post-ABC polling on this question. Just 41 percent approve. That's a new low, though it's not significantly different from ratings last October (43 percent), immediately after the end of a 16-day partial government shutdown that sent Republican approval ratings through the floor.

This all might not seem that surprising. After all, Congress has been held in very low regard for some time. But even as Congress's approval rating has sunk into the teens and stuck there, people generally saw their own member of Congress as different — i.e. not part of the problem. A recent Pew poll, for instance, showed 69 percent of people wanted to unseat most members of Congress, but just 36 percent said the same of their own member.

The new numbers, which show Americans disapproving by their own member by double digits, suggest the people are less and less willing to give their own member a pass for Congress's sins.

The poll also finds, as usual, the Democrats' brand fares better than the Republicans' brand three months before the midterms, with 49 percent holding favorable views of the Democratic Party and 35 percent having a favorable view of the GOP. But Democrats' reputation edge is not expected to translate to big gains at the ballot box in November, with other polls showing 1) a much tighter race in whether voters plan to cast ballots for Democrats or Republicans, and 2) lower enthusiasm for voting among important Democratic-leaning groups. Election forecasters expect Republicans will maintain their majority in the House and say they also have a better than even chance of winning the six seats needed to take the Senate.

Partisans are overwhelmingly loyal to their own camp. Fully 85 percent of Democrats have favorable opinions of their own party, along with 79 percent of Republicans who are favorable toward their own party. Independents are not fond of either party, but are more anti-GOP, with 61 percent disapproving and 31 percent approving.. Independents dislike Democrats as well, but by a smaller 50-41 margin.
On the surface, it might seem as though this is the type of poll number that actually might make a difference in the midterm elections. After all, the biggest issue in previous polling has been the disparity between the public's overwhelmingly negative view of "Congress" and the fact that respondents, often in the very same polls, did not ascribe those same negative opinions to their own representatives in the House and Senate. If it really were the case that voters now are starting to view their own representatives in the same negative light that they view the entire institution, then perhaps they'd be more willing to vote against them in November. In reality, though, it's unlikely that this poll result, even if it holds up across other polls between now and the General Election, will have much of an impact on the odds of an incumbent's re-election:
Despite negative views of incumbent officeholders, the impact on incumbents' actual reelection hopes is likely modest, with the vast majority of officeholders expected to win reelection in November. But past election cycles do indicate that Americans will unseat more members when they disapprove of their own member. In 1998, when the public gave a 72 percent approval rating to their own member, 98 percent of incumbents won reelection (large PDF). In 2010, an October Post-ABC poll found only 51 percent approving of their members (then close to a record low), after which 85 percent of incumbents won reelection in November 2010.

Even with lagging popularity, though, incumbents have numerous other advantages that help ward off challengers, including congressional districts which lean toward their party, established fundraising networks, campaign experience and better name recognition than their challengers. They also benefit from voters' lack of homework; fewer than half the public in a recent Pew Research Center poll (46 percent), could correctly identify the party of their own representative.
Congress has been suffering from exceedingly low approval numbers for several years now, but it has had no real impact on the ability of incumbents to get re-elected. In 2010, for example, 87% of House incumbents and 84% of Senate incumbents were re-elected, and that was in a year in which Republicans managed to pick up 63 seat in the House and 6 seats in the Senate. In 2012, when there was far less turnover in either body, roughly 90% of the Senators and Congressmen up for re-election were victorious.  Indeed, as the charts below show, since 1964, running for re-election to either the House or the Senate has been a fairly safe bet:
Here's the House chart: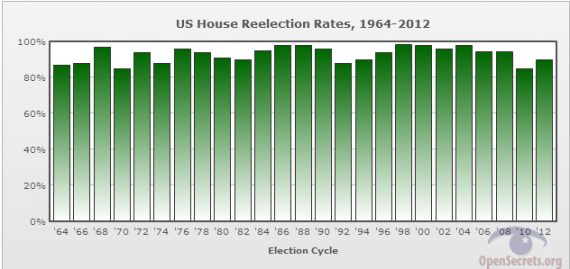 For nearly the past 50 years, re-election rates for the House of Representatives have never dropped below 80%, and have typically been well above 90% and even 95%, a rate that rivals the Politburo of the old Soviet Union. Even years in which major shifts in power or gains by a particular party have taken place, such as 1994, 2006, 2008, and 2010, the majority of incumbents have been safe. In part, of course, this is because in some of these years members would decline to run so they would not be counted in these statistics, but nonetheless it is immensely clear that being a member of the House of Representatives has been an exceedingly safe position for a very long time. Notwithstanding these polls, there is very little reason to think that 2014 will be any different. Thanks factors ranging from the relative strength of incumbents in their races, to the advantages that redistricting has given to incumbents from both parts, to the fact that incumbents nearly always are able to raise more money than the people they're running against. Given all of these factors, defeating an incumbent Congressman is an exceedingly difficult task and usually only happens when that Congressman has either made mistakes of their own or the district that they represent has so fundamentally changed that they coalition they once relied on for victory is no longer strong enough. Absent those factors, and even taking this poll into account, it is still more likely than not that an incumbent House member will have little trouble winning re-election.
The Senate chart shows pretty much the same thing: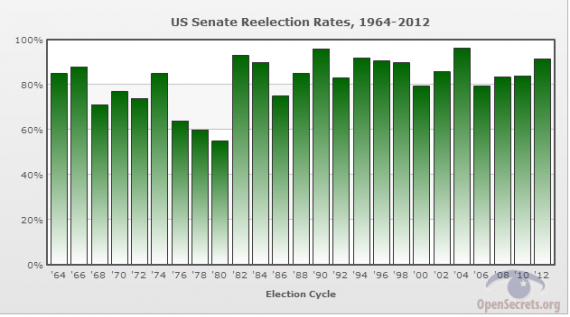 Based on the numbers, it would appear that it is somewhat easier to defeat an incumbent Senator than an incumbent House member. This would seem to have especially true in the late 1970s and in 1980, when the re-election rate for Senators dipped as low as 50%, but to a large degree those numbers strike me as being reflective of an era in which there was major institutional change taking place in the Senate. Many Senators who had served for a long time were stepping down, and others had fallen out of step with the people who elected them (keep in mind that this dip in re-election rates also coincided with the adoption of the 26th Amendment, meaning a new group of people were voting). Leaving the four year period between 1976 and 1980 out of the mix, the re-election rate in the Senate has been at or near 80% for the vast majority of the period between 1964 and 2012, and was quite high even in years like 1994 and 2006 when there were major shifts in control in the body. We'll see much the same thing in 2014. This year, with five Senators retiring,  there are 28 Senators up for re-election, but of those only six Senators — Mitch McConnell, Kay Hagan, Mark Udall, Mary Landrieu, Mark Pryor, and Mark Begich — are seriously threatened with losing in November. Even if all seven of them lost, which is unlikely to happen, that would still mean that 78% of the incumbents running would have been re-elected. Most likely, the number will be quite higher.
So, yes, Americans don't like Congress very much, and they're apparently not too thrilled with their own representatives. In the end, though, that's not going to mean much come Election Day.