Incumbent Re-Election Rates In The 2010 Mid-Terms
Back in June, I wrote about the 2010 elections and made this observation:
If history is any guide, then it seems very likely that we'll see something in the range of 90-94% of the incumbents in the House of Representatives who are up for election win their races. As 1994 demonstrates, of course, this still means that there could be a change in party control, but a change in party control is not the same thing as a change in personnel. In the Senate, on the other hand, a change of, say, six seats would drop of the incumbent re-election rate to 81%, but would not give the Republicans control of the Senate. To do that, they'd need to pick up 11 10 seats, which seems incredibly unlikely.

Given all the natural advantages they have, I think it's fairly clear that most incumbents in Congress will survive this wave of anti-incumbency just like they've survived all the others.
It turns out that I was off, but not by much.
In the House of Representatives, 87% of the incumbents who stood for election were re-elected. This is slightly below the historical trend over the last several decades, and lower than the re-election rate in 1994, 2006, and 2008: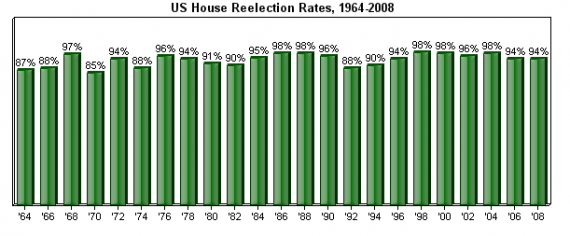 In the Senate, and assuming Lisa Murkowski's write-in bid is successful, 84% of the incumbents who stood for re-election were successful (the number drops to 80%). Again, this is fairly consistent with the historical rate over the past forty years or so: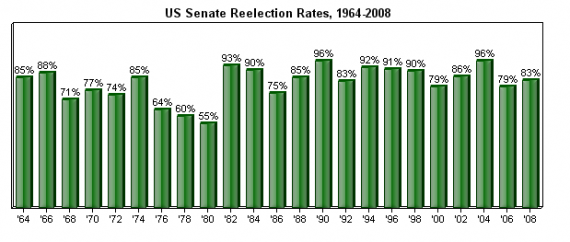 So, despite the changes that many are calling "historic," the fact of the matter is that incumbents were, for the most part, as safe in 2010 as they have been in previous elections.
Update: A commenter brings up the issue of incumbent retirements so I went and took a look at the numbers:
There were 15 open Senate seats (8 Democratic, 7 Republican). Of those 4 flipped to the opposing party, all of those were seats formerly held by a Democrat being won by a Republican. That gives us a party open seat retention rate of 73% in the Senate
There were 45 open House seats (24 Democratic, 21 Republican). Of those, 16 flipped to the opposing party, all but one of those (Delaware-At Large) were Democratic seats that went Republican. that gives us a retention rate of 64%