Incumbent Re-Election Rates And The 2010 Elections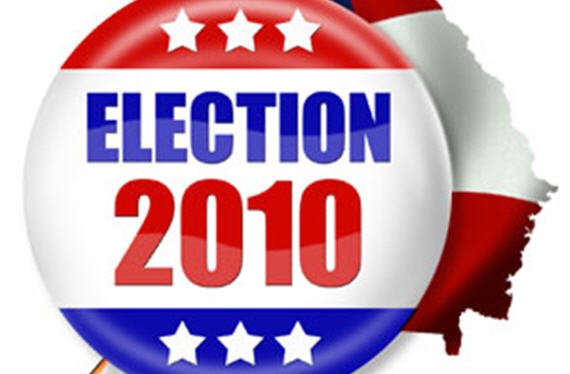 Several of the comments to this post have focused on the issue of incumbent re-election rates in the United States, so I thought it would be useful to look at the actual numbers, and ponder what might happen in 2010.
First, here's a chart showing the incumbent re-election rates for the House of Representatives going back to 1964: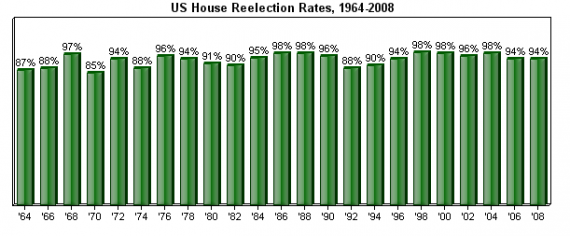 As you can see, there was only one time in the past 46 years when 15% of the sitting members of the House were booted out of office, in the Elections of 1970. Even the s0-called "Republican Revolution" of 1994 saw 9o% of the incumbents seeking re-election succeed in their efforts, and that was in a year when 54 seats switched hands. Even 2006 and 2008, which saw Democrats pick up 31 and 21 seats respectively, resulted in a 94% re-election rate for incumbents.
Things are a little different in the Senate: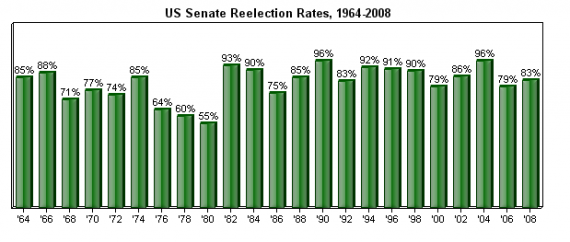 Interestingly enough, there's been much more variation in incumbent re-election in the Senate than in the House, even though the Senate is often thought of as being the less democratic branch. Partly of course, this is due to the fact that a single election result will have a larger impact given that there are typically only 33 Senate seats up for re-election in any given year.
So what does this mean for 2010 ? Well, if history is any guide, then it seems very likely that we'll see something in the range of 90-94% of the incumbents in the House of Representatives who are up for election win their races. As 1994 demonstrates, of course, this still means that there could be a change in party control, but a change in party control is not the same thing as a change in personnel. In the Senate, on the other hand, a change of, say, six seats would drop of the incumbent re-election rate to 81%, but would not give the Republicans control of the Senate. To do that, they'd need to pick up 11 10 seats, which seems incredibly unlikely.
Given all the natural advantages they have, I think it's fairly clear that most incumbents in Congress will survive this wave of anti-incumbency just like they've survived all the others.