The Childlike Foreign Policy Stylings of Donald J. Trump
A bold new plan for security in the Middle East.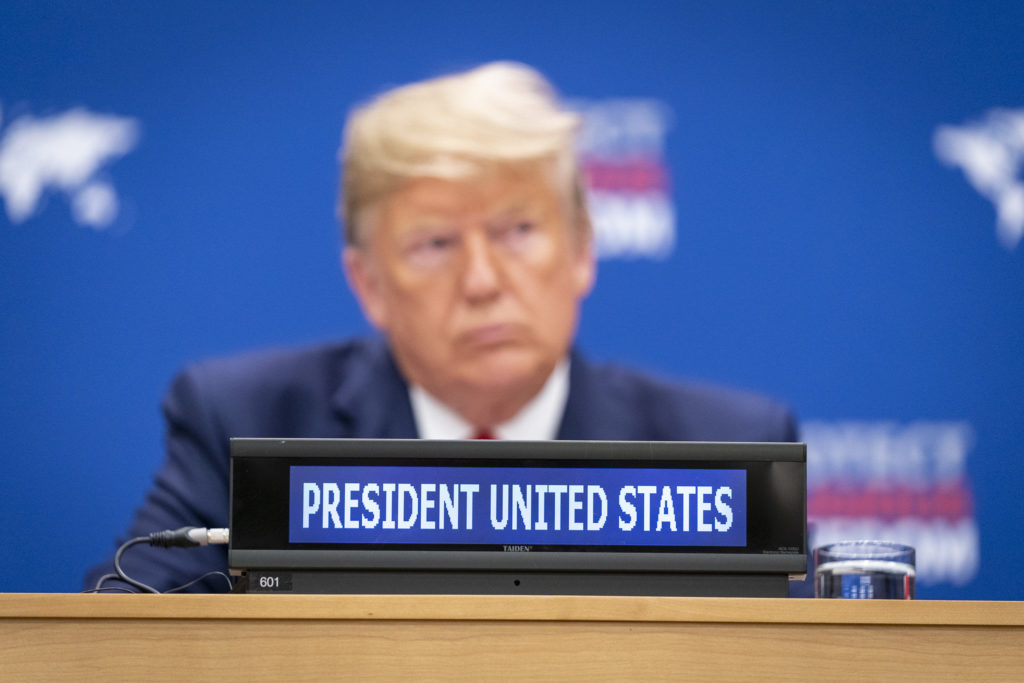 I have commented before (for example) that Trump's approach to foreign policy is not dissimilar from what an elementary school-aged child might imagine it to be. The notion, for example, that he could just be friends with people such as Kim Jong Un and that would solve a multi-decade conundrum is simplistic as best. Or that killing a bad man (e.g., Suleimani) solves problems easily and cleanly is the kind of lesson kids learn in movies and video games, but do not reflect reality. *
A clear example of this was his out of the blue suggestion of adding the Middle East to NATO (nope: I am not making that up).
Via the AP: Trump wants NATO expanded to Mideast and renamed NATOME.
Speaking to reporters at the White House during an unrelated event, Trump said the U.S. had tamped down Islamic State militants, eliminating their control of territory and killing IS leader Abu Bakr al-Baghdadi.

"We did Europe a big favor," he said.

"I think NATO should be expanded and we should include the Middle East, absolutely. … Right now the burden is on us and that's not fair," Trump said.

Trump said he also wants to see more NATO troops in the Middle East because problems there are international in scope. He said he spoke about NATO's role on Wednesday during a phone call with NATO Secretary-General Jens Stoltenberg.

"I think he was actually excited about it. I actually had a name. NATO, right, and then you have ME, Middle East. They would call it NATOME," Trump said.

"I'm good at names, right," he said and noted how the new North American trade agreement is called USMCA for the U.S., Mexico and Canada.
Even this deep into the Trump era, I see things like this on Twitter (as I did yesterday) and initially thought it had to be a joke. But no, here's the video:
May I start by stating that it isn't even a very good name (and that USMCA is a worse name than NAFTA). Setting aside foreign policy, Trump's confidence that he is a master marketer is no in evidence. NAY-TOE-ME sounds like a made up Japanese car in a bad movie.
But, I digress.
One the one hand, this is just silly. It is Trump at a microphone spouting nonsense. His hardcore supporters likely have no understanding of what NATO is (save in the vaguest of terms), why it exists, or why expansion into the Middle East makes no sense. So, they probably just glide on by the statements. Some of his reluctant supporters who do have anywhere from a rudimentary understanding will be embarrassed, perhaps (and keep it to themselves) and dismiss this as "Trump being Trump."
But having POTUS have at least a rudimentary knowledge of major international institutions (one which the US leads) and well as the basic differences between regions is kind of important.
NATOME is like your third-grader suggesting that the since NCAA football and NFL are both football, wouldn't it be cool if they merged into the NCAAFL. In fact, that would be a less ridiculous suggestions since they at least play roughly the same game. (Maybe it is more like "why aren't the Avengers in Star Wars? I have a great idea: the Jedi Avengers! I am so good with names!").
I know this isn't news to readers of this site, but from an objective point of view, no one would hire Trump for even the most rudimentary of foreign policy jobs. In all honesty, apart from things like reality TV host, I am not sure what job Trump could get based on his Twitter feed alone. And yet, he controls US foreign policy.
It is possible that Trump simply thinks that "NATO should be expanded and we should include the Middle East" means simply expanding their mission (not actually expanding NATO), but even that explanation (such as it is) would underscore a simpleton's understanding of NATO (but, yes, I repeat myself). He has long demonstrated an utter lack of understanding of the role NATO plays or what is purpose is.
The word "expansion" as it applies to NATO has clear meaning and implications. If Trump doesn't understand it, I guarantee that he can get Vladimir Putin to explain it to him.
While it is true that as an institution focused on European security there are potential missions for NATO forces in institutionally the Middle East, the idea of the Middle East being wedded to NATO misunderstands both the nature of NATO as a country-based (and largely values-based), collective security organization as well as the fact that the "Middle East" is a vast collection of countries that do not get along. Indeed, if the ME could behave like NATO, then that would mean that most of the problems in the ME had been solved.
And one thing is for certain (assuming Trump actually brought this idea up on the phone), Stoltenberg was in no way "excited" about the idea.
An alarming side note is that the administration is shrinking the size of the National Security Council staff, meaning even less experts voices influencing policy outcomes (via NPR):
President Trump's national security adviser said tensions with Iran won't slow his plans to shrink the size of the National Security Council.

In an exclusive interview with NPR, Robert O'Brien said he expects to have trimmed about a third of the ranks at the National Security Council by the end of next month.

"I think the reality is by the time we finish up, by the end of this month, end of next month, that we'll probably have about 60 to 70 staffers who've gone back to their home agency," O'Brien said.
I will confess that I do not know what an optimally-sized NSC staff would look like, but I do know that this does not seem like a great time to be trimming expertise. Along those lines, the piece notes:
The rapid change has raised concern among those who have served on the NSC, who believe the president needs a wide range of experts to study and give advice on the potential consequences of major actions, like the decision to order a drone strike on Iranian general Qassem Soleimani.

It was a move that past presidents, including George W. Bush and Barack Obama, had rejected because of the risks of war.
Further, the odds are good that this is driven by a desire more to limit possible leaks and whistle-blowers more than it is about real right-sizing.
…President Trump is wary of leaks and seems averse to advice and guidance like the kind of guidance traditionally given by the NSC.
It doesn't help that some of the most damning testimony against Trump in the impeachment hearings came from people working for the NSC.
Of course, none of this much matters if the President thinks things like NATOME are viable.
---
*Not to mention the inability to understand the Kim is a very bad man himself, yet allowing the bad man to escape scrutiny by pretending to be Trump's friend and sending him beautiful letters and whatnot.