More on Trump's Foreign Policy
Policies towards Iran and NK are both a mess.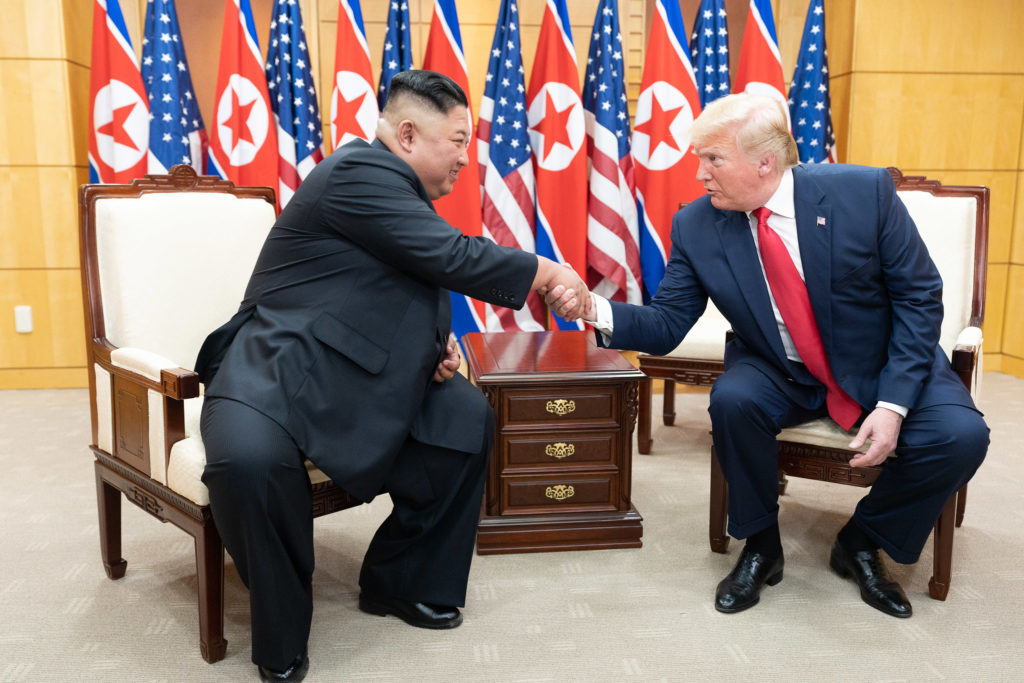 David Sanger has an analysis piece in the NYT has a piece with an extremely accurate headline (and which dovetails with my post from yesterday): Trump Bet He Could Isolate Iran and Charm North Korea. It's Not That Easy.
Indeed.
The core problem may have been Mr. Trump's conviction that economic incentives alone — oil profits in Tehran and the prospect of investment and glorious beach-front hotels in North Korea — would overcome all other national interests.

He dismissed the depth of Iran's determination to re-establish itself as the most powerful force in the region. He also underestimated Mr. Kim's conviction that his nuclear arsenal is his only insurance policy to buoy one of the last family-controlled Stalinist regimes.
Also, indeed.
The fact of the matter is, as important as economic levers can be, they are not the end-all of national self-interest. Further, they are not so simple as being based on a single transaction (or even set of transactions).
The North Korea example is clear: any foreign policy that fails to take into consideration the value that nuclear weapons have to the regime is going to fail. (Which is to say, I would note, any foreign policy that claims to be denuclearizing the peninsula is a fantasy).
Further, the notion that just upping sanctions on Iran, a country that is a regional power with aspirations to being even more influential, likewise fails to take into consideration even basic motivations. The historical fact that decades of sanctions have not caused the regime to fall might influence decision-making, but alas that would require a rudimentary knowledge of US-Iranian interactions since 1979.
One would think that a true deal-maker extraordinaire would be able to understand how the goals, motivations, and incentives that drive a given deal partner might be of use. But, alas.
"After three years of no international crises," Richard Haass, the president of the Council on Foreign Relations, said on Tuesday, Mr. Trump is "facing one with Iran because he has rejected diplomacy and another with North Korea because he has asked too much of diplomacy."

"In neither case has Trump embraced traditional diplomacy, putting forward a partial or interim pact in which a degree of restraint would be met with a degree of sanctions relief."
To which I can only say, again, indeed. (In regards to NK, I would note, I think it is less that Trump relied too heavily on diplomacy as much as he relied too heavily on what he thinks diplomacy is, i.e., heads of states chatting).
Mr. Trump does not engage such arguments. He simply repeats his mantra that Iran will never be allowed to obtain nuclear weapons and that North Korea — which already has fuel for upward of 40 of them, much of it produced on Mr. Trump's watch — has committed to full denuclearization, even though that overstates Mr. Kim's position.
In fact, it not only overstates it, it totally misunderstands it.
Of course, despite some very early hope that a Trump administration might hire foreign policy professionals to run foreign policy we got Rex Tillerson and the dismantlement of much of the State Department.
And while Mike Pompeo has a resume that makes him look like a more standard Secretary of State, we get stuff like this:
His top national security officials, starting with Secretary of State Mike Pompeo, offer a somewhat more nuanced view, saying that over time Iran will realize it has no choice but to change its ways and expressing optimism that "Chairman Kim will make the right decision and he'll choose peace and prosperity over conflict and war."

Increasingly, though, such lines sound like a hope, not a strategy. That is Mr. Trump's fundamental problem as he enters 2020. He does not have a comprehensive plan to unite the nation's estranged allies into a concerted course of action.

The absence of a common approach is hurting the most in Iran. When Mr. Trump abandoned the 2015 nuclear deal — declaring it a "terrible" piece of Obama-era diplomacy because it did not create permanent restraints on Iran's ability to produce nuclear fuel — his aides sounded confident that Europe, China and Russia would follow suit. They did not.
Hope is clearly not an effective foreign policy. Worse, it was profoundly obvious at the time that leaving the JCPOA was not going to be popular with allies and there was no reason to think that the rest of the world would fall in line. Ditto hopes about the ease by which Kim would capitulate.
Worse, those paragraphs underscore the degree to which US foreign policy has largely abandoned multilateralism as a tool.
The idea that because the US is the most powerful country and can, therefore, do whatever it wants without help is the way a child thinks about foreign policy. Assuming that we can just use threats and a few sanctions to scare the Iranians and North Koreans straight isn't even as sophisticated as the Green Lantern Theory of IR. It is how a fourth grader thinks the world works. It's "my dad can beat up your dad" (because my dad is rich) level reasoning coupled with some "you're a poopyhead" rhetorical prowess (see, e.g., a certain twitter feed).
There is also Trump's assumption that he is selling Trump Steaks as opposed to conducting global foreign policy:
The Iranians have made clear what Mr. Trump needs to do to reopen negotiations: Essentially return to the deal struck with Mr. Obama, largely by lifting sanctions Mr. Trump imposed starting in May 2018. There are signs Mr. Trump is eager to resume talks, including his effort to lure President Hassan Rouhani to the phone when the Iranian leader was in New York in September for United Nations meetings.
Just getting Rouhani on the phone is not going to solve this situation, and the fact that Trump thinks like this is part of why all of these things are a mess.
I also need to comment on this, as much to critique the author as to comment on Trump's foreign policy:
North Korea is a harder problem because Mr. Trump had initiated a bold and imaginative diplomatic process with Mr. Kim. By breaking the mold and agreeing to meet the North Korean leader face to face, he would be the first American president to do so since the end of the Korean War.
Look, I have noted before that I support direct talks with North Korea, but this is just ridiculous. Trump definitively did not initiate a "bold and imaginative diplomatic process with Mr. Kim." He taunted the man on Twitter and then agreed to several photo ops, and now pretends like a joint statement is a "contract" (as Sanger notes later in the piece). I suppose one could call it "bold" in some since, but it was not imaginative (it was reality TV at best) and it was not a "diplomatic process" (the word "process" is key). I suppose a mold was broken, but to no productive end (unless one counts what Kim got out of it).
This is just someone trying to bend over backwards to find something good to say about a wholly ineffective foreign policy.
Perhaps Mr. Trump's biggest miscalculation was over-relying on the personal rapport he built with Mr. Kim, and overinterpreting the commitments he received from the young, wily North Korean leader.
You don't say?