The Ivy League Supreme Court
Every member of the Supreme Court graduated from an Ivy League Law School. That kind of homogeneity is not healthy.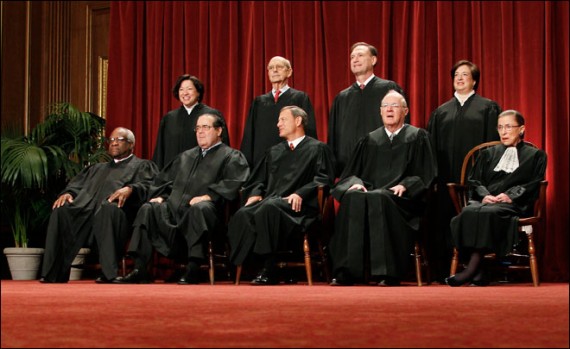 In The New Republic, Dahalia Lithwick argues that the Supreme Court has become too dominated by the Ivy League:
The current justices are intellectually qualified in ways we have never seen. Compared with the political operators, philanderers, and alcoholics of bygone eras, they are almost completely devoid of bad habits or scandalous secrets. This is, of course, not a bad thing in itself. But the Court has become worryingly cloistered, even for a famously cloistered institution

(…)

Paradoxically, the Court that has gutted minority voting rights inShelby County and limited women's access to birth control inHobby Lobby has never looked more like the country whose disputes it adjudicates. It includes three women, an African American, the first Hispanic, two Italian Americans, six Catholics, and three Jews. On the federal bench, President Obama has appointed more women, minorities, and openly gay judges than any president in history.

But while we have gained diversity of background, we haven't gained diversity of experience. A study released in February revealed that 71 percent of Obama's nominees had practiced primarily for corporate or business clients. The Supreme Court is even more homogeneous, because the modern confirmation gauntlet only lets one kind of person through. Post-Robert Bork, a nominee must not have too obvious an ideological agenda, as some judges and almost all elected officials do. Post-Harriet Miers, a prospective justice must possess not just a stellar résumé but also a track record of judicial rulings and legal writings from which future decisions can be confidently deduced.

The result has been what Professor Akhil Reed Amar of Yale Law School calls the "Judicialization of the Judiciary," a selection process that discourages political or advocacy experience and reduces the path to the Supreme Court to a funnel: elite schools beget elite judicial clerkships beget elite federal judgeships. Rinse, repeat. All nine sitting justices attended either Yale or Harvard law schools. (Ginsburg started her studies in Cambridge but graduated from Columbia.) Eight once sat on a federal appellate court; five have done stints as full-time law school professors. There is not a single justice "from the heartland," as Clarence Thomas has complained. There are no war veterans (like John Paul Stevens), former Cabinet officials (like Robert Jackson), or capital defense attorneys. The Supreme Court that decided Brown v. Board of Education had five members who had served in elected office. The Roberts Court has none. What we have instead are nine perfect judicial thoroughbreds who have spent their entire adulthoods on the same lofty, narrow trajectory.
This is not a new observation, of course. It was noted when President Obama made his most recent Supreme Court appointment four years ago, picking Elena Kagan to replace the retiring John Paul Stevens and thus creating a court consisting entirely of people who had graduated from either Harvard, Yale, Princeton or Columbia for at least law school and, in several cases, at the undergraduate as well. This was despite the fact that the Kagan nomination did break the recent trend of Supreme Court appointments in that Justice Kagan had not served as a Judge on a Federal Circuit Court of Appeals prior to her elevation like each of her other eight colleagues, but had instead been Solicitor General of the United States. Education, though, is not the only manner in which the nation's highest court has become unusually homogeneous. For the first time, there is not a single Protestant on the Court, instead the court consists entirely of Catholics and people of the Jewish faith, with Catholics making up the clear majority. Additionally, there are no veterans on the Court for the first time in decades, although that is also true of the United States Congress to some degree. Finally, the are four Justices who grew up in New York City on the high Court, which appears to be an historic first as well. As Lithwick notes, this kind of homogeneity among the Justices is unusual from the standpoint of history.
When this argument was being batted around four years ago, UC-Berkley Law School Dean Christopher Edley pushed back against the idea that there's something objectionable about this with an argument that basically boils down to the idea that we want the best of the best dealing with the complicated issues that the Supreme Court has to deal with on a regular basis:
Our political culture values a common touch, but our legal culture values uncommon smarts. Supreme Court nominations are a shotgun marriage of the two, but it should not be a marriage of equals.

For a court nominee or a political candidate, there are communications strategies to finesse a blinding résumé. If you want to explain to the public why you support a nerdy nominee (embrace it, Elena), you may want to talk about her Average Jane swellness. A senator walks out with the newest pick and grins into the cameras saying: "This is a fine person. Very likable. Loves fishing." Translation: "Pretty darned smart, but she seems human (enough), so don't hate me if I decide to support her."

(…)

[L]egal culture is different. We're enforcing the Constitution and preserving fundamental rights, for goodness sake. Federal judges, unlike those in most states, are well insulated from politics because they are appointed for life and never face election. Though political concerns do intrude — the people who nominate and confirm judges are politicians who worry about political consequences, after all — we hope that's not the only thing the politicians think about.

At the Supreme Court level, it's all about finding oracles for Olympus. While it's frowned upon when judges fire spitballs at colleagues, what matters is intellectual horsepower, not office-chat charm. It is wisdom and analysis, not personal experiences. If a judge's life is elite in the sense of excellence, that's fine. In fact, that may be the point. At every turn the nominee has excelled in a meritocratic system, one that is selective yet far more open than in generations past. But if a judge is elite in an exclusive and exclusionary sense, then we have a problem that's both political and jurisprudential.
On some level, of course, Edley's argument is quite persuasive. It is far better, for example, that our current Supreme Court, and indeed the large majority of our current Federal Judiciary, especially at the Circuit Court of Appeals level, is made up of honest, smart, experienced people who have received the best legal training that our country can offer and who are different from many of their predecessors in the 19th and 20th Century who were blatantly political appointments, or people whose names were put forward because they were best friends with the President or powerful Members of Congress. To be sure, those years gave us many great Justices — John Marshall, Joseph Story, John Marshall Harlan of Plessy v. Ferguson dissent fame, and Oliver Wendell Holmes Jr. just to name four off the top of my head — but they also gave us many, many 'clunkers' and blatant political appointments that didn't quite measure up to the requirements of the office to which they were appointed. On balance, though, I think it's fair to say that today's Supreme Court, and most of the Judges at the Court of Appeals level, constitute the best qualified legal minds in the country, and that's a good thing given the issues that these men and women have to deal with on a regular basis.
That being said, I don't think it necessarily follows that this means that the Ivy League must be the exclusive source for Supreme Court Justices, or a majority of the Circuit Court of Appeals Judges for that matter. Why is it that Yale and Harvard Law Schools, located within about a two hour drive of each other at most, are the source of all of our Supreme Court Justices? What about Stanford, Columbia, the University of Michigan, or any of the other schools ranked the top ten, or even the top 25 among American Law Schools? Is it really the case that none of these other 23 schools are capable of producing the kind of elite graduates that would make good Justices and Judges at the highest levels of our legal system? The idea that this could possibly be true is, indeed, quite absurd.
Lithwick goes on to argue that the educational homogeneity on the Supreme Court also leads to a lack of perspective that can be reflected in the way that a jurist approaches a case:
In the coming months and years, this group of Ivy-trained Washington insiders will have to decide whether Texas voters who don't have driver's licenses and are required to take three buses across town to pay $30 for a voter ID have effectively been disenfranchised. They will determine whether women who need to travel 300 miles to procure an abortion (women who may lack cars, or paid time off, or money to spend on hotels) face an "undue burden." But some of the same justices who will bar empathy from those considerations forget that they do evince empathy when they side with those beleaguered "sidewalk counselors," or multimillionaire campaign donors, or the owner of a mega-chain of craft stores who believes his religious freedoms have been impinged. All of us import our values and experiences into our decision-making. The double-whammy at the current Court is that the justices are no longer allowed to acknowledge it, and that the pool of those with whom they unavoidably identify is so dangerously small and privileged.

When the next court vacancy occurs, there will be lists of brilliant, Yale- and Harvard-trained jurists to choose from. But there will also be many accomplished lawyers toiling in elected office and legal-aid clinics and state-school faculties. Progressives need to identify those prospects and to push them forward. The alternative is ceding the court to ever-more dazzling minds, while seeing less of our own realities in its jurisprudence.
Personally, I tend to disagree with the idea that Judges ought to let themselves be influenced by "values and experiences" outside of the facts of the case before them, and the law that they are being called upon the interpret and apply to those facts. That being said, the law has never been a cut and dry business where there is always a correct answer to a given question. Instead, there are nuances and ways that facts and be interpreted that different people will see differently. To some degree, this is why appellate courts at all levels are composed of more than one Judge hearing a specific case. In part, that exists so that each of the Judges can serve as something of a check on the others by providing a different perspective on a particular point of law, or on how that point of law applies in a particular case. The value in this would seem to be obvious, and certainly seems preferable to the idea of an appellate court made up of a single judge who would have the final word over all appeals. It's an idea that goes back to long before the American Revolution, and, indeed, the idea of an appellate court where more than one judge hears and decides a case is nearly universal. Given that, there would seem to be some value in a Supreme Court that is somewhat more diverse than it is today, and this can obviously be done without making any sacrifices in terms of the qualifications of the Justices. We could start with what Lithwick suggests, the next time there is a vacancy on the Court, perhaps the President ought to look at a list that includes people that graduated from someplace that isn't Harvard or Yale. It couldn't hurt, and it might actually help a bit.