The Moral Irresponsibility Of Joe Paterno
If true, Joe Paterno's actions in response to charges of child abuse by a coach are indefensible.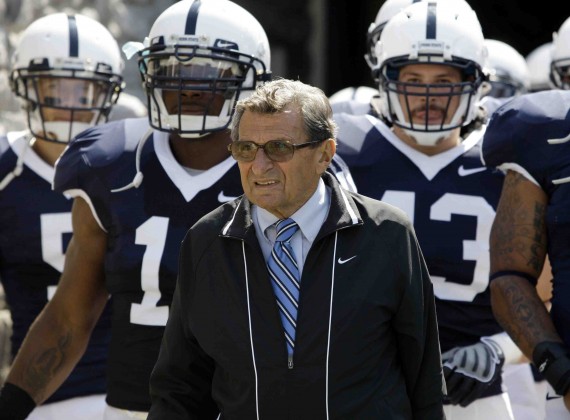 The Washingt0n Post's Mike Wise has a blistering column this morning regarding the child sex abuse scandal that has rocked the Penn State football program, and most specifically the actions of one of the most famous names in the history of college football:
After what allegedly happened to "Victim 2," a boy estimated to be 10 years old, in the same room where Penn State football players shower, it's near impossible to keep reading the grand jury's report. By "Victim 8," numbness turns to anger.

You want to scream at the traumatized graduate assistant coach in 2002 and janitor in 2000 who saw and didn't stop it, according to the report released by the Pennsylvania attorney general's office. You want to grab hold of and shake those who reported the crime only to their superiors, washed their hands of responsibility and then let it go, treating a kid's life as if it were a football that slipped through their hands.

Most of all, you want to have an audience with one of sports' most endearing icons, Joe Paterno, Happy Valley's homespun saint, and ask Joe Pa, repeatedly, "While you were regaling everyone with sappy tales about meeting your wife 50 years ago over ice cream at the local creamery in State College, Pa., did you have any idea what your longtime defensive coordinator was doing in the company of young boys?"

If the Pennsylvania attorney general's office is to be taken at its word — if the sad, sickening details of alleged sexual abuse of young boys by Jerry Sandusky are true — a once-immaculate program thought of as beyond reproach is now close to beyond redemption.

Paterno wasn't charged, but if Sandusky is guilty, Paterno would be guilty — just as Penn State's athletic director and a university vice president, who were charged with perjury and failure to report suspected child abuse on Saturday, would be guilty.

They would all be party to a worse crime than any crooked, pay-for-play booster at Miami, Ohio State or even SMU ever committed: guilty of protecting a program before a child.

You can't read the 23-page grand jury report and come to any other conclusion; Penn State football and its pristine reputation apparently superseded the alleged sexual assault of a young boy — perhaps as many as eight young boys — over 15 years by Sandusky.

Joe Pa knew, if the charges are true.

They all knew.

And they never told police.

(…)

Paterno and university officials knew they hadn't employed a defensive coordinator; they had in effect empowered a sexual predator, who the report says spent the next seven years molesting more boys.

And because they possibly chose to protect Penn State's brand instead of a child — a 10-year-old kid whom they never even bothered to find out the name of, according to the grand jury report — more children might have suffered because of their silence.

If the grand jury report is true, they all need to step down — even the great Joe Pa. It's the least he could do.

For however long shame and guilt hover over his last days at Penn State it will never outlast the shame and guilt felt by those young boys. Nor will it bring back their innocence. Like the sheen of Joe Pa's program, that may well be gone forever.
Much of how Paterno is judged from this day forward is going to depend upon what facts come out about his role in this atrocious situation, and history is likely to judge him quite harshly if the allegations in the Grand Jury report [PDF – but be warned it isn't pleasant reading] turn out to be true. The most astounding part of this for me, as many of the people who have commented on James Joyner's post about this yesterday is the fact that everyone involved in this story, from the graduate assistant who witnessed Sandusky sodomizing a boy in the team showers, to Paterno, to the Athletic Director acted as if it was entirely appropriate that these charges be investigated internally rather than turning the matter over the University Police (or perhaps more appropriately, an outside police agency). It reminds one of the response that the Catholic Church had in years past when allegations of child sex abuse were made against priests. Rather than turn the matter over to the relevant law enforcement agency, they investigated the matter internally, paid off witnesses, and moved priests around to other churches where they would inevitably molest again. How many young boys did Sandusky molest after that night in 2002? If there was even a single one, then what happened to them lies on the conscious of every single person that handled this improperly, from the G.A. to Paterno and beyond. They didn't commit the act, but they also failed to do what should have been done to stop a man who is obviously a danger to children.
Wise argues that this story, if true, is a bigger stain on Penn State's program than the scandals that rocked SMU, Ohio State, and Miami. Perhaps that's true, but I'm not even sure that there's an NCAA rule that would cover a situation like this or whether they would even bother to try to prosecute it. In either case, though, it seems pretty clear to me that Paterno's legacy is forever stained. Legally, he apparently did all that he was required to in that he reported a possible case of child abuse to his superiors, they're the ones who decided not to go to the police. Morally, though, I cannot understand how a person can sleep at night knowing that they had been told about something this obscene and all they did was kick it up the university administration ladder. It makes you wonder what kind of world we live in anymore, really.
I've got family from Pennsylvania, several of whom have attended Penn State over the years. I almost went there myself, but ended up at Rutgers instead. In most of Pennsylvania and parts of New Jersey, JoePa is something of a Football God to the faithful. After this, though, it's pretty clear that he's just a man with feet of clay and a very badly centered set of priorities.
Update: Commenter Stormy Dragon provides us with a link to the Pennsylvania law governing the actions of the university:
§ 6311. Persons required to report suspected child abuse.

(c) Staff members of institutions, etc.-Whenever a person is required to report under subsection (b) in the capacity as a member of the staff of a medical or other public or private iinstitution, school, facility or agency, that person shall immediately notify the person in charge of the institution, school, facility or agency or the designated agent of the person in charge. Upon notification, the person in charge or the designated agent, if any, shall assume the responsibility and have the legal obligation to report or cause a report to be made in accordance with section 6313. This chapter does not require more than one report from any such institution, school, facility or agency.
Section 6313 does indeed require that the university officials report the matter to the police. My reading of the statute doesn't appear to impose additional legal duties on employees such as Paterno and the GA if they come to believe that their superiors aren't acting as they should.
Update #2: Via ESPN, here is a statement that Joe Paterno has released on this matter:
If true, the nature and amount of charges made are very shocking to me and all Penn Staters. While I did what I was supposed to with the one charge brought to my attention, like anyone else involved I can't help but be deeply saddened these matters are alleged to have occurred.

Sue and I have devoted our lives to helping young people reach their potential. The fact that someone we thought we knew might have harmed young people to this extent is deeply troubling. If this is true we were all fooled, along with scores of professionals trained in such things, and we grieve for the victims and their families. They are in our prayers.

As my grand jury testimony stated, I was informed in 2002 by an assistant coach that he had witnessed an incident in the shower of our locker room facility. It was obvious that the witness was distraught over what he saw, but he at no time related to me the very specific actions contained in the Grand Jury report. Regardless, it was clear that the witness saw something inappropriate involving Mr. Sandusky. As coach Sandusky was retired from our coaching staff at that time, I referred the matter to university administrators.

I understand that people are upset and angry, but let's be fair and let the legal process unfold. In the meantime I would ask all Penn Staters to continue to trust in what that name represents, continue to pursue their lives every day with high ideals and not let these events shake their beliefs nor who they are.
I'll leave that for others to judge.