The Pre-New Hampshire Post
Observations, questions, and some toastosity.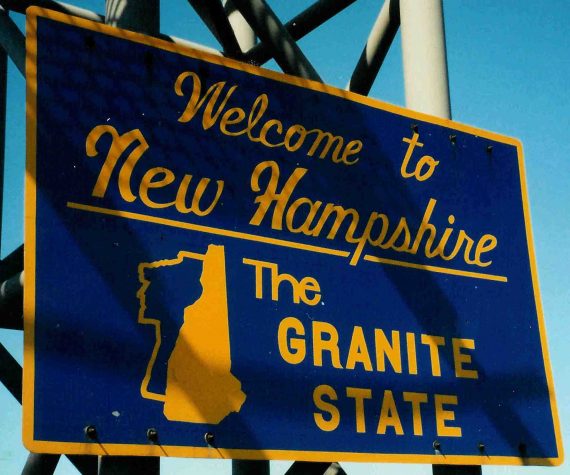 So, the first primary in the nation is Tuesday which will provide more actual electoral data to examine as the actual nomination journey to nomination has finally gotten underway.  Let's look at the two parties and their main storylines:
The Democrats
Of course, we have only two candidates to discuss here, and I do not think that the basic dynamics of the race have changed since my pre-Iowa write up insofar as I remain confident that Hillary Clinton will be the nominee.
Having said that, and to reiterate what I predicted about Bernie Sanders last week, New Hampshire will be Bernie's zenith.  Polls indicate he is going to win big.  This is going to lead to several weeks of cable news and online stories about how competitive the race is, if not making the argument that Bernie is poised to be the nominee.  However, when assessing a win in NH for Bernie, one has to remember two salient variables:  geography and demographics.  The geography factor is the proximity of New Hampshire to Vermont and the tendency of NH primary voters to favor New Englanders over time.  But more significantly, New Hampshire is 92% white (the only whiter state in the union is Vermont).  This is important because Bernie polls best, as I noted earlier this week, with whites, and Hillary's strengths are in the African-American and Latino voters that are far, far more significant in Democratic circles elsewhere in the country.  Along these lines it is worth noting that Hillary has a substantial lead in polling in South Carolina at the moment where the demographic breakdown of the state is 64% white, 27% African American, and 6% Latino (which means the Democratic Party electorate will be even higher in proportions of non-whites).  Likewise Nevada, which is between NH and SC on the calendar, is 50%-9%-28% on the same metrics.
It is further worth noting that Bernie is doing really well with young voters.   Young voters are notorious for not showing up in hoped for numbers when voting rolls around.  Hillary, by contrast, has the older voters, who do show up.  Now, yes, it can be stated that the present is just like the past up and until the point that it isn't (not to mention that bromide:  anything can happen!), but the fact remains that (as I keep saying in various permutations to friends on Facebook and elsewhere):  the technical political science term for a candidate who needs massive, unprecedented shifts in voter behavior to win is "loser."  Bernie Sanders needs massive shifts in African-American and Latino attitudes as well as a substantial change in behavior by the youth vote to have a shot at the nomination. From a dispassionate, political analyst point of view, these seems like rather unlikely occurrences (to put it mildly).
Now, it is fair to note that Bernie did come within two points nationally in this week's Quinnipiac poll, but one poll is not enough for me to re-assess the basic demographic analysis.  I remain convinced that by the morning of March 2nd, it will be pretty clear that Hillary is going to be the nominee.
The Republicans 
The crowded field became slightly less crowed after Iowa with Paul, Santorum, and Huckabee bowing out, however I expect more significant winnowing to occur later this week.
Here are my questions going into NH:
Zombie Candidates?
There are a couple of candidates who are, quite clearly, the walking dead:  Bush, Carson, Christie, and Fiorina–the problem is, it would appear, the message of their metaphoric deaths has not hit their brains as yet.  I cannot see any of them being revived by New Hampshire as they are all polling in the single digits and only a strong third place finish could form the basis of an argument to go forward (even if such an argument would be a weak one).
Acknowledgement of their lack of viability is significant because their support is likely to go to the Not Trump and will, therefore, help reshape the race going into Nevada and South Carolina (and especially for March 1st).
Cruzin' for a Bruisin'?
One suspects that Cruz has peaked.  Iowa had the appropriate mix of voters amendable to his positions, and I sincerely thank him for putting a bit of dent in Trump's armor in Iowa.  Still, I continue to have a hard time seeing him win over the long term.  If anything, he is profoundly disliked within his own party and, really, if the GOP electorate really wants a belligerent jerk as the nominee, why not go the Full Trump?  And if they want someone who is conservative but has actual governing experience, there are plenty of others to choose from.  His currently lousy standing in the NH polls seem to underscore these facts.
A closing note in regards to some of Cruz's tactics last week:  a colleague of mine who studies religion in American politics noted in a conversation:  it is problematic to try and be the Evangelical candidate and the Dirty Tricks candidate.   (People start to notice these things).
Did Rubio Blow it?
I did not watch the Republican debate last night, but even a brief perusal of Twitter afterward indicated that Rubio had a problematic outing and stories like The Atlantic's Did Marco Rubio Squander His Big Moment? were everywhere this morning.  On the one hand, debate performances can be overblown, on the other, this is a tight race and a lot of people are making up their minds at the last minute.  It is always a problem when a candidate self-illustrates his perceived biggest flaw.  In this case, Rubio did an excellent job of validating the idea that he is nothing but a series of memorized statements who will be unable to take down his Democratic rival if that opportunity arises.
Rubio v. Kasich:  Dawn of the Not Trump?
As I noted last week, Kasich has put all his chips on NH and has been doing better than I would have expected in the polls.  If he can come in second, he will have a legit chance at being the Not Trump (and I think third keeps him in the race, especially if doubts emerge about Rubio).
I will be honest, I have though for some time that Rubio is the likely nominee (I even said it for campus TV before the Iowa caucuses, so I am on the record).  I still figure this to be the case.  However, NH does seem to provide a pivotal moment in which Kasich could make a case to the donor class and to the voters who want to win in November that he may, in fact, be a viable candidate.  I am not sure where I want to put those odds at this point, but I think they are sufficiently significant to consider Kasich viable at the moment.
Toast-o-Meter Time
Given the underwhelming response to return of toastiness last week, it may be time to out the toaster away, but here is a truncated version:
Dems:  Hillary remains on track for the nominate, and hence is, in the parlance of the Toast-o-Meter, Wonder Bread.  Bernie does maintain an outside chance, so is not toast as yet, so I will keep him in the "plain ol' white bread" category (which works on a number of levels).
Reps:  Trump will win this week and Rubio and Kasich as, to my mind, the best options for Not Trump.  Cruz, meanwhile, could still theoretically be in the running for the Jerky Nominee slot (along with Trump–but, really, I think he will be toasty after Tuesday).  As such, we will call these guys all in the white bread category (i.e., they have a shot still). No Wonder Breaders in the bunch as yet.
Bush, Carson, Christie, and Fiorina are all toast (and Carson is toast in fresh clothes).  Hopefully they will all drop out by the end of the week so that we can get to the inevitable narrowing of the field and the next level of this process where we are focused on people who could potentially be the nominee.