The Rick Perry Hunting Lodge Story: A Trivial Distraction?
What was written on a rock outside of a hunting lodge in Texas 30 years ago doesn't really matter all that much.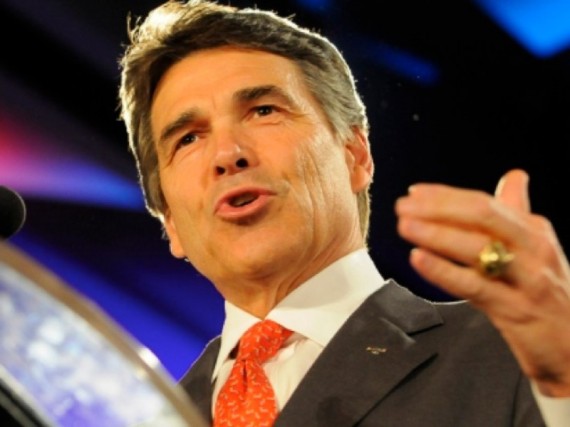 I'm no Rick Perry fan, but I find myself agreeing with Rod Dreher's take on this entire controversy about the name of Perry's former hunting lodge:
It's more than a little mind-boggling to contemplate that this kind of penny-ante stupidity and racial insensitivity is deemed newsworthy enough by the Post to put on the front page. A couple of days ago, Perry called for the U.S. military to invade, in effect, Mexico to take on drug cartels. Hello! That's huge. Perry could have been hunting for years at a deer camp called Rod Dreher Was Stalin's Cabana Boy, and it would be trivial, given the magnitude of the challenges facing the country's next president, and their proposals to address them. It is far, far more significant that a man who still has a decent chance at being the GOP nominee thinks it would be a good idea to send American troops into Mexico to conduct crimefighting operations than that this man used to hunt at a deer camp with a racially insensitive name (a middle-aged white Republican from small-town West Texas as lacking the racial sensitivities of the Washington Post newsroom — wow, who could have imagined that?).

The world teeters on the brink of a global depression. Millions of Americans are out of work, or don't have enough work, and there are no prospects of things getting better in the short run. The American military is mired in an unwinnable Asian land war. We don't have the luxury to worry about whether or not the men or women who aspire to lead the country were sufficiently sensitive about the name of a sporting venue in their past. As far as I'm concerned, if President Obama can fix the economy and bring the troops home, he can play golf at Honkyhead with my blessing.
Some might argue that apparent insentivity about an obvious racial slur is somehow indicitive of Perry's views on race. As The Texas Tribune found out when they started asking, though, even Perry's political opponents don't think the story amounts to much of anything:
Even some of Perry's fiercest Texas critics say they do not believe he is racist. They point to his record of appointments as evidence: He appointed the state's first African-American state supreme court justice, Wallace Jefferson, and later made him chief justice. (Jefferson's great grandfather was a slave, "sold like a horse," Perry once said with disgust.) Perry's former general counsel and former chief of staff, Brian Newby, is black; so is Albert Hawkins, the former Health and Human Services Commissioner who Perry handpicked to lead the massive agency in 2002.

"He doesn't have a racist bone in his body," said former Democratic state Rep. Ron Wilson, who is black and served with Perry in his early years in the Legislature. "He didn't then, and he doesn't now."

Added Dallas Democratic Sen. Royce West, who is also black: "I don't agree with him on policy issues, but you can point to many things he has done that were sensitive to ethnic minorities."

(….)

Wallace Jefferson, the first black chief justice of the Texas Supreme Court, said the hunting ranch name controversy is "much ado about nothing," and argued the implication that Rick Perry is insensitive to matters of race is flatly wrong. Jefferson, who was appointed to the post by Perry, and whose great-great-great-grandfather was a slave owned by a Waco district judge, said the reality is quite the opposite: Perry "appreciates the role diversity plays in our state and nation."

Jefferson said he can recall his first conversation with Perry, in 2001, like it was yesterday. The two men both had fathers who were Air Force officers, and Jefferson said Perry shared his view that in all circumstances, merit mattered, not race.

"To imply that the governor condoned either the use of that word or that sentiment, I find false," Jefferson said.
So there you have comments from people that actually know Perry, including members of the opposition. If Perry harbored some kind of a racist attitude, it strikes me that there would be some kind of evidence in support of it other than a rock on the ground outside of Paint Creek, Texas, and one would think that his political opponents would be more than willing to point to examples of it. The fact that they haven't suggests that there's nothing there, and that yesterday's Washington Post story was little more than an attempt at a journalistic hit piece. If the Post wanted to do a story about Perry and Texas, then why aren't they writing about the crony capitalism, or checking into the claims he makes about job creation in Texas? Isn't that just a little bit more important than something that happened when a good portion of the people who will be voting in 2012 were still in school? Instead of obsessing over these kinds of trivialities, let's see the Washington Post concentrate on something that matters for once. They used to know how to do that.
Herman Cain, who had initially criticized Perry when asked about it on two Sunday morning talk shows, basically said today that he considers the matter closed:
Herman Cain pushed back Monday against criticism that he had unfairly called opponent Rick Perry "insensitive" when asked about a rock displaying a racial epithet at a ranch leased by the Texas governor.

"All I said was the mere fact that that word was there was 'insensitive,' " Cain said outside Trump Tower in Manhattan, N.Y., according to the National Review. "That's not playing the race card. I am not attacking Gov. Perry. Some people in the media want to attack him. I'm done with that issue!"

(…)

Cain seemed eager to put the issue behind himself Monday, asking reporters to instead ask about "what's important to the American people" rather than "beat this distraction to death about a word that appeared on a rock."

"I really don't care about that word," Cain said. "They painted over it. End of story! I accept Gov. Perry's response on that."
Cain's response on Sunday had been the main reason that this turned into a two-day story. Will this put an end to it? It should, but I doubt it will. We'll probably even get a question about it at the next Republican debate. Because, you know, there's really nothing important to be talking about right now.