The Saudis Tortured An American Citizen, Trump Looked The Other Way
The Saudis tortured an American citizen, but the Trump Administration doesn't care.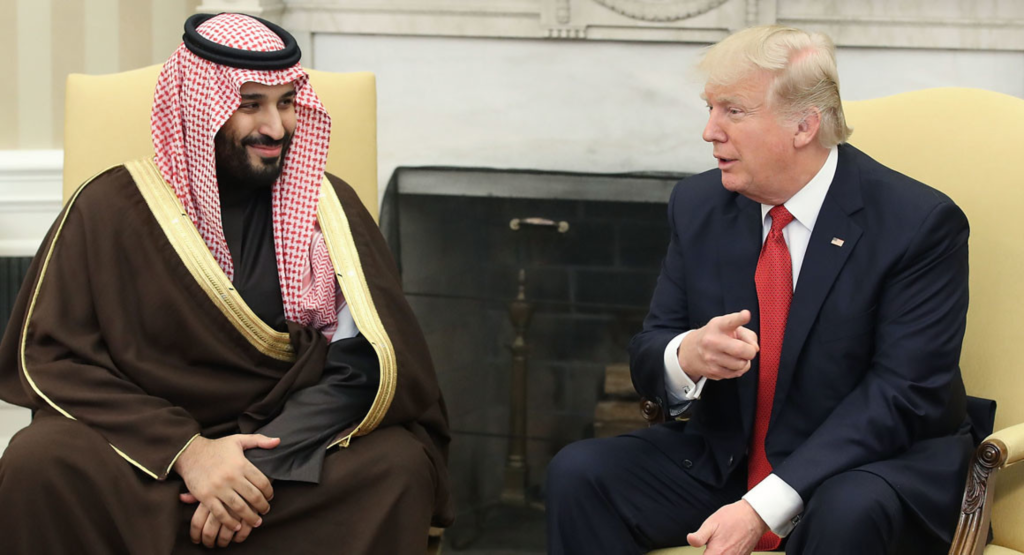 The New York Times reports that Saudi authorities tortured an American citizen taken into custody as part of a purported crackdown on corruption within the Royal Family:
A dual citizen of Saudi Arabia and the United States had been imprisoned in the Ritz Carlton in Riyadh for about a week when he heard a knock on his door.

Guards dragged Walid Fitaihi, a Harvard-trained physician, to another room, according to a friend who took down the prisoner's detailed account of his treatment. Dr. Fitaihi told the friend he was slapped, blindfolded, stripped to his underwear and bound to a chair. He was shocked with electricity in what appears to have been a single session of torture that lasted about an hour.

His tormentors whipped his back so severely that he could not sleep on it for days, his friend said, speaking on condition of anonymity to avoid reprisals. The doctor had described the physical abuse, in general terms, to his relatives as well, a person close to them said.

Detained in November 2017 in what was billed as a crackdown on corruption, Dr. Fitaihi, 54, remains imprisoned without any public charges or trial. About 200 prominent Saudis were detained with him, and he is one of dozens who remain in prison.

Friends and families of others detained have also described episodes of torture. At least 17 detainees were hospitalized soon after the crackdown for injuries sustained while in custody, according to a doctor at the hospital and an American official monitoring the crackdown.

>A military officer who had been detained died with a twisted neck and other signs of abuse on his body, according to a person who saw it. Women's rights advocates jailed in Saudi Arabia have said they were also tortured, including by electrical shocks, according to their relatives and rights groups.

But Dr. Fitaihi's American citizenship means that his mistreatment, which has not been previously reported, may now pose a special threat to Saudi relations with Washington. The Trump administration is already struggling to quell a bipartisan backlash against the kingdom over the killing last fall of the Saudi dissident Jamal Khashoggi, a Virginia resident and Washington Post columnist who was executed and dismembered by a team of Saudi agents in the kingdom's consulate in Istanbul.

This past week, Jared Kushner, President Trump's son-in-law and Middle East adviser, met for the first time since the killing with Crown Prince Mohammed bin Salman, the de facto ruler of the kingdom. American intelligence agencies have concluded that the crown prince ordered Mr. Khashoggi's killing.

Mr. Kushner met with Prince Mohammed to promote a potential resolution to the Israeli-Palestinian conflict in which the prince and his country may play a big role.

The Trump administration, meanwhile, has defied a congressional deadline to report about who was responsible for the killing. Instead, President Trump has equivocated about whether Prince Mohammed might have authorized it, even as he has extolled the value of Saudi Arabian oil sales and defense contracts.

American friends of Dr. Fitaihi are stepping up a campaign to press Washington to take up his case. They say the Trump administration's public silence about his incarceration is at odds with Mr. Trump's repeated boasts about his successful efforts to extricate American citizens held abroad.
Daniel Larison comments:
Dr. Fitaihi is still being held without charge. It should go without saying that our government should be urgently seeking his release, and the Saudi government should expect to pay a price for imprisoning and torturing an American citizen. Unfortunately, the Trump administration has been embarrassingly subservient to the Saudi government for the last two years, and their evident failure to intercede on behalf of a U.S. citizen wrongfully detained and tortured in Saudi Arabia is more of the same. No one should have any confidence that the same people that have bent over backwards to shield the Saudis from the consequences of their war crimes in Yemen and the murder of Jamal Khashoggi will do anything for Dr. Fitaihi. As usual, it will fall to Congress and human rights activists to call attention to yet another case of outrageous Saudi behavior.
This news comes, of course, at the same time that Jared Kushner, the President's "point man" on Middle East peace, is meeting with Saudi and U.A.E. officials as part of his ongoing effort to come up with something that at least two generations of American Presidents and diplomats, a comprehensive Middle East peace agreement. Leaving aside the quixotic nature of that assignment, the very fact that Kushner and the Trump Administration are considering the Saudis in general, and Mohammed bin Salman specifically, to be reliable partners in any such process is a rather sad commentary on the state of American diplomacy and the extent to which human rights issues have been largely forgotten in the Trump Era. We already know, after all, that the Saudi government was involved in the detention and murder of Washington Post journalist, and American Permanent Resident, Jamal Khashoggi last October. We also know, even though the Trump Administration refuses to acknowledge it, that Khashoggi's murder was done with the knowledge and most likely on the orders of Crown Prince Mohammed bin Salman. Now we have evidence of Saudi involvement in the torture of an American citizen as part of a series of mass arrests that we already knew were engineered by bin Salman himself.
Lairson is right, of course, in his observation that the Trump Administration will neither do nor say anything with regard to Dr. Fitaihi. While it's been true in the past that American Presidents in the past have maintained a close relationship with the Saudis notwithstanding their atrocious record on human rights and other issues, that tendency only seems to have gotten worse under President Trump. To this Administration, it doesn't matter that Saudi Arabia was the home to nearly of the September 11th hijackers, that its citizens have long been a source of funding for al Qaeda and other jihadist organizations, that the Saudi government itself funds the spread of Wahabbist Islam around the world, that it is currently conducting a genocidal war on Yemen, or even that it has murdered an American journalist and tortured an American citizen. This President quite simply doesn't care, and he seems intent on maintaining a good relationship with the Saudis no matter what. Something tells me we're going to pay a price for this in the future, just like we paid a price for supresing democracy and supporting the Shah in Iran.