Theresa May Faces No Confidence Vote From Fellow Tories
Theresa May is facing an unexpected challenge to her leadership even as she deals with trying to save a Brexit deal that nobody seems to like.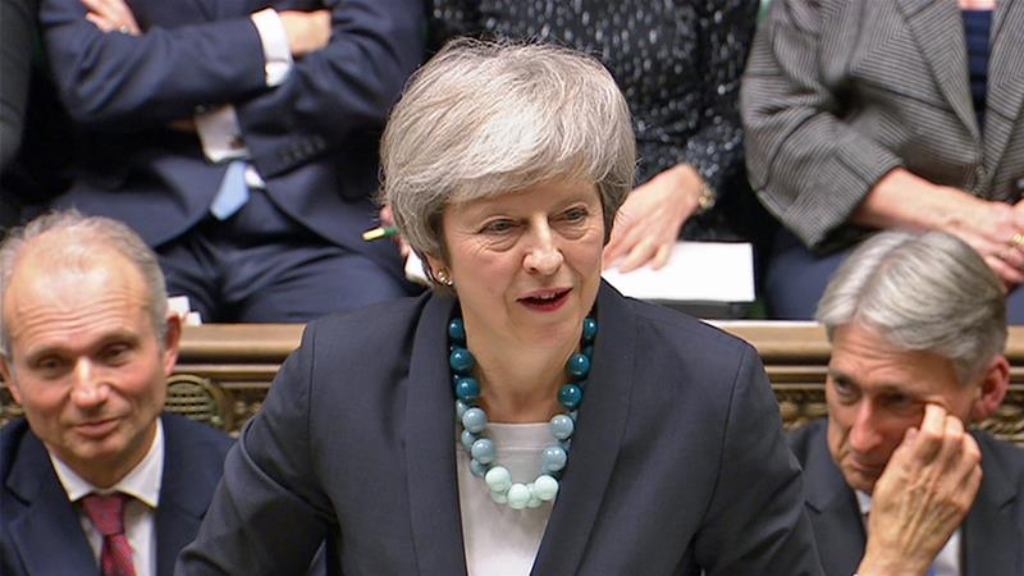 It's been a rough week for British Prime Minister Theresa May to say the very least. On Monday, she was forced to indefinitely postpone a vote in Parliament to approve the Brexit deal she had reached with European Union representatives after months of negotiations, a deal that nobody other than May herself appears to like. Yesterday she dispatched herself to the Continent in an effort to save the deal at the last minute, a tour that included a symbolically embarrassing moment when she was locked in her car before her meeting with German Chancellor Angela Merkel. Now, she finds herself facing a rebellion from within her own party that could lead to her ouster as party leader and possibly necessitate new elections:
Britain's beleaguered prime minister, Theresa May, will face a no-confidence vote on Wednesday within her own Conservative Party, as lawmakers upset with her handling of Britain's withdrawal from the European Union seek to topple her from power.

Graham Brady, the chairman of the backbench 1922 committee of Conservative lawmakers, announced Wednesday morning that he had received letters of protest from more than 48 Conservative members of Parliament, the number needed under party rules to trigger a vote on her leadership. He said the contest would take place Wednesday evening.

Mrs. May has been battered from multiple directions by her management of the European Union withdrawal, or Brexit. In particular, many hard-line Brexit supporters within her party believed she was not making a complete enough break with the bloc.

In recent days, she suffered two embarrassing setbacks in Parliament. Last week, the House of Commons voted her in contempt of Parliament — the first time any prime minister had been censured in that way — for failing to release the advice her government's lawyers had given on Brexit.

And on Monday, she postponed a vote on the Brexit agreement she had negotiated with the European Union, acknowledging that "if we went ahead and held the vote tomorrow the deal would be rejected by a significant margin." In fact, lawmakers say views on the topic, which has dominated British politics for nearly three years, are so fragmented that no approach has majority support in Parliament, and probably not among Conservatives, either.

A defiant Mrs. May appeared Wednesday morning outside 10 Downing Street, the prime minister's official residence, to argue that the only beneficiaries of a vote of no confidence would be the opposition Labour Party.

"I will contest that vote with everything I've got," she said.

"A change in leadership in the Conservative Party now will put our country at risk and create uncertainty when we can least afford it," she added. "Weeks spent tearing ourselves apart would only create more division, when we should be standing together."
The party challenge, the most serious that May has faced in her time as Prime Minister, was triggered by Graham Brady, the Chairman of the 1922 Committee of Tory backbenchers, who informed May that he had letters of support from 48 members of the Tory majority, more than the sufficient number needed to trigger a rebellion. The vote will be conducted by secret ballot, which means that whatever claims of loyalty May will get over the coming hours are essentially meaningless until the votes are actually cast. May would need to win the support of at least 158 of the 315 Conservative Party members of the House of Commons. If May loses the votes, then the party would be forced to begin to the process of selecting a new party leader. This would start with MPs asserting their interest in the position, at which point Conservative MPs would narrow the list of candidates down to two who would be presented to the members of the party around the country to be voted on. The first round of whittling the list down to two candidates could at least theoretically be completed before Christmas, but it would likely take several weeks after that for the final vote by the party's members nationwide, May would not be eligible to stand for that election but could remain as essentially caretaker Prime Minister until a new leader is selected .In addition, losing a party leadership vote could imperial the governing coalition that May has built and send the country down the road to a no confidence vote in Parliament itself and new elections should she not survive that vote. The vote will take place this evening London time, between 6:00 p.m. and 8:00 p.m. Greenwich Mean Time, which translates to 1:00 p.m. and 3:00 p.m. Eastern Standard Time.
Even if May survives this vote, her position as party leader, Prime Minister, and chief Brexit negotiator are going to be severely damaged by the mere fact that she is facing what amounts to an exceedingly rare challenge to her own leadership from within her own party. This would be especially true if the vote turns out to be close, or even if she ends up getting more than 100 votes against her. In that case, May could find it impossible to continue governing notwithstanding the fact that she survived the vote, thus meaning that she could end up being forced out regardless of what happens today.
A number of British news sites, including The Guardian and The Telegraph are live-blogging the latest developments in this latest political crisis, and you also should be able to get up to date information from lists of British political coverage on Twitter such as those here and here. In any case, the coming hours promise to be quite interesting for May and the short-term future of British politics.