Trump Campaign Sues To Block California Law Requiring Release Of Tax Returns
The Trump campaign and several other parties have filed lawsuits challenging California's new law requiring candidates for President to release copies of their tax returns.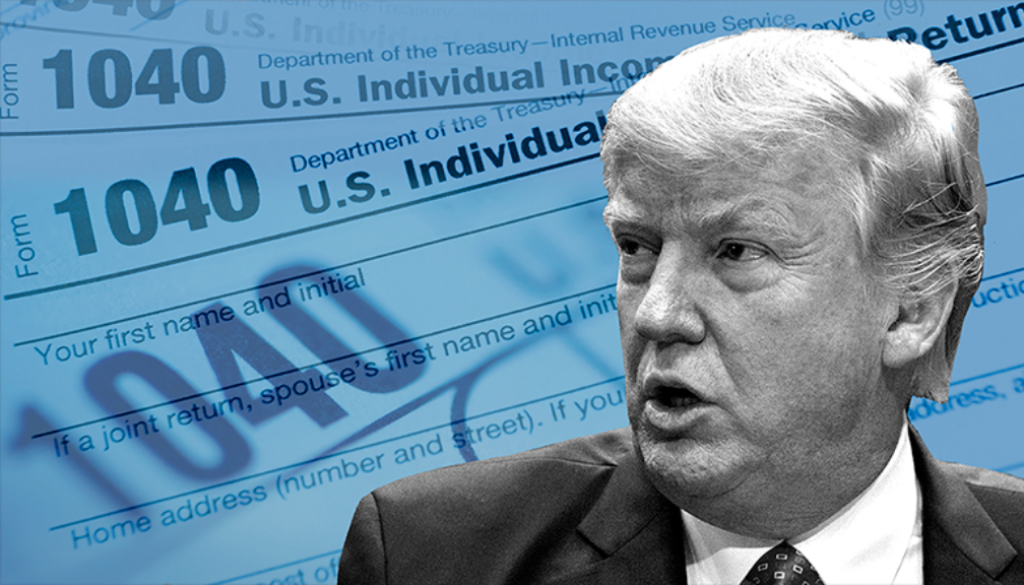 As expected, the Trump Campaign and several other organizations have filed lawsuits seeking to block the enforcement of California's new law requiring candidates for President to provide copies of their tax returns in order to gain access to the ballot:
WASHINGTON — President Trump and the Republican National Committee filed a pair of lawsuits on Tuesday against officials in California challenging a new law requiring presidential candidates to release five years of tax returns in order to be placed on the state primary ballot in 2020.

The R.N.C. suit, which was filed in the Eastern District of California and included the California Republican Party and several California Republican voters as plaintiffs, called the law a "naked political attack against the sitting president of the United States." It was filed against Gov. Gavin Newsom and the California secretary of state.

Mr. Trump and his campaign filed a second suit challenging the constitutionality of the new law, and it named the California secretary of state and the state attorney general. In that suit, they argue that states do not have the power to "supplement" the qualifications for the president, set forth by the Constitution.

The California law, known as the Presidential Tax Transparency and Accountability Act, was signed by Mr. Newsom last week, and was the latest flash point between the White House and the State of California, which is involved in more than 40 lawsuits against the Trump administration, on issues including environmental regulation and immigration.

The California State Legislature approved a similar measure in 2017, but the governor at the time, Jerry Brown, vetoed it, raising questions about whether it was constitutional.

The suits filed Tuesday claim that the law would suppress the votes of millions of Californians who want to vote for Mr. Trump by adding a new requirement for a presidential candidate. The R.N.C. suit asserts that Mr. Newsom was creating an "extra-constitutional qualification for the office of president." The suit argues that Democratic-controlled state legislatures were challenging Mr. Trump because they were "enraged" by his 2016 victory, when he did not disclose his federal tax returns.

The two lawsuits followed a complaint filed in Sacramento on Monday by Judicial Watch, a conservative group, on behalf of four California voters, seeking to block the law on constitutional grounds.

"There's an easy fix for the president," Mr. Newsom said in a statement. "He should release his tax returns as he promised during the campaign and follow the precedent of every president since 1973."

"The complaint includes more political rhetoric than is common, but it raises the correct legal issues that certainly pose serious challenges to this law," said Richard H. Pildes, a professor of constitutional law at New York University.

In a statement, Ronna McDaniel, chairwoman of the R.N.C., said that "it certainly doesn't bode well for Democrats heading into 2020 that their best bet for beating President Trump is to deny millions of Californians the ability to vote for him."

She called it a "stunt" that was "unconstitutional and, simply put, desperate."

Jay Sekulow, counsel to Mr. Trump and to the campaign, called the campaign's lawsuit a "decisive action in federal court challenging California's attempt to circumvent the U.S. Constitution." He said "the issue of whether the president should release his federal tax returns was litigated in the 2016 election and the American people spoke."
California is not the first state to attempt to use ballot access laws as a means of forcing the President and other candidates to provide copies of tax returns. As James Joyner noted in a post in April, there is similar legislation that has been proposed, voted on, or considered in as many as twenty other mostly Democratic-controlled states, although it does not appear that such legislation has been adopted into law in any of these states as of yet. The laws would apply to all candidates for President, of course, but it seems fairly clear that the effort is aimed primarily at Trump who became the first Presidential candidate in over 40 years to refuse to release any of his returns. At the time, the President claimed that he could not do so because he was under audit by the IRS. When it was pointed out that there is no law preventing someone who is being audited from releasing their returns publicly, Trump changed his story to say that he was being advised by lawyers and tax advisers not to release the returns until after the audits were concluded.
As noted there have been several lawsuits filed in connection with this new law. In addition to the Trump Administration lawsuit, the Republican National Committee and California Republican Party have filed a lawsuit in state court against the law, and the conservative legal organization Judicial Watch filed a suit in Federal District Court on behalf of a group of California voters. Essentially, though, all of these actions raise the same legal arguments against the law.
The argument that each of these Complaints raises basically the same, namely that the law in question violates the Constitution because it goes beyond the general authority granted to the states to regulate elections and adds to the qualifications one must meet to qualify for Federal office. These qualifications are set forth in Article I, Section Two, Clause 2 for members of the House of Representatives, Article I, Section Three, Clause 3 for Senators, and Article II, Section 2 Clause 4 for the President and Vice-President. Whether this argument will withstand court challenges is one that has divided legal experts.
Back in 2017, Harvard Law School Professor Laurence Tribe, wrtiting at CNN in a piece co-authored by Norman Eisen and Richard Painter of Citizens for Responsibility and Ethics argued that the states are in fact authorized to pass such laws:
Our federal Constitution allows states to create ballot access requirements that ensure that the ballots for every office, including the office of presidential elector, are comprehensible and informative.

A line must of course be drawn between permissible ballot access laws and impermissible attempts to add qualifications to those specified in the federal Constitution. But our research and analysis lead us to conclude that tax return disclosure laws such as the one proposed in California resemble ballot access laws in structure, impact, and purpose much more closely than they resemble laws imposing additional qualifications for presidential office.

As a result, we believe these laws comport fully with the U.S. Constitution.

Unlike prohibited qualifications, these laws do not impose substantive requirements on candidates beyond those imposed by the Constitution itself; that is, these laws do not limit which candidates may run for office based on any particular information in their tax return. Thus, they do not create an insurmountable barrier in advance to any set of individuals otherwise qualified under Article II of our Constitution. Instead, these laws require federally qualified candidates to comply with a relatively minor process of tax disclosure. That is something competing candidates can and should readily do in order to allow voters to make more informed judgments about those contenders' characters or backgrounds.

The states have legitimate justifications for providing their voters with this important information. The proposed laws mandate transparency rather than interposing obstacles that some would-be candidates cannot overcome.

Tax returns provide information that is more broad, specific, and reliable than the candidate financial disclosure that is currently required. Candidate financial disclosure forms are generally designed to identify and prevent conflicts of interest — and tax return information could serve a similar function.

Indeed, this could be particularly important for a presidential candidate, as the president is exempt from some (but not all) federal laws governing conflicts of interest once in office. Prevention may be not just the best, but the only available medicine in some situations.
Pepperdine University Law Professor Derek Muller, meanwhile, responded with an Op-Ed in The New York Times that argues that such laws would unconstitutionally impose additional qualifications on those eligible to run for President beyond those prescribed by Article II of the Constitution, something not permitted by the general authority granted to the states regarding the regulation of ballot access:
The Supreme Court has repeatedly held that states can't use the ballot as a political weapon. In 1964, for instance, Louisiana listed candidates' race on the ballot. Louisiana maintained it was just providing truthful information to the voters of the state. The Supreme Court struck down the statute on the ground that the ballot was not a vehicle to direct voters to consider a candidate's race.

In the 1990s, Missouri asked congressional candidates to take a term limits pledge; if they refused to do so, the state would indicate on the ballot that the candidate "declined to pledge to support term limits." The Supreme Court struck down that ballot provision, too.

Both those cases stand for the proposition that states cannot use their ballots to achieve preferred political or policy outcomes — such as burdening those who prefer to keep some, or all, of their tax information private.

The Supreme Court has, of course, permitted states to regulate access to the ballot for the purposes of separating out serious from frivolous candidates. (Common mechanisms include a modest filing fee or securing a sufficient number of voters' signatures on a petition.) But the New Jersey bill isn't intended to ensure that only serious candidates appear on the ballot. It's intended to get Mr. Trump's tax returns.

It's understandable that many state legislatures now want presidential candidates to disclose their tax returns: Mr. Trump's refusal to disclose was, and continues to be, an issue of concern to many voters in New Jersey and across the country. But the ballot is not a form of leverage that may be used to pressure political candidates to meet legislative demands. This issue is best addressed, as it has long been, by the political process.
Of the two arguments, it appears to me that Muller makes the far more persuasive case than Tribe and his co-authors and that any state law requiring candidates for President, or any Federal office, to release tax returns as a price for ballot access, would most likely be held unconstitutional.
The most relevant case on this issue would appear to be US Term Limits v. Thornton, the Missouri case which Muller cites in the text above. In that case, Missouri purported to use ballot access laws as a backdoor to imposing term limits on Members of Congress by denying them ballot access if they have served more than the permitted number of terms, which in that case was three terms for Members of the House and two terms for Senators. Such candidates could still seek reelection via a write-in campaign, but they could not run as either the nominee of a particular party or an Independent candidate. The Court ruled that this provision, which actually became a provision of the state Constitution via a ballot measure, violated the Constitution because it imposed requirement for holding the office of Congressman or Senator beyond those set forth in Article One, Sections Two and Three, and the Seventeen Amendment, which set forth the residency and age limitations for holding those offices.
The majority opinion written by Justice John Paul Stevens goes through the history behind the qualifications clauses for Congress, the powers of the states to regulate ballot access and the Tenth Amendment argument that was made in favor of the law before ultimately concluding that the attempt to impose term limit by regulating ballot access was unconstitutional. The argument used by the majority in Thornton would seem to be equally applicable to a state law requiring candidates for President to
The argument used by the majority in Thornton would seem to be equally applicable to a state law requiring candidates for President to would seem to be equally applicable to a state law requiring candidates for President to release their tax returns. As with the Missouri term limits law, such laws would effectively impose qualifications beyond those set forth in Article II, Section One, Clause 5, which have been slightly amended by virtue of the 22nd Amendment to include a bar against a candidate from serving as President for more than two terms, in violation of the Constitution. The effort of Tribe and his co-authors to argue that such laws do not impose additional qualifications is quite simply unpersuasive.
The proposed New Jersey law that Muller references, for example, would bar any Presidential candidate from appearing on the General Election ballot unless they have released tax returns for the five most recent years prior to the election in question. Clearly, this is something beyond a law governing ballot access, such as the requirement that a candidate for office submit a certain number of signatures to qualify for the ballot and is more analogous to the term limits that Missouri sought to impose in Thornton. Because of this, it seems clear that a law requiring a candidate for President to release their tax returns as a price for getting on the ballot would be unconstitutional.
Here are the Complaints filed in the three cases:
Trump Et Al v. Padilla Et Al by Doug Mataconis on Scribd
Republican Party of Califor… by Doug Mataconis on Scribd
Griffin Et Al v Padilla by Doug Mataconis on Scribd