Democrats Trying to Block Trump from 2020 Ballot
Ballot measures across the country would deny access to those who refuse to release tax returns.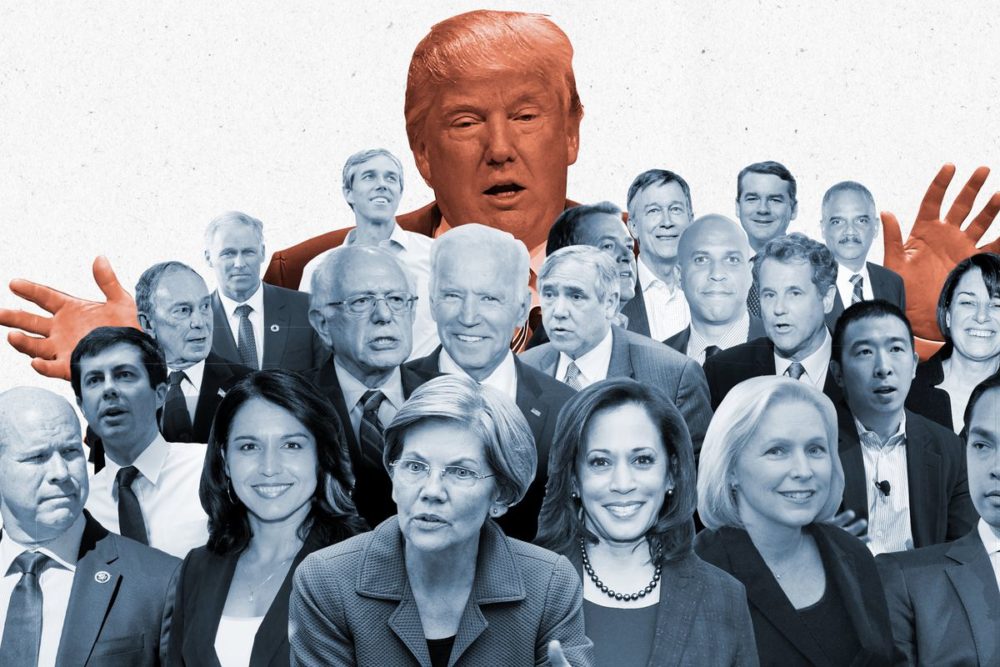 A growing number of blue states are trying to force Donald Trump to release his tax returns as a condition of appearing on the 2020 presidential ballot.
Neary twenty states across the county have introduced legislation that would require all presidential and vice presidential candidates to release their individual tax returns in order to appear on the ballot during the presidential or general election, according to data from the National Conference of State Legislatures (NCSL).


Bills requiring prospective presidential candidates to disclose recent tax returns as a condition to appear on the ballot are currently pending in the following fourteen states: Arizona, California, Connecticut, Hawaii, Illinois, Minnesota, New Jersey, New York, North Carolina, Oregon, Pennsylvania, Rhode Island, Vermont and Washington. Similar legislation, introduced this year, failed in Maryland, Mississippi, New Hampshire, New Mexico and Virginia.


Despite a few exceptions, nearly all of the state bills that have been introduced would require candidates to post at least five years of their individual tax returns. In addition, virtually every state bill has been introduced by a Democratic lawmaker, an apparent reaction to Trump's decision to buck decades of tradition during the 2016 election cycle when he refused to release his tax returns.


Although not required by law, every major party presidential nominee since the 1970s has chosen to publicly release his or her tax returns except for Gerald Ford, who only released a summary. Financial disclosures can help paint a fuller picture of a candidate's business positions and interests by providing information about financial dealings, such as investments, donations, business relationships, assets and possible conflicts of interests.

— Salon, "Blue states move to block Donald Trump from 2020 ballot"
This is a novel strategy and one I'm sympathetic to. But it's ultimately undemocratic and, frankly, dangerous.
I believe the American people have a right to know whether candidates seeking to represent them in high office have conflicts of interest. This is particularly important in the case of people like Trump, whose careers have been as something other than salaried politicians.
But candidates are also citizens and have the right to refuse to comply with the norm of releasing their taxes. In cases where they do so, voters should ask themselves why and factor that into their decision.
I am not an expert on election law but my strong instinct is that these measures are unconstitutional. The US Constitution and Federal law determines eligibility of candidates for office. The states have responsibilities for conducting elections but Federal law trumps state law when they conflict.
Rick Hasen, who actually is an expert on election law, considered the issue when Maryland started the current movement two years ago and noted,
The idea of using ballot access to force politicians to do something they don't want to do is not new—nor is the fight over the move's constitutionality. The Supreme Court's 1995 ruling in U.S. Term Limits v. Thornton held that Arkansas could not deny ballot access to congressional candidates who had served more than three terms or to Senate candidates who served more than two terms—measures the state had enacted to create congressional term limits. The Court held that the Constitution set the exclusive qualifications for running for federal office (including age and citizenship requirements), and that allowing individual states to impose addition qualifications "would erode the structure designed by the Framers to form a 'more perfect Union.'" So while states can set reasonable conditions for presidential candidates to get on the ballot, such as requiring a certain number of petition signatures to be listed, they cannot go further and set substantive conditions for who can run.

—POLITICO Magazine, "How States Could Force Trump to Release His Tax Returns"
Even though I support Congressional term limits, I think the court got it right.
Still, Hasen contends, there's an argument to be had that this particular requirement is different.
Article II provides that the "state legislature" "may direct" "the manner" for choosing presidential electors. In Bush v. Gore, the Court stated that this Article II power given to state legislatures was "plenary," meaning that the states have a broad power when it comes to presidential elections. Indeed, the Court wrote that even though state legislators have given each state's voters the right to vote for presidential electors, at any time a state legislature can "take back the power" to appoint electors. In other words, if the California or Texas state legislature wanted to directly choose the state's presidential electors in 2020, the state could do so. As Dean Vik Amar notes, the Constitution does not necessarily include a right of Americans to vote for president at all (and American citizens in U.S. territories do not have this right).
That's correct. So, how does this apply?
The logic then goes like this: If a state legislature can take back from the voters the right to vote at all for president, it may be able to use ballot-access laws to limit the candidate choices presented to voters. And doing so would not impinge on the Qualifications Clause in Article II because Congress ultimately counts the Electoral College votes and can police that Clause. If a state legislature, for example, chose electors supporting a candidate under the age of 35, the U.S. House of Representatives, which counts the Electoral College votes, could disregard those votes after deeming the underage candidate unqualified.
Color me skeptical. Yes, a state legislature could theoretically go back to the original conception of the Electoral College and simply appoint a committee to choose the state's Electors. It could follow Nebraska and Maine and allocate Electors on the basis of something other than winner-take-all. But I don't see how they could institute a process whereby candidates who are qualified under the US Constitution and Federal law are excluded from consideration.
Indeed, Hasen himself seems skeptical that courts would rule his way. He just doesn't see much political downside.
Except that he comes to the same What if scenario that independently occurred to me:
Still, Democrats should consider the Pandora's box they might be opening here. Will solidly Republican states allow electors to vote only for Republican candidates for president? If the tax gambit is OK, then such a law might also be constitutional. Or perhaps the GOP would retaliate with laws aimed at voter suppression or other such measures that target typically Democratic constituencies.

At that point, it is unclear if the courts would block such a move. Bush v. Gore also held that once a state grants voters the right to vote it cannot arbitrarily value some people's votes over others. But the Court also suggested the case was a one-day-only ticket, with no precedential value outside of statewide recounts of election results.
Indeed, Republican-controlled states have already demonstrated that they're willing to take outrageous measures to make it harder for Democrats to vote.
If it's okay to demand release of tax returns to qualify for the ballot, why not a pledge to not raise taxes if elected? Or signing to a right-to-life pledge?
We really don't want to leave it up to the whims of state legislatures to decide who gets to run for President.
Even the defensible exclusions, such as only granting access to nominees of parties who got X percent of the vote in the previous election or candidates who get Y number of signatures, are ripe for abuse and, indeed, abused. But allowing literally everyone who would like their name to appear on the ballot access would be absurdly expensive and make it much harder for people to vote.
But this particular trend is indeed a Pandora's box. The courts should strike it down at the earliest opportunity.