Trump Congratulates Putin On 'Election' 'Win' Against Advice Of National Security Advisers
President Trump continues to obsequiously praise Russian President Vladimir Putin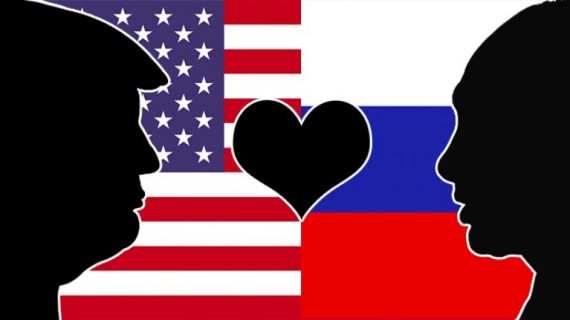 Against the advice of his own national security team, President Trump congratulated Russian President Vladimir Putin on his victory in Sunday's disputed elections and failed to mention Russian meddling in either the 2016 Presidential election or the upcoming midterms:
WASHINGTON — President Trump called on Tuesday to congratulate President Vladimir V. Putin of Russia on his re-election, but did not raise with him the lopsided nature of his victory, Russia's meddling in the 2016 presidential election or Moscow's role in a nerve agent attack on a former Russian spy and his daughter living in Britain.

Instead, Mr. Trump kept the focus of the call on what the White House said were "shared interests" — among them, North Korea and Ukraine — overruling his national security advisers, who had urged him to raise Russia's recent behavior.

"We had a very good call," Mr. Trump told reporters in the Oval Office, where he had just welcomed Crown Prince Mohammed bin Salman of Saudi Arabia. "We will probably be meeting in the not-too-distant future."

The president's upbeat characterization came five days after his administration imposed sanctions on Russia for its interference in the election and for other "malicious cyberattacks," the most significant action it has taken against Moscow since Mr. Trump took office. The United States also joined Britain, France and Germany in denouncing the Russian government for violating international law for the attack on the spy, Sergei V. Skripal, and his daughter Yulia.

Both actions highlighted a contradiction at the heart of the Trump presidency: the administration's steadily tougher stance toward Russia and Mr. Trump's own stubborn reluctance to criticize Mr. Putin.

Mr. Trump, a senior official said, signed off on the sanctions and the harsh language in the administration's statements. But he was determined not to antagonize Mr. Putin, this person said, because he believes his leader-to-leader rapport is the only way to improve relations between the two countries.

(…)

The White House also insisted that it was not the place of the United States to question how other countries conduct their elections — a contention that is at odds with years of critical statements about foreign elections by the United States, as well as recent statements by the Trump administration about elections in Venezuela and Iran.

"What we do know is that Putin has been elected in their country, and that's not something we can dictate to them how they operate," said the press secretary, Sarah Huckabee Sanders. "We can only focus on the freeness and fairness of our elections, something we 100 percent fully support."

Echoing the president, she went on to rail against the investigation of the special counsel, Robert S. Mueller III, into links between the Trump campaign and Russia.

"To pretend like going through this absurd process for over a year would not bring frustration seems a little bit ridiculous," she said.

Ms. Sanders noted that other foreign leaders, including Chancellor Angela Merkel, of Germany, had called Mr. Putin. Ms. Merkel's office released a terse account of their call, saying she had told the Russian president, "Today, it is more important than ever to continue the dialogue with one another and to foster relations between our states and peoples."

Republican lawmakers, even those who have resisted criticizing Mr. Trump, faulted him for congratulating Mr. Putin.

"When I look at a Russian election, what I see is a lack of credibility in tallying the results," said the Senate majority leader, Mitch McConnell of Kentucky. "Calling him wouldn't have been high on my list."

Senator John McCain of Arizona, the chairman of the Senate Armed Services Committee, was harsher.

"An American president does not lead the free world by congratulating dictators on winning sham elections," he said in a statement. "And by doing so with Vladimir Putin, President Trump insulted every Russian citizen who was denied the right to vote in a free and fair election to determine their country's future, including the countless Russian patriots who have risked so much to protest and resist Putin's regime."
Trump's seeming obsequiousness came notwithstanding the fact that his own national security team advised him strongly not to congratulate the Russian President:
President Trump did not follow specific warnings from his national security advisers Tuesday when he congratulated Russian President Vladi­mir Putin on his reelection — including a section in his briefing materials in all-capital letters stating "DO NOT CONGRATULATE," according to officials familiar with the call.

Trump also chose not to heed talking points from aides instructing him to condemn the recent poisoning of a former Russian spy in Britain with a powerful nerve agent, a case that both the British and U.S. governments have blamed on Moscow.

The president's conversation with Putin, which Trump described as a "very good call," prompted fresh criticism of his muted tone toward one of the United States' biggest geopolitical rivals amid the special counsel investigation into Russia's election interference and the Trump campaign's contacts with Russian officials.

Although the Trump administration has taken a tougher stance toward Russia recently — including new sanctions last week on some entities for election meddling and cyberattacks — the president has declined to forcefully join London in denouncing Moscow for the poisoning of Sergei Skripal and his daughter Yulia in Salisbury, England, this month. They remain critically ill.

Trump told reporters that he had offered his well wishes on Putin's new six-year term during a conversation that covered a range of topics, including arms control and the security situations in Syria and North Korea. White House press secretary Sarah Huckabee Sanders told reporters that Skripal's case was not discussed. Information on Syria and North Korea was also provided to the president in writing before the call, officials said.

"We'll probably be meeting in the not-too-distant future," Trump said of Putin, though Sanders emphasized that nothing is planned.

The White House press office declined to comment on the briefing materials given to Trump. Two people familiar with the notecards acknowledged that they included instructions not to congratulate Putin. But a senior White House official emphasized that national security adviser H.R. McMaster did not mention the issue during a telephone briefing with the president, who was in the White House residence ahead of and during his conversation with Putin.

It was not clear whether Trump read the notes, administration officials said. Trump, who initiated the call, opened it with the congratulations for Putin, one person familiar with the conversation said.

The president's tone drew a rebuke from Sen. John McCain (R-Ariz.), chairman of the Senate Armed Services Committee, who wrote on Twitter: "An American president does not lead the Free World by congratulating dictators on winning sham elections. And by doing so with Vladimir Putin, President Trump insulted every Russian citizen who was denied the right to vote in a free and fair election."

But Sen. Bob Corker (R-Tenn.), chairman of the Senate Foreign Relations Committee, appeared less concerned, noting that Trump has also offered congratulations to other leaders of more totalitarian states. "I wouldn't read much into it," Corker said.

Putin's latest consolidation of power came in what foreign policy analysts said was a rigged election in which he got 76 percent of the vote against several minor candidates. Some world leaders have hesitated to congratulate Putin, since his reelection occurred in an environment of state control of much of the news media and with his most prominent opponent barred from the ballot.

Ahead of Tuesday's phone call, national security aides provided Trump with several handwritten notecards filled with talking points to guide his conversation, as is customary for calls with foreign leaders, according to the officials with knowledge of the call, who spoke on the condition of anonymity to discuss private conversations.

(…)

Trump's failure to raise Moscow's alleged poisoning of the former spy in Britain risked angering officials in London, who are trying to rally Britain's closest allies to condemn the attack. Russia has denied involvement in the March 4 poisoning, but the attack has badly damaged British-Russian relations, and British Prime Minister Theresa May last week announced the expulsion of 23 Russian diplomats in retaliation.

Putin has denied that Russia had any role and called the claim "nonsense."

Asked about McCain's criticism, Sanders noted that the leaders of France and Germany also called Putin this week, and she pointed to former president Barack Obama, who congratulated Putin on an election win in 2012.

"We've been very clear in the actions that we've taken that we're going to be tough on Russia, particularly when it comes to areas that we feel where they've stepped out of place," Sanders said. "We've placed tough sanctions on Russia and a number of other things where we have shown exactly what our position is."

She emphasized, however, that Trump is determined to establish a working relationship with Putin to tackle global challenges, including confronting North Korea's nuclear weapons program.

Asked whether the Trump administration believes that Russia conducted a "free and fair" election, Sanders said the administration is focused on U.S. elections.

"We don't get to dictate how other countries operate," she said. "What we do know is that Putin has been elected in their country, and that's not something that we can dictate to them how they operate."

Senate Majority Leader Mitch McConnell (R-Ky.) distanced himself Tuesday from Trump's congratulatory remarks.

"The president can call whomever he chooses," McConnell said at his weekly news conference. "When I look at a Russian election, what I see is a lack of credibility in tallying the results. I'm always reminded of the election they used to have in almost every communist country where whoever the dictator was at the moment always got a huge percentage of the vote."
According to reports, Trump made the call yesterday morning from the White House residence before he went down to the Oval Office so it's unclear if he had even talked to his aides prior to placing the call. Additionally, while it appears that National Security Adviser H.R. McMaster was reportedly present during the call it's unclear whether or not Trump had actually read the briefing cards that are mentioned in the report from The Washington Post quoted above. In fact, if past reports about the President's decision making process are any indication, it's quite probable that Trump did not read the cards at all because he rarely reads any of the papers put in front of him and relies almost solely on oral briefings and, apparently, whatever he happens to see on Fox & Friends and other cable news shows. Whether Trump read the briefing notes or not, though, the fact that the President chose to start the call off by congratulating the Russian President on an election win that essentially every international agency and several other nations is at best highly disputed and at worst entirely fraudulent.
It's also notable that Trump apparently declined to take the opportunity of this phone call with Putin to mention even in passing the two issues that are the focus of most of the attention that Russia is receiving around the world right now. The first and most immediately important to the United States, of course, is the issue of Russian interference in the 2016 elections and the prospect that they will seek to engage in similar tactics in connection with the upcoming midterm elections, both of which have been acknowledged as reality by the men that Trump himself has appointed to run the nation's intelligence infrastructure. The second is the apparent attempted assassination of a Russian national and his daughter on British soil, which British Prime Minister Theresa May has blamed on Russia and which other British officials are saying could only have been carried out without the direct knowledge and approval of Putin himself.
Equally outrageous, of course, is the response that we got from White House Press Secretary Sarah Huckabee Sanders, who refused to say whether or not the Russian elections were "free and fair." Instead, she said that the Administration doesn't comment on how other nations conduct their elections and that it is more concerned with the integrity of American elections. The first part of the statement is, of course, untrue at least with respect to past Administrations, which have rightly called out election irregularities in other nations on a regular basis and, at the very least, have been careful not to congratulate authoritarian rulers like Putin on alleged victories in elections that were obviously tainted by fraud and manipulation. If anything, though, the second half of Sanders' comment is even more absurd given the fact that the President has consistently called the allegations of Russian meddling in the 2016 election "Fake News" and sought to undermine the investigation into that meddling at every possible turn. Additionally, the Administration has taken no steps to work with the states to protect our elections from future meddling notwithstanding the warnings that have been issued about the likelihood of future meddling and our own vulnerability to such meddling.
None of this is new, of course. Trump has been especially obsequious toward Putin since long before he became President and that has only continued since he took office in January of last year. At several points during the campaign, for example, Trump boasted of his admiration for Putin's "strong" leadership, which he compared favorably to what he claimed was the weak leadership of former President Barack Obama. When he was asked about the allegations that Putin had engaged in tactics such as arresting dissidents and having reporters and political opponents killed, Trump responded by saying that "we kill people too." This pattern of behavior has continued since he became President, of course, and at times President Trump has been reluctant to criticize Putin and other authoritarian rulers while at the same time openly attacking elected officials of allied nations and, of course, his own intelligence community and the Federal Bureau of Investigation. Why this is the case is something I'll leave for the reader to decide on their own.