Trump Drops Demand For Border Wall Funding As Congress Tries To Avoid Government Shutdown
With a government shutdown looming at the end of the week, the Administration has appeared to back away from a demand that a government funding bill include money allocated for the President's promised border wall.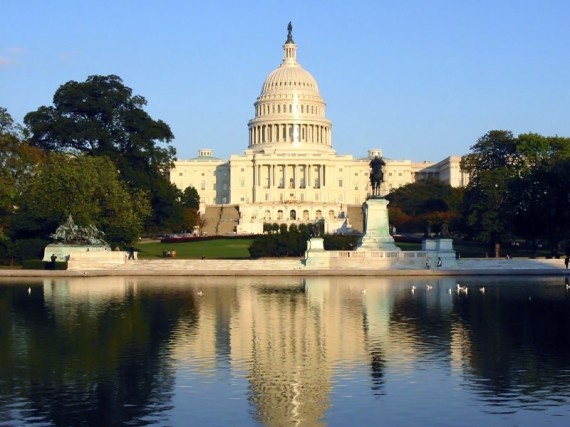 The threat of a government shutdown seemed to become less likely yesterday as the Trump Administration appeared to step away from its demand that any funding bill Congress passes provide initial funding for President Trump's border wall:
Three days before the deadline to avert a government shutdown, congressional leaders were negotiating a spending proposal on Tuesday that would supply no money for President Trump's promised border wall with Mexico but would increase funding for White House priorities like the military and other types of border security.

Lawmakers in both parties expressed confidence that a deal could be reached before the lights go out, a prediction that seemed safer as Mr. Trump backed off his demand that the border wall receive funding in this measure.

"Hopefully we'll reach an agreement sometime in the next couple of days," said the Senate majority leader, Mitch McConnell, Republican of Kentucky, though he did not rule out a short-term extension to buy lawmakers more time for a final agreement.

Several obstacles remain, most notably the fate of payments to health insurers to lower deductibles and other costs for low-income consumers who buy plans through the Affordable Care Act marketplaces. Mr. Trump has threatened to withhold the subsidy payments, which are the subject of a lawsuit, as leverage in negotiations with Democrats, whose votes will be needed to pass any spending bill in the Senate.

Democrats have now turned that threat on its head, insisting that the payments — which the administration has quietly continued to make — be guaranteed as part of any deal. "Six million people could lose their health care, which could become unaffordable," said Senator Chuck Schumer of New York, the minority leader.

The House Democratic whip, Steny H. Hoyer of Maryland, said the payments were something Republicans "need to do for the American people, not as a 'give' to Democrats in negotiations."

Another central point in the negotiations is a dispute over health benefits for retired miners who may lose their coverage, an issue that led to a near shutdown last year. Senator Joe Manchin III of West Virginia and other Democrats want those benefits extended, and miners have been a big constituency for Mr. Trump. On Tuesday, Mr. McConnell said he supported "a permanent fix on miners' health care."

"It's my hope that that will be included in the final package," he said.

Democrats would also like to see Congress bail out Puerto Rico's ailing Medicaid program as part of the deal.

One fact suggests that both Republicans and Democrats have gotten much of what they wanted in the spending bill: They have strikingly avoided the sort of inflamed talk that is often a part of fights over budgets.

After a fractious period in the Capitol — cresting this month with Democrats' filibuster of Mr. Trump's Supreme Court nominee, Justice Neil M. Gorsuch, and Republicans' deployment of the so-called nuclear option to confirm him — members seemed modestly hopeful for a reset of sorts.

"This is a good time to stabilize the government," said Senator Roy Blunt, Republican of Missouri and a member of the Appropriations Committee. "And then whatever debates we didn't have in the next three days, we could have in the next three months or three years."

As lawmakers on Capitol Hill continued negotiations on Tuesday, White House and Senate staff members seemed to agree that the wall had been reduced to something like a metaphor for broad-based border security funding, which is all but certain to end up in a final spending package.

Senator Lindsey Graham, Republican of South Carolina, praised Mr. Trump for relenting.

"He's not going to overplay his hand," Mr. Graham said. "Here's the challenge to the Democrats: Are you going to overplay your hand?"

At the very least, Democrats seemed inclined to declare victory on the wall for now.

Mr. Schumer — whose caucus is delighting this week in pointing out areas in which Mr. Trump has fallen short of campaign promises as he approaches his 100th day in office — exulted on Tuesday in the wall's near-term fate. "For weeks, we have been making good progress in negotiating with our Republican colleagues," Mr. Schumer said. "The president's 11th-hour demand threatened to upend the progress. We're pleased he's backing off."

At the same time, Mr. Trump took care to avoid the appearance of acquiescence on the wall, eager to reinforce his long-term commitment. "Don't let the fake media tell you that I have changed my position on the WALL," he wrote on Twitter on Tuesday morning. "It will get built and help stop drugs, human trafficking, etc."

Mr. Trump is showing "some reasonableness on the wall," the White House chief of staff, Reince Priebus, said. He said the president was willing to talk about finding a compromise, even while seeking to put Democrats on the defensive.

Speaking later to reporters at the White House, Mr. Trump went so far as to say the wall would be built in his first term, regardless of this week's spending measure.

"The wall is going to get built," he said. "Just in case anybody has any question, the wall is going to get built."

Asked when, he said: "Soon. We're already preparing. We're doing plans. We're doing specifications. We're doing a lot of work on the wall, and the wall gets built."
Even if these reports pan out, there's still at least some possibility that Republicans and Democrats on Capitol Hill won't be able to reach an agreement on the remaining disputes between them in time to pass a budget by midnight on Friday. In all likelihood, though, if the issues surrounding the border wall are really off the table for now, then Congress will put together a Continuing Resolution that will give them an extra week or two, or more, to reach an agreement on the remaining issues and put that agreement into the appropriate legislative language. Of course, it could turn out that the Trump White House could still throw a monkey wrench into the whole process and go back to insisting that the final bill include border wall funding, but that seems unlikely at this late hour. At the end of the week, the President will reach the end of his first 100 days in office and, while the Administration has tried in recent days to downplay the importance of that mark, they are nonetheless taking advantage of the press coverage that "the first 100 days" is getting to try to shift the agenda and the public's perception of how the President is handling his job. So far this week, there's been a public event at the White House with full press coverage every day this week involving a bill signing or a meeting with people brought to Washington from other parts of the country to talk to the President. On Tuesday, for example, there was a focus on agricultural policy and early today the President signed an Executive Order directing the Secretary of the Interior to review proclamations that President Obama signed declaring vast swaths of Federal land to be "national monuments" and thus unavailable for oil or gas exploration, an issue that Governors and legislators in many of the Western states impacted by those orders have complained about on numerous occasions. Later today, the White House will reveal the general outline of a tax reform package that will be rolled out at some point in the future. Finally, on Saturday, which will actually be Trump's 100th day in office, the President will be in Harrisburg for a campaign-style rally and speech that will apparently be timed to directly compete with the White House Correspondent's Association Dinner that Trump had announced earlier this year he would not be attending, the first time the dinner won't have the President as a guest since 1981 when President Reagan declined to attend since it occurred just a month he had been shot. Given all of this, it seems unlikely that the Administration would want coverage of a government shutdown that would otherwise begin on Saturday morning to interfere with their own attempt to define the terms of the news cycle.
Of course, in the end, all that the Administration dropping the demand for border wall funding from whatever emerges from Congress is to punt this issue until later in the year. The current fiscal year ends on September 30th and Congress must pass a budget or some kind of spending plan for the Federal Government, and pass the individual spending bills for each of the departments of the Executive Branch of government. No doubt the Administration, and many Republicans on Capitol Hill, will insist that funding for a border wall be included in the budget for the Department of Homeland Security and whatever relevant agencies would need to be involved in the process of beginning such a project. Democrats will most likely seek to at least make a show of trying to block these provisions. Whether that leads to a showdown that makes it impossible for a budget and the appropriate spending bills to pass through Congress will depend on how far each side is willing to push their respective positions on the matter. Given how the last government shutdown ended, with Republicans getting little of what they were demanding after a shutdown that lasted more than two weeks, Democrats may decide that it isn't worth the political capital they may have to push the issue that far, but we won't know until we get there. If history is any guide, we'll probably have to wait until the last week or so of September to find out.