Trump To Skip White House Correspondent's Dinner
This year's White House Correspondents Association Dinner will be missing one high-profile guest.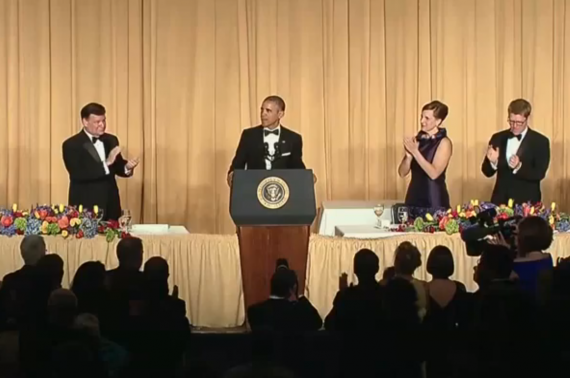 In a tweet late yesterday afternoon, Donald Trump announced that he would be skipping the annual White House Correspondents Association Dinner:
Capping a week of extraordinary hostility toward the news media, President Trump tweeted on Saturday that he would not attend this year's charity dinner of the White House Correspondents' Association, scheduled for April 29, a Washington tradition symbolizing comity between the president and the press.

Whether Mr. Trump would appear at the dinner had been an open question: The president has blasted the news media as the "opposition party" and on Friday delivered his most slashing broadside yet, telling the Conservative Political Action Conference that major news outlets were "the enemy of the people." Later, his press secretary barred journalists from CNN, The New York Times and other organizations from a briefing at the White House.

The level of tension seemed incongruous with a black-tie event that is typically a jocular, if occasionally sharp-edged evening. The dinner, which has attracted A-list celebrities in recent years, features a presidential roast of reporters and a comic routine by a notable entertainer. Presidents are expected to be self-deprecating, which Mr. Trump is decidedly not.

The event may also evoke dark memories for Mr. Trump, who was brutally mocked at the 2011 dinner by President Barack Obama and the late-night host Seth Meyers, both of whom skewered the real estate developer for his seemingly far-fetched political aspirations and reality-show gaudiness. Cameras captured Mr. Trump in the audience, stone-faced, and the evening has since been cited as a prime motivator behind his presidential run.

Still, a White House official said this month that Mr. Trump planned to continue the tradition of the dinner, which raises money for scholarships.

The Correspondents' Association, in a measured statement on Saturday, said that it "takes note" of the president's decision. Jeff Mason, its president, wrote that the dinner "has been and will continue to be a celebration of the First Amendment and the important role played by an independent news media in a healthy republic."

Mr. Mason said on CNN that one of the last times a president did not attend the dinner was in 1981, as it was shortly after the March 30 attempted assassination of Ronald Reagan. Mr. Reagan telephoned from his hospital room.

This year's dinner was already shaping up as an outlier. Vanity Fair decided not to hold its traditional after-party, considered the high-water event of the Washington social calendar. Its co-sponsor, Bloomberg L.P., bowed out on Friday, citing a lack of interest. The New Yorker also canceled an event.
This isn't an entirely surprising development, of course. As I noted just yesterday, Trump's relationship with the media has become increasingly tense thanks to things such as Trump calling the media 'the enemy of the American people' and his staffers doing things like barring certain members of the White House Press Corps from routine press briefings has only made it worse. In reaction to the most recent developments in that relationship, in fact, there were some members of the media already calling for the White House Correspondents Association to either cancel the dinner entirely, which was unlikely since it is the largely educational organization's biggest fundraiser of the year, or to take the extraordinary step of declining to invite the President at all, which I'm not sure has ever happened during the modern era of the dinner. Additionally, it was clear that much of the hype surrounding the dinner that grows most prominently out of the Clinton Era would be downplayed this year since it seemed unlikely that many Hollywood celebrities would choose to appear if Trump was a guest. Finally, to be honest, the forum itself seems like one that Trump himself would not have been comfortable attending. The man clearly seems to have little in terms of a sense of humor and doesn't particularly enjoy being satirized, especially not in person. Examples of that can be seen in his deadpan reaction to the ribbing he took when he attended the dinner in 2011 from both President Obama and Seth Meyer and from his appearance at the Al Smith Dinner in New York City during the 2016 campaign, where he ended up giving a speech that fell flat when it came to humor and became far too partisan for a crowd used to an event that has always been light-hearted and meant to rise above politics.
At the same time, I'm sympathetic to the argument that Jazz Shaw makes in his post on the news of Trump skipping the event:
There's also been a wave of criticism in recent years over the rather gaudy and frankly inappropriate nature of this meeting. It attracts a list of high profile celebrities who wind up sitting alongside both elected officials and media figures, all yukking it up while ignoring the irony of such a cozy gathering of members of the government and those whose job is ostensibly to hold them accountable.
I've said much the same thing in the past:
There's nothing per se wrong with the White House Correspondent's Association holding an annual dinner just like many other voluntary and professional associations do, and indeed there are some things that go on at the event that are worthwhile such as scholarships given to aspiring journalism students and awards to reporters who have excelled in the field. The dinner itself has been going on since 1920 and for a long time it was just like any other professional banquet. In the past several decades, though, it has become perverted into a festival of vain self-absorption and self-congratulatory nonsense in which reporters and politicians gather together and seemingly forget for an evening that large segments of the American public looks upon them with disdain, and that events like "Nerd Prom" only reinforce those opinions. Things have only gotten worse as the event has turned into a media circus since the media coverage tends to create the incentives for the worst aspects of the event.

Removing the cameras, though, is unlikely to change anything, because what's wrong with "Nerd Prom" is the same thing that's wrong with the rest of our political culture. It is merely a reflection of the self-absorbed narcissism that characterizes much of the political world in Washington, D.C. as well as the worst aspects of the political media. Unless and until that changes, nothing is going to change at all.
I stand by that criticism, but at the same time, I think that the annual affair is benign and that Trump is being far too hypersensitive in canceling outright. The fact that he's done so is just another sign that he is far too thin-skinned to withstand even a minor bit of criticism, which is generally a bad attribute in a President. In any case, the White House Correspondents Dinner will go on without Trump, although it will be interesting to see how much coverage it gets in the media without the promise of a Presidential speech. The fact that Trump is speaking may actually increase press interest since many will wonder what will be said about President's failure to attend — a first since Ronald Reagan missed the event in 1981, although in that case Reagan kind of had an excuse since it occurred barely a month after he had been shot in an attempted assassination. In that respect, I'd suggest that whoever ends up hosting and speaking at the event should be careful. Not making jokes at the President's expense will be impossible, of course, but the possibility of a backlash where Trump is seen as being unfairly attacked when he's not there to respond also exists if the jokes go too far over the top.