Trump Fails The Leadership Test
The failure of the AHCA shows that Donald Trump doesn't know the slightest thing about leadership or how to be President.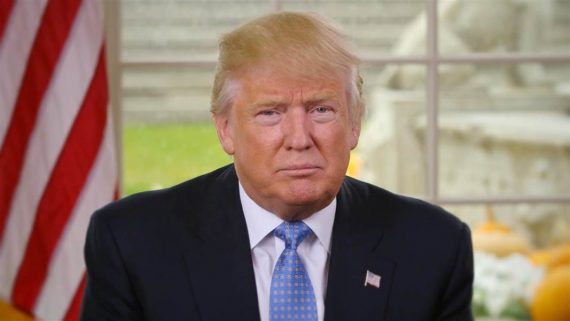 Just a few minutes after the news that House Republicans had pulled the American Health Care Act from the floor yesterday afternoon, and essentially abandoned any effort to 'repeal or replace' the Affordable Care Act for the foreseeable future, President Trump was on the phone with Washington Post reporter Robert Costa trying to spin what had happened to the first major piece of legislation introduced during his Presidency, and the story he came up with bears as little resemblance to reality as anything else we've heard from him:
President Trump called me on my cellphone Friday afternoon at 3:31 p.m. At first I thought it was a reader with a complaint since it was a blocked number.

Instead, it was the president calling from the Oval Office. His voice was even, his tone muted. He did not bury the lead.

"Hello, Bob," Trump began. "So, we just pulled it."

Trump was speaking, of course, of the Republican plan to overhaul the Affordable Care Act, a plan that had been languishing for days amid unrest throughout the party as the president and his allies courted members and pushed for a vote.

Before I could ask a question, Trump plunged into his explanation of the politics of deciding to call off a vote on a bill he had been touting.

The Democrats, he said, were to blame.

"We couldn't get one Democratic vote, and we were a little bit shy, very little, but it was still a little bit shy, so we pulled it," Trump said.

Trump said he would not put the bill on the floor in the coming weeks. He is willing to wait and watch the current law continue and, in his view, encounter problems. And he believes that Democrats will eventually want to work with him on some kind of legislative fix to Obamacare, although he did not say when that would be.

"As you know, I've been saying for years that the best thing is to let Obamacare explode and then go make a deal with the Democrats and have one unified deal. And they will come to us; we won't have to come to them," he said. "After Obamacare explodes."

"The beauty," Trump continued, "is that they own Obamacare. So when it explodes, they come to us, and we make one beautiful deal for the people."

My question for the president: Are you really willing to wait to reengage on health care until the Democrats come and ask for your help?

"Sure," Trump said. "I never said I was going to repeal and replace in the first 61 days" — contradicting his own statements and that of his own adviser, Kellyanne Conway, who told CNN in November that the then-president-elect was contemplating convening a special session on Inauguration Day to begin the process of repealing the Affordable Care Act.

Turning to an aide, Trump asked, "How many days is it now? Whatever." He laughed.

Trump returned to the theme of blaming the Democrats.

"Hey, we could have done this," he said. "But we couldn't get one Democrat vote, not one. So that means they own Obamacare and when that explodes, they will come to us wanting to save whatever is left, and we'll make a real deal."
Seemingly immediately after getting off the phone with Costa, Trump then gave a call to New York Times reporter Maggie Haberman and said pretty much the same thing:
WASHINGTON — Just moments after the Republican plan to repeal and replace the Affordable Care Act was declared dead, President Trump sought to paint the defeat of his first legislative effort as an early-term blip.

The House speaker, Paul D. Ryan, was preparing to tell the public that the health care bill was being withdrawn — a byproduct, Mr. Trump said, of Democratic partisanship. The president predicted that Democrats would return to him to make a deal in roughly a year.

"Look, we got no Democratic votes. We got none, zero," Mr. Trump said in a telephone interview he initiated with The New York Times.

"The good news is they now own health care. They now own Obamacare."

Mr. Trump insisted that the Affordable Care Act would collapse in the next year, which would then force Democrats to come to the bargaining table for a new bill.

"The best thing that can happen is that we let the Democrats, that we let Obamacare continue, they'll have increases from 50 to 100 percent," he said. "And when it explodes, they'll come to me to make a deal. And I'm open to that."

Although enrollment in the Affordable Care Act declined slightly in the past year, there is no sign that it is collapsing. Its expansion of Medicaid continues to grow.

In a later phone interview with The Times, the Senate minority leader, Chuck Schumer, ridiculed Mr. Trump's remarks about Democrats being at fault.

"Whenever the president gets in trouble, he points fingers of blame," Mr. Schumer said. "It's about time he stopped doing that and started to lead. The Republicans were totally committed to repeal from the get-go, never talked to us once. But now that they realize that repeal can't work, if they back off repeal, of course we'll work with them to make it even better."

Mr. Trump said that "when they come to make a deal," he would be open and receptive. He singled out the Tuesday Group moderates for praise, calling them "terrific," an implicit jab at the House Freedom Caucus, which his aides had expressed frustration with during negotiations.

Even so, he tried to minimize the deep divisions within his own party that prevented Mr. Ryan from securing passage of the bill, and maintained that they were six to 12 votes away from getting it across the finish line.

As Mr. Trump spoke, his voice was flatly calm and slightly hoarse, his manner subdued. He talked on a speaker phone from his desk in the Oval Office, with a coterie of aides drifting by. At one point, he welcomed his daughter Ivanka back from a ski trip.

Mr. Trump said that in states he had visited in the last two weeks, Tennessee and Kentucky, the problems with President Barack Obama's signature legislation were evident. The president said he was now moving on to taxes and trade as priorities.
Trump said much the same thing on Twitter this morning:
ObamaCare will explode and we will all get together and piece together a great healthcare plan for THE PEOPLE. Do not worry!

— Donald J. Trump (@realDonaldTrump) March 25, 2017
In both calls, Trump operates from two hypothesis, neither one of which seems grounded in reality or to recognize how politics operates in this country.
To start out, let's deal with Trump's idea that the Affordable Care Act is going to "explode." I'm fairly sure that what he really means here is "implode," but that's just a minor semantic issue. What he's repeating here is the general idea that Republicans have had since the PPACA was adopted that the law could not possibly work and that it would inevitably collapse all on its own due to its very nature. To be sure, the last seven years have seen plenty of problems with the law, many of which have had a real impact on consumers and health care providers. The initial implementation of the law in 2014, for example, was so badly managed that the Federal Government ended up having to bring in a new set of contractors to fix the problems with the website that people were supposed to use to shop for insurance on the exchanges established by the law. Many people found that policies that they had happily relied upon for years were suddenly not available and that they were being required to switch to policies with higher premiums and higher deductibles than they had paid in the past. Others found that their employers were dumping health insurance coverage benefits altogether rather than switch to exchange-approved plans, forcing them to go out and shop for insurance on their own, often for the first time in their lives.
Even with the individual mandate in place, many young people continued to choose to continue to go without insurance, meaning that insurance pools started to become older and sicker, which is now causing insurance companies to raise premiums on an annual basis at nearly the same rate that they were before the PPACA went into effect. Finally, due to increased costs of doing business, several large insurance companies have dropped out of the exchanges altogether, meaning that there are far fewer choices available to consumers on those exchanges. According to some reports, for example, in many smaller states, there are only a handful of companies writing exchange-qualifying policies for individuals, and that reduced competition means that prices are increasing and choices decreasing to the point where, in some cases, people have no real choices at all. On top of all of this, there's the fact that, even after the passage of the PPACA, millions of Americans remain without basic health insurance because they cannot afford it but are not poor enough to qualify for Medicaid or old enough to qualify for Medicare. Given all of this, it's clear that there are plenty of problems with the PPACA that need to addressed. At the same time, though, it's not at all clear that the law or the health care sector is about to "explode," "implode," or do anything other than chug along in the same imperfect way that it has for decades now. Indeed, it seems far more likely that the status quo will continue and we'll learn to live within an imperfect system for the time being than it does that the system itself will collapse to the point that people will be on the streets demanding change, which is what Trump seems to be envisioning.
Let's assume that Donald Trump is right, though. Let's assume that at some point in the next four to eight years the American health care industry is near collapse because of the flaws in the PPACA and the public is demanding that someone do something about it. Trump seems to be under the assumption that Democrats would get the blame for this because the original bill was one of their own creation that had essentially no Republican input and certainly no Republican support and because Democrats did nothing to help Republicans get the American Health Care Act passed. This is utterly absurd. The party that is most likely to be blamed for the failures of the system is going to be the party that's in power, and right now that's the Republican Party and Donald Trump is sitting at the top of it. If he believes that a major health care crisis a year or two down the line is going to benefit him then he is truly more delusional than I ever believed him to be. If and when the time comes, the people will blame Republicans and they will blame President Trump, and it's him they will be looking to for a solution to the crisis. At that point, it's not Trump who will be holding the winning hand, it's Democrats whose support he would need to get a reform package through Congress.
Additionally, if Trump is so sure that the PPACA is going to collapse of its own weight it seems the height of irresponsibility for him to essentially say that he is content with sitting back and doing nothing while it happens. If Trump is right and this happens on his watch, he is going to bear responsibility for it as much as Republicans and Democrats on Capitol Hill would, probably more so. More importantly, given the way that this debacle with the AHCA unfolded, it's likely that voters will remember what happened in the early days of the Trump Administration and blame him and the rest of the Republican Party much more than they'll blame Democrats. A sitting President who simultaneously claims to have foreknowledge of an impending crisis and says at the same tie that he intends to do nothing about it isn't much of a President at all. Speaking about the Presidency, Harry Truman once said that "the buck stops here." Yesterday, Donald Trump pointed at House Democrats, who played no role in the failure of the reform effort at all, and said 'the buck stops with them.' That's not leadership, it's childish finger pointing, and it does not bode well for Trump's ability to lead when it comes to the rest of his agenda or, heaven forbid, when it comes to what seems like an inevitable foreign policy crisis at some point in the next four to eight years.