Republican Obamacare Replacement Bill Pulled From House Floor
A major legislative defeat for Paul Ryan, the House GOP, and President Trump.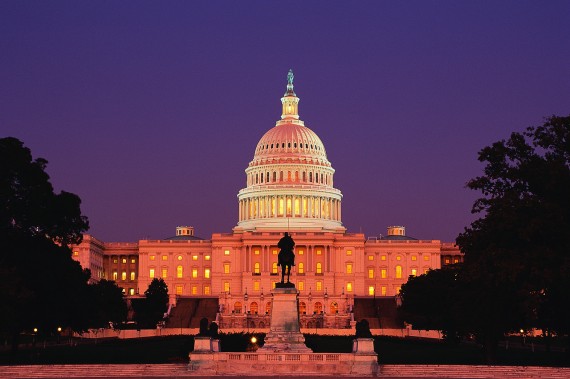 Just minutes before a vote was scheduled to take place on the American Health Care Bill, the bill was pulled from the House floor as it became apparent that another day of lobbying recalcitrant members of the conservative House Freedom Caucus had proven to be entirely fruitless and that the bill would have failed had it gone to a final vote:
House Republican leaders abruptly pulled a Republican rewrite of the nation's health-care system from consideration on Friday, a dramatic acknowledgment that they are so far unable to repeal the Affordable Care Act.

"We just pulled it," President Trump told the Washington Post in a telephone interview.

The decision came a day after Trump delivered an ultimatum to lawmakers — and represented multiple failures for the new president and House Speaker Paul D. Ryan (R-Wis.).

The decision means the Affordable Care Act remains in place, at least for now, and a major GOP campaign promise goes unfulfilled. It also casts doubt on the GOP's ability to govern and to advance other high-stakes agenda items, including tax reform and infrastructure spending. Ryan is still without a signature achievement as speaker — and the defeat undermines Trump's image as a skilled dealmaker willing to strike compromises to push his agenda forward.

"I don't blame Paul," Trump said, referring to Ryan.

Rep. Bradley Byrne (R-Ala.), who planned to vote for the legislation, said that Friday would have been the "first big vote in the presidency of Donald Trump. I think it's a statement, not just about him and the administration, but about the Republican Party and where we're headed."

"So much about political power is about perception. And if the perception is that you can't get your first big initiative done, then that hurts the perceptions down the road about your ability to get other big things done," Byrne said in an interview before the decision.

The decision came hours after Ryan visited the White House to warn Trump that despite days of intense negotiations and sales pitches to skeptical members, the legislation lacked the votes to pass.

Trump had personally lobbied 120 lawmakers, either in person or on the phone, White House press secretary Sean Spicer reminded reporters on Friday. The president had "left everything on the field," Spicer said.

Spicer said that no matter what happens, the White House did not think that defeat would slow other parts of Trump's agenda including tax reform and immigration reform.

Vice President Pence, White House Chief of Staff Reince Priebus and Health and Human Services Secretary Tom Price also made a last-ditch attempt to win over members of the hard-line House Freedom Caucus, huddling with them at midday at the Capitol Hill Club, a GOP social hall next door to the headquarters of the Republican National Committee. All three exited the meeting quickly without taking questions.

In one stunning defection Friday, House Appropriations Committee Chairman Rodney Frelinghuysen (R-N.J.) announced at midday that the health care bill is "currently unacceptable" and that changes made late Thursday to placate conservatives "raise serious coverage and cost issues."

Another moderate, Rep. David Joyce (R-Ohio) — who had met with Trump on Wednesday night — said he would vote against the bill. So did Rep. Barbara Comstock (R-Va.), a longtime Ryan friend and ally who represents a competitive Northern Virginia congressional district.

Rep. Paul Gosar (R-Ariz.), a Freedom Caucus member, was one of six Republicans who voted against a procedural resolution bringing the bill to the floor on Friday morning.

"You know what? I came here to do health care right," said Gosar, a dentist. "This is one chance we that can get one-sixth of our GDP done right. It starts with here."

At the heart of the argument made by GOP leaders to skeptical members: Keeping the Affordable Care Act is a worse outcome than passing a potentially flawed replacement.

"You want to score a touchdown, but sometimes, on the fourth down, you kick a field goal," said Rep. Joe Barton (R-Tex.), the longest-serving member of Congress in the Freedom Caucus. "The choice is yes or no. I'm not going to vote no and keep Obamacare. That'd be a stupid damn vote."

At the White House on Friday morning, Trump projected confidence as he answered shouted questions following an announcement of a presidential permit for the Keystone XL pipeline, a revived project that the president said would create jobs.

Asked by a reporter what he would do if the bill fails, Trump — seated at his Oval Office desk — shrugged and said: "We'll see what happens."

(…)

When formal debate on the bill began on Friday morning, top leaders used a procedural vote to gauge last-minute support. House Majority Whip Steve Scalise (R-La.) was seen conferring with Rep. Christopher Smith (R-N.J.), a key holdout. House Ways and Means Committee Chairman Kevin Brady (R-Tex.) sat in the row behind them cajoling Rep. Patrick Meehan (R-Pa.), another moderate who has yet to announce what he plans to do.

Rep. Mark Meadows (R-N.C.), who chairs the Freedom Caucus, did not respond to requests for comment on Friday about his plans.

Rep. Ken Buck (R-Colo), a caucus member who said before the election that minor losses in the House Republican ranks would increase conservative clout, said he remained undecided.

"I'm examining life experiences," he said. Asked to explain what he meant, he said he was joking.

Rep. Peter King (R-N.Y.), a moderate who had expressed qualms as recently as Tuesday, when he was singled out by Trump inside a private meeting of House Republicans, said he had all but decided to vote for the bill.

"I'm not one they should worry about," he said.

Rep. Louie Gohmert (R-Tex.), one of Trump's most ardent congressional supporters, said he remained opposed to the legislation because it made more political sense to keep current law than to start rewriting it.

"A no vote means we save Donald Trump from a Democratic majority in 2019," Gohmert said. "If this passes, then Obamacare stays."
As I noted this morning, after yesterday's difficulties in getting a majority together to pass the AHCA on the seventh anniversary of the passage of the Affordable Care Act it was obvious that putting that majority together today would be no easier. The House Freedom Caucus was demanding changes that would have been a poison pill in the Senate, for example, and the minor changes that were made to the bill in an effort to placate them ended up alienating House GOP moderates in the so-called Tuesday Morning Group, more and more of whom were joining their more conservative colleagues in announcing their opposition to the bill as the day went on. By the time Speaker Ryan took the extraordinary step of taking a sudden trip to the White House to brief the President, it was apparent that more than 30 House Republicans would vote against the bill and suggestions were that the final total would be much higher since many members would no longer feel it necessary to vote in favor of a bill that was going to die in the House anyway, meaning that there would have been a lopsided majority against the bill and even more humiliating defeat for Ryan, the House GOP, and President Trump.
Based on the initial reporting, this isn't just a temporary setback for the AHCA, it's basically a full-on retreat for the entire GOP from health care reform, at least for now. Paul Ryan is speaking now, and he's referring to the effort to repeal the Affordable Care Act in the past tense, while Republican member of the House are being told that "Trump is done" with health care reform for now according to CNN Congressional Reporter Phil Mattingly. Whether that is a serious threat or just posturing is something only time will tell, but it's hard to see how the GOP is going to be able to 'repeal and replace' the PPACA in the future if they were unable to do it now, at the beginning of a Republican Presidency when the GOP has solid control over both the House of Representatives and the Senate, then they aren't going to be able to do it in the future. Indeed, if they were unable to come to an agreement on this issue it's hard to see how they are going to be able to tackle equally complicated issues such as tax reform, entitlement reform, the debt ceiling, and other matters of importance.
Reason's Peter Suderman has some good insights on why the bill failed, and places most of the blame where it belongs, with Donald J. Trump:
The bill failed in part because it could not establish a balance between the concerns of moderate Republicans, particularly with regard to the way it treated the Medicaid expansion, and more conservative members of the House Freedom Caucus, who argued that the bill was too much like Obamacare, retaining its core scheme of subsidies and regulations.

But it also failed because Trump proved himself an ineffective negotiator and dealmaker—one whose preference for shallow political victories over substantive policy wins ultimately proved insufficient in a complex policy negotiation.

Throughout his life, Trump has portrayed himself as a master dealmaker. As far back as 1984, for example, he argued that the U.S. government should let him manage the nuclear arms negotiations with Russia. It would take an hour-and-a-half to learn everything there is to learn about missiles," Trump, who in 2015 did not know what the nuclear tried was, toldThe Washington Post at the time. Trump has never been focused on details. The deal itself was always more important than what was in it.

As House Republicans moved towards a vote on the health care bill, GOP lawmakers characterized his role similarly. This week, in advance of meetings with Republicans who opposed the bill, Rep. Patrick McHenry (R-North Carolina) called Trump "the closer." Final support for the bill would be won by Trump, who would use his skills as a dealmaker to push it over the finish line.

Trump repeatedly promised to repeal and replace Obamacare with "something terrific." But he never described the policy mechanisms of the replacement he preferred. And the outcomes he described—coverage for everyone, lower premiums, no changes to Medicaid—had little or no connection to the bill that House Republicans eventually drew up.

That didn't seem to matter to the president. As has always been the case with Trump, making a deal—any deal—was all that mattered.

In the end, though, the bill died. Trump couldn't close the deal. And one of the biggest reasons that Trump couldn't close the deal is that he didn't understand or care about the details.
The ominous thing is that this seems to describe how Trump feels not just about health care policy, but how he feels about pretty much all the issues facing the nation. Throughout his campaign, his rhetoric and his campaign message was always focused on his ability to get "better deals" but always fairly empty of exactly what he thought those deals should entail. This is true whether one is talking about health care, or international trade, or immigration, or tax reform, or any of the other myriad of issues that the Congress and President are supposedly going to be dealing with over the next four years. If this two weeks or so of dealing with the American Health Care Bill is any indication, Trump is going to have a huge problem getting any of his agenda through Congress, and that's going to be a recipe for a failed Presidency.