Trump Leads In Iowa, While Walker Declines
Donald Trump is leading in Iowa, and very few things make sense anymore.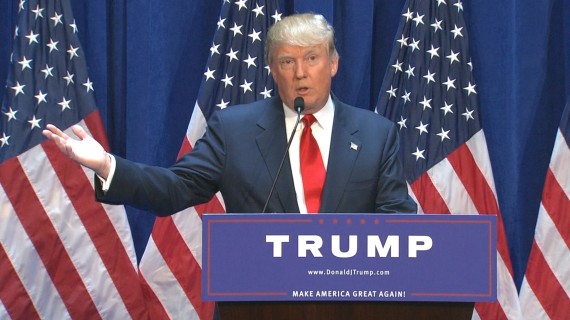 Notwithstanding his performance in last week's debate and the aftermath that followed, Donald Trump continues to lead the Republican Presidential race according to a new CNN/ORC poll out of Iowa, but the poll also confirms some significant shakeups further down the race:
Donald Trump has a significant lead in the race to win over likely Iowa caucus-goers, according to the first CNN/ORC poll in the state this cycle.

Trump tops the field with 22% and is the candidate seen as best able to handle top issues including the economy, illegal immigration and terrorism. He's most cited as the one with the best chance of winning the general election, and, by a wide margin, as the candidate most likely to change the way things work in Washington.

Retired neurosurgeon Ben Carson follows Trump in overall preference with 14%, bumping Wisconsin Gov. Scott Walker, who had held the top spot in most recent public polling in Iowa, down to third place with 9%. Walker is nearly even with a slew of other candidates.

Previous public polls had found Carson with around 10% support, but most were released before last week's debate. A Suffolk University poll of Iowa Republicans released Tuesday found Carson's closing remarks to be the most memorable moment for those who watched the prime time debate.

Texas Sen. Ted Cruz follows the top three at 8%, with businesswoman Carly Fiorina and former Arkansas Gov. Mike Huckabee both at 7%. Former Florida Gov. Jeb Bush is tied at 5% with senators Rand Paul and Marco Rubio. The rest of the field stands at 3% or less.

Two-thirds of Iowa Republicans who are likely to attend the caucus say they're still trying to decide whom to support. Among the 34% who say they have made up their mind or are leading toward a candidate, Trump's lead grows, and the top of the field shifts. Among that group, 33% back Trump, 14% Carson, 11% Fiorina, and 9% each back Paul and Walker. Cruz follows at 7%, and all others have less than 5% support.

But Trump's advantages are not universal. He faces a large gender gap: While holding a 15-point lead over his nearest competitor among men (27% Trump to 12% Walker, Carson at 10%), he trails among women (20% back Carson, 15% Trump, and 11% support Fiorina). He runs behind Carson and about even with Walker and Cruz among those who describe themselves as "very conservative" (25% Carson, 15% each Cruz and Walker, 12% Trump), and he runs even with Carson among evangelical Christians (18% each Trump and Carson, 12% Cruz, 11% Huckabee, 10% Walker).

(…)

Trump's support in Iowa rests on perceptions that he would do the best job handling several top issues and that he is most electable. He tops the list by wide margins when GOP caucus-goers are asked which candidate they trust most to handle the economy, illegal immigration and terrorism. And Trump holds his biggest advantage as the candidate who "is most likely to change the way things work in Washington," 44% say Trump can do that, no other candidate hits double-digits.

But while Trump falters somewhat on representing the values of Republicans, no clear leader emerges on that question, with nine candidates at 5% or higher: 14% Carson, 12% Trump, 11% Huckabee, 10% Cruz, 9% Walker, 6% each Bush and Paul, and 5% each Fiorina and Jindal. And he falls well below the lead when voters are asked which candidate would best handle abortion; 17% each say Carson and Huckabee would be best on that score, 7% each choose Bush and Trump, 6% each Cruz, Paul and Walker, and Rubio stands at 5%.
The stories that one can draw out of this poll have as much to do with the relatively failure of several candidates to put forward a good debate performance last week despite the fact that they had been doing well in the polls in the run up to the debate itself. At the top of that list would have to Wisconsin Governor Scott Walker, who had been leading in pretty much every poll out of the Hawkeye State for the past several months turned in what most observers, even those inclined to be sympathetic to him, have called a rather weak and unmemorable performance at the debate. This is likely a large part of the reason why Walker has fallen in the polls, although it is admittedly true that the 12% he gets in the new polls from Suffolk University and Public Policy Polling is better than the 9% he gets in this CNN poll.  The same can be said for Jeb Bush, who admittedly has not been strong in Iowa for some time now. By contrast, the candidates who, at least from the point of view of Republican voters, did well in the debate seem to benefiting from that at least in the short term. This includes Ben Carson, who has done well enough in recent polling to jump ahead Walker and into second place in the polling average. The same is true for Carly Fiorina, who had previously not polled any higher than 3% and now finds herself tied for fourth place with Ted Cruz at 8.0%. Whether this is a trend that continues for these candidates or not is something we'll have to see, but at the very least it would appear that last week's debate is resulting in some reorganization of the rankings among the Republican candidates for President.
As for Trump, well what is there to say at this point? Obviously, whatever prediction I or anyone else had made in the past about him flaming out of race in the near future didn't come to pass, and they're not likely to come to pass any time soon either. As I've said before, even if he did start declining in the polls Trump is somewhat immune to many of the pressures that might cause a candidate to drop out of the race for the White House. Even leaving that side, though, there's certainly no reason for Trump to even think of getting out of the race while he's leading in the polls, and there's no sign that's going to change any time in the near future. At the same time, as Nate Silver notes, it's very unlikely that Trump will win the nomination. While he's in the race, he will be continue to be the focus of the coverage and he will continue to drown out many of the other candidates. That will make it harder for those candidate to rise further in the polls unless and until we start getting to the point where other candidate start dropping, which may happen sooner rather than later. For the moment, though, this race is all about Donald Trump and there's not much anyone can do about that.