Trying To Read The Biden Tea Leaves
Time is running out for Joe Biden to make a decision about running for President, and it's still not clear what he'll do.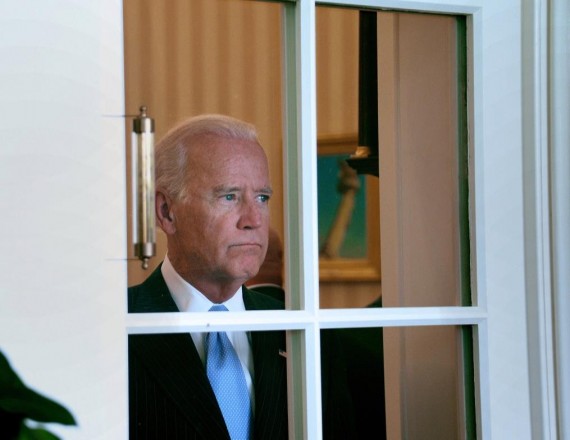 The Wall Street Journal reports that Vice-President Biden appears to be taking steps that suggest that he may be getting close to jumping into the race for the Democratic Presidential nomination:
Vice President Joe Biden's aides in recent days called Democratic donors and supporters to suggest he is more likely than not to enter the 2016 race, and their discussions have shifted toward the timing of an announcement, said people familiar with the matter.

While the Biden team is still debating the best time to jump in, the vice president met Monday with his political advisers and talked about the merits of an early entry that would assure him a place in the Democratic debate scheduled for Oct. 13. They also are honing his campaign message and moving ahead with plans to raise money and hire staff, the people said.

The vice president could still back out if he finds the emotional toll from the death of his elder son, Beau Biden, too much to overcome. But the shift in the deliberations to the timing of an announcement is a fresh sign that he is moving closer to a bid.

"It's my sense that this is happening, unless they change their minds," said one person who spoke to Biden aides last weekend.

Mr. Biden's entry would coincide with Democratic front-runner Hillary Clinton's ramped-up efforts to reassure her backers that the probes into her use of a personal email server while she was secretary of state won't derail her candidacy. That controversy has produced a month of bad headlines for Mrs. Clinton and helped boost her chief rival, Vermont Sen. Bernie Sanders, in the polls. A Biden bid could make her road to the Democratic nomination even tougher.

The vice president's team of advisers are still honing what would be his campaign message: That after inheriting a brutal economic recession, President Barack Obama has had a successful run, and Mr. Biden would keep the U.S. on the same trajectory.

The Democratic debate next month is one of two important events in October that are on the minds of Mr. Biden's top advisers as they consider a campaign start date.

Democratic National Committee leaders have scheduled only four debates before the Iowa caucuses set for Feb. 1. Delaying a presidential announcement would mean passing on a chance to appear before a national TV audience and make the case that he would be a better nominee than Mrs. Clinton. Yet as a sitting vice president, Mr. Biden already has a platform that keeps him in the public eye.

On Oct. 22, Mrs. Clinton will testify before a Republican-controlled House committee looking into the terrorist attack in Benghazi, Libya, in 2012 that killed four Americans. Committee members are also likely to question her about her use of the private email system.

The congressional appearance is a high-stakes moment for Mrs. Clinton. A strong showing might reassure Democrats troubled by her decline in public-opinion polls. A rocky performance could further damage Mrs. Clinton and enhance a Biden candidacy.
The speculation about Biden's Presidential intentions has been all over the map for more than a month now. When the Congressional recess started and the Vice-President when on vacation with his family, news reports indicated that the possibility of jumping into the race would be something that he would discuss with them. After that vacation ended, Biden gave several public speeches that some interpreted as feelers for a Presidential campaign, but at the same time he made comments that made it seems as tough he was leaning against running for President for the third time. In a speech near Labor Day to a union group, Biden spoke openly about the difficulties that his family has dealt with since the death of Beau Biden and his uncertainty that either he or they are emotionally fit for the rigors of the campaign trail. In an interview last week with Stephen Colbert, he made the same points even more forcefully. Many people took statements like this as hints from Biden that he was leaning toward not running, or at least not entering the race unless it appeared that Hillary Clinton's campaign was collapsing and the Democratic Party needed him to run in order to have a credible candidate in 2016. At the same time he's saying, though, we have reports like this as well as the travels that Biden has been making recently around the country Biden has been sending different signals:
During his travels in recent days, Mr. Biden also has squeezed in meetings with Democratic officials and constituencies that could prove helpful in a race.

In California this week, Mr. Biden met with an official from the Culinary Workers Union and other elected officials, including Los Angeles Mayor Eric Garcetti.

"He understands the struggles of American workers today. He combines policy expertise with a strong sense of empathy, and he's been super to work with," Mr. Garcetti said in a recent interview.

Asked if he urged Mr. Biden to run, Mr. Garcetti said: "I'm a personal friend, but I wouldn't presume to give him counsel. That's an intensely personal decision for him. But you can count me as a Joe Biden fan."

Mr. Biden has said in the past that Democrats should run on the Obama administration's record, and his recent remarks signal that he is likely to do just that, should he take his third shot at the White House since 1988. In Detroit on Thursday, Mr. Biden emphasized the White House's efforts to pull the auto industry back from the brink of collapse.

"The president and I decided to bet on the automobile industry, to bet on Detroiters, bet on this city," he said.

Mr. Biden highlighted his partnership with the president repeatedly, beginning an anecdote with: "As I said to Barack when he asked me to join the ticket…." And he wrapped up his remarks with a simple argument that could be an anthem for his 2016 campaign: "We've come a long way, but we've got a lot further to go."
If Biden were to run for President, that last paragraph would likely be the centerpiece of his campaign. While Hillary Clinton did serve in the Obama Administration, one could make the argument that Biden is the person who could be seen as the natural successor to President Obama and the person most committed to preserving his legacy and expanding on it. Potentially, this could be a powerful message in a Democratic where voters are faced with a presumptive frontrunner whose major legacy from her years at the State Department now appears to be the decision to use a private email server for her official communication, a primary challenger who is quite obviously too far left to win a General Election, and a handful of also-rans who cannot even garner 5% in the national polls when you add their numbers together. Faced with that, and factoring in both Clinton's decline in the polls nationally, in Iowa, and New Hampshire, and the fact that Republicans are starting to catch up to her in the head-to-head polls, and the idea of a candidate who would continue the Obama legacy could appeal to a lot of Democrats.
All of that being said, the arguments against a Biden run are well-known and have been discussed endlessly over the past two months. He doesn't seem to have a natural constituency inside the Democratic Party like Clinton does with woman and Sanders does with the progressive wing of the party. He doesn't seem to have to the same popularity among the all-important for Democrats African-American demographic that Clinton does. He has a history of making frequent gaffes on the campaign trail and a legacy of two Presidential campaigns that were, to say the least, less than spectacular. Most importantly, perhaps, until now he hasn't shown any signs of putting together even a rudimentary campaign organization and the time for him to do so is quickly running out. Given all of this, the arguments against Biden are clearly stronger than the arguments in favor of him running and perhaps ruining a legacy that, in the past seven years, been enhanced greatly. The Vice-President strikes me as a smart enough politician to know all of this, which likely explains much of the hesitation noted above, and yet we keep getting signals such as this that he is getting close to jumping into the race.
Whatever Vice-President Biden decides, it does seem like we are quickly approaching the end game to all this speculation. The first Democratic debate is just two-and-a-half weeks away. If Biden intends to run and wants to be included in that debate, then he will need to announce his intentions and begin campaigning very soon. Next week is probably out of the picture since he and the President will be busy with back-to-back State Visits by Pope Francis and Chinese President Xi Jinping. After those matter are done, Congress will likely still be dealing with the budget and Biden would probably be needed for any negotiations. That doesn't leave him without a lot of time to think about his Presidential intentions, never mind act on them. Beyond October 13th, the deadlines for getting on the ballot in the early primary states begin expiring starting in mid-November. Failure to get on the ballot in those states would blunt the impact of any campaign, and make it harder to assemble the delegates needed to win the nomination. If Biden is going to act then, he will need to act soon.