Joe Biden Drops A Hint That Suggests He Probably Won't Run For President
In a speech in Florida, Joe Biden spoke about his possible run for the White House, and gave a very big hint that he's leaning toward staying out of the race.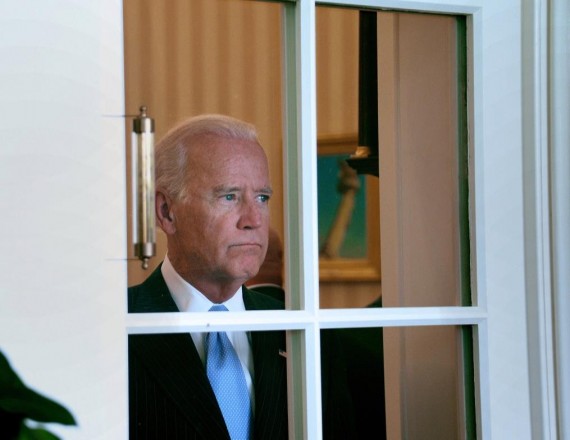 Vice-President Biden may have just given a very big hint about his Presidential intentions: (emphasis mine)
Vice President Joe Biden opened up for the first time publicly about his painful deliberations over whether to run for president so soon after his son Beau's death to brain cancer, saying the key question is "whether my family and I have the emotional energy to run."

"Can I do it? Can my family undertake what is an arduous commitment that we'd be proud to undertake in ordinary circumstances?" Biden told an audience of 2,000 people at an Atlanta synagogue Thursday night, during a question-and-answer session following a speech he gave on U.S. foreign policy. "The honest-to-God answer is I just don't know."

"If I can reach that conclusion and we can do it in a fashion that would still make it viable, I would not hesitate to do it," he said. "But I have to be honest with you and everyone who's come to me. I can't look you straight in the eye and say now I know I can do it."

"Unless I can go to my party and the American people and say that I am able to devote my whole heart and my whole soul to this endeavor, it would not be appropriate."

Biden, who wrapped up a two-day trip to the Southeast to promote the Obama administration's policies on community colleges, job creation, and an Iran nuclear deal, and to raise money for Senate Democrats, said speculation about other factors, such as whether he can raise enough money or put together enough of an organization to mount a successful effort this late in the process, are been overblown. "That's not the factor," he said.

While the vice president has spoken privately about his family's struggle with grief in conversations with longtime backers in recent weeks, and last week touched on these concerns in a call with Democratic National Committee members, his remarks Thursday marked the first time he has been prepared to detail the matter in public.

Biden had been expected to decide by the end of this month whether or not to seek the Democratic Party's nomination against Hillary Clinton and Bernie Sanders.

Biden said he had learned after the deaths of his first wife and infant daughter in a car accident in the 1970s that "there's no way to put a timetable" on grief. Biden's son Beau is said, in his final months, to have encouraged his father to seek a third run for president.

If Biden does run for president, his two-day visit to the Southeast this week served as a preview of what much of his early stump speech might sound like: An embrace of his age (72), establishment experience (four decades in Washington politics), and failed bids for president (1988 and 2008) as strengths rather than strikes against him.

Biden could also position himself as the White House's resident "optimist," "skeptic" and occasional "skunk at the family picnic," distinctions that may give him credibility to explain the merits of administration policies to dubious voters. This week's defense of the Obama administration's multilateral approach to foreign policy, of the Iran nuclear deal as a shining example, and of managing the U.S. relationship with China as a key priority going forward also served as a potential preview of what might follow in a presidential campaign.

(…)

In Atlanta, Stuart Eizenstat, who served in the Jimmy Carter and Bill Clinton administrations and as a special adviser to the Obama administration on Holocaust, introduced Biden, his friend since the 1970s, saying that Israel has had "no greater friend than Joe Biden" for the last four decades.

Eizenstat spoke of Beau's death and told the vice president that "our hearts go out to you." "What a career—and it's not over yet," Eizenstat said.

As Biden took the podium, he started out speaking more quietly than normal and when someone asked him to talk louder, Biden said he'd oblige, while explaining, "I'm trying to sort of control my emotions right now."
Most of the discussion about whether or not Biden will or should enter the race for the Democratic nomination has focused on the logistical issues that such as campaign would create, and the difficulties that even a sitting Vice-President would face in entering the race at this late date. Even with her recent slip in the polls and the fact that her unfavorability numbers are at some of the worst levels they've ever been since she became a national political figure 24 years ago, Hillary Clinton remains the prohibitive favorite for the Democratic nomination and Biden would face a formidable challenge in taking her on. Not only does she continue to lead in the polls nationally, as well as in early primary states such as Iowa and South Carolina, but she also has the a strong fundraising advantage, as well as an organizational advantage thanks in no small part to the fact that many of the people who worked for Barack Obama in 2008 and 2012 are now working for her. Additionally, even though recent polling shows Clinton slipping, that same polling shows that the vast majority of Democrats continue to believe she will be the eventual nominee, and they say that they would be willing to support her in a General Election. As for Biden, the polling shows that Americans as a whole aren't exactly thrilled with the idea of a Biden Presidency and Democrats in particular aren't eager for him to get in to the race.  This isn't a very favorable environment for Biden to build a campaign in, especially considering the fact that his previous two runs at the White House didn't exactly go very well. 
Leaving aside all of the analytical matter that someone in Biden has to consider before jumping in to the Presidential race, though, there are also the arguably more important emotional factors that play into something as grueling as a run for the White House. As a veteran of four Presidential campaigns, two on his own and two as a running, Biden is no doubt aware of the physical and emotional toll that a campaign places not just on a candidate, but on the candidates family. Long trips on the road to campaign events and rallies mean less time home, and less time for careers and personal matters, for example. Also, as even someone who has just worked on a campaign can tell you, at some point one becomes emotionally invested in the race to such an extent that losing can take a profound psychic toll. Taking that burden on is difficult for many people. Mitt Romney reported that he was initially reluctant to run for President again in 2012, but that his family ended up convincing him to do. Former Indiana Governor Mitch Daniels passed on a run for the White House that many thought could be very successful because of concerns that exposure to the glare of public attention would have a negative impact on his family. Biden is a political veteran, and he's been through this before, but both he and his family have also recently been through a tremendous and obviously heartwrenching loss. Just based on what the Vice-President is saying here, it seems fairly clear that he and his family still haven't healed from the loss of Beau Biden, and that he's not at all sure that he or they are ready for the rigors of a Presidential race.
However Biden ends up factoring in these emotional factors along with the analytical, the time for him to make a decision is quickly drawing to a close. The first Democratic debate is on October 13th, and if her were running one would assume that he'd want to be in the race at some point before then. Additionally, starting in November the deadline for ballot access petitions for the early primary states will be approaching. Any candidate who wants to be taken seriously at that point will at least have to have enough of an organized campaign to gather the signatures necessary to get on those ballots. As things stand, Biden hasn't even taken the steps to form a rudimentary campaign organization. Given all that, and given the comments he made in Florida, the odds that Vice-President Biden will actually enter the race seem to exceedingly small.