President George H.W. Bush Dies At 94
George H.W. Bush,, who served his nation as a warrior, Congressman, Ambassador, Vice-President, and President, has died at the age of 94.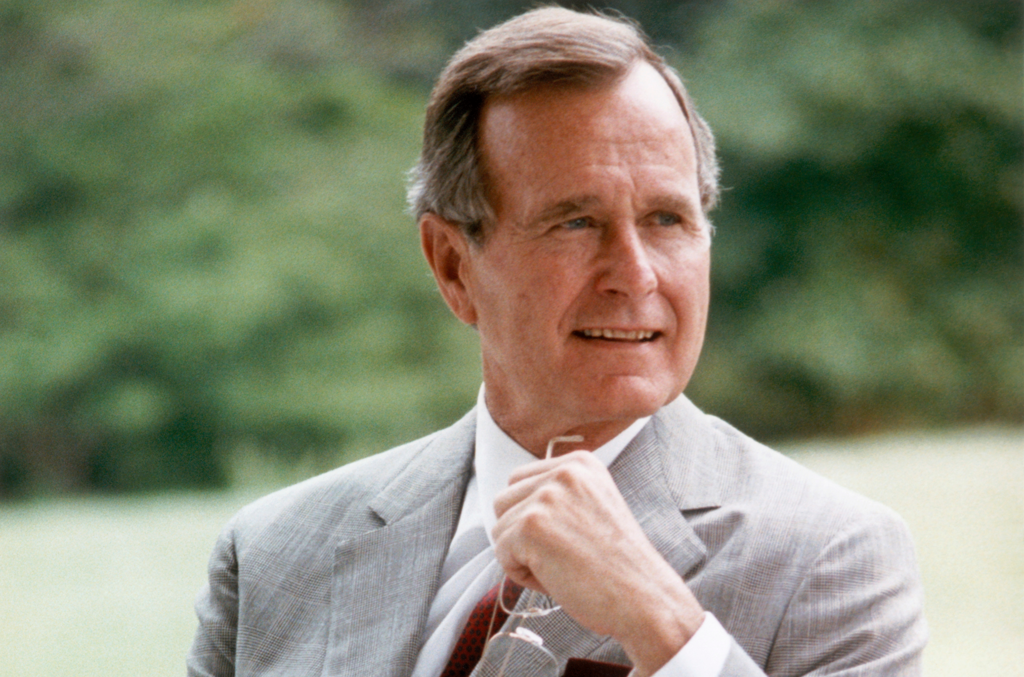 George Herbert Walker Bush, who served his nation in war and as a Congressman, Ambassador to the United Nations and China, C.I.A. Director, Vice-President, and President, has died at the age of 94:
George Bush, the 41st president of the United States and the father of the 43rd, who steered the nation through a tumultuous period in world affairs but was denied a second term after support for his presidency collapsed under the weight of an economic downturn and his seeming inattention to domestic affairs, died on Friday night at his home in Houston. He was 94.

His death, which was announced by his office, came less than eight months after that of his wife of 73 years, Barbara Bush.

Mr. Bush had a form of Parkinson's disease that forced him to use a wheelchair or motorized scooter in recent years, and he had been in and out of hospitals during that time as his health declined. In April, a day after attending Mrs. Bush's funeral, he was treated for an infection that had spread to his blood. In 2013, he was in dire enough shape with bronchitis that former President George W. Bush, his son, solicited ideas for a eulogy.

But he proved resilient each time. In 2013 he told well-wishers, through an aide, to "put the harps back in the closet.

Mr. Bush, a Republican, was a transitional figure in the White House, where he served from 1989 to 1993, capping a career of more than 40 years in public service. A decorated Navy pilot who was shot down in the Pacific in 1944, he was the last of the World War II generation to occupy the Oval Office.

Mr. Bush was a skilled bureaucratic and diplomatic player who, as president, helped end four decades of Cold War and the threat of nuclear engagement with a nuanced handling of the collapse of the Soviet Union and the liberation of Eastern Europe.

Yet for all his success in the international arena, his presidency faltered as voters seemed to perceive him as detached from their everyday lives. In an election that turned on the economy, they repudiated Mr. Bush in 1992 and chose a relatively little-known Democratic governor from Arkansas, Bill Clinton, a baby boomer, ushering in a generational shift in American leadership.

If Mr. Bush's term helped close out one era abroad, it opened another. In January 1991 he assembled a global coalition to eject Iraqi invaders from Kuwait, sending hundreds of thousands of troops in a triumphant military campaign that to many Americans helped purge the ghosts of Vietnam.

But the victory also brought years of American preoccupation with Iraq, leading to the decision by George W. Bush in 2003 to topple the Iraqi leader, Saddam Hussein, in a war that taxed American resources and patience.

The elder Mr. Bush entered the White House with one of the most impressive résumés of any president. He had been a two-term congressman from Texas, ambassador to the United Nations, chairman of the Republican National Committee, United States envoy to China, director of the Central Intelligence Agency and vice president, under Ronald Reagan.

And he achieved what no one had since Martin Van Buren in 1836: winning election to the presidency while serving as vice president. (Van Buren did so in the footsteps of Andrew Jackson.)

A son of wealth and a graduate of Phillips Academy in Massachusetts and Yale, Mr. Bush was schooled in the good manners and graciousness of New England privilege and civic responsibility. He liked to frame his public service as an answer to the call to duty, like the one that had sent him over the Pacific and into enemy fire as a 20-year-old. ("The cockpit was full of smoke and I was choking from it," he told his parents in a letter from the submarine that had plucked him from the sea.)

He underscored the theme of duty in accepting his party's nomination for the presidency in 1988 in New Orleans. "I am a man who sees life in terms of missions — missions defined and missions completed," he told Republican delegates in the Louisiana Superdome, acknowledging a swell of applause. He said he would "keep America moving forward" and strive "for a better America."

"That is my mission," he concluded, "and I will complete it."

Tall, at 6 feet 2 inches, with an athlete's graceful gait, Mr. Bush was genial and gentlemanly, except in the throes of a tough campaign. (Admonished by his mother against self-promotion, Mr. Bush, an inveterate note writer, in his clipped diction avoided the first person singular pronoun.) He represented a "kinder" and "gentler" strain of Republicanism — the often-quoted words he used in his Inaugural Address to describe his vision for the nation and the world — that has been all but buried in a seismic shift to the right in the party.

Mr. Bush's post-presidency brought talk of a political dynasty. The son of a United States senator, Prescott S. Bush, Mr. Bush saw two of his own sons forge political careers that brought him a measure of redemption after he was ousted as commander in chief. George W. Bush became the first son of a president since John Quincy Adams to follow his father to the White House. (Unlike the father, the son won re-election.) Another son, Jeb Bush, was twice elected governor of Florida and ran unsuccessfully for the presidency in 2016.

As the elder Mr. Bush watched troubles envelop the eight-year presidency of his son, however, what had been a source of pride became a cause of distress, friends said. The contrast between the two President Bushes — 41 and 43, as they came to call each other — served to burnish the father's reputation in later years. As the younger Mr. Bush's popularity fell, the elder Mr. Bush's public standing rose. Many Americans came to appreciate the restrained, seasoned leadership the 41st president had displayed; in an opinion poll in 2012, 59 percent expressed approval. Democrats, including President Barack Obama, praised the father as a way of rebuking the son.

It was a subject Mr. Bush avoided discussing in public but one he finally addressed in conversations with Jon Meacham, his biographer, in a book published in 2015. Mr. Bush was quoted as saying that his son's administration had been harmed by a "hard line" atmosphere that pushed an aggressive and ultimately self-destructive use of force around the world, and he placed the blame for that on men who had long been part of his own life and who became key figures in his son's orbit — Dick Cheney, his son's vice president, and Donald H. Rumsfeld, his son's secretary of defense, with whom the elder Mr. Bush had feuded.

"I do worry about some of the rhetoric that was out there — some of it his, maybe, and some of it the people around him," Mr. Bush said in the Meacham book, "Destiny and Power: The American Odyssey of George Herbert Walker Bush."

He was particularly critical of Mr. Rumsfeld. "I don't like what he did, and I think it hurt the president, having his iron-ass view of everything," he said, adding, "Rumsfeld was an arrogant fellow and self-assured, swagger."

Mr. Bush and his sons did not attend the Republican National Convention that nominated Donald J. Trump as its presidential candidate in 2016, and he pointedly did not endorse Mr. Trump in his race against Hillary Clinton.

During the primary, Mr. Trump had repeatedly belittled Jeb Bush as "low energy." Mr. Bush, who had entered the contest as the son of a president with an inside track for the nomination, was forced to withdraw by February.

(…)

Mr. Bush was president during a shift in the world order that had begun under Reagan. His measured response to upheaval in Eastern Europe drew complaints that he was not seizing the reins of history. But he chose a collaborative approach, working with the Soviet leader Mikhail S. Gorbachev to allow for the reunification of Germany, the dissolution of the Soviet Union and the end of the Cold War. The two leaders signed treaties mandating historic reductions in their countries' nuclear and chemical weapons.

"George H. W. Bush was the best one-term president the country has ever had, and one of the most underrated presidents of all time," James A. Baker III, the former secretary of state and Mr. Bush's closest adviser for nearly 50 years, said in an interview in 2013. "I think history is going to treat him very well."

In his first year at the White House, Mr. Bush sent troops into Panama to oust its strongman, Gen. Manuel Antonio Noriega. The rapid, relatively bloodless conclusion of the Persian Gulf war of 1991 earned him a three-minute standing ovation and shouts of "Bush! Bush!" when he addresseda joint session of Congress that March. It also sent his voter approval ratings soaring to close to 85 percent during the four-day aerial bombardment of Baghdad, according to a New York Times/CBS News poll. It was the pinnacle of his presidency, yet it lulled him, not to mention some potentially formidable Democrats, into assuming his re-election was certain.

Iraq was not an unalloyed victory. Mr. Bush felt compelled to defend his decision to suspend the assault before it could topple Mr. Hussein, and his critics questioned his earlier effort to give Mr. Hussein financial aid and intelligence data. Still, foreign policy successes were the hallmark of his presidency. Not so his domestic record.

By the midpoint of his term, leaders of both the Republican and Democratic Parties complained that in the midst of the worst economy any American president had faced since the end of World War II, Mr. Bush had no domestic agenda. Many questioned his sensitivity to the worries of ordinary Americans. Though stung by the criticism, he did little to dispel that perception on a visit to an economically reeling New Hampshire during his re-election campaign, when he announced in January, "Message: I care."

His signal domestic decision was almost certainly the 1990 budget deal, which sought to address deepening deficits by raising taxes on the wealthy. If it helped put the nation back on solid financial footing, it nevertheless reversed one of the most explicit campaign pledges ever uttered by a major-party presidential candidate: "Read my lips. No new taxes."

That promise had been delivered to roars of approval in his acceptance speech at the 1988 Republican National Convention in New Orleans, and the turnabout provoked a chorus of reproach. Conservative Republicans revolted. Democrats found an opening for a bruising attack. And the stage was set for an unexpectedly strong third-party challenge by Mr. Perot, a fellow Texan who had made his fortune in computers. "It did destroy me," Mr. Bush told Mr. Meacham years later as he assessed the damage he had suffered from breaking his 1988 campaign pledge.

Barely a year after the world had hailed his success in Iraq, Mr. Bush found himself almost losing the Republican presidential primary in New Hampshire to the conservative commentator Patrick J. Buchanan. Mr. Bush won the nomination but was weakened by the Buchanan challenge and accordingly veered sharply to the right. He then lost to Mr. Clinton. Mr. Perot's 19 percent of the popular vote helped deny both Mr. Bush and Mr. Clinton a majority.

(…)

George Herbert Walker Bush — he was named after his mother's father, George Herbert Walker — was born on June 12, 1924, the second of five children, in Milton, Mass., outside Boston. His family moved to Greenwich soon after. His father, besides his two terms in the United States Senate, was a banker who commuted to Wall Street as a managing partner at Brown Brothers Harriman, the white-shoe investment firm. His mother, the former Dorothy Walker, was a native of Maine. It was she who gave George his nickname, Poppy, when he was a toddler.

The children grew up sheltered from the Depression, tended to by maids and a driver. George enrolled at Greenwich Country Day School and Phillips Academy in Andover, Mass. They spent summers in Kennebunkport.

Mr. Bush's high school yearbook testifies to his ambitions and energy: He was president of the senior class, chairman of the student deacons and captain of both the baseball team and the soccer team.

If his father set the tone for Mr. Bush's career, his mother shaped his values. His daughter, Ms. Koch, wrote in a memoir that he had been admonished to eschew self-promotion. " 'Nobody likes the big I am, George,' my grandmother would say to him," Ms. Koch wrote. " 'Don't be talking about yourself.' "

Mr. Bush once boasted to his mother that he had scored three goals in a soccer match. "That's nice, George," his mother replied, "but how did the team do?"

Six months before he graduated from Phillips Academy, the Japanese bombed Pearl Harbor. "I could hardly wait to get out of school and enlist," he wrote years later.

At 18, a handsome and strapping young man, Mr. Bush did enlist, as a seaman second class in the Navy's flight training program. Soon he was flying combat missions in the Pacific. In September 1944, on a bombing run from the aircraft carrier San Jacinto, his plane was hit near the island of Chichi Jima by antiaircraft guns. He looked out and saw the wings on fire.

"I headed the plane out to sea and put on the throttle so as we could get away from the land as much as possible," he told his parents in a letter. "I turned the plane up in an attitude so as to take the pressure off the back hatch so the boys could get out. After that I straightened up and started to get out myself."

Two men on the plane died in the attack. Mr. Bush hit his head bailing out, he said, but landed safely in the ocean. He floated on a raft for hours, "violently sick to my stomach," until a submarine rescued him. He was awarded a Distinguished Flying Cross.

He returned home on Christmas Eve 1944. Days later, he married a young woman he had met at a dance three years earlier: Barbara Pierce, the daughter of Marvin Pierce, the publisher of Redbook and McCall's magazines. Discharged from the Navy as a lieutenant junior grade, Mr. Bush enrolled at Yale, where he was admitted to the exclusive Skull and Bones club. With the arrival of the couple's first child, their apartment in New Haven became the home of two future presidents.
Not long after getting married, Bush moved his young family to Texas where he got a foot into the beginnings of that state's oil boom and, eventually, followed in his own father's footsteps by entering the political arena:
By 1963 he was living in Houston, and his thoughts turned to politics. There was a contest to lead the Harris County Republican committee, and, by his account, local Republicans pressed him to jump in to prevent the far-right John Birch Society from taking over.

Night after night Mr. Bush drove across the county to make speeches, with Mrs. Bush typically sitting behind him onstage, crocheting. He won, and the victory caught the attention of state Republican leaders, who urged him to challenge Senator Ralph Yarborough, a Democrat seeking a second term in 1964. Mr. Bush agreed.

It was not the easiest way to begin a career in elective politics. Mr. Yarborough had ridden in President John F. Kennedy's motorcade at the time of the assassination in Dallas the previous year, and the new president, Lyndon B. Johnson, a fellow Texan who was heading for a landslide election victory, supported him.

Mr. Yarborough tried to discredit Mr. Bush by tying him to Barry M. Goldwater, the conservative Arizona senator and overmatched Republican presidential candidate. Mr. Bush did not resist the association. He criticized the Civil Rights Act that was before Congress, denounced the 1963 nuclear test ban treaty and warned of a welfare state. He lost, but his 43 percent of the vote was hardly embarrassing in a still decidedly Democratic state.

In February 1966, Mr. Bush resigned as chairman and chief executive of Zapata to run for Congress in a wealthy Houston district. Surveying his electorate, he began moving to the center; he now spoke well of the Johnson agenda, declaring in a speech, "I generally favor the goals as outlined in the Great Society." He told his minister: "I took some of the far-right positions to get elected. I hope I never do it again. I regret it."

Mr. Bush won the House seat handily, with 67 percent of the vote. In Washington, he was one of 47 Republican freshmen in a Democratic-controlled Congress. In his telling, his most consequential vote there was for the open housing bill of 1968, an extension of the 1964 Civil Rights Act, which he had campaigned against. He still had concerns about the act's constitutionality, he wrote about his evolution, but the "problem of discrimination troubled me deeply."

Mr. Bush was re-elected without opposition in 1968. The next spring, President Richard M. Nixon encouraged him to challenge Mr. Yarborough again for a Senate seat, although it would mean giving up a safe House seat and a post on the Ways and Means Committee. With Mr. Yarborough appearing more vulnerable this time, Mr. Bush took the challenge for the 1970 election.

Once again things did not turn out as planned. Representative Lloyd Bentsen challenged Mr. Yarborough in the Democratic primary and, in an upset, won. Mr. Bush, suddenly confronting a much tougher opponent, lost by more than 150,000 votes.

Twice defeated as a Senate candidate, and with his term in the House about to expire, Mr. Bush was looking for work. He was shortly summoned to the White House, where H. R. Haldeman, Nixon's chief of staff, talked to him about a White House staff job. Mr. Bush, however, wanted to be the United States ambassador to the United Nations. Nixon agreed.

His nomination drew a tide of criticism — his qualifications, as a former two-term congressman, were not immediately apparent — but Mr. Bush won confirmation in February 1971.

His United Nations service began with an embittering defeat in a vote on whether to seat a delegation from China. The United States had wanted both Taiwan and the People's Republic of China to be represented, but the United Nations General Assembly voted to expel Taiwan to make way for China. Delegates danced in the aisles, delighted to see the United States humiliated. When Mr. Bush rose to speak, he was hissed. "Gladiatorial ugliness at its worst," he later called it.

In 1972, after the break-ins at the Democratic Party offices at the Watergate Hotel in Washington, Nixon had a more urgent need for Mr. Bush: to lead the Republican National Committee. He took the job, he wrote, certain of Nixon's innocence in the scandal, and he defended Nixon, though it was not easy.

Meeting with editors and reporters of The Washington Post at the newspaper's offices, he talked about the pressures he felt even from within his own party. "I had two stacks of mail," he said. The first asked, "How come you're not doing more to support the president?" The second asked, "How come you're keeping the party so close to the president?"

But as the scandal deepened, his support for Nixon began to erode, particularly after the Supreme Court ordered the president to turn over 64 tapes, including one that recorded him ordering Mr. Haldeman to block an F.B.I. inquiry into the break-ins. "This was proof the president had lied," Mr. Bush wrote in "All the Best, George Bush."

"The man is amoral," he said of Nixon in his diary.

After Nixon resigned, ceding the presidency to Vice President Gerald R. Ford, Mr. Bush hoped to fill the vice president's office. Ford called him in Kennebunkport two weeks later to tell him that he had chosen former Gov. Nelson A. Rockefeller of New York for the job.

Mr. Bush went instead to China, as head of the United States Liaison Office, serving as an unofficial ambassador at a time when the two countries did not have full diplomatic relations. He would describe the period as a sabbatical, free of stress and obligations.

Ford brought him back for another assignment in 1976: to lead the C.I.A., which was still reeling from accusations that it had abused its power under Nixon, including plotting to assassinate foreign leaders and overturn governments. Mr. Bush was credited with restoring morale at the agency, but it was another short-lived appointment, lasting just under a year. Ford lost the election to Jimmy Carter that November, and Mr. Bush returned to Texas.

There he turned his sights toward running for president. "I am determined to make an all-out effort for 1980," he wrote to Nixon in January 1979.
That bid for the Republican nomination would prove to be unsuccessful, but Bush was offered and accepted the position of Ronald Reagan's running mate in 1980, providing the conservative who had defeated him for the nomination with a running mate with deep foreign policy credentials that Reagan himself lacked. After a landslide victory in 1980, Reagan and Bush forged a close relationship as President and Vice-President that in many ways helped to redefine the office of the Vice-Presidency into the far more active position that we are familiar with today. At the end of President Reagan's second term, that close relationship served to make Bush the heir apparent and front-runner for the Republican nomination in 1988, a nomination that Bush won after a bitter but short primary battle with Kansas Senator Bob Dole that showed a side of Bush as a political fighter that he had not displayed previously. Bush went on to surprise the political world by selecting the younger, and relatively inexperienced, Indiana Senator Dan Quayle as his running mate. While many saw this as a misstep on Bush's part, it proved not to have much impact on his race against Massachusetts Governor Mike Dukakis in what measured up as a near-landslide as impressive as the victory that he and Ronald Reagan had achieved eight years earlier.
Denied the presidency earlier and overshadowed by Reagan for eight years, Mr. Bush was triumphant as he stood at the West Front of the Capitol on Inauguration Day in January 1989, a throng of well-wishers spread out below. He was 64 years old and eager to move into the office down the hall and around the corner from the quarters he had occupied as vice president — so eager that he exclaimed "I" before Chief Justice William H. Rehnquist had finished asking him if he would solemnly swear to faithfully execute the office of president.

In his Inaugural Address, Mr. Bush pledged "to make kinder the face of the nation and gentler the face of the world." He talked about a "thousand points of light," a reference to community and charitable groups, "spread like stars throughout the nation." But he soon met obstacles to that lofty ambition — some political, some economic, some of his own doing and some beyond his control.

The most immediate difficulty came from operating in Reagan's shadow. Mr. Bush had replaced, and would be judged against, a two-term president who had come to embody a new era of Republicanism while presiding over what was, at the time, the longest period of economic growth in history. If things went wrong for Mr. Bush, he would not be able to blame his predecessor.

And clearly he did not approve of everything Reagan had done as president. The heavy budget deficit Reagan had left promised to complicate anything the new president might want to do.
As it turned out, Bush would rise to the Presidency just as the world as we had known it since the end of World War Two was on the cusp of changing significantly. America's relationship with the Soviet Union had changed significantly with the rise to power of Mikhail Gorbachev and the relationship that Gorbachev had developed with former President Reagan continued into the Bush Presidency even as the Soviet Union and Warsaw Pact were, as we would learn shortly into Bush's Presidency, were coming to a quick end, but that wasn't all that was happening as the "new world order" that Bush would come to speak of began to form:
In the spring, the Bush presidency turned to foreign affairs, where it stayed for much of the next two years. In Panama, Mr. Noriega claimed victory in an election in May that independent observers said had been stained with fraud. Mr. Bush declared the election stolen and called for international pressure to make the Panamanian strongman step aside. It would take almost eight months to accomplish that goal.

The Soviet bloc was in even greater upheaval. Mr. Gorbachev, who had come to power in 1985, had begun a campaign for economic and democratic change, shaking the foundations of communism across Eastern Europe. Mr. Bush found himself under pressure to respond with equal boldness.

In April 1989, he went to a Polish enclave in Michigan to salute the Polish government for its political liberalization, including providing for the labor union Solidarity to regain its legal status. "The winds of change are shaping a new European destiny," Mr. Bush said. It was time, he declared in Texas a few weeks later, to "seek the integration of the Soviet Union into the community of nations." And at a NATO meeting in May in Brussels, where many world leaders wanted to see if he could hold his own, he presented Mr. Gorbachev with a proposal for conventional arms cuts.

Still, Mr. Bush was criticized, even by allies, for having responded tentatively and tepidly to developments behind the Iron Curtain.

After the Berlin Wall came down in November 1989, reporters asked Mr. Bush why he seemed subdued. "I'm just not an emotional kind of guy," he replied.

He bristled at the criticism. "If we mishandle this," he said, speaking of the rebellions in Eastern Europe, "and get way out looking like an American project, you could invite crackdown and invite negative reaction that could result in bloodshed."

Mr. Bush had been similarly cautious in June that year, when Chinese troops cracked down on students demonstrating around Tiananmen Square in Beijing and opened fire, killing hundreds. He announced sanctions against China but said he did not want to cut off diplomatic relations.

That fall, Mr. Bush announced that he and Mr. Gorbachev would meet, albeit with no formal agenda, on vessels off the coast of Malta, in the Mediterranean. The summit meeting took place in early December 1989. Rough waters forced the cancellation of a negotiating session, but when the seas abated, the two leaders met and vowed to conclude treaties on long-range nuclear weapons and conventional arms by the end of the next year. They agreed, Mr. Gorbachev said, that "the characteristics of the Cold War should be abandoned."

At the time, Mr. Bush was frustrated by Mr. Noriega's resilience. In October, dissident Panamanian defense forces had been crushed in an attempted coup that received some, but not enough, American support. Mr. Noriega appeared before cameras in a taunting show of defiance.

On Dec. 20, the United States invaded Panama in a swift overnight operation involving 11,000 troops; 23 Americans died. Mr. Noriega fled, eventually turning up at the residence of the Vatican's representative in Panama City before surrendering to the United States to face narcotics-trafficking charges. Mr. Atwater, the chairman of the Republican National Committee at the time, said the capture was a "political jackpot" for Mr. Bush.
The defining foreign policy event of Bush's Presidency, though, began on the first day of August in 1990 when the Iraqi Army invaded Kuwait, sending the leadership of that nation into exile, giving Saddam Hussein control of Kuwait's oil reserves, and placing a large Iraqi Army on the border between Kuwait and Saudi Arabia within striking distance of the Saudi oil fields. Prompted in no small part by British Prime Minister Margaret Thatcher, who convinced Bush that a strong Western response was essential to maintaining the international order even as that order was transforming itself thanks to the slow collapse of the Communist bloc. Bush responded by putting together one of the largest and most impressive international coalitions since the end of World War Two and sending troops to Saudi Arabia for an operation that, at least at first, was defined as being a defensive posture to protect Saudi Arabia from Iraqi invasion. Eventually, though, it became clear that this defensive force would shift to an offensive mode if the Iraqis failed to withdraw from Kuwait. That point came in early 1991 when Operation Desert Shield became Operation Desert Storm, and the United States and its allies began an offensive that, in the end, utterly obliterated the Iraqi military and liberated Kuwait from Iraqi control. To the surprise and criticism of many at the time, Bush and his advisers chose not to take the war into Iraq and to seek the removal of the regime of Saddam Hussein from power, a decision Bush defended at the time and thereafter by pointing out that the goal of the mission all along had been to liberate Kuwait, not to overthrow the regime of Saddam Hussein. It would be another ten years before the United States returned to the Persian Gulf region to launch a war based on Hussein's alleged failure to comply with the terms of the treaties that ended the Persian Gulf War, a decision that continues to shape the Middle East.
Domestically, Bush did not have nearly the same good fortune as he did on the international front. Early on, Bush found himself forced to walk back his "no new taxes" pledge by entering into a budget deal with the Democratic-controlled Congress that was meant to deal with mounting budget deficits that had become commonplace in the Reagan years. That decision would cause widespread outrage inside the Republican Party and lead to the beginnings of the transformation of the party with the rise of a populist brand of conservatism that would soon become the predominant political force in the Republican Party. When 1992 rolled around, Bush faced a stronger than expected challenge from far-right columnist and author Pat Buchanan that, while not successful, helped to create enough damage inside the GOP that it would have a significant impact inside the Republican Party. At the same time, the economic recovery that had begun in the early years of the Reagan Administration was coming to an end and this had a rather obvious impact on President Bush's re-election chances. Additionally, Bush found himself facing a new generation in the form of Arkansas Governor Bill Clinton and an upstart third-party campaign in the form of H. Ross Perot. As a result, Bush became just the third President in the 20th Century to lose his bid for re-election.
The nearly thirty years of post-Presidency that followed Bush's defeat in the 1992 election would see the former President continue to give back to his nation and the world as he had done for most of his life. Just eight years after leaving office, Bush would become the second President in American history to have a son win the Presidency in his own right, and the elder Bush would become the first President to actually see his son win that election and achieve the dream that his father had been denied in winning a second term in office. The elder Bush would also become something of a pop culture icon thanks to things such as paying homage to his military experience by skydiving on the occasion of his 80th, 85th, and 90th birthdays. In the wake of the 2004 tsunami that decimated parts of Indonesia, he was asked by the younger President Bush to join forces with the man who had defeated him, former President Bill Clinton, on a fundraising tour that proved to be both successful and the beginning of a friendship between the two men that endured until the end of Bush's life and which became for many symbolic of an era when people were able to put political differences to the side and become friends simply because they respected each other. Most recently, Bush was the focus of national attention upon the death of his wife and love of his life just eight months ago, a moment perhaps best summarized by this photograph posted by his daughter the night before Barbara Bush's funeral:
Former President @GeorgeHWBush with his daughter Doro paying his respects to his wife of 73 years, the amazing Barbara Bush, and greeting well-wishers there at St. Martin's Church today. pic.twitter.com/5Kwn0U9k25

— Jim McGrath (@jgm41) April 20, 2018
Earlier this month, we got our final public glimpse at the 41st President as he voted:
The 41st President accompanied by his two best friends — Jim Baker and Sully — discharging his civic duty and voting today. pic.twitter.com/1sSvkmWMQQ

— Jim McGrath (@jgm41) November 1, 2018
In addition to the obituary in The New York Times excerpted above, which is worth reading in full, the former President is also eulogized in The Washington Post, The Wall Street Journal, Politico, The Los Angeles Times, The Houston Chronicle, CNN, NBC News, Fox News, and ABC News. Each of these sites also has additional memorial material that will no doubt be updated as the day and the weekend go on. Additionally, there will no doubt be a lot of coverage of the former President's legacy on cable and broadcast news in the coming days and weeks, especially as we approach what is expected to be a Presidential funeral not entirely dissimilar to the one we saw after former President Reagan died in 2006 with full state honors and all the other things that are common for such events. In Bush's case, they will be honors that are well-deserved for a man who has served his nation in one respect or another since he was 17 years old and chose to enter the Second World War rather than take a position a Yale University that had already been granted to him.
Additionally, memorials have been pouring in from family and elsewhere:
Statement by President George W. Bush on the death of his father, President George H.W. Bush https://t.co/wDD0vnlN8U pic.twitter.com/t7UsDYSKY8

— George W. Bush Presidential Center (@TheBushCenter) December 1, 2018
I already miss the greatest human being that I will ever know. Love you Dad!

— Jeb Bush (@JebBush) December 1, 2018
Hillary and I mourn the passing of President George H. W. Bush, and give thanks for his great long life of service, love and friendship. I am grateful for every minute I spent with him and will always hold our friendship as one of my life's greatest gifts. https://t.co/1CYdrIeKmz

— Bill Clinton (@BillClinton) December 1, 2018
America has lost a patriot and humble servant in George Herbert Walker Bush. While our hearts are heavy today, they are also filled with gratitude. Our thoughts are with the entire Bush family tonight – and all who were inspired by George and Barbara's example. pic.twitter.com/g9OUPu2pjY

— Barack Obama (@BarackObama) December 1, 2018
Statement from President Donald J. Trump and First Lady Melania Trump on the Passing of Former President George H.W. Bush pic.twitter.com/qxPsp4Ggs7

— Donald J. Trump (@realDonaldTrump) December 1, 2018
President George H.W. Bush led a long, successful and beautiful life. Whenever I was with him I saw his absolute joy for life and true pride in his family. His accomplishments were great from beginning to end. He was a truly wonderful man and will be missed by all!

— Donald J. Trump (@realDonaldTrump) December 1, 2018
Gorbachev hails late George H.W. Bush's role in ending Cold War https://t.co/5bqvML6SFw

— Reuters Top News (@Reuters) December 1, 2018
Fair winds and following seas, Sir. We have the watch. pic.twitter.com/hI2aGJjdKK

— U.S. Navy (@USNavy) December 1, 2018
By the time he had passed away, Bush had earned the title of the longest living former American President, a title he earned after former President Gerald Ford passed away at the end of 2006 and a title that now passes to former President Jimmy Carter, who is just a few months younger than Bush, having turned 94 two months ago. It is difficult to summarize a life such as Bush's in a blog post, and there are many memorials of the former President that will be far better than anything I can come up with.
Suffice it to say, though, that, while I may have been critical of him during his Presidency, the one thing I will always remember is the fact that he brought to the office a kind of quiet dignity that is sorely missed. This was perhaps best epitomized by his leadership on the international front both during the Persian Gulf War, which I was admittedly but incorrectly skeptical of at the time, and amid the vast changes that swept the world in the wake of the collapse of the Soviet bloc and, later, the Soviet Union himself. Rather than becoming a cheerleader pumping his fist over an American victory, Bush approached the latter two situations calmly and in a way that was clearly designed to ensure that whatever would come to follow the Cold War would hopefully be a world order in which the world was no longer divided as it had been during the Cold War. Thanks to his own experienced in the foreign policy area, and a team of advisers such as James Baker, Colin Powell, Brent Scowcroft, and others, Bush was able to guide the nation and the free world through a process that easily could have devolved into chaos. Regardless of the fact that he was not re-elected, as it turned out he was the right man in the right position at the right time amid a world that was changing before our eyes. For that, he deserves the thanks of a grateful nation, and he deserves to be remembered as a man who, like the late John McCain, put his country first and showed all of us what it really means to be a great American.