People Like Joe Biden, Don't Much Like The Idea Of `President Joe Biden'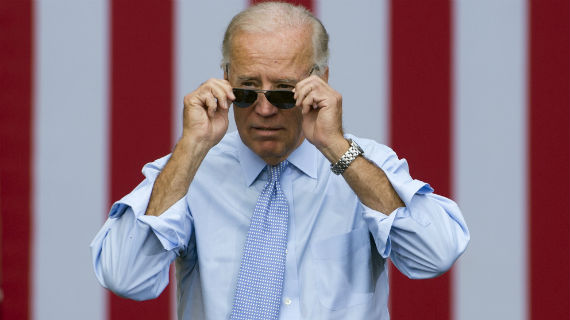 A recent poll finds that Vice President Biden has fairly good favorability numbers among the public as a whole, but there's very little desire to see him as President:
Just one in four registered voters say they think Biden would make a good president, while 65 percent say he would not.  And it's not just Republicans who are responsible for that low number. A bare majority of Democrats (51 percent) say they think Biden would make a good president, while three in four independents (73 percent) say he would not.

That 40-point gap between "good" and "not good" president is far higher than any of the other potential 2016 candidates that Quinnipiac tested. The only candidate close to that sort of negative ratio of good president/not good president is Texas Sen. Ted Cruz who had a 24 percent/51 percent rating. Kentucky Sen. Rand Paul (32/47) and Wisconsin Rep. Paul Ryan (34/46) also had net negative ratings on the question, while New Jersey Gov. Chris Christie (49/31) and former secretary of state Hillary Clinton (54/40) had positive scores.

Here's the fundamental contradiction that lies at the heart of Joe Biden: The hail-fellow-well-met-ness that makes him a sort of lovable rogue — for many Democrats and even some Republicans — is the same trait that ensures many of those same people can't take him seriously as a president or presidential candidate.
Biden is no doubt aware of this, as well as he is aware of the sky high polling numbers for Hillary Clinton. It's one of the reasons that I think that all the talk about Biden possibly running for President in 2016, talk that he has done nothing to quell, is just talk. In the end, Biden is likely doing what he can to keep his options open so that he continues to have some sort of political relevance within the Democratic Party in the final years of the Obama/Biden Administration. Toward that end, we'll also likely see him energetically campaigning for Democratic candidates in 2014 just as he did for Cory Booker in New Jersey and Terry McAuliffe in Virginia this year. However, when it comes time to actually make a decision, I seriously doubt that we'll see Biden throw his hat in the ring for a third time.