Last Night Was Ron Paul's High Point
Last night was the high point of Ron Paul's 2012 campaign for the Presidency.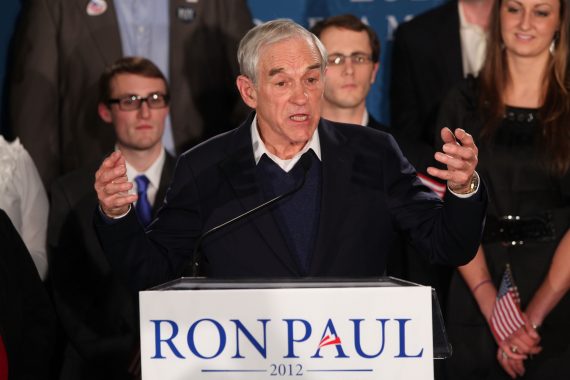 Ron Paul's bigger than expected second place showing in New Hampshire last night is leading his campaign to adopt some of the cockiness you often see from campaigns that believe they are on a roll. Last night, after Paul's speech, his Campaign Director Jesse Benton issued the following statement:
LAKE JACKSON, Texas – Ron Paul tonight scored an historic second-place victory in the 2012 New Hampshire Primary. Below please find comments from National Campaign Chairman Jesse Benton:

"Ron Paul tonight had an incredibly strong second-place finish in New Hampshire and has stunned the national media and political establishment.

"When added to Paul's top-tier showing in Iowa, it's clear he is the sole Republican candidate who can take on and defeat both Mitt Romney and Barack Obama.

"The race is becoming more clearly a two-man race between establishment candidate Mitt Romney and Ron Paul, the candidate of authentic change. That means there is only one true conservative choice.

"Ron Paul has won more votes in Iowa and New Hampshire than any candidate but Mitt Romney.

"Ron Paul and Mitt Romney have been shown in national polls to be the only two candidates who can defeat Barack Obama.

"And Ron Paul and Mitt Romney are the only two candidates who can run a full, national campaign, competing in state after state over the coming weeks and months. Ron Paul's fundraising numbers — over $13 million this quarter — also prove he will be able to compete with Mitt Romney. No other candidate can do all of these things.

"Ron Paul is clearly the conservative alternative to Mitt Romney as the campaign goes forward.

"We urge Ron Paul's opponents who have been unsuccessfully trying to be the conservative alternative to Mitt Romney to unite by getting out of the race and uniting behind Paul's candidacy.

"Ron Paul has the boldest plan to cut spending, a dedication to protecting life, and a lifelong dedication to the Constitution and limited government. He also has the necessary support to campaign nationwide against Mitt Romney.

"Our campaign is already planning ahead for South Carolina, Florida, and beyond. Soon Ron Paul will head to South Carolina to begin a feverish round of campaigning.

"Ron Paul is in this race for the long haul. And he is ready to fight.

"See you on the campaign trail."
None of the candidates are going to heed Paul's call, of course, and even if they did none of them are going to endorse him. Nor are you going to see conservatives rally behind Ron Paul as the "Not Romney" candidate no matter how desperate they are to stop the former Governor of Massachusetts. The reasons are two-fold.
First, as James Joyner noted, there's the fact that Paul's ideology simply is not compatible with the majority view in the GOP:
Because hard core libertarianism is simply not particularly popular.

While there are significant libertarian strains in both major American political parties, it's not the dominant faction-or close to it-in either. The Republican Party primaries are dominated by Evangelical Christians who very much want government to regulate moral behavior, notably in the cases of abortion, marriage, and drugs. Even though Paul strays from the libertarian line on abortion, he's simply not part of the mainstream in his party.

Aside from ideology, he doesn't have a presidential background. He has no real executive experience and has never won a statewide election. We haven't elected a president with no higher office than the House of Representatives on his résumé in modern times.

Additionally, the fact that he'll be 77 years old by the time the election rolls around is decidedly unhelpful. He's not only older than John McCain was last cycle, he's older than Ronald Reagan was when he ran for re-election. Indeed, he'll be nearly as old as Reagan was when he left office.
Second, as I noted last month, the odds of Paul doing well go down as the number of candidates in a race drop out and the number of closed primaries increase:
Ron Paul may well win Iowa and come in second place in New Hampshire, but that's going to be his high water mark. The fact that he only appeals to what some conservative bloggers are derisively, and incorrectly I would submit, referring to as "mischief voters" means that when it comes down to races where winning the primary means convincing the Republican base in a race where you have only one or two opponents, Paul has a nearly irresolvable conflict. Either the voters go with the moderate conservative Mitt Romney, or they go with the guy who stands in opposition to cherished conservative positions on national defense, terrorism, and the role of government. Given the choice, I'm fairly certain that even the most conservative Republican will pick Mitt Romney over Ron Paul, just as they picked John McCain over Ron Paul in 2008 (remember, Paul didn't drop out of the race until just before he had to run in the Texas Primary for his House Seat in 2008).
Ron Paul didn't win Iowa, of course, but he did well enough to claim a moral victory and his performance last night was a vast, vast improvement of how he had done in the Granite State four years previously. But none of that changes the electoral math. Coming up next, we've got South Carolina, where Paul is averaging about 10% of the vote, which puts him in 4th place and 20 points behind Mitt Romney. In Florida, he's averaging about 7% of the vote and sitting far behind in fifth place. Nationally, he's stuck in 4th place and averaging about 12%.
Nothing that happened last night is likely to change those numbers, largely because of the ideological factors mentioned above. South Carolina, for example, is perceived as being a very conservative state, and while that is true it hides the fact that South Carolina Republicans have tended in recent years to line up behind the Establishment consensus nominee when primary time comes around. George H.W. Bush won the state in 1988, Bob Dole won there over Pat Buchanan in 1996, George W. Bush won there in 2000, and John McCain won there just four years ago. Given this history, it's more likely that Mitt Romney will win the state than anyone else at this point. In Florida, we've got a primary that is only open to registered Republicans. Using last night's results as an example, we see that Ron Paul only won 16% of self-identified Republicans whereas he won 32% of self-identified independents and 24% of self-identified Democrats. In New Hampshire, independents made up 47% of the voters, in Florida the won't be voting at all. Even South Carolina is not likely to be friendly to Paul in this regard, in 2008 independents only constituted 18% of those voting in the South Carolina Republican primary. That number might be a little higher since there's no Democratic primary on the ballot, but even there independents only accounted for 28% of the Democratic electorate in 2008. Unless he's able to tap into some previously unknown base of supporters in the state, the odds of South Carolina ending as well for Paul as New Hampshire or Iowa are pretty slim.
That's why I'm willing to make the following predictions:
Ron Paul will not receive more than 23% of the vote in any contested primary or caucus going forward. By "contested" I mean a race where Mitt Romney still faces a serious challenge for the Republican nomination.
Ron Paul will not place higher than third in any contested primary or caucus in which there are more than three candidates in the race at the time
After the race whittles down to Romney and Paul (who will not get out of this race until the better end), there will not be a single two-person debate.
Ron Paul will not run as a third-party candidate in the fall.
In other words, last night was Ron Paul's high point, but Matt Welch Brian Doherty argues that winning may not be the most important thing to come out of his campaign
I have held my expectations in check for five years about the political possibilities of the whole "Ron Paul for President" thing, and he and his fans have exceeded them every step of the way. I vaguely saw the shape of what 2012 could mean for the ideas of liberty as represented by Paul, as written about in my forthcoming book Ron Paul's Revolution, but never mustered enough hubris to predict its success with confidence. That confidence is beginning to seem justified about now. (Success, here, does not necessarily mean being the Republican candidate. But it does mean creating the solidified movement of ideas and passion that can grow to dominate American politics. That is, Romney is Rockefeller; Paul is Goldwater.) Paul's encouraging early results this year are the most significant political results for the cause of liberty I could have imagined, arriving faster than I could have imagined. I expect it to only get more interesting from here.
I thought the same thing would result from the 2008 campaign. What happened instead, is that the Paul campaign, the Campaign for Liberty, and it's affiliated organizations have turned into something of a cult of personality built around Ron Paul. One of the biggest reasons that Rand Paul was able to do such a good job at fundraising when he entered the Senate race, for example, is because of who his father was. Now, as then, there are a distressing number of Ron Paul supporters who view their candidate not as a politician but as some kind of savior who can do no wrong, and some of them seem to have only a passing interest in the ideas themselves. Last night, for example, one member of a CNN Focus Group in South Carolina said that if Ron Paul wasn't the nominee, he would vote for Obama. Not only does this reinforce the suspicions that Republicans have about the loyalty of Paul supporters, it also demonstrates a silly "all-or'nothing" approach to politics that guarantees that you'll never accomplish anything. By all rights, Paul's supporters should have been looking at Gary Johnson this time around. He's got more experience, he's younger, and he doesn't have Paul's baggage. Had Paul not run, though, I'm convinced that most of his diehard supporters would have just stayed home. That's not the way that someone to committed to ideas rather than a personality cult acts.
The personality cult, the newsletters, and Paul's ties to Paleoconservatives who think Abraham Lincoln was a tyrant and defend the Confederacy. This is not a good recipe for a "pro-liberty movement" at all. Rather than helping advance libertarianism, I'm coming to the conclusion that Ron Paul and his supporters are doing serious damage to it.