Ron Paul's Campaign Touts Endorsement Of Pastor Who Advocates Killing Gay People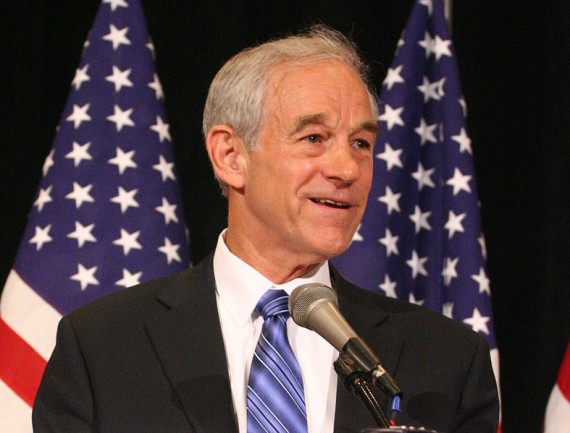 Four years ago, the Ron Paul campaign generated controversy by not repudiating the endorsement of the neo-Nazi group Stormfront, but at least back then they didn't actually promote the fact that they had received the endorsement. This time, though, they seem pretty proud about getting the support of a Nebraska Pastor who has made some pretty vile comments:
Paul's Iowa chair, Drew Ivers, recently touted the endorsement of Rev. Phillip G. Kayser, a pastor at the Dominion Covenant Church in Nebraska who also draws members from Iowa, putting out a press release praising "the enlightening statements he makes on how Ron Paul's approach to government is consistent with Christian beliefs." But Kayser's views on homosexuality go way beyond the bounds of typical anti-gay evangelical politics and into the violent fringe: he recently authored a paper arguing for criminalizing homosexuality and even advocated imposing the death penalty against offenders based on his reading of Biblical law.

"Difficulty in implementing Biblical law does not make non-Biblical penology just," he argued. "But as we have seen, while many homosexuals would be executed, the threat of capital punishment can be restorative. Biblical law would recognize as a matter of justice that even if this law could be enforced today, homosexuals could not be prosecuted for something that was done before."

Reached by phone, Kayser confirmed to TPM that he believed in reinstating Biblical punishments for homosexuals — including the death penalty — even if he didn't see much hope for it happening anytime soon. While he said he and Paul disagree on gay rights, noting that Paul recently voted for repealing Don't Ask Don't Tell, he supported the campaign because he believed Paul's federalist take on the Constitution would allow states more latitude to implement fundamentalist law. Especially since under Kayser's own interpretation of the Constitution there is no separation of Church and State.

"Under a Ron Paul presidency, states would be freed up to not have political correctness imposed on them, but obviously some state would follow what's politically correct," he said. "What he's trying to do, whether he agrees with the Constitution's position or not, is restrict himself to the Constitution. That is something I very much appreciate."
So basically this guy supports Ron Paul because he thinks a President Paul would make it easier for him and people like him to enact state laws that mirror the Book of Leviticus, and the Paul campaign welcomes his support. This is not libertarianism.
Update: As P.D. Shaw notes in the comments, the Paul campaign's press release appears to have been scrubbed. However, here is the text, retrieved from Google's cache:
ANKENY, Iowa – 2012 Republican Presidential candidate Ron Paul was endorsed today by renowned pastor, theologian, and prolific author Rev. Phillip G. Kayser, Ph.D.

Rev. Kayser is the Senior Pastor of Dominion Covenant Church based in Omaha, Nebraska.  The Church has a national footprint including in Iowa where Ron Paul, the 12-term Congressman from Texas, is competing in the January 3, 2012 caucus.

In making his endorsement, Dr. Kayser mentioned he was doing so as a private citizen and not on behalf of his congregation and the organizations with which he is affiliated.

"We welcome Rev. Kayser's endorsement and the enlightening statements he makes on how Ron Paul's approach to government is consistent with Christian beliefs.  We're thankful for the thoughtfulness with which he makes his endorsement and hope his endorsement and others like it make a strong top-three showing in the caucus more likely," said Ron Paul 2012 Iowa Chairman Drew Ivers.

Dr. Kayser has degrees in education, theology and philosophy/ethics.  He is the author of over 40 books and booklets.  The name of one organization that he founded describes well his ministry: Biblical Blueprints.  His passion is to see the comprehensive blueprints of the Scriptures applied to science, civil government, education, art, history, economics, business, and every area of life.

For 15 years Dr. Kayser has been involved in coaching church planters, mentoring seminary students, and teaching seminars on Biblical leadership internationally.  President and founder of the Providential History Festival, he is desirous of seeing a more Biblical philosophy of history being taught at every age level.  Phil is the pastor of Dominion Covenant Church, a very conservative, evangelical church that teaches the Bible, the whole Bible, and nothing but the Bible.  His parents were missionaries in Ethiopia for 30 years, with SIM, International, and he continues to have a passion for missions, making teaching trips to other countries and mentoring international leaders.  He has provided leadership to the Heartland Christian Ministries Conference, Evangelical Ministries Fellowship, CELNet, the National Strategy Council, and other evangelical organizations.  He is the professor of ethics at Whitefield Theological Seminary in Lakeland, Florida.

Phil Kayser is a frequent conference speaker on many subjects, and he has applied Scripture to politics in three presidential candidate campaigns.  He also has been an occasional guest teacher and consultant at the University of Nebraska at Omaha.

If ministering in Iowa, local pastors interested in discussing an endorsement are invited to email the Iowa Director of Voter Outreach, Meghann Walker, at me******@ro*********.com.

Dr. Kayser's full statement of endorsement follows.

Statement from the Rev. Phillip G. Kayser, Ph.D.

I support Ron Paul as the Republican candidate for president for a number of reasons.  The first reason is that he is the only candidate who holds to a strict constructionist interpretation of the Constitution (i.e., that the Feds can only do what is explicitly enumerated in the Constitution) whereas the other candidates hold to a broad constructionist interpretation (i.e., that the Feds may do whatever is not explicitly forbidden in the Constitution).  It is broad constructionism that has gotten us into the mess we are in today, and you cannot fight liberal broad constructionism with conservative broad constructionism.  Both lack integrity.

The second reason is that he is the only candidate that has a consistent philosophy of economics that will truly resolve America's problems.  The economics of each of the other candidates is flawed, and in my opinion grossly unbiblical.

The third reason is that Ron Paul's strictly Constitutional civics is far closer to Biblical civics than any of the other candidate's on a whole range of issues including non-interventionism in international politics, limitations on what can be a crime, limits of jurisdiction, the rights of interposition and civil resistance, inflation, banking cartels, the national identity card, the American Community Survey, the use of torture by the military, etc.

As a Biblical ethicist I am very concerned about overturning Roe v Wade (something that Ron has sought to do), but I am also extremely concerned about all the areas of lawlessness that have destroyed nations in the past.  What candidates take these things seriously?  I know of only one candidate who obeys God's clear-cut prohibitions against interventionism in politics: "do not meddle with them" (Deut. 2:5), "do not harass them or meddle with them" (Deut. 2:19), but instead "buy food from them" (Deut. 2:6) – in other words, engage in free trade.  Biblical issues like this should be as easy to understand as Ron Paul's positions are easy to understand.  He is by far the best candidate for the Presidency of the United States of America.  Even though I strongly disagree with him on some issues, he is the only candidate that I can endorse.