Democrats Not Exactly Eager For Joe Biden To Run For President
Based on a recent poll, it doesn't appear that Democrats are all that eager for Vice-President Biden to challenge Hillary Clinton.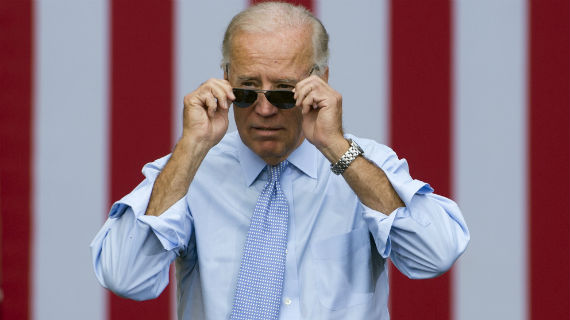 A new Gallup poll indicates that Democratic voters aren't very eager for a Joe Biden Presidential bid:
PRINCETON, N.J. — As Vice President Joe Biden reportedly deliberates a bid for president while he vacations in South Carolina, a new Gallup poll finds Democrats evenly split over whether he should enter the race. Forty-five percent of Democrats, including independents who lean Democratic, say they want him to run for president in 2016; 47% do not. By comparison, Democrats are less eager to see Massachusetts Sen. Elizabeth Warren, who has maintained she will not run despite grass-roots efforts to encourage her candidacy, jump in.

There are currently five major candidates for the Democratic nomination: Hillary Clinton, Bernie Sanders, Martin O'Malley, Jim Webb and Lincoln Chafee. Though Clinton dominates the race, both in national preference polls and in media coverage, some Democrats would like to see a more competitive race to help attract some of the media coverage that the Republican field of 17 is currently monopolizing.

There does not appear to be a large groundswell of support in the Democratic Party for Biden, or for that matter, Warren, to get into the 2016 presidential race to challenge Clinton. But Democrats and Democratic leaners do not widely oppose a Biden candidacy, either.

The Aug. 5-9 Gallup poll finds 19% of Democrats saying they would definitely support Biden if he runs for the 2016 presidential nomination. However, another 61% say they might consider it; 19% say they definitely would not. While Warren has effectively ruled out a run this cycle, if she changes her mind, she would have 15% of Democrats solidly behind her and another 56% willing to consider her.

(…)

The vice president has many personal and political factors to consider in deciding whether to pursue a third bid for president. Should Biden emerge as a viable nominee, it would likely be an expensive and bruising battle with Hillary Clinton. But, if Biden is looking for a clear signal from rank-and-file Democrats, this poll doesn't provide one. While nearly half say he should run and most view him favorably, most also view Clinton favorably, and only 19% say they would definitely back him — similar to the percentage saying they would back Warren. Rather than seeking an alternative to Clinton, Democrats may simply believe other candidates, Biden included, deserve a chance — and like to keep their own options open.
These numbers aren't terrible for Biden, of course, but they aren't very good either if you're looking at them from the perspective of someone trying to make a credible case for the Vice-President entering the race for the Democratic nomination. When you look at in connection with other polling that says that a majority of Americans, not just Democrats, are unsure that Biden would make a good President, the difficulties that the Vice-President would face in trying to mount a challenge to Hillary Clinton, many of which I detailed last week, become readily apparent. Added in to all of that is something that many observers have pointed out about Biden in the days since the first rumors about his thinking about a Presidential run were leaked to The New York Times. In both of his previous Presidential bids, Biden was far from a skilled campaigner. In 1988, of course, his campaign imploded largely because he had been using elements of speeches by Neil Kinnock, the former leader of Great Britain's Labour Party, in a manner that made it appear that Biden was claiming Kinnock's biography on his own. His 2008 run for the White House wasn't much better, and largely ended after he finished a dismal fifth place, behind not just to top three finishers but even former UN Ambassador Bill Richardson. While Biden's reputation has improved while he's been Vice-President, there's no reason to believe that he's really any better of a national campaigner on his own than he used to be and he doesn't really seem to have a base in the Democratic Party the way that Hillary Clinton and even Bernie Sanders do.
Vice-President Biden is currently vacationing in South Carolina with his family and, according to reports, its during this vacation that he will likely make the final decision about running for President. An announcement one way or the other is expected by the end of this month, both that could get pushed back by events in Washington such as the vote on the Iran nuclear deal, during which Biden will likely be needed to lobby Democratic Senators. I claim no special insight into what the Vice-President is thinking, but it seems to me that the arguments all suggest that he will pass on running this final time. There's no doubt that he's always wanted the job, of course. You don't run for President twice if you don't want the job. At the same time, though, Joe Biden doesn't strike me as the kind of person who ventures off on a quixotic quest, and that's exactly what he'd be doing if he got into the race for the White House at this point.