Violence In Iraq Is Not Obama's Fault, And The Future Of Iraq Is Not Our Responsibility
The Iraqis need to learn to govern themselves, and conservatives blaming President Obama for renewed violence need a history lesson.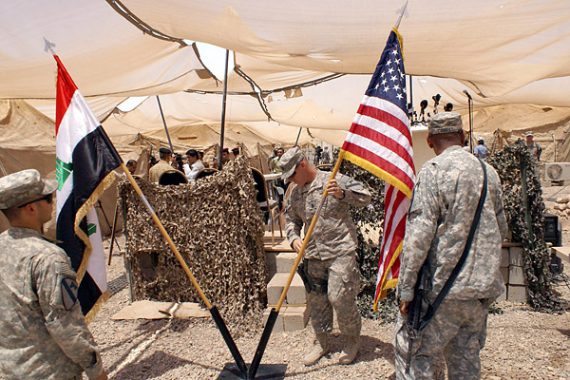 As James Joyner noted just a few days ago, the Iraqi city of Fallujah has, at least temporarily, fallen to a group of militants with at least some kind of lose links to al Qaeda in Iraq, one of the primary militant groups that American troops were fight just a few years ago before our final withdrawal at the end of 2011. Fallujah, of course, is a name that should be familiar to most Americans as it was the sight of more than one intense battle between Americans and militant groups, and a place for which much American blood an treasure was shed. Another such city, Ramadi, is also reportedly the site of intense battles between Iraqi forces and the al Qaeda linked groups that have taken control in Fallujah. None of this is entirely surprising, of course. Ever since the run-up to the most recent round of elections, the sectarian violence that had gripped Iraq ever since the fall of the Saddam Hussein regime, and which seemed to have died down to some degree in recent years, has returned with a vengeance. Car bombings and other forms of violence have become an almost daily occurrence yet again. Meanwhile, Prime Minister Nouri al-Malaki apparently decided to look the other way as his nation's air space was used to transport supplies to the Assad regime in Syria, while the western region of the country became an area where the militants fighting with Syrian rebels would often escape into in order to seek safety from Syrian forces. To some degree at least, this cross-border activity appears to be at least part of the cause for the resurgence of the al Qaeda linked offensive that has now taken hold of two cities that were so key to the Iraq War itself.
We haven't heard very much from the United States Government on the events in Iraq yet, Secretary of State Kerry did make clear that the events in Fallujah and Ramadi are not going to lead to the return of U.S. troops to Iraq:
BEIRUT — Secretary of State John F. Kerry said Sunday that the United States is ready to help Iraq in any way possible as that country began a major offensive to wrest control of two cities from al-Qaeda-linked militants. But he made it clear that no American troops would be sent in.

Kerry described the militants from the Islamic State of Iraq and Syria, or ISIS, as "the most dangerous players" in the region. But as Iraqi forces launched airstrikes and clashed with the militants in western Anbar province on Sunday, Kerry said it was Iraq's battle to fight.

ISIS, formerly known as al-Qaeda in Iraq but renamed to reflect the group's growing ambitions, has been extending its influence across Syria, Iraq and Lebanon. It is suffering a backlash in Syria, where it lost ground to rival rebel fighters on Sunday. But the Sunni militants' gains in Iraq present a critical test for the Shiite-led government of Prime Minister Nouri al-Maliki.

They also leave the Obama administration worried about the renewed force of a militant movement once declared all but vanquished in Iraq.

(…)

"This is a fight that belongs to the Iraqis," Kerry said toward the end of a visit to Jerusalem. "We are not, obviously, contemplating returning. We are not contemplating putting boots on the ground. This is their fight, but we're going to help them in their fight."

Kerry didn't give details of what assistance the United States might provide but said it would do "everything that is possible." After Maliki appealed in November for more U.S. support in fighting extremists, Washington sent 75 Hellfire missiles and promised to dispatch drones.
Not surprisingly,many on the right to lay the blame for the current violence in Iraq on President Obama's decision to withdraw American troops from Iraq at the end of 2011. What such criticism forgets, of course, is the fact that President Obama was merely following the very timetable that had been laid out by his predecessor, Republican President George W. Bush. Bush, of course, had entered into an agreement with the Iraqi Government several years previously that provided that the United States would gradually hand over security in the nation to Iraqi forces and, then, to leave the country at the end of 2011. As that deadline approached, there were discussions between the United States and the al-Maliki Government about the possibility of the United States leaving behind a garrison force of some size, the primary purpose of which would be to continue training of Iraqi forces and to supplement security as requested by Iraqi authorities. Negotiations for a Status of Forces Agreement that would have accomplished something like that went forward, but ultimately collapsed when al-Maliki was unable to get his own governing coalition to agree to the idea that American forces accused of crimes would be processed via the military justice system rather than Iraqi courts. This is, by and large, a standard part of every Status of Forces Agreement that the United States has in nations where troops are based and  which then Joint Chiefs Chairman Admiral Mike Mullen called an absolute necessity during an early stage of the negotiations. Without such an agreement, the United States had no legal right to keep troops in the country, so we left Iraq, with the last U.S. troops leaving just about two weeks before the December 31, 2011 deadline.
Despite these facts. and despite the fact that it was the Iraqis who balked at the idea of a further U.S. presence in the country, many on the right seem to think that it was the President's unilateral decision to pull U.S. troops out of Iraq that is responsible for what is happening in Iraq today. The absurdity of that position is further revealed by the garrison force that the U.S. and Iraqis were talking about two and a half or three years ago would have been so small that it's unlikely it would  have been able to do anything to stop the uptick in violence we've seen since the summer elections. Additional, it's quite probable that such a force would itself have become a target for militants looking at something to strike at, and that we'd be bringing dead and wounded Americans home from Iraq to this day. What good any of that would have done is beyond me. At some point, U.S. involvement in Iraq was going to come to an end and the Iraqis were going to have to sink or swim on their own. It doesn't really matter whether that day came two years ago or two weeks ago. The United States had done everything it could in Iraq to create a civil society. Indeed, one could argue that we did more to destroy civil society in Iraq than anything else that the war accomplished. In either case, the future of Iraq was not, and is not, eternally in our hands, and while selling them weapons they need to defend themselves from forces tied to al Qaeda does seem like a good idea, we're under no obligation to do anything further than that. Indeed, considering what we've already done to Iraq over the past two decades, I'm not sure why they'd want us to get any further involved.