Walking Advertisement For Term Limits To Seek Another Term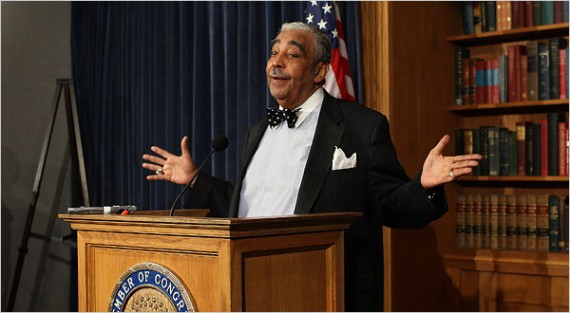 Charlie Rangel, whose singular accomplishment in Congress can be summed up in a scandal that led to him being stripped of committee assignments and censured by the House of Representatives, plans to run for a 23rd term:
Rep. Charlie Rangel (D-N.Y.) announced Thursday that he will seek a 23rd term in Congress in 2014, putting to rest retirement rumors.

In an op-ed for the New York Daily News, the 83-year-old says he is "fired up" to run again and continue to represent his Harlem-based district.

"I may not be a perfect human being, but I believe I am best equipped — by my experience, my knowledge of Washington, my seniority, my passion for serving the people of our district — to help the President achieve his agenda over the next two years," Rangel writes. "I still have unfinished business. Charlie Rangel is still fired up. That is why I am running for my 23rd term in office.

Rangel has faced a series of primary challenges in recent years, owing in large part to his ethics problems. The former House Ways and Means Committee chairman in 2010 was censured by the House.

Rangel defeated state Sen. Adriano Espaillat 44-42 in his 2012 primary — his smallest margin of victory yet.
Word is that Espaillat may run against Rangel again. Perhaps this time the constituents of his district will come to their senses and get rid of someone who should have ridden off into the sunset long ago.