What 'War On Religion?'
The very idea of a "war on religion" in the United States is absurd.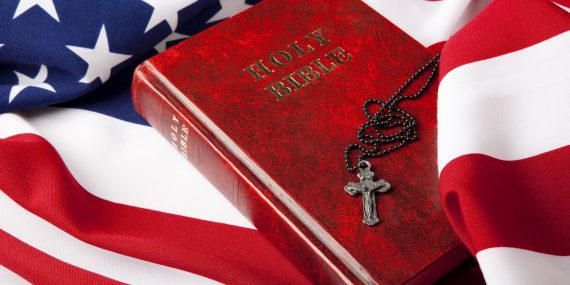 One of the common refrains one hears from religious conservatives in the United States is the claim that there is a so-called "war on religion" being waged by, depending on who you ask, the left, the Democratic Party, "secular humanists," atheists, or whichever other label they might be applying to their enemies at a given time. Purported examples of this "war" include everything from Court decisions that have struck down as unconstitutional certain public displays of religious faith, positions on policy issues such as abortion and same-sex marriage that diverge form what they claim to be religiously mandated, and a general public culture that supposedly denigrates religious belief at every turn. As Peter Beinart notes at The Atlantic, though, there's no evidence of any such "war," and plenty of evidence that religion is alive and well, even on the political left:
Notice the claim. It's not merely that liberals are not religious themselves. It's that they disdain people who are, and this disdain creates a cultural stigma (and a legal barrier) to religious observance. "Bigotry against evangelical Christians is the last acceptable form of bigotry in the country," Ralph Reed said recently.

The truth is almost exactly the reverse. Over the past few decades, liberals have—far more than conservatives—turned away from religious affiliation, though not necessarily belief in God. But while they may feel proud of their views on religion-informed issues like evolution and gay marriage, they're not particularly proud of their lack of religious observance per se. Indeed, they're aware that they're violating a cherished social norm. Asking liberals to admit that they are disproportionately secular is like asking conservatives to admit that they are disproportionately white. It's a truth they find embarrassing. Liberals love left-leaning religious figures like Sister Simone Campbell, the immigrant-rights-championing nun who addressed the 2012 Democratic National Convention, for the same reason conservatives love right-wing African Americans like Herman Cain and Dr. Ben Carson: They defy a negative stereotype.

After all, if liberals really stigmatized the religious, wouldn't some of them have objected when John Kerry flaunted his Catholicism in 2004 or Barack Obama flaunted his adult embrace of Christianity in 2008? Is there a single example, even in the most liberal city or district, of one Democratic candidate trying to outdo the other by proclaiming herself more hostile to religious belief?

(…)

Social practices can retain, or even increase, their prestige while becoming less common. Think about military service, which is lionized more today than it was during the Vietnam War, even though fewer citizens serve. Something similar has happened with religion. Americans, especially left-leaning Americans, are less likely than they were a generation ago to go to church. But they'd rather you not know how much less, because religious practice—like service in the military—enjoys prestige as a marker of morality and self-discipline. And the more Americans fret that those values are being lost, the more they value religious observance for carrying them on, if they aren't religiously observant themselves.

That's what the "war on religion" types don't get. Liberals may dislike the political views that religious conservatives espouse, but they're quite sympathetic to religion itself. Of course, admitting that would make it harder for religious conservatives to play the victim—which is what the "war on religion" is really all about.
The victimization, of course, is a central part of the political religiousity that conservative Christians have adopted in the past several decades. The barbarians are at the gate, it is claimed. Sodom and Gomorroah are just around the corner, or maybe even just down the street at the movie theater. We are only a short time away from the day when the government will throw people in jail for their religious beliefs. In one form or another, these are all claims that have been heard from the people claiming that we are living through a "war on religion." It obviously plays quite well with the crowds, because this form of Christianity has only gotten more popular as time as passed, at least in certain parts of the country.
More recently, of course, the claims of a "war on religion" have become mixed in with a debate that the Christian Right is quite obviously losing in the political legal arena, the debate over same-sex marriage. For quite a long time, religious and social conservatives were quite successful in using appeals to religion, tradition, and the like in their arguments against marriage equality. As time has gone on, however, and public acceptable of homosexuality in general and same-sex marriage in particular has increased, those arguments have lost their effectiveness even among people who describe themselves as religious. As a result, the arguments in this area are now shifting to claims that marriage equality is somehow an assault on the religious faith of those who object to it, and calls for everyone from ministers (who are already covered by the First Amendment) to florists and photographers to be given the right to refuse to provide services to same-sex couples and exemptions from anti-discrimination laws that apply to sexual orientation. A very similar argument is being made by owners of for-profit corporations who claim that complying with the contraceptive coverage mandate under the Affordable Care Act is a violation of their religious liberty. Leaving aside the question of the legal merits of these particular claims under the Free Exercise Clause (or the Religious Freedom Restoration Act), the fact that this seems to be the new battleground in the so-called "war on religion" is a strong indication that we're likely to see a lot more of this rhetoric in the years to come.
The reality, of course, is quite different from the doom and gloom that the cries of persecution would have you believe.  Far from being under attack, religious faith in the United States is as strong as it has ever been. Survey after survey indicates that, across all demographic groups, Americans believe in some concept of a God at far greater rates than citizens of other First World nations. Other surveys have indicated that the only religious group that Americans would feel uncomfortable seeing with a representative in the White House is atheists, even a Muslim-American President seems more acceptable than an someone who doubts or denies the existence of a God. Church attendance in the United States remains the highest in the developed word and, without fail, American voters expect their leaders to make all the necessary public acknowledgments of religious faith. If this is an example of a nation at war with religion then the war is already lost, and the secularists have mostly lost.
The claims of religious persecution that one hears from religious conservatives become even more absurd when one considers the state of religious liberty in the rest of the world. There are places on this planet where people practice their faith in secret because of the threat of government oppression. There are others where people have been arrested, or simply killed by a mob, for converting to the wrong faith. Some nations still have Established Churches supported by tax dollars, others ban any sect not approved by the state. Compared to the realities of the rest of the world, the claims by religious conservatives that they are living in a nation that is at war with their religious faith are not only absurd, but offensive in the fact of people throughout the world who are being persecuted in real life on a regular basis.
On the whole, the United States is quite clearly the greatest defender of religious liberty on Earth. The idea that members of the predominant faith in the country are being victimized or that their government, society, or culture is at war with them is either a paranoid delusion or a slogan used by hucksters to whip up frenzy and passion among partisans. The one thing it isn't though, is anything close to a reflection of reality.