Will Hurd's Retirement Is A Warning Sign For The GOP
The only African-American Republican in the House of Representatives is retiring, and that should worry Republicans nationwide.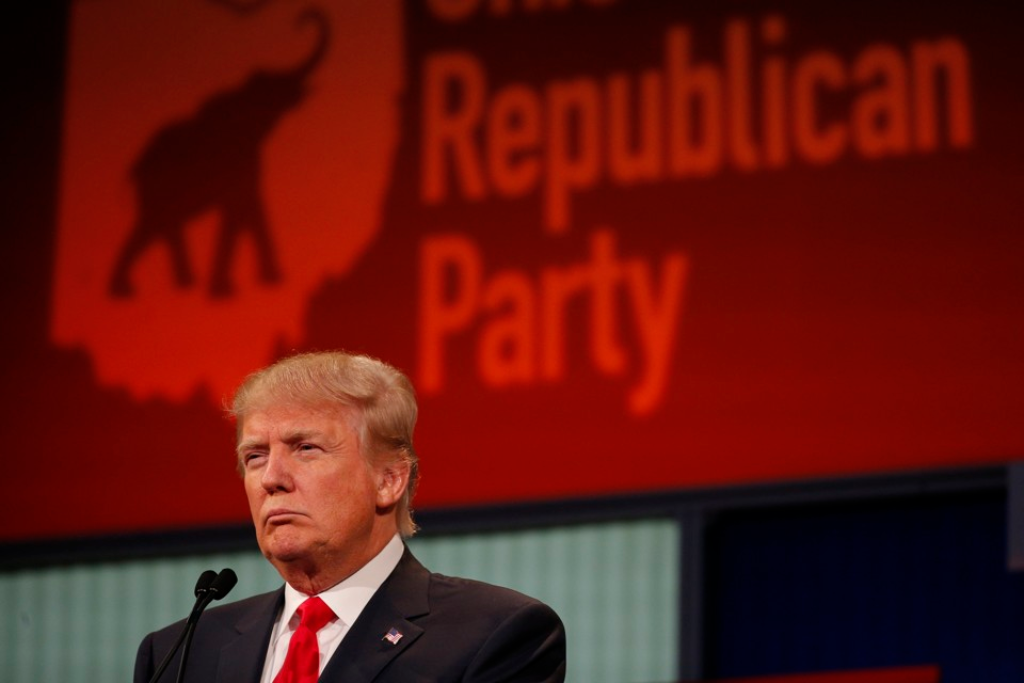 The only African-American Republican in the House of Representatives, and the only Republican representing a Congressional District that includes land that touches the southern border with Mexico has announced his retirement from Congress:
EL PASO — Representative Will Hurd of Texas, the only black Republican in the House, announced Thursday that he would not seek re-election next year, adding to a wave of departures that has unsettled party leaders as they hope to reclaim the majority in 2020.

Mr. Hurd, who is also the only Republican to represent a district along the southwestern border, is the sixth House Republican and the third Texan in the past 10 days to announce retirement. After the 2020 election, Senator Tim Scott, Republican of South Carolina, will be the only black Republican incumbent in Congress.

"Two centuries ago, I would have been counted as three-fifths of a person, and today, I can say I've had the honor of serving three terms in Congress," Mr. Hurd said Thursday in a statement. "I will keep fighting to remind people why I love America: that we are neither Republican nor Democrat nor independent." He did not say what he planned to do next. Before serving in Congress, Mr. Hurd was an undercover C.I.A. officer.

His announcement on Thursday made clear that the Republicans' path to reclaiming the majority in the House and diversifying their party's membership was becoming increasingly difficult. Two of 13 female incumbents — Representatives Martha Roby of Alabama and Susan W. Brooks of Indiana, who is a leader in candidate recruitment — and a handful of moderates are not planning to run again.

In the past few days, Representatives K. Michael Conaway of Texas, Rob Bishop of Utah and Paul Mitchell of Michigan also announced their plans to retire, while Representative Rob Woodall of Georgia made his decision known in February.

FiveThirtyEight's composite of polling posted this week reported that on average, 46.1 percent of people say they would vote for Democrats in next year's congressional elections, against 40 percent who favor Republicans.

Hours after Mr. Hurd's announcement, David Wasserman, the House editor of the nonpartisan Cook Political Report, said the report's prediction for Mr. Hurd's district had been moved to "leaning Democrat" from "tossup." The Texas district represented by Pete Olson, another Republican who recently announced his retirement, is also now rated as "tossup."

(…)

Representative Tom Emmer of Minnesota, the head of the House Republican campaign arm, on Thursday hailed Mr. Hurd's "lifetime of service to our country" and vowed to "fight tooth and nail to ensure it remains in Republican hands in 2020."

But Mr. Emmer's Democratic counterparts, who have already singled out Texas as a 2020 target, voiced the same confidence. Avery Jaffe, a spokesman for the House Democratic campaign organization, said in a statement that "if Will Hurd doesn't believe he can keep his job in a changing Texas, his colleagues must be having second thoughts, too."

Ms. Ortiz Jones, who lost to Mr. Hurd in 2018 and has declared her intention to run in 2020, said in a statement that she respected Mr. Hurd's "decision to serve in a new capacity" and vowed to fill his void.

Representative Veronica Escobar, Democrat of Texas, whose district in El Paso borders Mr. Hurd's, said in a brief interview in El Paso that she hoped "now that he is no longer running for office, that he's liberated and can speak truthfully about the danger of this lawless president."
Amber Phillips at The Washington Post notes that of all the recent retirement announcements by Republican candidates, Hurd's likely hits the GOP the hardest:
The Republican Party under Trump is becoming a party that is not welcoming to someone such as Hurd. He was one of four House Republicans who voted last month to condemn Trump's racist tweets that four minority lawmakers should "go back" home. That week, crowds at Trump's rally in North Carolina chanted "Send her back!" about one of them, Rep. Ilhan Omar (D-Minn.). Two of those four GOP House members are retiring. (The other is Rep. Susan Brooks of Indiana.) Now there is just one black Republican in all of Congress, Sen. Tim Scott of South Carolina.

That reality stings for the Republican Party, at least the section of it that still thinks racial inclusivity, not inflammation, is its future.

In an exit interview of sorts with Robert Moore of The Washington Post on Thursday, Hurd referenced Trump's outright racist tweets that four minority congresswomen should "go back" to their homes. It's possible he was considering retirement before this, but you don't have to read too much between the lines to understand this was the situation that helped push him out the door.

"When you imply that because someone doesn't look like you, in telling them to go back to Africa or wherever, you're implying that they're not an American, and you're implying that they have less worth than you," Hurd said.

Hurd represents the exact kind of district Republicans need to hold on to or win to retake the majority in 2020. His border district is 70 percent Hispanic; it's a battleground district in a state that has the potential to become a battleground state.

Hurd's district is an example of the places where many think the not-too-distant battles for power will play out. He doesn't seem to see much future there for his party, at least not under Trump.

"When you look at trends, the two-largest growing groups of voters are Latinos and young people. And we know what the broader trends are happening there," Hurd told Moore.

In addition to being critical of the President at times, most recently in response to his racist tirades against the so-called "squad" and against Congressman Elijah Cummings. Additionally, Hurd has differentiated himself from nay other Republicans on the Hill due to the fact that he often went against the President and his own party. According to FiveThirtyEight, Hurd voted with Trump roughly half the time, which puts him near the bottom of the pack. Additionally, he was opposed to the President's border wall, which would particularly impact his district. Hurd also frequently spoke out against Republican positions on a number of issues, warning that the party was endangering its future in Texas and elsewhere by becoming out-of-step with younger and Latino voters, two voting blocs that will only become more important in coming years. Despite this, Republicans generally refrained from attacking him due to the importance of holding on to his district. With his retirement, the odds that they'll be able to do so are exceedingly low..
Hurd's retirement is also another sign of the extent to which the Republican Party has changed since the rise of Donald Trump. Hurd is the kind of Republican that the GOP ought to see as a guidepost rather than relegating him to the sidelines as has occurred under the Trump Administration. Not only is he a member of a minority group, something that is exceedingly rare among Republicans on Capitol Hill, but he also represents a district that with a large and growing Latino population whose support he has managed to maintain even as the party as a whole moves in a direction seemingly designed to keep Latino voters away. As such, he is, or at least was, the guide for a future for the Republican Party radically different from the one Donald Trump would guide it too. Now, with his retirement, there will be exactly one African-American Republican among the 535 members of the House and Senate, Senator Tim Scott of South Carolina. The GOP is becoming the white party, and specifically the party of white men, just when the nation as a whole is moving toward greater diversity. That is not the prescription for long-term survival.
As noted, Hurd's announcement is just the latest made by several long-serving House Republicans who are retiring rather than running for re-election. While some of these retirements come in Districts that are most likely safely Republican, others come in places that Democrats could conceivably win, thus increasing their majority in Congress. As Michelle Cottle notes in The New York Times these announcements should raise concerns among Republicans:+
There are as many reasons to flee Congress as there are members of Congress — more, actually. That said, lawmakers often start eyeing the exits with special longing when stuck in the minority with little hope of escape. Unlike in the Senate, where every lawmaker has some ability to influence — or at least disrupt — operations, life in the House minority tends to be a soul-crushing experience. The out-of-power party has vanishingly little opportunity to shape the agenda, or even to have a voice in the debate, leaving most members with all the influence and glamour of a grade-school hall monitor.

Add to this the strain of endlessly being asked to defend the rantings of a volatile president who prides himself on being offensive. While some Republican lawmakers seem to thrive in the role of Trump apologist, others find it "exhausting and often embarrassing," as one confided to The Hill this week. "Serving in the Trump era has few rewards," said the member.

In terms of electoral impact, not all retirements are created equal. Ms. Roby and Mr. Conaway hail from blood-red districts that the party is expected to hold. But Ms. Brooks's district is more competitive, and Mr. Woodall's and Mr. Olson's are considered tossups.

Some of the departures are problematic for the party's overall brand. Ms. Brooks and Ms. Roby are two of only 13 women in a Republican conference with 197 members. (Eighty-nine of the House's 235 Democrats are women.) Ms. Brooks is in charge of recruitment for the National Republican Congressional Committee, with a special interest in diversification. For a party desperate to improve its image among women voters, her exit is not a promising development.

Then there's the lemming effect. For each member who decides to pack up his toys and go home, it becomes that much more imaginable for other wavering members to follow. This risks fueling a narrative of a party in meltdown.

The other big impact of these retirements, of course, is that it makes it more likely that the remaining members of the House Republican Caucus will be of the hard-right Trumpidian variety, thus pushing the caucus specifically and the GOP in general further to the right at a time when that seems to be falling out of favor in the nation as a whole. Even if President Trump is somehow re-elected next year, the odds that it will be able to take back the House of Representatives.next year thus becomes less likely. As it stands, the odds are that Republicans will be able to flip some Democratic districts next year, particularly those where Democrats won in districts that have traditionally gone Republican. The more retirements it has to deal with, though, the less likely it becomes that the GOP will be able to come anywhere close to winning the 21 seats it needs to get a majority in that body. Losing a seat like Hurd's just makes it harder.