A Compromise On Transgender Rights?
A writer at National Review is proposing a compromise on the issue of transgender rights. Needless to say, many conservatives aren't very happy about it.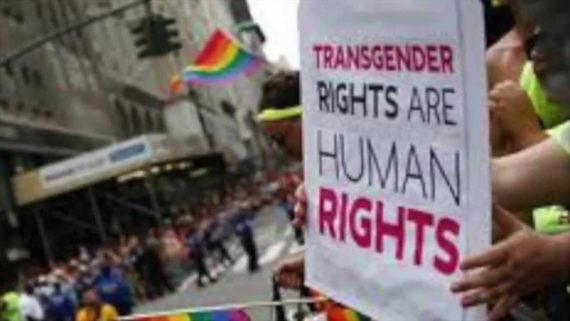 Writing at National Review, J.J, McCullough argues that it's time for conservatives to reach some kind of compromise when it comes to transgenderism in general and the issue of the rights of transgender Americans specifically. McCullough begins by recounting the extent to which public attitudes about homosexuality in general and same-sex marriage particularly changed in the relatively short period of time between the passage of the Defense of Marriage Act during the Clinton Administration and the Supreme Court's decision in Obergefell v. Hodges striking down laws against same-sex marriage across the country. Over that same period, polling has also shown a rising acceptance of homosexuality and gay and lesbian relationships at a rate that has been far faster than public acceptance of interracial relationships, which didn't reach majority status until nearly thirty years after the Supreme Court's decision in Loving v. Virginia.
Based on this societal change, McCullough argues that we seem to be seeing the same thing with respect to transgenderism and that conservatives once again risk having to play catch up with society as a whole:
At present, it feels we're still in the immature, demagogic phase. In some quarters, it remains fashionable to act theatrically repulsed by transgender people, emphasize their weirdness, and make populist appeals to the preposterousness of women asking to be called "him" or surgeons amputating penises and so forth. Yet this seems more cathartic than anything, in the same way that showy judgment of gays did a generation earlier. As with homosexuality in the 1980s and '90s, the loud revulsion of critics conceals a fading interest in actually attempting to "solve" transgenderism, as even those most offended by it seem to quietly regard purported cures as quackish and authoritarian.

Though transgenderism is a far rarer phenomenon than homosexuality, I think most adults could admit it does seem like a rather persistent aspect of humanity. Most can probably recall a transgender person making at least some minor appearance in their life. If we concede that transgenderism is not going away, and is not something anyone intends to exert effort toward ending, then Americans, especially conservative ones, should reflect on our culture's honest and fair attitude toward homosexuality and acknowledge that the most sensible path out of the present acrimony will probably require similar compromise. Some degree of cultural ceasefire and consensus seems the only path for both sides to maintain a degree of pride while avoiding a more radical, disruptive societal transformation.

Part one of the compromise will be borne by cultural conservatives and traditionalists. It asks for broad tolerance for the reality that transgender men and women exist, and are entitled to basic human dignity, just like everyone else. This does not mean having to morally endorse behavior many may believe runs contrary to God's plan for a just and healthy society, but it does imply that acts like ostentatiously calling people by pronouns they don't want, or belittling their personal struggle, are boorish and petty. It means acknowledging that arbitrary discrimination against transgender people is a cruel bigotry like any other.

But part two of the compromise requires sacrifice on the part of progressives, who are currently overplaying their hand in an effort to strong-arm sweeping social change as a flex of their power. There must be a halt in the use of state authority to impose accommodation of transgenderism in a fashion far more totalitarian than is rationally  justified. Transgender people constitute a tiny minority of Americans who, in the vast majority of cases, are explicitly eager to opt into the broad two-gender social order our civilization is based around. Tolerance does not necessitate a purge of any and all public manifestations of the gender binary in the name of extreme exceptions to the rule
To a large degree, McCullough's call for compromise is based on a recognition of the fact that, as has been the case with issues such as same-sex marriage and marijuana legalization, public attitudes regarding rights for transgender Americans have changed rapidly in the past several years. In the not too distant past, most polling showed that a majority of Americans did not accept the idea of transgenderism as a reality, and was generally opposed to the issues that have come to define the movement for rights protections for people who identify with a gender that is different from their biological sex. Those attitudes have been changing, albeit at a somewhat slower rate than we saw for either same-sex marriage or marijuana legalization. Because of that, McCullough argues, conservatives ought to consider making peace rather than continuing to futilely 'stand athwart history.'
One of the most heavily contested areas dealing with these protections has been on the issue of allowing transgender Americans access to the public bathroom of the gender they identify with. This area has been the subject of litigation and legislative action, particularly as it applies to public schools and the accommodation for the rights of students who identify as transgender. After an era in which schools were under directions by the Obama Administration and by Federal Courts to accommodate students by allowing them to use the bathroom of their choice, that position was reversed by the Trump Administration. Notwithstanding that change in policy, Federal Courts continue to rule in favor of students in these situations and it seems clear that this issue will eventually have to be resolved by either legislative action or by the Supreme Court.
In addition to the public bathroom issue, there has also been significant controversy over the issue of how to deal with transgender Americans who are either serving or wish to serve in the military. In 2016, the Obama Administration issued orders reversing the military's long-standing ban on transgender troops serving in the military, but that policy was also reversed by the Trump Administration. This decision came notwithstanding the fact that a comprehensive study of the issue, as well as the experience of many American allies that allow transgender troops to openly serve in the military, found that a policy similar to the one that the Obama White House advocated would have no impact on military readiness or unit cohesion. The Courts have also stepped in on this issue as well, with several Federal Courts, including courts in Washington, Maryland, and the District of Columbia, ruling that the attempt to reverse the Obama era policy violated both provisions of the U.S. Code and the Constitution. As a result, the Obama era policy remains largely in effect for the time being. Again, this is an issue that will have to be resolved either by legislative action or by a decision from the Supreme Court.
In both of these policy areas, it seems as though McCullough's proposed compromise would go a long way toward advancing and protecting the rights of transgender Americans. While one can argue that a private property owner should not be required to comply with something such as the bathroom policy, there seems to me to be no question that public buildings and spaces should not discriminate against transgender people by forcing them to utilize facilities different from those that they identify with. One solution to that which we have seen become more common in recent years, of course, has been the advent of unisex facilities that are open to either gender, although this was originally generally intended to accommodate parents with children so that either a mother or a father could bring a child of either gender into a restroom with them when necessary. The issue of schools is more complicated due to the fact that it's not always clear just how genuine a "diagnosis" of being transgendered is accurate in a young child, but it seems clear that these students should also be accommodated. As far as the military is concerned, the issue would seem to be even easier, especially since there does not seem to be any rational basis for the Trump Administration's decision to repeal the Obama era policy.
Not surprisingly, McCullough's piece has been met with some significant blowback from the right.
Rod Dreher, for example, cites it as yet another example of the kind of surrender on social issues and the alleged collapse of mainstream Christianity that is at the heart of his book The Benedict Option:
One, the Left is in no mood to compromise or be tolerant. They constantly say that their "humanity" is not up for debate. By "humanity," they mean that everyone must accept everything they demand, or stand guilty of dehumanizing LGBT people. The idea that there is a compromise to be had is something that can only be held by someone too naive or too young to remember how the debates over homosexuality played out.

Second, what does it mean to say that "arbitrary discrimination against transgender people is a cruel bigotry like any other"? Define arbitrary. Do you really think that the Left will accept the distinction between arbitrary and non-arbitrary discrimination?

Third, does McCullough have more than a superficial understanding of what's at stake in the trans phenomenon? Has he read the 4th Wave Now website, which is for parents and others skeptical of the trans phenomenon? Spend some time on it, reading the accounts of parents, of desisters, of feminists and others who have to deal with this phenomenon. It's like going into another dimension. In the UK, trans activists — typically male to female transgenders — are viciously attacking feminists who say that women are being erased. This is madness, true madness, and you cannot compromise with it. Read Ryan Anderson's new book for an in-depth examination of the issues and stakes in this fight.

Fourth, and related, transgenderism is categorically unlike homosexuality, which still works on the gender binary. It is certainly the case that there are males and females who do not easily fit within the gender binary. It is possible to treat them and their disordered condition humanely without surrendering the gender binary, which is encoded into our biology, and upon which the survival of society depends. Give up the gender binary, and you've surrendered far more than you can afford to surrender.
McCullough's colleague David French, meanwhile, pushes back against his argument by arguing that conservatives can't compromise "the truth":
While I'm utterly opposed to boorish behavior, the use of a pronoun isn't a matter of mere manners. It's a declaration of a fact. I won't call Chelsea Manning "she" for a very simple reason. He's a man. If a person legally changes his name, I'll use his legal name. But I will not use my words to endorse a falsehood. I simply won't. We're on a dangerous road if we imply that treating a person with "basic human dignity" requires acquiescing to claims we know to be false.

I don't know any serious social conservative who doesn't believe that a transgender man or woman is entitled to "basic human dignity." No one is claiming that they should be excluded from the blessings of American liberty or deprived of a single privilege or immunity of citizenship. Any effort to strip a transgender person of their constitutional liberty should be met with the utmost resistance. But that's not the contemporary legal controversy. Current legal battles revolve around the state's effort to force private and public entities to recognize and accommodate transgender identities. The justification for this coercive effort is often the state's alleged interest in preventing so-called "dignitary" harm. Thus, men are granted rights to enter a woman's restroom, even when gender-neutral options are available. Thus, private citizens are forced to use false pronouns. Girls are forced to allow a boy to stay in their room on an overnight school trip, or they're forced to compete against boys in athletic competition.

(…)

I understand the desire for social peace. Truly I do. The culture wars are exhausting and divisive. But treating every single human being with dignity and respect means not just defending their constitutional liberties and showing them basic human kindness, it also means telling the truth — even when the truth is hard. Any compromise that requires conservatives to grant the other side's false and harmful premise is no compromise at all.
Finally, Hot Air's Jazz Shaw argues that accepting transgenderism as normal would essentially be a denial of science:
[C]omparing gay rights to questions of "gender identity" is intellectually dishonest because the two have almost nothing in common. The primary reason comes down to science and reality. The fact is that a certain percentage of the population is gay, just as a certain percentage are born with blue eyes. There is no question that some percentage of men prefer the sexual and emotional company of other men. The same applies to lesbians. (Either that or you guys have been doing one hell of a job faking it for all of recorded history just to prove a point.) This isn't a question that's up for debate.

The state of being transgender – or more accurately suffering from gender dysphoria – takes us in a different direction. There is zero evidence that men with the normal complement of X and Y chromosomes are women or that the XX cardholders are men. (There is, of course, a very small percentage of the population with aberrant chromosomal structures in the 23rd pair who both require and deserve special considerations and treatment.) Simply believing that you are something which you are not and which medical science has absolutely no method of supporting is either a mental disorder or, at a minimum, an example of extremely confused thinking.

That brings us to the other point brought up by David French. There is a very big difference between the medical or psychiatric realities of gender dysphoria or "being transgender" and the political movement which has grown into what's now being referred to as transgenderism. I doubt we are doing all we can to help people who find themselves in such a condition, but at least in the case of adults, you can't really force any help on them either if they don't wish it. And what you choose to do with your own body, the clothes you decide to wear or the way you choose to talk about yourself is strictly up to you. Society can not and should not attempt to force you to acknowledge your own biological reality any more than it can make you believe that the Earth is round.

But that's not where the debate ends, particularly in liberal circles. We still live in the era of You Will Be Made To Care. It's not enough for activists on the left if you simply shrug your shoulders and say that transgender individuals can dress or speak however they wish. It must be forced on everyone else. You must accept "women with penises" into female restrooms, locker rooms and showers. You must address them by or refer to them with the pronouns of their choice or face legal consequences. Live and let live is not a viable strategy in social justice warrior circles.
What all of these criticisms of McCullough's have in common, of course, is the idea that there can be no distinction between biological sex and gender identity, something that has been at the core of conservative criticism of any movement forward on transgender rights for quite a long time now. This position, of course, is not far different from the arguments that were long made against condoning or giving legal protection and recognition to homosexuality relationships. In that case, the argument was that the relationship between men and women was biologically mandated and that homosexuality was therefore unnatural and unworthy of recognition by society or by the courts. In some cases, most especially when it comes to people such as Dreher, the opposition to transgender rights in any form is based in the writer's interpretation of religion and the religious tradition in which they were raised or which they have adopted. Whichever interpretation one adopts, though, it seems fairly clear that it is mistaken, and that at the very least it is not a proper basis on which to base public policy.
On the scientific side of the ledger, the argument that biological sex and gender identity is one that is largely no longer accepted in the medical community. While it is as of yet not completely understood, it is clear that there is some segment of humanity that is wired to develop in such a way that they identify with a gender different from their biological sex. Past efforts to treat this as some form of mental illness have proven to be both unsuccessful and damaging, and psychiatry no longer considers what the American Psychiatric Association calls "gender dysphoria" to be a mental illness that can be treated or cured. Instead, the general approach has become to counsel such persons through the psychological stress they are feeling and to accommodate and accept the decisions that they make regarding their gender identity. On the whole, this, along with treating such persons with the dignity and respect they're entitled to, seems to be the ideal manner in which to deal with what is no doubt a stressful situation for them.
Rather than proceeding in this fashion, though, many conservatives seem to believe that the best way to "treat" this condition is to force people to live their lives in accordance with their biological sex no matter how deep-seated their gender identity may actually be. This position is one that is not based in reality, but that it is in fact based in paranoia, misunderstanding, and a refusal to accept the idea that transgendered people may simply be different from the rest of us somehow and that they deserve the same amount of dignity and respect as any other member of society. This includes allowing them to use the restroom that corresponds to the gender they identify with and around which they have built their lives and to allow them to fully participate in society based on that gender, including enrolling in the military if they choose to and are otherwise qualified to do so, regardless of what it might say on their birth certificate.
The alternative strategy is one that seems to be entirely unworkable. This is particularly true with respect to public restroom use. How, exactly, are authorities going to determine that everyone who enters the ladies room in a public building is, in fact, someone with a double-x chromosome? Will everyone be required to carry their birth certificate around in case the Bathroom Police need to verify their gender? Or, will their be mandatory genital inspections? The answer, of course, is that there really won't be any enforcement laws that attempt to ban transgendered persons from using the restroom of their choice because such a law is inherently unenforceable. Instead, the major impact is likely to be to cause embarrassment to someone that people suspect might be transgendered and to put transgendered people at risk of assault even if they try to comply with the law. Someone who was born male, for example, but is now a transgendered woman would have to use the men's room even though they look for all the world like a woman, and this could potentially put them at risk of physical assault. The same risk applies to someone who was born female but is now a transgendered male. How putting people at risk solves any problems at all is beyond me, but then it's clear that people on the right who consider this an issue worth fighting over don't necessarily care about those types of victims of their supposedly well-intentioned laws.
In reality, much of the resistance to the idea of transgender rights comes down to the fact that it's not exactly common for the average American to come into contact with someone who is transgender never mind have a close relationship with them. This means that understanding people who consider themselves transgender is not easy, and it becomes even more complicated when we are talking about children, many of whom are still a long way off from puberty and the point at which children generally become more aware of and interested in issues involving sexuality and gender. Additionally, the question of how to handle a very young child who insists on behaving as a member of a gender other than the one that they born with is a complicated one. There remains much confusion and misunderstanding when it comes to issues involving transgender issues, and that uncertainty is amplified when it comes to children. Many would argue, for example, that children who claim to be a different gender are lacking in understanding of what's really going on with their bodies and their lives and that, rather than encouraging them by letting them make life-altering decisions at such a young age, parents and authorities should be counseling them to determine if they are possibly just going through a phase that will change over time. I don't pretend to know the answers to these questions whether they are applied to adults or children, that is a question best left to professionals in mental health and child development. As I've said before, while I don't completely understand the issues surrounding being transgender I do know one thing. These people are fellow human beings and they deserve to be treated with dignity and respect not ostracized and treated as deviants as social conservatives would do. In the end, if they truly believe that this is how they were meant to live their lives then it really does me no harm, nor does it do any harm to anyone else. If we lived our lives by this ideal, then perhaps we wouldn't have as many problems as we do.
All of this goes a long way toward saying that conservatives would be well-served by considering McCullough's proposed compromise rather than rejecting it. Already, polling is showing that most Americans believe that gender identity is something determined at birth rather than some kind of mental illness, although there are predictably sharp divides between Republicans and Democrats on the issue and between various age groups. Additional polling shows that the public supports allowing transgender Americans to serve openly in the military and oppose laws requiring transgender Americans to use public restrooms corresponding to their biological sex rather than their gender identity. In other words, much as it was the case with same-sex marriage and the general acceptance of homosexuality, the times and public opinion are changing and they are changing quickly. Conservatives would be best advised to adapt to those changes lest they get left behind much as they were during the same-sex marriage debate.