After Ethics And Criminal Charges, Bob Menendez Gets A Slap On The Wrist
After three years of ethical and criminal charges, Bob Menendez got a bit of a slap on the wrist from New Jersey Democrats.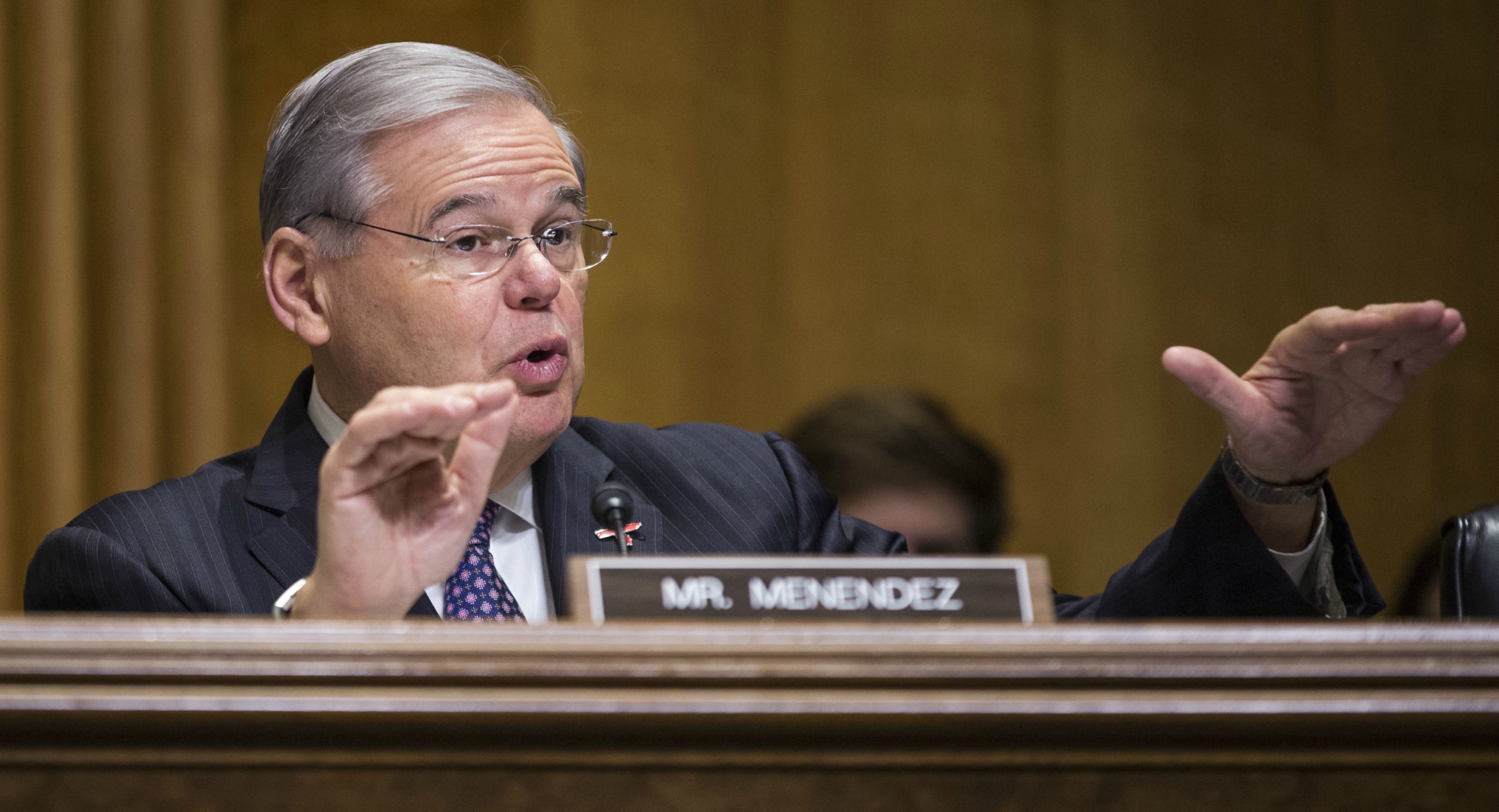 It's been a rough couple years for New Jersey's senior Senator, Democrat Robert Menendez. Three years ago, he was indicted on a host of corruption charges related to his personal and business relationship with a longtime friend who gave him access to private planes and other luxuries throughout his time in the Senate and enjoyed unusually close access to the Senator. After more than a year and a half of pretrial proceedings during which Menendez sought, mostly unsuccessfully, to get the charges dismissed before trial, the Senator went on trial for most of the original charges only to see his case end in a mistrial. While the Justice Department ultimately decided not to proceed with a second trial, Menendez was still admonished by the Senate Ethics Committee earlier this year and, heading into yesterday's primary, it was unclear whether or not New Jersey Democrats would punish him at the ballot box. In the end, Menendez walked away victorious although he clearly got a slap on the wrist from his fellow Democrats:
Democratic primary voters in New Jersey sent a message of protest to Sen. Bob Menendez on Tuesday.

Menendez — an influential two-term incumbent who survived a six-week corruption trial last year when the jury deadlocked on bribery charges against him — defeated challenger Lisa McCormick, a virtually unknown local newspaper publisher who didn't even file a campaign finance report with the Federal Election Commission.

But with 93 percent of the ballots counted, Menendez led with 62 percent of the vote — an unimpressive showing for the ranking member of the powerful Senate Foreign Relations Committee facing a no-name opponent.

Menendez had the weight of New Jersey's Democratic machine behind him, including enthusiastic endorsements from Gov. Phil Murphy and fellow New Jersey Sen. Cory Booker.

Monmouth University pollster Patrick Murray said the margin of victory "doesn't look great."

"Imagine if there had been a real challenge campaign," he tweeted.

Democrats, however, felt Menendez's numbers were likely depressed by the fact his Republican opponent, Bob Hugin, has already spent more than $2 million on advertisements — many negatively targeting New Jersey's senior senator. The ads went entirely unanswered by Menendez, who has not yet started airing commercials and has done little campaigning.

Menendez also drew negative headlines when the Senate Select Committee on Ethics admonished him in a sternly worded letter, saying he broke the law in accepting gifts from Florida eye doctor Salomon Melgen and not reporting them.

"I wouldn't say it's a sign of weakness. I think it's a sign that he has not responded to his opponent's message, and we will," New Jersey State Democratic Chairman John Currie said of Menendez's margin of victory.

Hugin spokeswoman Megan Piwowar said that "if it were any other two-term U.S. senator, this would be shocking."

"Tonight's results are clear that when it comes to corrupt, career politicians, New Jerseyans have had enough. In November, there will be a new Bob representing New Jersey."

Hugin defeated his GOP primary opponent, Brian Goldberg, with 75 percent of the votes. But more Democrats appeared to have voted for Menendez than Republicans voted in the entire GOP primary.

"Tens of thousands of more Democrats than Republicans came out to vote for Senator Menendez than for Bob Hugin," Menendez adviser Michael Soliman said. "We haven't spent on TV yet because every dollar saved during a primary will go much farther during the general election, and we can't allow Bob Hugin to go to Congress and cast a vote for Donald Trump against New Jersey values."

Democrats believe they have plenty of ammunition on Hugin — a former pharmaceutical executive whose New Jersey-based company, Celgene, came under fire for raising the price of cancer drugs, parking money overseas and making it harder for companies to produce a generic version of its drugs — to blunt Menendez's negatives.

"As voters learn about drug company CEO Bob Hugin's record of jacking up drug prices on cancer patients, paying $280 million to settle fraud charges, and giving hundreds of thousands to elect Donald Trump, the choice before voters will be clear," Soliman said.
By way of contrast, it's worth noting that Menendez won the Democratic primary in 2006 with more than 86% of the vote and was not opposed for the nomination in 2012. Given that and the fact that New Jersey is a heavily Democratic state, the fact that Menendez received just about 62% of the vote against an unknown candidate who barely ran a campaign is a sign that several years of ethical and criminal allegations against him have had an impact even among voters inclined to vote for him. One of the most notable things about the campaign was the fact that while Menendez's Democratic opponent spent almost nothing in her campaign against him, the eventual Republican nominee, pharmaceutical CEO Bob Hugin, who won the primary with 75% of the vote, apparently saturated the airwaves in many parts of the states with anti-Menendez ads and paid very little attention to his Republican opponent for the nomination. No doubt, that aspect of Hugin's campaign likely played a role in the outcome of the Democratic nomination fight. Nonetheless, it's worth noting that there were nearly 200,000 more votes cast in the Democratic race than there were in Republican race. In another state, a 62% win would be seen as decisive, of course. In a state like New Jersey and a race where a two-term Senator is seeking is party's nomination for a third term, though, it's a nearly embarrassing showing and an indication that Menendez could have been in trouble had he faced a stronger challenger for the nomination.
The big question, of course, is what this means for November. In an ordinary year, of course, a Republican would have no chance in a state like this. But this is no ordinary year and Menendez is no ordinary candidate. Given the success which it apparently had in the primary, Hugin is likely to continue pounding away on Menendez's ethical and criminal issues while at the same time keeping his distance from the national GOP in general and President Trump in particular. It's unlikely, though, that this will be enough to pull off a surprise Republican win in the General Election.
New Jersey is a solidly Democratic state that has not elected a Republican to the Senate since Clifford Case ran for re-election in 1972. Since then, the only Republicans to serve in the Senate from the Garden State have been Nicholas Brady and Jeffrey Chiesa, both of whom were appointed by Republican Governors to fill in after the death or resignation of a Democratic Senator. Additionally, Republicans have not won the state in a Presidential election since George H.W. Bush's victory in 1988. It is true that three have been three Republicans elected Governor in the past thirty-six years, but as I noted in a Twitter conversation with Jazz Shaw this morning, New Jersey has been one of those states where a party that has done well at the state level has not been able to translate that into success at the Federal level. It's also worth noting that the Cook Political Report and Larry Sabato's Crystal Ball both list Menedez's seat as "Safe Democratic" while the Rothenberg Political Report lists it as "Likely Democratic." Given that, I expect that, while it might be closer than might otherwise be expected, Menendez will most likely be re-elected in November. Whether he deserves to be is, of course, another question.