Case Against Senator Bob Menendez Ends In Mistrial
New Jersey Senate Bob Menendez has temporarily dodged a bullet, but his ultimate fate is far from clear.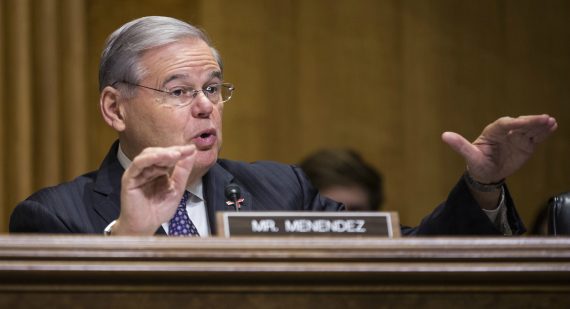 The Federal District Court Judge presiding over the corruption trial of New Jersey Senator Bob Menendez declared a mistrial today after the jury reported for a second time this week that it was hopelessly deadlocked and could not reach a verdict:
NEWARK — The judge in the corruption trial of Senator Robert Menendez of New Jersey declared a mistrial on Thursday after jurors said they were unable to reach a verdict, bringing an inconclusive end to the first federal bribery trial of a sitting United States senator in decades.

"We cannot reach a unanimous decision on any of the charges," the jurors said in a note to Judge William H. Walls.

"We have each tried to look at this case from different viewpoints but still feel strongly in our positions, nor are we willing to move away from our strong convictions," the note said.

After interviewing the jurors individually in his chambers, Judge Walls emerged to tell the court that the jurors were hopelessly deadlocked and that as a result "there is no alternative but to declare a mistrial."

Following the ruling, Mr. Menendez, a Democrat, seemed both relieved and defiant, denouncing prosecutors who pursued criminal charges against him. "The way this case started was wrong, the way it was investigated was wrong, the way it was prosecuted was wrong, and the way it was tried was wrong as well," he said.

Mr. Menendez, 63, and a friend, Dr. Salomon Melgen, a wealthy eye doctor and political donor from Florida, were charged in an 18-count indictment. Dr. Melgen faced 11 charges, including conspiracy, bribery and honest services fraud. Mr. Menendez faced similar charges plus an additional charge of making false statements on his Senate financial disclosure forms.

One juror told reporters that the jury was never close to a consensus on the charges.

"It was very tense, we were deadlocked right out of the gate," said the juror, Ed Norris, 49, an equipment operator from Roxbury Township, who said he believed the men were not guilty.

"I just wish there was stronger evidence," he said. "I just didn't see a smoking gun. They just didn't prove it to us."

And after meeting on Thursday morning, Mr. Norris added, "We just had enough."

Prosecutors said they had not decided whether they would seek to retry Mr. Menendez and Dr. Melgen. "The Department of Justice appreciates the jury's service in this lengthy trial," said Nicole Navas Oxman, a spokesman for the agency. "The department will carefully consider next steps in this important matter."

Judge Walls' decision came on the fourth day of deliberations here in Federal District Court for New Jersey. The jury also had reported on Monday that it could not agree on a verdict. The judge sent the jurors home and told them to resume deliberations on Tuesday.

In an unusual move, the jury had to restart deliberations on Monday after a juror was excused for a long-planned vacation.

The mistrial comes more than two years after Mr. Menendez and Dr. Melgen were charged by federal prosecutors and more than four years after media reports on the relationship between the men led to the investigation

(…)

Throughout the case, lawyers for the men never strayed from a simple theme: they were friends, nothing more, with a relationship that stretched back decades. So close were the two that they referred to each other as "hermano," Spanish for brother. Any gifts Mr. Menendez received were just an example of Dr. Melgen's generosity, defense lawyers said. And any actions Mr. Menendez took on behalf of Dr. Melgen, including a Medicare dispute and a port security contract in the Dominican Republic, were part of his interest in broader policy issues that were perhaps sparked by discussions with his friend.

But prosecutors argued that any friendship between people with power and means could be corrupted and that the many private flights, stays at seaside resorts in the Dominican Republic and a luxury hotel in Paris and hundreds of thousands of dollars in political contributions from Dr. Melgen to Mr. Menendez were evidence of illicit behavior.

The prolonged trial has hurt Mr. Menendez's political standings and dimmed his prospects for the future. Poll after poll has found his approval numbers plummeting, and a Quinnipiac poll released in September showed that 50 percent of likely New Jersey voters said that Mr. Menendez did not deserve to be re-elected next year.

Throughout the two-month trial, Mr. Menendez, arrived at the courthouse every day with his Senate staff in tow, running his Washington office from Newark. He rarely spoke with reporters, but was often seen hugging the many supporters who came to court each day. He would occasionally pray, gathering with clergy outside the courthouse and sometimes was heard singing "Amazing Grace" in an elevator.
I did not follow the Menendez trial closely, so I can't really comment on the question of whether or not the prosecution and defense presented strong cases. As I noted when the trial began in September, though, it has been apparent from the start that prosecutors faced an uphill battle legally given the outcome of the case against former Virginia Governor Bob McDonnell:
In September of 2014, former Virginia Governor and his wife were convicted on a long list of charges stemming from their relationship with a high-profile Virginia businessman who had provided many benefits to the Governor and his family during the time he was in office. These benefits included mundane items such as jewelry and a shopping spree trip to New York City by Mrs. McDonnell, picking up the expenses related to the wedding of the McDonnell's daughter, and other payments over the course of the Governor's time in office. Federal prosecutors alleged and were ultimately able to convince a jury, that these payments were made in exchange for McDonnell providing access to state offices and officials for the donor and his company, which was seeking approval by state regulators for various products that it produced. McDonnell appealed the verdict and, while the Fourth Circuit ruled against him, he ended up winning in the U.S. Supreme Court after which prosecutors ultimately decided not to seek a second trial. Like McDonnell, Menendez is essentially accused of providing access to government resources in exchange for the gifts provided by his friend. However, in its decision the Supreme Court held that the prosecution and the District Court went too far in relying upon a definition of so-called 'honest services fraud' in proceeding with the case against him, and that the law basically requires some showing that the accused committed an illegal act in exchange for whatever benefits may have been provided to him. Simply lobbying on behalf of the gift giver with regulators or legislators was not sufficient to justify a guilty verdict. As a result, the Court vacated the verdict against the former Governor and held that any subsequent trial would have to rely on something more than what prosecutors were able to prove in McDonnell's trial. For obvious reasons, this holding could have significant implications for the Menendez case, and it will likely be heavily relied upon by his attorneys both as an argument to preclude the trial from getting to the jury altogether, and in post-verdict motions should he be found guilty.
During the course of the trial, the Judge had denied a defense motion to dismiss the charges against Menendez. That motion was based largely on the Supreme Court's ruling in the McDonnell case. However, that didn't preclude the possibility that the argument would not be revived in the event that Menendez was found guilty, either in the post-trial motions noted above or in any appeal of such a verdict. Additionally, from news reports, it was clear that the instructions that were given to the jury this were heavily influenced by the state of the law as defined in no small part by the McDonnell case. This, no doubt, had a big influence on how the jury viewed the case and the manner in which deliberations proceeded both before and after the juror who could not continue deliberations was dismissed. One significant clue that the jury might be unable to agree on a verdict, in fact, came when reporters spoke to that released juror, who said that the jury was sharply divided on guilt and that she herself had been a vote for acquittal each time the jury had voted during the previous week. Given this, it did not come as a surprise when the jury reported earlier this week when deliberations began again that it was deadlocked, although at that point the Judge instructed them to resume deliberations and attempt to reach a verdict even if it was only on some of the counts pending in the case. Obviously, that effort has ended in failure.
What happens next is up in the air. The U.S Attorney prosecuting the case against Menendez did not immediately state whether or not they would seek to retry the Senator or his friend Dr. Melgen, or whether they would leave the case where it is and let the charges against Menendez simply disappear. Regardless of what decision they make, there's a good chance that any new trial would not take place until after the 2018 elections, which puts Menendez and national Democrats in something of a bind. Menendez has said that he intends to stand for re-election, and after today's mistrial, it seems unlikely that he'll change his position on that decision. However, the prospect of a senior Democrat running for reelection while corruption charges hanging over his head is something likely to make Democrats uncomfortable, meaning that we could see a challenger or two arise to try to deny Menendez the Democratic nomination. In that case, it would seem to be a virtual certainty that any trial would not take place until after the Democratic Primary next year, at which point New Jersey Democrats could decide they've had enough of him. Barring that, Menendez's unpopularity in the state along with any pending criminal charges could mean that the seat could potentially be captured by a sufficiently strong moderate Republican if any such candidate chose to run. Under ordinary circumstances, a Republican wouldn't have much chance in a statewide election in New Jersey, of course, but given Menendez's exceedingly low approval numbers, there's a possibility this could be the opportunity New Jersey Republicans have been waiting for. In that case, it might not even matter if prosecutors decided to proceed with a new trial or not.
This mistrial does relieve Democrats of one potential political headache, though. As I explained in my September post, had Menendez been convicted there was a chance he could have resigned or been forced from office before current Governor Chris Christie left office. In that case, it would have been his right to appoint a temporary replacement to fill Menendez's seat and to schedule a Special Election rather than Phil Murphy, the Democrat who won election to replace him last week. Had that occurred, it would have provided Senate Republicans with an additional vote to pass either tax reform or health care reform, or both, under reconciliation rules, With this mistrial and Menendez saying that he has no intention of leaving the Senate, that possibility is removed.
In any event, we'll have to wait for word from prosecutors to see what the next steps will be here. Either they will seek a new trial, or they will decline and the charges will effectively wither away. In that case, unless Menendez decides not to run for reelection it could well be the voters of New Jersey who will have the final say regarding his fate.