New Jersey Senator Bob Menendez Indicted On Corruption Charges
As expected, New Jersey's senior Senator has been indicted.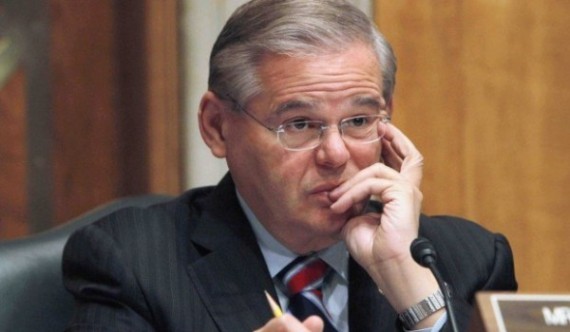 As anticipated in reports that leaked earlier this month, New Jersey Senator Bob Menendez has been indicted on corruption charges related to his long relationship with a Florida ophthalmologist:
WASHINGTON — Senator Robert Menendez was indicted on federal corruption charges on Wednesday, setting the stage for a bitter court fight and putting his political future in doubt.

Mr. Menendez was charged with eight counts of bribery, which carry up to 15 years in prison on each charge. He was also charged with conspiracy, fraud, and making false statements on government documents, the Justice Department said.

Mr. Menendez is the first senator to face federal bribery charges since another New Jersey Democrat, Harrison A. Williams Jr., was indicted in 1980 in the Abscam scandal.

The charges had long been expected and Mr. Menendez, a 61-year-old Democrat of New Jersey, has promised to fight them. He has offered no indication that he plans to step down or relinquish any power while he goes through that process.

The case involves Mr. Menendez's longtime friendship with Dr. Salomon Melgen, a wealthy Florida eye surgeon and political benefactor. The two men became friends in the 1990s and have spent holidays together in the Dominican Republic, where Dr. Melgen, 60, has a home in the gated oceanfront resort of Casa de Campo.

Prosecutors say Dr. Melgen lavished the senator with gifts, including two round-trip flights worth $58,000 aboard his private jet. In turn, prosecutors say that Mr. Menendez used his Senate seat to help Dr. Melgen when he, as a member of the Finance Committee, encouraged the Obama administration to change the Medicare reimbursement policy in a way that would make millions for the doctor.

Dr. Melgen was indicted on the same charges, in what Peter Carr, a Justice Department spokesman, said was "a bribery scheme" in which Mr. Menendez used his Senate office to benefit Dr. Melgen.

Mr. Menendez said the Medicare debate was a legitimate policy discussion, not a personal favor. The Finance Committee oversees Medicare finances. He said the gifts he received from Dr. Melgen should be reviewed in the context of their long friendship.

Mr. Menendez is the 12th sitting senator to be indicted, the 11th on federal charges. The last was Ted Stevens, an Alaska Republican who was convicted in 2008. The Justice Department later dismissed the case, acknowledging that it had withheld key evidence, but not before Mr. Stevens lost his Senate seat in a close election.

Mr. Menendez is the highest-profile target for the Justice Department's corruption unit since that embarrassment. But the unit, which once had a reputation for negotiating guilty pleas and avoiding trials in big cases, has been overhauled in recent years with a focus on winning in court if tested. Mr. Menendez has assembled an expensive and experienced legal team that will provide that test.
Reading the indictment, it's unclear exactly what it is that Menendez is supposed to have done that was against the law. Even read in the most negative light possible, they seem to allege that Meglen was a donor to Menendez's campaign and that Menendez assisted him with matters before the government. In that respect, it's not entirely dissimilar from the indictment that was issued against former Virginia Governor Bob McDonnell. While McDonnell was ultimately convicted of most of the charges against him, the conviction is presently under appeal and there are legal scholars on both sides of the aisle who have argued that the indictment against McDonnell was a classic example of overreach by Federal prosecutors. Unless the Justice Department has evidence not clearly spelled out in the indictment, I'm uncertain that this is a case worth pursuing.
From here, of course, the case proceeds down the same track that every other Federal criminal case will. In the coming days, Menendez will appear in Court, be formally charged, and enter the expected not guilty plea to the charges. After the the case will proceed forward toward an eventual trial, which could occur relatively soon given Federal speedy trial rules or could be delayed as both sides request continuances in order to prepare for trial. Menendez could eventually enter into a plea agreement of some kind, of course, but given the defiant tone he has generally taken toward the entire investigation, that seems unlikely. It's also possible that prosecutors may seek to reach a plea deal with Dr. Melgen in order to secure his testimony for a trial against Menendez, but that may depend on how much confidence they have in their underlying case against Menendez.
Of course, this won't be any ordinary criminal proceeding given the fact that Menendez is a sitting United States Senator. At the very least, early reports this evening are indicating that he will step aside from his position as Ranking Member on the Senate Foreign Relations Committee while the charges are pending, but that may not be the end of the matter. With Republicans in control of the Senate, the possibility of this matter being referred to the Senate Ethics Committee should not be discounted. Additionally, one suspects that there will be at least some pressure on Menendez to resign from his seat, and while he has made clear that he has no intention of doing that we're likely to see Republicans put pressure on him. The question then will be just how much his fellow Democrats want to rally to his side, or whether they end up letting him stand alone. In any case, this will be the biggest Federal corruption trial since the Ted Stevens debacle, and we all know how that ended.
Here's the indictment: