Another Day, Another Trump Attack On Racial Minorities
Even a ceremony honoring American heroes wasn't immune from President Trump's habit of attacking racial minorities.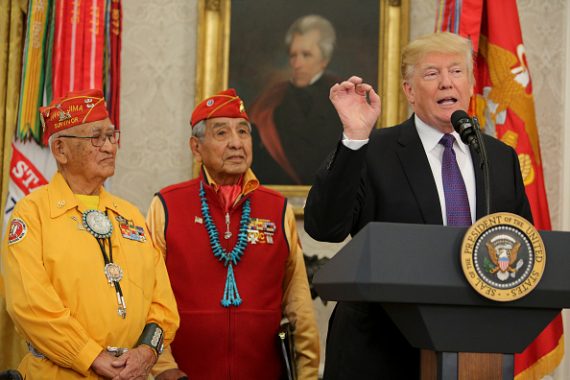 President Trump decided to use the occasion of a White House ceremony honoring Native Americans who served their country notwithstanding the facts of history and the fact that they were at the time being treated unequally back at home to hurl insults:
WASHINGTON — President Trump on Monday transformed a White House ceremony to honor Navajo veterans of World War II into a racially charged controversy, using the event as a platform to deride Senator Elizabeth Warren as "Pocahontas."

Standing in the Oval Office alongside three Navajo code talkers, whom he called "very, very special people," Mr. Trump dispensed with his prepared remarks and took aim at Ms. Warren without naming her, resurrecting a favorite nickname as the veterans stood stonefaced.

"You were here long before any of us were here," Mr. Trump said to the veterans, ages 90 and older, who wore their military uniforms for the occasion, juxtaposed with turquoise and silver, hallmarks of Navajo culture. "Although we have a representative in Congress who, they say, was here a long time ago. They call her Pocahontas."

He made the remarks while standing in front of a portrait of President Andrew Jackson — a favorite of Mr. Trump's — who served as the nation's seventh president and signed the Indian Removal Act of 1830, which resulted in the mass displacement and deaths of Native Americans often referred to as the Trail of Tears.

The comment made for an awkward moment during an otherwise uplifting event, organized to pay tribute to the contributions of the young Native Americans recruited by the United States military to create top-secret coded messages used to communicate during battles. And it was the latest instance of a president who relishes any opportunity to land a hit against a political opponent, veering sharply off-script with divisive speech and quickly setting off a furor.

Mr. Trump was referring, as he often has, to Ms. Warren, Democrat of Massachusetts, a former Harvard Law School professor who came under fire in 2012 after it emerged that, during her academic career, she identified herself as a minority, citing Native American roots.

The comment drew swift rebukes from Native American leaders, including one who was present for the ceremony. Russell Begaye, the president of the Navajo Nation, called the president's mention of Pocahontas "derogatory" and "disrespectful to Indian nations."

"This is something that unfortunately came up during the campaign and it seems to have stuck in the mind of the president, something that he continues to use, to take a jab at the senator," Mr. Begaye said in an interview. "The campaign is over. The nation needs to move forward, and using Native Americans in this way, in this type of honoring setting is something that should not be happening."

Ms. Warren said the episode reflected the president's penchant for racial slurs.

"This was a ceremony to honor war heroes: Native Americans who had put it all on the line to protect our country and to save lives of Americans and our allies," Ms. Warren said in an interview. "It should have been a celebration of their incredible service, but Donald Trump couldn't make it through without tossing in a racial slur."

The White House rejected that characterization — "a ridiculous response," said Sarah Huckabee Sanders, the White House press secretary — and defended the remark.

"What most people find offensive is Senator Warren lying about her heritage to advance her career," Ms. Sanders told reporters shortly after the ceremony.

The Republican Party also rushed to the president's defense, calling Mr. Trump's comment a "joke," and circulating talking points to reporters that said that Ms. Warren "lied about her ancestry for years," and has never provided proof that she is of Native American descent.

Ms. Warren called the White House's response "alternative facts."

"He knows it's not true, but he doesn't care," she said. "He says this because he thinks he can shut me up. It hasn't worked before, and it won't work now."

(…)

[F]or Native American leaders who had worked behind the scenes with the White House to organize the ceremony, Mr. Trump's off-topic remark reopened painful wounds.

"For Indian Country, which has a very high level of participation in the military and veterans' service, it was a real honor to be at that event today," said Jacqueline Pata, the executive director of the National Congress of American Indians, "and it is unfortunate that it was used as an opportunity to once again try to use the word Pocahontas in a negative way towards a political adversary."

The group issued a statement in May after Mr. Trump referred to Ms. Warren as Pocahontas at a National Rifle Association gathering, calling it a "pejorative term" that insulted native people and degraded their cultures. Members of the National Congress of American Indians said at the time that with the election over, they hoped that the remark was a "momentary slip-up" that would not be repeated by the president.

During the campaign, Mr. Trump's use of Pocahontas also drew objections from a number of Native Americans, many of whom regarded the reference as offensive and divisive.
Here's the video:
Not surprisingly, the families of the men being honored at this event were not pleased:
Families of Navajo war veterans who were honored Monday at the White House say they were dumbfounded that President Donald Trump used the event to take a political jab at a Massachusetts senator, demeaning their work with an unbreakable code that helped the U.S. win World War II.

Trump turned to a nickname he often deployed for Democratic Sen. Elizabeth Warren during the 2016 presidential campaign: Pocahontas. He then told the three Navajo Code Talkers on stage that he had affection for them that he doesn't have for Warren.

"It was uncalled for," said Marty Thompson, whose great uncle was a Navajo Code Talker. "He can say what he wants when he's out doing his presidential business among his people, but when it comes to honoring veterans or any kind of people, he needs to grow up and quit saying things like that."

(…)

The Navajo Nation suggested Trump's remark Monday was an example of "cultural insensitivity" and resolved to stay out of the "ongoing feud between the senator and President Trump."

"All tribal nations still battle insensitive references to our people. The prejudice that Native American people face is an unfortunate historical legacy," Navajo Nation President Russell Begaye said in a statement.

(…)

Michael Smith, a Marine whose father was a Code Talker, said most of the Code Talkers would be skeptical about going to the White House because it could be construed to mean they support a political cause.

"So, why did they go? Why were they there? He's putting them in the Oval Office to say 'You did a good job, and say hi to Pocahontas?'" Smith said. "They should be taken care of as heroes, not as pawns."

Michael Nez, whose father helped develop the code based on the Navajo language, said his father would have been upset to hear Trump's Pocahontas comment. But, as other Code Talker relatives said, his father was taught to respect the president as the commander in chief.

"It's too bad he does put his foot in his mouth," Nez said. "Why he does it? I don't know."

Helena Begaii said her 94-year-old Navajo Code Talker father, Samuel T. Holiday, declined an invitation to the White House on Monday. She said he would have a better feel for what happened once he reads the newspaper.

"I feel really sad that they didn't get treated with respect," she said.
All of this occurred during what was supposed to be a ceremony honoring a group of men who played a unique role in American history, the Navajo Codetalkers. During World War II, the United States military recruited Native Americans to communicate with each other in a way that the enemy could not understand. They did this by talking in their native language, which neither the Japanese nor the Germans knew how to translate, via radio rather than relying on complex codes that could be uncovered by enemy eavesdropping. In the units in which they served, these men were considered among the most important members of the unit, with each of them being assigned at least one member of the unit whose job it was to safeguard their lives and prevent them from being captured so that the enemy could break the code. This included both risking their own life to protect the codetalker and, if necessary, killing the codetalker rather than allowing them to be captured. It was an exceedingly dangerous job for both the codetalker and the person guarding them. The fact that these men put their lives on the line for their country was made more profound by the fact that, at the time, Native Americans were still treated very unequally and had only been recognized as American citizens a few decades before the start of the war. These codetalkers came from a number of Native Americans in the Southwest such as the Navajo, Comanche, and Lakota tribes. In addition, some codetalkers came from Americans of Basque ancestry since that language is unique to Europe and was not well-known in Asia at the time. The story of some of these men was told in the 2002 film Windtalkers starring Nicolas Cage.
As noted, Trump has used the "Pocahontas" line against Warren in the past, dating all the way back to the beginning of the campaign when Warren became one of the most outspoken voices against him in either the Republican or Democratic parties. It's a label rooted in the 2012 campaign for Senate in Massachusetts when it was reported that Warren had claimed Native American ancestry when first applied for a position at Harvard Law School and, for at least some period of time, she was among the people listed as minority members of the faculty. During the campaign, several conservative media outlets attempted to go after Warren by undermining her claim of Native American heritage and by alleging that she was hired by Harvard due to the fact that she was part Native American. As several media organizations, including Axios, CNN, Snopes and The Washington Post have reported in the past, while there are doubts about the veracity of Warren's past claims of Native American heritage there is no evidence to support the contention that this claim was at all relevant to the reasons she was hired to teach at Harvard. Additionally, it's worth noting that Warren's claim appears to have come from what she was told by her family growing up and that she didn't have any reason to doubt it when she first made the claim. In any case, all of this led conservatives to give Warren the nickname "Fauxcaohontas," which Trump for some reason keeps repeating as "Pocahontas" who, of course, was an actual Native American who lived during the time that the British colonized what is now the historic site of Jamestown, Virginia. This is obvious where Trump" gets the "Pocahontas" label from, but it's not clear why he continually uses that name rather than the one that conservatives made up back in 2012. In any case, the controversy is one that remains largely only in Trump's mind given the fact that Warren was overwhelmingly elected over incumbent Senator Scott Brown in 2012. Leaving aside the context though, the fact that Trump chose to use a ceremony honoring Native American war heroes is, to say the least, odd.
In addition to the Warren comment, of course, it's also worth taking note of the setting of the event yesterday. For some reason, the White House chose to place the podium right in front of the portrait of President Andrew Jackson, who had a history with regard to Native Americans that is, to say the least, controversial. During his time as a General, for example, Jackson served in the newly acquired territory of Florida where he presided over a war against the Seminole tribe that many historians now consider to have been genocidal. As President of the United States, he signed the Indian Removal Act into law. This law led to the forced removal of several Native Amerian tribes from the eastern United States to land west of the Mississippi River on what is now known as the Trail of Tears due to the fact that tens of thousands of members of the Cherokee, Creek Seminole, Chickasaw, and Choctaw tribes died during the long journey from the East Coast to what is now Oklahoma. While President Trump has named Jackson as one of the former Presidents he admires the most, that is obviously not how he is remembered by Native Americans and it seems highly insulting to hold an event honoring Native American heroes in front of a portrait of a man who oversaw the deaths of tens of thousands of Native Americans.
The fact that Trump chose to insult yet another minority group is hardly surprising, of course. This is the same man who started out his campaign by attacking Mexican immigrants, attacked a sitting Federal Judge for his Mexican heritage, and proposed banning Muslims from entering the United States. If this were any other President, all of this would be shocking behavior. With Donald Trump, it's just business as usual.