Beto O'Rourke Drops Out Of Presidential Race
Beto O;Rourke finally faces reality.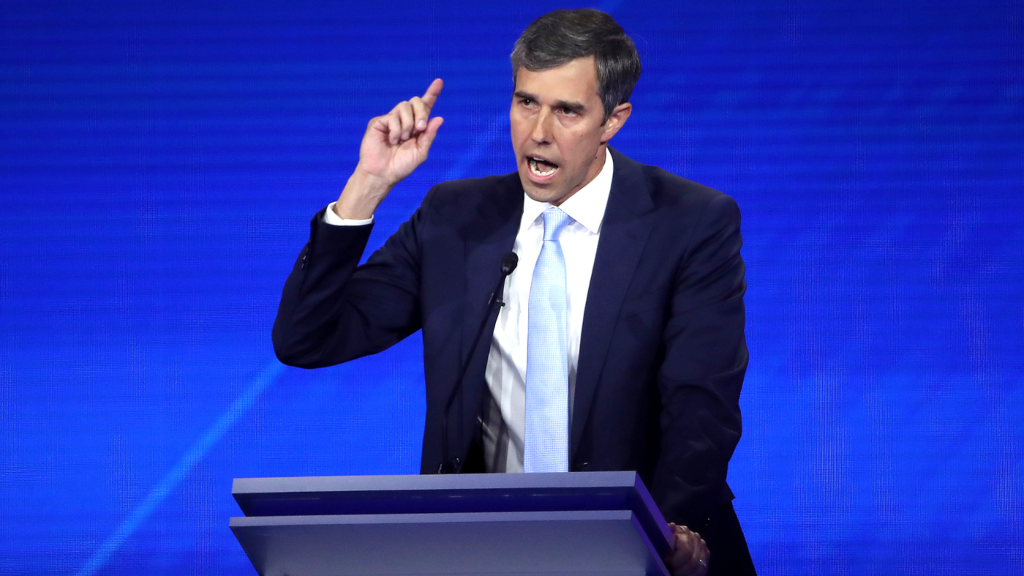 Late yesterday, Beto O'Rourke, the former Texas Congressman whose better than expected performance against Ted Cruz in the 2018 Texas Senate race led to a bid for the Democratic Presidential nomination that provided to be all hype, is dropping out of the Presidential race:
Former Representative Beto O'Rourke of Texas announced on Friday that he was dropping out of the presidential race, ending a campaign in which he struggled for months to recapture the energy of his insurgent 2018 Senate candidacy on a national stage full of other big personalities and liberal champions.

Mr. O'Rourke made the decision to quit the race in the middle of this week, on the eve of a gathering of Democratic presidential candidates in Iowa, according to people familiar with his thinking. He is not expected to run for any other office in 2020, despite persistent efforts by party leaders and political donors to coax him into another bid for the Senate.

His campaign has been under extreme financial strain, and Mr. O'Rourke's advisers concluded that proceeding in the race might have meant making deep cuts to his staff in order to pay for advertising and other measures to compete in the early primary and caucus state.

Mr. O'Rourke confirmed his withdrawal in a post on Medium and in an email message to his supporters. In that message, Mr. O'Rourke said he was proud of championing issues like guns and climate change but conceded that his campaign lacked "the means to move forward successfully."

"My service to the country will not be as a candidate or as the nominee," he said.

At a rally in Des Moines on Friday evening, Mr. O'Rourke told supporters he made his decision "so recently and so reluctantly."

"We have to clearly see at this point that we do not now have the means" to continue, he said, adding: "Though this is the end of this campaign, we are right in the middle of this fight."

In a hallway outside the venue of an Iowa Democrats dinner, where Mr. O'Rourke had been scheduled to appear, a black-draped table for his campaign was abandoned Friday night.

Passers-by helped themselves from the roll of "Beto" stickers sitting on the table, near a cardboard box full of one-sheet guides to "our most common cheers."

"So sad!" a woman exclaimed as she walked by. "It's so sad."
More from The Dallas Morning News:
WASHINGTON — Beto O'Rourke dropped out of the Democratic presidential race without warning on Friday, ending a long-shot bid that began with unmatched buzz that quickly faded.

He announced the move in an email to supporters and later in an emotional speech in Iowa, where he had planned to spend the next four days stumping at candidate forums, a fish fry, brew pubs and college campuses.

"Though it is difficult to accept, it is clear to me now that this campaign does not have the means to move forward successfully," he wrote. "My service to the country will not be as a candidate or as the nominee."

O'Rourke had yet to score an invitation to the next televised debate, on Nov. 20 in Atlanta, and it wasn't looking likely — a body blow in a crowded field. The party set a Nov. 13 deadline to hit 3% in four national polls and O'Rourke was two polls short, with tepid support and no momentum.

The decision ramps up pressure on Julián Castro and other laggards, and could accelerate the winnowing with less than 100 days before the Iowa caucuses.

President Donald Trump, who has enjoyed using O'Rourke as a foil, called him a "nasty guy" at a rally in Tupelo, Miss., and taunted him for boasting that he was "born" to be president.

"He made a total fool out of himself," Trump told his crowd. "He came out of Texas a very hot political property, and he went back as cold as you can be…. So you come from Texas, you don't like religion, you don't like oil, you don't have guns, that's not a good combination."

In a fawning cover story timed to his campaign launch, Vanity Fair quoted the Texan saying that "I'm just born to be in It."

He insisted later that he was saying only that he felt drawn to public service, not that he felt destined to run for president. But the image of entitlement dogged him, and dragged him down. His penchant for livestreaming road trips, rallies and even haircuts and dental cleanings brought social media stardom and a devoted following, but also made him a target for lampooning of the sort dished out by Hillary Clinton adviser Philippe Reines on Friday night.

He predicted that O'Rourke would return to the spotlight the next day to "apologize for dropping out badly, say he's learned from the bad dropout, and ready to re-drop out."

For reasons not yet apparent, O'Rourke cut short his campaign so abruptly that his wife Amy, who occasionally joined him on the stump, was not on hand for the final moments of his campaign. The night he lost to Cruz, she was at his side as he told a sea of disappointed but adoring backers that "I am so f—ing proud of you guys!"

"This was a decision that we made so recently and so reluctantly that she can't be here in person," he told a far more modest, but equally adoring crowd in Des Moines. As he often did while campaigning, he wore a grey V-neck sweater and stood on a box as an aide livestreamed the moment.

A hint of sadness in his voice, he thanked supporters and aides: "You will always be with us, and I will always be with you."
You can read O'Rourke's farewell post at Medium. Meanwhile, FiveThirty Eight performs a post-mortem on his campaign. The reasons, though, aren't that hard to figure out.
While O'Rourke's move was somewhat out of the blue, it's not at all surprising given the course of his campaign from the time that he entered the race in the spring. While his initial fundraising numbers were respectable, they did not measure up to those achieved by higher-polling opponents. More importantly, the roughly $9 million that O'Rourke raised in the initial quarter of the campaign was not matched in subsequent reporting periods. He raised only $3.6 million in the second quarter and $4.5 million in the third quarter Additionally, it seemed clear from the beginning that his apparent success in the race in Texas was not translating well at all at the national level despite the hype that accompanied his Senate bid the year before. His polling at the national level hit somewhere around 9% about a month after he entered the race and then began to slowly decline. Before long, he found himself near the bottom of the pack and, in some polls, not even pulling 2%. In the final RealClearPolitics average in which he's likely to be included, the former Texas Congressman was averaging just 2.0%. Because of that, there was significant doubt that he would even qualify for the debates coming up in November, December, and January. All of this is a long way of saying that Beto's days on the campaign trail were numbered.
At various times during the campaign, there were several top Democrats who were urging O'Rourke to follow in the footsteps of former Colorado Governor John Hickenlooper, who left the Presidential race over the summer to face Cory Gardner in the contest for Colorado's Senate race and run against John Cornyn for Senate. O'Rourke, who had previously ruled that option out before running for President, dismissed those calls and continued to focus himself on a doomed campaign for the Democratic nomination. It now appears that this will not be the case.
In the end, skipping the Senate race is probably for the best. O'Rourke would have faced a tough race and it was unlikely that he would have repeated his success against Cruz Unlike Ted Cruz, O'Rourke's opponent would have been John Cornyn, who has been in office since he succeeded Phil Gramm in 2002 and has been generally well-liked in Texas and has easily won re-election in his initial election and his two re-election bids in 2008 and 2014. The odds that lightning would have struck twice for O'Rourke in the Lone Star State are somewhere between slim and none absent some as-yet-unforeseen circumstances.
Additionally O'Rourke's time on the campaign trail for the Presidential nomination caused him to move much further to the left than he was when he ran against Cruz. Many of these new positions would have hurt him in a second Senate bid. This is especially true of two of his more recent policy announcements. In the September Democratic debate, for example, O'Rourke announced that he was backing a gun control provision that would not only ban so-called "assault weapons" but would also force Americans to turn in their weapons or face criminal prosecution. Just a few weeks ago, he followed that up in October with a proposal that he would revoke the tax-exempt status of any church that advocated against equal rights for LGBT Americans. This included the implication that he intended to punish churches, including the Catholic Church that refused to marry LGBT Americans for doctrinal reasons. Neither of these provisions would have gone over well in Texas of all places.
What happens to O'Rourke at this point is unclear. He's still young at 47 years old and American politics is filled with stories of men who have failed early in their electoral careers only to bounce back in the future. In the short-term, it's unlikely that he will be the running mate for whoever the Democratic nominee might be, but it isn't out of the question that he'd be up for a Cabinet position in a Democratic Administration. Additionally, he could try for a Congressional comeback, perhaps by running in the predominantly Latino 23rd Congressional District, which is currently represented by retiring Republican Will Hurd and which is next door to his old district which mainly was made up of the City of El Paso. (Please note this is pure speculation on my part.) In any case, for the time being we won't have Beto to kick around anymore.