Beto O'Rourke Hands Republicans A Gift On Guns
At last week's debate, Beto O'Rourke handed Republicans and gun rights advocates a nicely wrapped gift with his claim that he would seize guns from otherwise law-abiding Americans.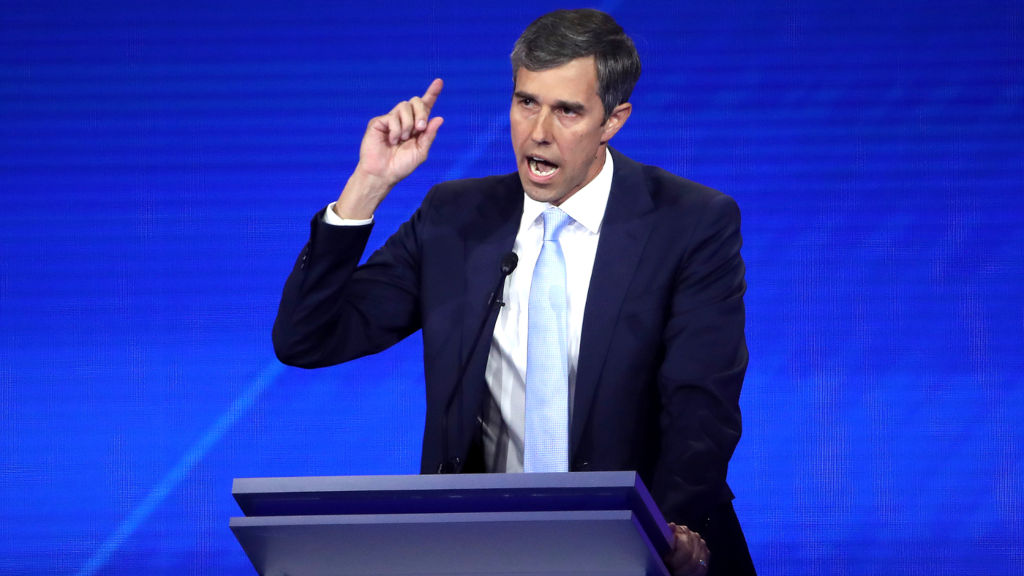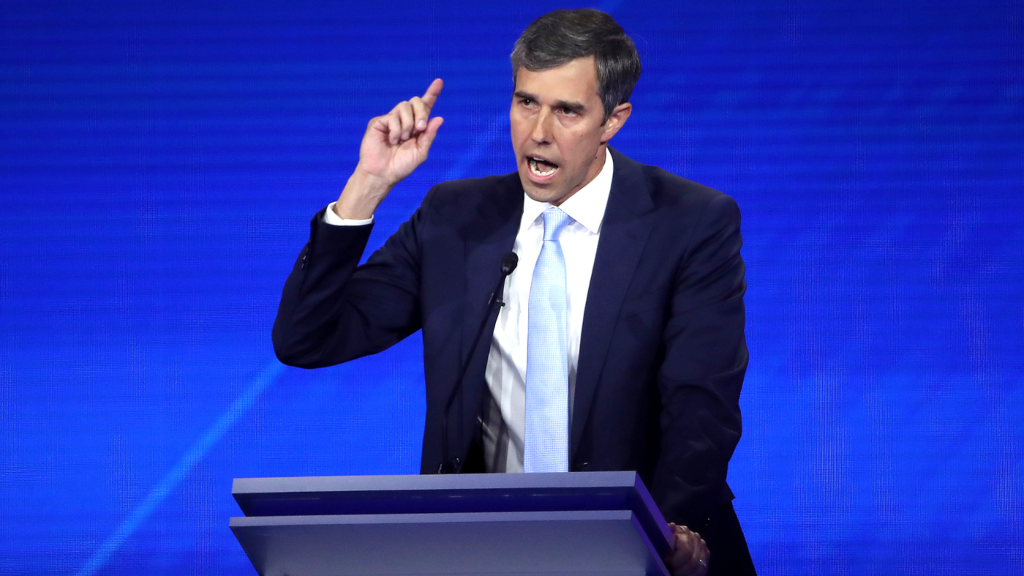 During Thursday's Democratic Presidential debate, former Congressman and Texas Senate candidate Beto O'Rourke, who has seen his campaign fledgling for several months now, made a comment that is likely to haunt Democrats throughout the 2020 campaign, and perhaps for years after that:
Presidential candidate Beto O'Rourke reiterated his support for a mandatory gun-buyback program of assault-style rifles on Thursday and said, "Hell, yes, we're going to take your AR-15, your AK-47."

"We're not going to allow it to be used against our fellow Americans anymore," the former Texas congressman said during the third Democratic presidential debate, hosted by ABC News.

"If the high-impact, high-velocity round, when it hits your body, shreds everything inside of your body because it was designed to do that so that you would bleed to death on a battlefield … when we see that being used against children," O'Rourke said. He recalled talking to a woman in Odessa, Texas, who had watched her 15-year-old daughter bleed to death after she was shot by a man wielding an AR-15 late last month.

O'Rourke's comments come in the wake of a string of mass shootings in the United States, including in his hometown of El Paso, where 22 people were gunned down at a Walmart in August. O'Rourke unveiled a proposal weeks after that shooting calling for a national gun registry, a nationwide gun licensing system and the mandatory buyback of assault-style rifles as part of his plan to curb gun violence and the rise of white nationalism.
Here's the video and the transcript of the relevant question and answer:
DAVID MUIR, ABC NEWS: I am going–I am going to work down the row here but I do want to come to Congressman O'Rourke because I know this is personal to you. El Paso is your hometown. Some on this stage have suggested a voluntary buyback for guns in this country. You have gone further. You said quote Americans who own AR-15s and AK-47s will have to sell them to the government, all of them. You know the critics call this confiscation. Are you proposing taking away their guns and how would this work?

O'ROURKE: I am if it is a weapon that was designed to kill people on a battlefield; if they high impact high velocity round when it hits your body shreds everything inside of your body because it was designed to do that so that you would bleed to death on a battlefield and not be able to get up and kill one of our soldiers. When we see that being used against children and in Odessa I met the mother of a 15-year-old girl who was shot by an AR-15 and that mother watched her bleed to death over the course of an hour because so many other people were shot by that AR-15 in Odessa and Midland there weren't enough ambulances to get to them in time. Hell yes we are going to take your AR-15, your AK-47.

(APPLAUSE)

We are not going to allow it to be used against fellow Americans anymore.

(APPLAUSE)
In addition to contradicting comments that O'Rourke himself made just a year ago, this comment has drawn a lot of attention toward O'Rourke, who was a guest on several mornings shows this morning due largely to the reaction to his comments. The reaction from the right, of course, has been predictable since, over the course of just two minutes O'Rourke seemingly confirmed something that gun rights advocates have been alleging for years, namely that advocates for even the most reasonable gun control proposals such as background checks and proposals to keep guns out of the hands of people who are determined to be a danger to themselves or others ultimately want to take weapons away from otherwise law-abiding Americans. By taking this position, which it should be clear has not been endorsed by any of his fellow candidates, O'Rourke has handed Republicans an argument that they will use against Democrats in 2020 and beyond, as Chris Cillizza notes at CNN:
For decades, the National Rifle Association — and its Republican allies in Congress and now in the White House — have used the idea of confiscation to win the gun debate. If Democrats were in control, they'd come to your house and take your guns!, the argument goes. It's why gun purchases soared in the immediate aftermath of Barack Obama's election in 2008, for example.

"It depends on if Democrats want to take your guns away," President Donald Trump said in response to questions Thursday about whether some sort of gun control measure might be passed by Congress this fall. "If this is a movement by the Democrats to take your guns away, it's never going to happen."Up until very recently, the Democrats-want-to-get-rid-of-the-Second-Amendment talk was, like so much of Trump's rhetoric, outlandish and without any basis in facts. Obama in 2008 and 2012 and Hillary Clinton in 2016 expressly made clear they had no interest in any sort of mandatory collection or buyback program.

"Of course Hillary does not support national mandatory gun buyback programs, including those modeled after Australia's program," said a Clinton campaign spokesman in 2016 when the NRA attacked her for allegedly supporting confiscation. "She was discussing voluntary buyback programs, which are drastically different than what occurred in Australia and are regularly run by cities across the America."That changed — or at least shifted — on Thursday night with O'Rourke's comment.

While a mandatory buyback campaign of weapons like the AR-15 and AK-47 doesn't amount to a wholesale gun confiscation, it walks much closer to that doomsday scenario the NRA has spent years painting as just over the horizon if Democrats get into power.

Even if O'Rourke never even sniffs the Democratic presidential nomination, the eventual nominee will have to answer for his support of a mandatory buyback program.

And whether or not O'Rourke is the nominee, Republicans will use his comments to stoke fear and anger in their base — see, we told you Democrats really want to take all your guns … just look at this quote from Beto O'Rourke!!!

Is it possible that the debate on guns and gun control has been changed in a fundamental way by the recent spate of mass shootings? O'Rourke seems to believe it has. And maybe it has! But if it hasn't, then O'Rourke just handed Republicans a massive political gift: A club to bash the eventual Democratic nominee with on confiscating peoples' guns.
Echoing this position, Delaware Senator Chris Coons, who is admittedly a supporter of former Vice-President Biden, made much the same argument the day after the debate:
Sen. Christopher Coons (D-Del.) on Friday warned that Beto O'Rourke's pledge that the government will confiscate semiautomatic AR-15 rifles will become a rallying cry for gun rights groups for years to come and haunt the Democratic Party far into the future.

"I frankly think that that clip will be played for years at Second Amendment rallies with organizations that try to scare people by saying that Democrats are coming for your guns," Coons, an ally of former Vice President Joe Biden in the Democratic race, told CNN's Poppy Harlow in an interview.

O'Rourke, a former member of Congress from Texas, received loud applause at the Democratic debate in Houston on Thursday when he declared: "Hell yes, we're going to take your AR-15, your AK-47. We're not going to allow it to be used against fellow Americans anymore."

O'Rourke's statement confirms the fears of many Republicans and gun rights advocates who say the ultimate goal of the gun control movement is government confiscation of firearms.

"When you really understand what the endgame of the left is, it's literally mandatory buybacks or as I call it: confiscation. This is a step-by-step process for them," Sen. Ron Johnson (R-Wis.) told The Hill Thursday when asked about the debate over expanded background checks for firearms sales.

Coons, who is working with Republicans to pass more modest gun control measures, scrambled on Friday to contain the fallout from O'Rourke's statement.

"I don't think having our presidential candidates, like Congressman O'Rourke did, say that we're going to try to take people's guns against their will is a wise policy or political move," Coons said.

Asked if O'Rourke's statement was irresponsible or hurt the party, Coons said, "we'll have to see."
Emma Green at The Atlantic pushes back against this argument and, citing the fact that O'Rourke's position has essentially been adopted by Senators Kamala Harris and Cory Booker, argues that Beto O'Rourke has effectively pushed the Overton Window on the gun control debate. Whether or not that's true, though, the Editors at the National Review argue convincingly that O'Rourke's idea would most likely be unconstitutional:
Prohibition has never been well received in America, and guns have proven no exception to that rule. In New York, Connecticut, and New Jersey, attempts at the confiscation of "high capacity" magazines and the registration of "assault weapons" have both fallen embarrassingly flat — to the point that the police have simply refused to aid enforcement or to prosecute the dissenters. Does Beto, who must know this, expect the result to be different in Texas, Wyoming, or Florida? Earlier this week, the Democratic-controlled House of Representatives was unable to marshal enough votes to pass a ban on the sale of "assault weapons" — let alone to mount a confiscation drive. Sorry, Robert Francis. That dog ain't gonna hunt.

And nor should it, for O'Rourke's policy is spectacularly unconstitutional. The AR-15 is the most popular rifle in America by a considerable margin, and is therefore clearly protected by the "in common use" standard that was laid out in D.C. v. Heller. Put as baldly as possible, confiscation is not a program that the federal government is permitted to adopt.281

It is also a disaster on its own merits. Much has been made of the fact that an attempt to round up millions of guns would obviously be met with widespread non-compliance. Much has been made, too, of the fact that this is an odd target for a country-dividing panic, given that rifles of all types are used less frequently in murder than hands and fists, than handguns, and than knives. Less, however, has been made of the fact that such an attempt can not even be squared with characterizations of American life that O'Rourke, Booker, and Harris are themselves fond of making. If the trio's testimony is to be believed, America is a deeply unequal place in which minorities and the poor bear the brunt of draconian legislation while wealthier and better-connected people romp scot free — which, if true, would lead one to expect a little less bravado in defense of what would be the most significant federal crackdown since the start of the War on Drugs than a self-congratulatory "Hell yes." Such are the perils of making policy by T-shirt slogan.

For years, advocates of the right to keep and bear arms have suspected that confiscation was the endgame but have been rebuffed as paranoiacs in the press. Such a rebuffing is no longer possible. If it ever was, "Nobody is coming for your guns!" is no longer true — which means that a host of commonly posed inquiries now have the same simple answer. "Why do you oppose federal licensing?" Because leading Democrats are threatening confiscation. "Why do you oppose 'universal' background checks?" Because they would create a registry. "And why do you oppose a registry?" Because leading Democrats are threatening confiscation. Unwittingly or not, O'Rourke and his acolytes have stuck a dagger into the exquisitely calibrated gun-control messaging on which their party has worked for the better part of 20 years. No voter can now say he wasn't warned.
Democrats are right to be concerned that O'Rourke's comments are likely to come back to haunt them. While it's most likely true that the voters who are most concerned about this issue are unlikely to vote for a Democrat for President, it's unlikely that is universally true and only accounts for one of the reasons why O'Rourke pushing the gun control debate into the confiscation area is a mistake.
First of all, it's unlikely that every person who supports gun rights and the right to keep and bear arms is automatically a Republican voter. The majority of them probably are, but it's also probable that there's a significant segment of this part of the public that is not affiliated with either party and potentially a "gettable" vote. This most likely includes working-class voters in the Midwest and other parts of the country who voted for Trump in 2016 but may have voted for former President Obama in 2008 and 2012. Some of these are also voters who also people who support reasonable gun control measures like expanded background checks and maybe even bans on the production and future sale of so-called "assault weapons." But there's a significant difference between those positions and favoring the idea that Federal or state law enforcement authorities should be authorized to confiscate the weapons of otherwise law-abiding Americans.
Second, O'Rourke and other supporters of the idea of confiscation have not explained, or even been asked to explain, how they would get such a measure through Congress or the state legislatures and how they'd get it past the Court. In the interviews on Sunday, O'Rourke made vague references to the Interstate Commerce Clause, but even the expansive reading of that provision that the Supreme Court has adopted would not justify the involuntary seizure of property from innocent people. On the political side, it's not even clear that such a measure would get majority support in a Democratic-controlled House of Representatives, and it's clear that it would not make it through the Senate except in the unlikely event that Democrats obtained at filibuster-proof majority in that body and that they were able to stay united on a cloture vote. Alternatively, I suppose it could happen if the legislative filibuster were repealed, but that's even less likely than this idea being adopted into law any time soon. Yes, such measures have been adopted into law by nations such as Australia and New Zealand, but those nations are not the United States and cannot be looked to as guides for what is politically possible here.
As I've said, there are reasonable ideas that have been put forward by gun control advocates, such as enhanced background checks and "red flag laws," By pushing an unrealistic and plainly unconstitutional idea like gun seizures, though, Beto O'Rourke has arguably done more to hurt the gun control movement than the NRA could ever have done on its own.