Buried in Trump's Bullshit
The President is generating so much outrage on a daily basis that we're missing important stories.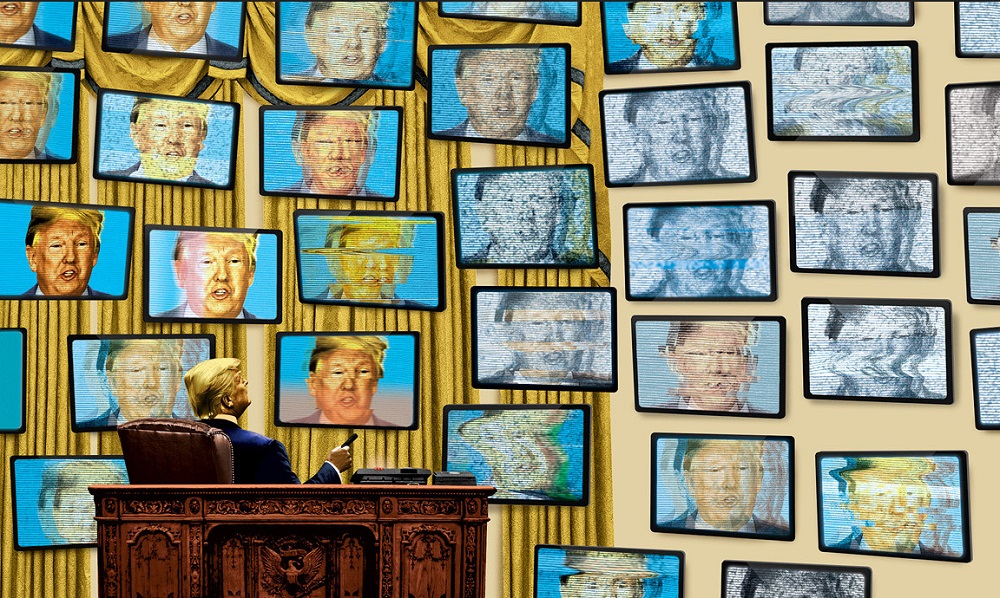 Nearly a year before the 2016 election, Jeet Heer wrote a prophetic piece for The New Republic titled "Donald Trump Is Not a Liar—He's something worse: a bullshit artist." His core argument:
Falsehoods fly out of Donald Trump's mouth with such unstoppable frequency that it's tempting to describe him as a liar. Among the recent Trumpian untruths is his claim to have seen a video showing "thousands and thousands" of Muslim Americans cheering 9/11 in Jersey City, New Jersey, an event there is no record of, video or otherwise. Trump has also retweeted and vigorously defended the claim that 81 percent of whites who are murdered are killed by blacks (the actual number for last year is 15 percent). And he has asserted, contrary to fact, that the federal government is sending refugees to states with "Republicans, not to the Democrats."

Yet the increasingly frequent tendency of Trump's critics to label him a liar is wrongheaded. Trump is something worse than a liar. He is a bullshit artist. In his 2005 book On Bullshit, Harry G. Frankfurt, emeritus philosophy professor at Princeton University, makes an important distinction between lying and bullshitting—one that is extremely useful for understanding the pernicious impact that Trump has on public life. Frankfurt's key observation is that the liar, even as he or she might spread untruth, inhabits a universe where the distinction between truth and falsehood still matters. The bullshitter, by contrast, does not care what is true or not. By his or her bluffing, dissimulation, and general dishonesty, the bullshit artist works to erase the very possibility of knowing the truth. For this reason, bullshit is more dangerous than lies, since it erodes even the possibility of truth existing and being found.

The contrast Frankfurt draws between lying and bullshit is sharp. "It is impossible for someone to lie unless he thinks he knows the truth," Frankfurt observes. "Producing bullshit requires no such conviction. A person who lies is thereby responding to the truth, and he is to that extent respectful of it. When an honest man speaks, he says only what he believes to be true; and for the liar, it is correspondingly indispensable that he considers his statements to be false. For the bullshitter, however, all bets are off. … He does not reject the authority of the truth, as the liar does, and oppose himself to it. He pays no attention to it at all. By virtue of this, bullshit is a greater enemy of truth than lies are."
Frankfurt himself concurred a few months later, as did Eldar Sarajlic and, more famously, Fareed Zakaria. Trump has essentially embraced this narrative, frequently admitting that he really doesn't care about whether things he says are true. Further, it's well documented that Trump's base not only doesn't care that he spews lies on a daily basis but that being confronted with evidence that he's lying simply reinforces their support for him.
A related phenomenon is what Megan McArdle and others have dubbed "outrage fatigue."
I'm already tired of writing the "Trump had done something outrageous" column, because how many times can I point out that the man keeps acting in a distressingly unpresidential manner? And even if I write it, how long are readers going to be willing to read the same thing, over and over, with only the details changed for variety?

That's what liberals worry about when they talk about "normalizing Trump": that the sheer repetitiveness of his offenses against liberal democracy will make them ordinary and banal, that we will lose our ability to understand that each new outrage is, in fact, outrageous, and must be treated as such if we are to retain the precious legacy bequeathed to us by our Founding Fathers, and two centuries of successors who painstakingly built the liberty we now enjoy. When his supporters dismiss criticisms as hysteria, saying "It's not that bad," in some sense, they're right: So far, he has not openly defied the courts, a la Andrew Jackson, nor explicitly threatened people who threaten his business interests. The problem is that the way you get to "that bad" is often through a long succession of "At least he hasn't …" until finally, he does, and you find that the permission granted for earlier transgressions has created a blanket hall pass for gross abuses of power.

No, liberals are right to worry, and in fact, I don't think they worry enough. Because the biggest risk is that even if we keep shouting "This is not normal!", voters who have heard that a thousand times before will eventually yawn and say "No, actually it is."
That was almost a year and a half ago and, while journalists don't seem to have tired of getting outraged over Trump's actions, there is indeed a numbing normalization. Moreover, the outrages come so quickly that we're losing sight of important stories.
In my post this morning "Trump's Shameful Betrayal of Immigrant Soldiers," I noted that this story surprised me even though it's been slowly unfolding and reported in the most visible outlets for the past year:
Despite consuming an inordinate amount of defense journalism and following people like Loren [DeJonge Schulman] and Alex [Horton] on Twitter, I've only been tangentially aware of this story. In the Trump era, especially, there are so many daily outrages that big news gets lost unless it's emphasized and re-reported with some regularity. That hasn't happened here.
Regular commenter James Pearce observes that the attitude "The beat reporter knows about it. Why is it such a surprise to everyone else?" points to a need for "more diligent reporters and a more engaged audience." While absolutely a fair point, Trump is generating so many sensational stories that it's very hard for those which merely update previous stories to get written, much less gain traction.
There is a technique in the law (at least as practiced in fictional portrayals) of burying the opposing counsel in paperwork, making it both time-consuming and expensive to find the few nuggets of information that might be beneficial to them. Trump is essentially doing the same thing by burying us in bullshit.
Now, I don't think this is a game of four-dimensional chess. This is just a stream of consciousness style rather than a planned campaign. But the result is the same: major stories are getting too little attention because the latest from the Tweeter-in-Chief sucks all the oxygen out of the room.