The Presidency Of Exhaustion
More than a decade ago, Donald Trump revealed one of his secrets to success. Exhaust your enemies. It explains much of what has happened since he took office.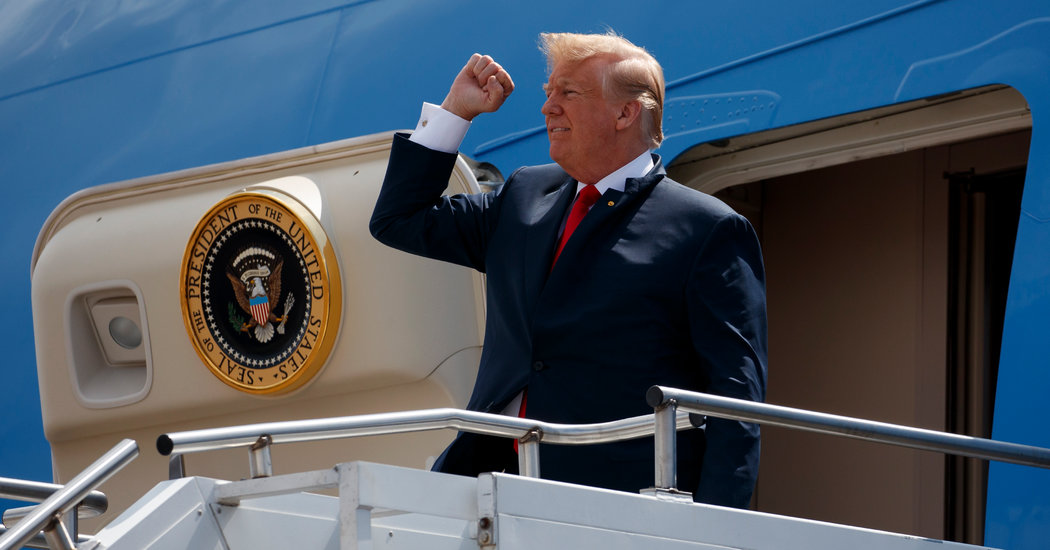 John Paul Rollert, a Professor at the University of Chicago's Booth School of Business argues that the secret to Donald Trump's success notwithstanding his rather obvious incompetence and ignorance comes from what appears to be a conscious strategy of exhausting his opponents:
I've always told students at the very beginning of class that the chief misconception of those who aspire to positions of authority is the belief that leadership is an exercise akin to primal displays of male dominance. This is a fallacy that is most seductive to teenage boys and those who are developmentally indistinguishable from them. Unfortunately, it is also embraced by the president with all the enthusiasm of ungainly adolescence. Whether it is the superlatives that have become a mainstay of presidential rhetoric — everything inevitably has to be the best, the most, the biggest ever — or the greetings that look like an aggressive child learning to shake hands, our president's leadership style has all the subtlety of a silverback gorilla threatening beta-males.

And this is by design. Trump has explained his approach to power and authority in one of the most neglected entries in his literary catalog, Think Big: Make It Happen in Business and Life, a slightly sanitized title (and, therein, somewhat incomplete) relative to the original, Think Big and Kick Ass: In Business and Life.

The book was originally published in 2007, when Trump enjoyed the hubris of his billions and a hit reality TV show, without the occupational headaches of propriety and good taste. It portrays life as a series of roadblocks that must be bulldozed rather than bypassed, and applies this logic to the art of negotiations and dealmaking. "You hear lots of people say that a great deal is when both sides win," he observes. "That is a bunch of crap. In a great deal, you win — not the other side. You crush the opponent and come away with something better for yourself."

Ever since the beginning of his presidency, we have watched Trump vainly endeavor to apply this approach, especially to global affairs. In his efforts to strong-arm other countries, Trump has often petulantly walked away from the negotiating table or struggled to sit down in the first place. The consequences for US foreign policy have been alarming. On the one hand, with the abandonment of global agreements like the Paris Accords, the Iran nuclear deal, and the Trans-Pacific Partnership, many of our closest allies have become skeptical that they can work in good faith with the administration. At the same time, hardliners and autocrats from the Philippines to Abu Dhabi have seen in Trump a leader whose brutal instincts they immediately recognize (and very much appreciate).

As the president insists in the pages of Think Big, human affairs offer two types of interaction: submission and dominance. Other people can either be cowed or crushed. In turn, despite living in gilded mansions and indulging every carnal desire, Trump's view of the world is remarkably bleak. There is no possibility of reliable allies. Faithful employees are a fiction ("My motto is 'hire the best people and don't trust them'"). And even close friends pose an ever-present danger. "They want your jobs, they want your house, they want your money, they want your wife, and they even want your dog," Trump warns. "Those are your friends; your enemies are even worse!"
Dave Schuler makes note of a related phenomenon in the form of a new Pew Research Poll showing that most Americans are "by the amount of news they're being bombarded with:"
If you feel like there is too much news and you can't keep up, you are not alone. A sizable portion of Americans are feeling overwhelmed by the amount of news there is, though the sentiment is more common on the right side of the political spectrum, according to a Pew Research Center survey conducted from Feb. 22 to March 4, 2018.

Almost seven-in-ten Americans (68%) feel worn out by the amount of news there is these days, compared with only three-in-ten who say they like the amount of news they get. The portion expressing feelings of information overload is in line with how Americans felt during the 2016 presidential election, when a majority expressed feelings of exhaustion from election coverage.

While majorities of both Republicans and Democrats express news fatigue, Republicans are feeling it more. Roughly three-quarters (77%) of Republicans and Republican-leaning independents feel worn out over how much news there is, compared with about six-in-ten Democrats and Democratic-leaning independents (61%). This elevated fatigue among Republicans tracks with them having less enthusiasm than Democrats for the 2018 elections.

Feeling overwhelmed by the news is more common among those who follow the news less closely than among those who are avid consumers. While a majority of those who follow the news most of the time (62%) are feeling worn out by the news, a substantially higher portion (78%) of those who less frequently get news say they are fatigued by the amount of it that they see. (Most Americans – 65% – say they follow the news most of time, whereas 34% say they follow only when something important is happening.)
In the Politico piece quoted above, Rollert goes on to apply the logic that Trump put forward in Think Big to the area of international affairs, and that section is worthy of a read, and perhaps its own post, in its own right. However, it's worth noting that exhaustion appears to be the approach that this entire Administration has taken and that, in some sense, it appears to be working. While the political news cycle has been a maelstrom for some time now thanks to the rise of talk radio, cable news, the Internet, and social media, it certainly seems like things have been moving much, much faster in the roughly year and a half that Donald Trump has been faster than they have in the recent past. Over just the course of the last month, for example, there's hardly a day goes by where we've had anything that can be described as a "slow news day" except, perhaps, on the weekends, and over holidays. On an average day, though, it certainly seems as though there are at least two or three major news stories involving the Administration competing for attention. These news items can come from the Administration itself, from the President's tweets, or from reports based on leaks coming from the Administration. Whatever the source, though, keeping up with the news dealing with this Administration on a daily basis can indeed be exhausting. If that's the President's strategy, then he's accomplishing what he set out to do.
Assuming all of this is part of an explicit strategy, the question is what to do about it. One answer, of course, is to just give up and go do something like watch sports and only pay attention to politics when elections roll around. That certainly seems to be what most Americans tend to do based on my experience and my conservations with "real people." For those of us who are either news and politics junkies, or who are involved in fields where tuning out political developments simply isn't an option, though there's got to be another way. One thing I have learned over the years, for example, is to stop paying so much attention to the latest "Outrage of the Day" story being pushed by partisans on the left or the right or by a media that is concerned mostly with ratings and filling content. More often than not, these outrages are silly affairs that aren't relevant at all to the important issues facing the nation. More broadly, though, I suppose the best way to fight what seems like an obvious effort by the President and the Administration to exhaust critics and opponents is to focus on the important things about this Administration such as the Russia investigation, foreign policy, economic policy, and the extent to which this President is eroding civility and the political culture and do whatever one can to fight back against it. Giving up isn't an option unless that is we want to see the country become even more Trumpidian than it already is.