Trump's Shameful Betrayal of Immigrant Soldiers
America promised immigrants who volunteered to serve in our military a fast track to citizenship. Now, we're throwing them out.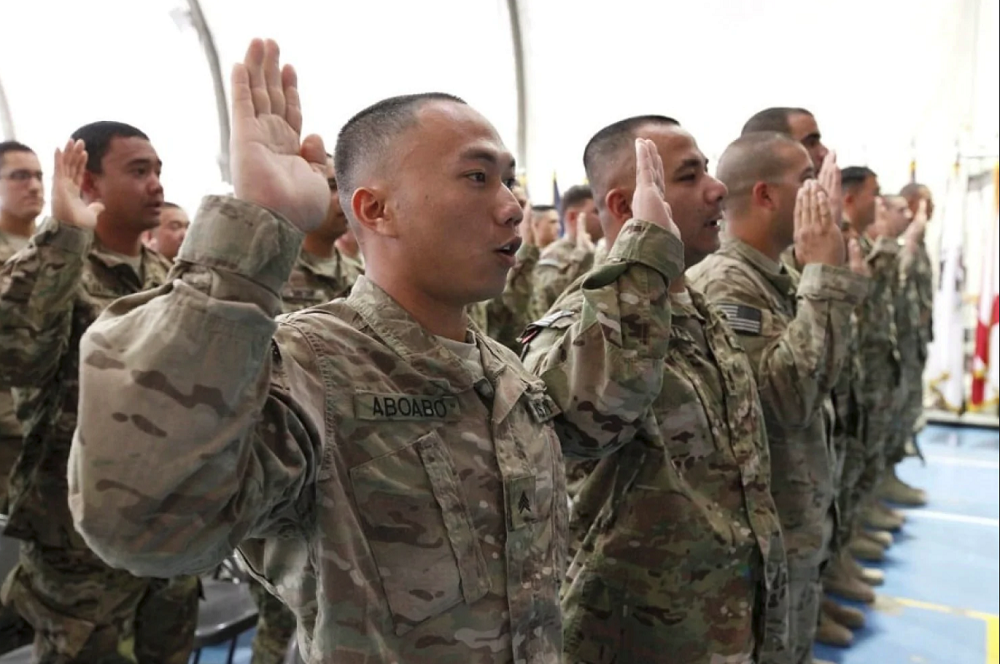 AP ("US Army quietly discharging immigrant recruits"):
Some immigrant U.S. Army reservists and recruits who enlisted in the military with a promised path to citizenship are being abruptly discharged, the Associated Press has learned.

The AP was unable to quantify how many men and women who enlisted through the special recruitment program have been booted from the Army, but immigration attorneys say they know of more than 40 who have been discharged or whose status has become questionable, jeopardizing their futures.

"It was my dream to serve in the military," said reservist Lucas Calixto, a Brazilian immigrant who filed a lawsuit against the Army last week. "Since this country has been so good to me, I thought it was the least I could do to give back to my adopted country and serve in the United States military."

Some of the service members say they were not told why they were being discharged. Others who pressed for answers said the Army informed them they'd been labeled as security risks because they have relatives abroad or because the Defense Department had not completed background checks on them.

Spokespeople for the Pentagon and the Army said that, due to the pending litigation, they were unable to explain the discharges or respond to questions about whether there have been policy changes in any of the military branches.

Eligible recruits are required to have legal status in the U.S., such as a student visa, before enlisting. More than 5,000 immigrants were recruited into the program in 2016, and an estimated 10,000 are currently serving. Most go the Army, but some also go to the other military branches.

To become citizens, the service members need an honorable service designation, which can come after even just a few days at boot camp. But the recently discharged service members have had their basic training delayed, so they can't be naturalized.
Aaron Mehta, a Senior Pentagon Correspondent with Defense News, points of that, while this report "is getting a lot of attention," in actuality "it is really just another step in a series of policies that the Pentagon has begun using the last six months. Our Tara Copp has written a ton about similar issues." In that thread, he links to some examples. But those stories were mostly seeming one-offs, cases of individuals being discharged.
Former soldier Alex Horton, now a reporter for the Washington Post, foreshadowed this policy almost exactly a year ago in a story headlined "The Pentagon promised citizenship to immigrants who served. Now it might help deport them."
The Pentagon is considering a plan to cancel enlistment contracts for 1,000 foreign-born recruits without legal immigration status, knowingly exposing them to deportation, a Defense Department memo shows.

The undated action memo, prepared for Defense Secretary Jim Mattis by personnel and intelligence officials at the Pentagon and obtained by The Washington Post, describes potential security threats of immigrants recruited in a program designed to award fast-tracked citizenship in exchange for urgently needed medical and language skills.

Additionally, 4,100 troops — most of whom are naturalized citizens — may face "enhanced screening," though the Pentagon voiced concern on how to navigate "significant legal constraints" of "continuous monitoring" of citizens without cause, according to the memo.

Officials have assigned threat level tiers to the nearly 10,000 Military Accessions Vital to National Interest (MAVNI) program recruits, both in the service and waiting to serve, based on characteristics like proximity to classified information or how thoroughly they have been vetted.
So, there were signs this was coming.
As DefenseOne executive editor Kevin Baron notes, "This was considered a sacred line." We've made a commitment as a nation to these men and women. It's unconscionable to break it. Furthermore, the Trump administration is doing it in the most cowardly way possible, through incremental changes in policy, and then refusing to talk about it. As Baron points out, "Secretary Mattis said to us repeatedly that immigrant troops would be able to serve as always. Any other secretary, in any other administration, would step out and answer to this, on record and on camera."
Jim Mattis is an honorable man. He's earned, through his decades of service to the nation, the benefit of the doubt here, so I'll presume this was done over his objection. But this should have been a red line for him. This one was worth resigning over. And, certainly, it demands that he personally take the podium at a press conference and explain this policy to the people he serves.
The rationale given in the AP story is nonsensical.
Margaret Stock, an Alaska-based immigration attorney and a retired Army Reserve lieutenant colonel who helped create the immigrant recruitment program, said she's been inundated over the past several days by recruits who have been abruptly discharged.

All had signed enlistment contracts and taken an Army oath, Stock said. Many were reservists who had been attending unit drills, receiving pay and undergoing training, while others had been in a "delayed entry" program, she said.

"Immigrants have been serving in the Army since 1775," Stock said. "We wouldn't have won the revolution without immigrants. And we're not going to win the global war on terrorism today without immigrants."

Stock said the service members she's heard from had been told the Defense Department had not managed to put them through extensive background checks, which include CIA, FBI and National Intelligence Agency screenings and counterintelligence interviews. Therefore, by default, they do not meet the background check requirement.

"It's a vicious cycle," she said.

The AP interviewed Calixto and recruits from Pakistan and Iran, all of whom said they were devastated by their unexpected discharges.
Aside from the morality, one of the longstanding deficits in our military has been a dearth of people who speak Middle Eastern languages with any degree of fluency. I wrote about it in one of my first papers in graduate school, way back in 1992. One way that we've tried to address that since the 9/11 attacks has been recruiting immigrants with native proficiency. Tossing out soldiers from Pakistan and Iran—especially if they speak Punjabi, Pashto, Urdu, or Persian—for the mere sake of their not being citizens is simply assinine.
There is simply no rational basis for this policy. As Steven Taylor noted last evening, the only plausible reason for this xenophobia. It's simply an outrageous, shameful policy.
UPDATE:  Two Twitter threads from seasoned voices who have been following this story for quite some time.
Alex Horton, referenced above:
If you're shocked the Army would cut loose immigrant recruits and expose them to deportation through incredible indifference, buddy, you haven't been paying attention. This began to erode last June https://t.co/IPBLhCkiNA

— Alex Horton (@AlexHortonTX) July 5, 2018
Because threads don't reproduce well here, his follow-ons:
"In September, we reported the Army was arbitrarily killing contracts for hundreds of noncitizens, often deceitfully or without explanation. In a few cases, contracts were reinstated after I called recruiters myself to ask about it"

"That was after recruits who waited so long for the Pentagon's botched and overwrought screening process that they fled or sought asylum. One recruit, from Iraq, went to Canada out of fear of going home to face ISIS"

"At the center of this is Mattis. I asked him in January why he/DoD has failed to fix this (this transcript conveniently left that word out). He gave a meandering answer that made it clear his staff has not articulated any issues with the program to him"

"Also: the AP noted a Pentagon statement saying honorably discharged vets are "protected" from deportation. ICE is trying to deport a Chinese veteran despite that, which is a violation of Mattis' policies ICE already knew existed"

"There is evidence the government is trying to strangle the immigrant recruitment program with bureaucracy. As @VeraMBergen reported, USCIS shuttered its Army basic training offices for no legitimate reason. Naturalization in the service has since dropped"

"The Army *at unit level* wants immigrants. They fill jobs US-born troops can't/won't do, like surgeons and dentists. They also speak critical languages. The 2012 soldier of the year was tapped for Green Beret missions in Afghanistan because he spoke Urdu"
Loren DeJonge Schulman, who spent ten years at high levels in the Defense Department and National Security Council and now works at the Center for a New American Security:
A lot of people are skeptical of the AP story, admittedly lacking details, but apparently haven't been paying attention to year of DOD changing its policies, underresourcing a crazy investigation process, not giving honorable discharges as promised, and generally being deceptive.

— Loren DeJonge Schulman (@LorenRaeDeJ) July 6, 2018
After linking some tweets I've already referenced, she concludes,
People don't want to believe the story. But do some reading. It's not breaking news. It's another step coming out of a policy change, recruitment malpractice, purposeful underresourcing, and racism. It hurts the military.
It's real, folks. The AP isn't making this up.
UPDATE 2:  Loren concluded her thread with two more points:
And finally shame on you AP for not including basic background that is letting otherwise smart people question your story.

Actually finally: i am not an expert but I have more reading comprehension and a better memory than some Senate staffers and journalists, it seems. But don't result me and don't trust someone with anonymous sources at the Pentagon or Mattis fan fiction. Read.
I'm a defense policy nerd but don't have the insider knowledge Loren does. Despite consuming an inordinate amount of defense journalism and following people like Loren and Alex on Twitter, I've only been tangentially aware of this story. In the Trump era, especially, there are so many daily outrages that big news gets lost unless it's emphasized and re-reported with some regularity. That hasn't happened here.
UPDATE 3 (July 7): See my follow-up post "Army Refutes AP 'Army Discharging Immigrant Recruits' Story." The situation isn't as awful as portrayed by the AP—but it's still pretty bad.