Army Refutes AP 'Army Discharging Immigrant Recruits' Story
The situation isn't as awful as portrayed by the AP---but it's still pretty bad.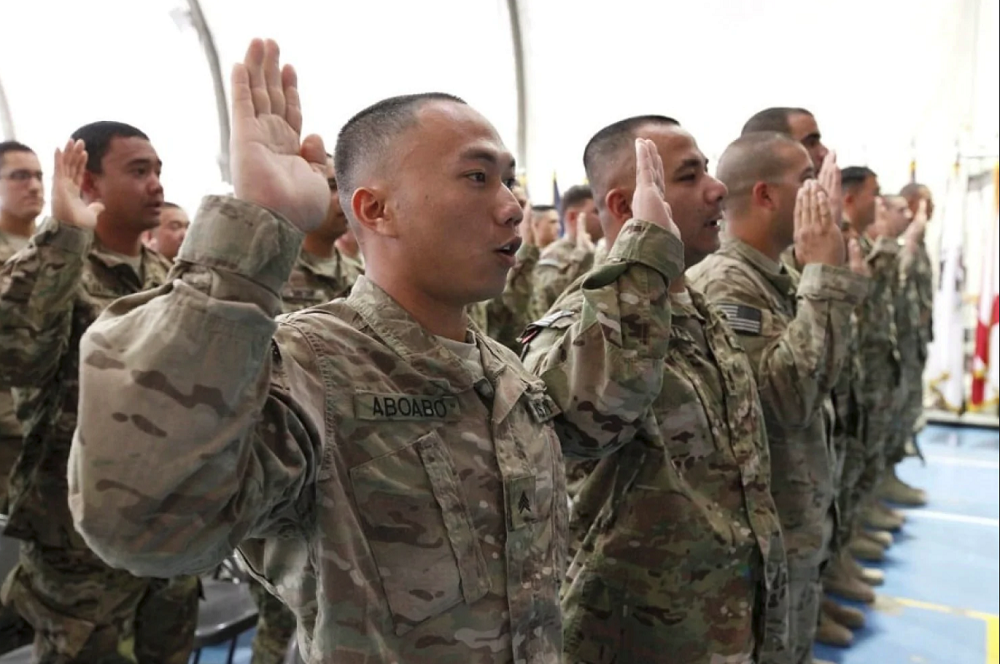 Yesterday morning's post "Trump's Shameful Betrayal of Immigrant Soldiers" passed on an AP report from Thursday afternoon titled "US Army quietly discharging immigrant recruits." The Army is pushing back on the report, but that push-back is getting much less attention than the original story.
Jeff Schogol and Adam Linehan of the military-oriented website Task & Purpose argue that the AP report has essentially been debunked ("No, President Trump Is Not Purging The Military Of Immigrants"):
The Department of Defense is strongly disputing a recent article by the Associated Press that suggests the United States Army has begun purging its ranks of non-U.S. citizens as the Trump administration ramps up efforts to crack down on illegal immigration.

The July 5 article centers on the plight of immigrant recruits attempting to enter the military through the Military Accessions Vital to the National Interest (MAVNI) program, which was launched in 2008 to attract more recruits with critical skills such as doctors, nurses, and those who speak strategically valuable languages like Chinese, Dari, Farsi, and Russian by offering them an expedited path to citizenship. Service members who've enlisted through the MAVNI program represent only a small percentage of immigrants in the military, the vast majority of whom joined through the same channels as their U.S.-born counterparts.

Titled "US Army quietly discharging immigrant recruits," the AP story reports that "some immigrant U.S. Army reservists and recruits who enlisted in the military with a promised path to citizenship are being abruptly discharged." The story implies that institutionalized xenophobia might be behind the a recent spike in the number of MAVNI recruits being "booted" from the program.

But while the AP did report accurately that many recruits have been cut from the program in recent months, the Pentagon insists that the numbers reflect nothing unusual. Indeed, two Army recruiters who spoke to Task & Purpose on the condition of anonymity rejected the notion that the military was deliberately and purposefully ridding itself of non-U.S. citizens —as did a Nigerian immigrant who has been enrolled the MAVNI program for more than two years. "I think the journalist just didn't understand how MAVNI works," she opined.

One of the recruiters put it more bluntly. "The MAVNI situation is f*cked up and screwing these kids over," he said. "But that article is bullsh*t."

More than 10,000 non-U.S. citizens were accepted into the MAVNI program before it was halted in September 2017, but the Pentagon could not say when reached by Task & Purpose on Friday how many of those recruits actually entered the military. Recruits can be dropped from the program for myriad reasons, such as poor physical health or a failure to clear mandatory background checks.

All military applicants must undergo background checks. According to Air Force Maj. Carla Gleason, a Pentagon spokeswoman, roughly 1,100 are still waiting to begin basic training pending the completion of background investigations, including one conducted by the National Background Investigations Bureau.

But these background checks are not uniform processes. For an 18-year-old enlisting straight out of high school in, say, Kentucky, the process can be fairly quick for logistical reasons, like the ease of contacting a recruit's family, readily accessible information about past residences, relationships with dubious figures, and so on.

By contrast, the typical MAVNI recruit has a much more complex life story. Many hail from countries like Pakistan, Afghanistan, and Nigeria, where terror groups are highly active and poor government record-keeping can make it exceedingly difficult for investigators to determine whether the recruit poses a security threat.

"Because MAVNI recruits are foreign nationals who are not permanent residents of the United States, the security screening required for these individuals can be difficult and time consuming due to limitations in the Department's ability to verify information in the individual's home country," Gleason said.

While the AP stated in its July 5 article that some immigrant Army were "abruptly discharged," Gleason was adamant that the protocols for vetting foreign-born military applicants have remained unchanged since MAVNI ended last year. Indeed, one Pentagon source told Task & Purpose that those recruits who were recently discharged were either among the last to join MAVNI or required the most extensive background checks. Another souce said the military is taking extra precautions after a handful of MAVNI recruits had been let into the ranks only to be discharged later when investigators discovered red flags.

One of the recruiters echoed that sentiment. "The Army has been playing fast and loose with MAVNI for a decade, and would ship people to basic training who didn't have completed background checks, and all sorts of other stuff," he said. "Then people started to see the writing on the wall and they did their due diligence to correct the issue."
Tara Copp of the Military Times frames the controversy as more nuanced ("Here's the bottom line on the future of MAVNI: Many foreign-born recruits may soon be out"):
On Thursday, the Associated Press reported that about 40 foreign-born recruits who had joined the military through a special program created by DoD to attract needed skills had been weeded out. The news caused a media firestorm as part of the national debate on immigration.

The bottom line is that far more than 40 may soon be weeded out – and it's possible that the majority of the remaining 1,000 or so participants in the Military Accessions Vital to National Interest, or MAVNI, program will be let go before they can be cleared for duty.

A few facts:

MAVNI was an entry point for personnel with critical language or medical skills who were in the U.S. temporarily, such as through student visas, or here seeking asylum.

Most of its participants came from overseas – Africa, Southwest Asia, China, India, Eastern Europe – places where the U.S. had a need for those language skills.

Most did not come from Latin America or Mexico. And immigrants who were already in the U.S. legally and who held a green card were not eligible for MAVNI but could enlist and pursue citizenship without the program.

The MAVNI program was launched by the Defense Department in 2009. In the program's nine-year history, 10,400 troops have come through the program.

In 2016, the Obama administration directed that those MAVNI recruits face additional background screening and effectively froze the program. The last MAVNI recruits entered around October 2016, right after the additional background checks were directed. Since then, no additional recruits have joined through MAVNI, said retired Army Reserve Lt. Col. Margaret Stock.

The roughly 1,000 in the program before it was frozen have been left in limbo, unable to get cleared to move on to their duty station.

Additional background checks were reinforced by Secretary Jim Mattis in an October 2017 memo.

DoD delays in getting MAVNI background checks processed means that most of the recruits will time out before they are able to serve, as they must start basic training within three years of signing their contract in order to stay in the military, Stock said. The recruits can't start basic training without the background checks completed.

The time limit used to be one year, but was extended to three years, Stock said. Even so, for 2015 recruits and early 2016 recruits, time is running short.

The news that the recruits were being removed Thursday brought swift reaction from some lawmakers and veterans organizations.

"I couldn't help but notice that all of the kids from the new wars who have been having funerals where I am in Queens are immigrants," said John Rowan, president of Vietnam Veterans of America. "These failed policies that disrespect their sacrifice need to be changed."

DoD disagreed that most of the remaining recruits will be cut, but noted that immigration policies may get in the way.

"The Department is working diligently and with all deliberate speed to complete all background investigations for the MAVNI population. MAVNI applicants for Reserve service often enter the Delayed Training Program (DTP), while awaiting completion of vetting and shipment to basic military training," DoD said in a statement. The delayed training program allows the recruits to obtain some training and drills as they wait to be processed.

"Depending on the circumstances, some MAVNI recruits who are awaiting the completion of their background investigations may no longer hold a valid immigration status," DoD continued in the statement. "Since the beginning of the MAVNI pilot program, the Department has advised participants that the accession process can be long and complicated and that they should maintain their immigration status or seek an alternate status throughout the process."
It's worth noting that the Military Times family of papers (Army Times, Navy Times, Air Force Times, and Marine Corps Times) have always been privately-owned; they're not a government outlet.
Re-reading the AP story in light of this new reporting, it's clear that reporters Martha Mendoza and Garance Burke are either really lousy writers, too inexperienced to understand their subject matter, or intentionally trying to gain attention through omission of key facts. My guess is some combination of the first two.
There are no factual errors in the story but omissions and poor framing led to readers filling in details for themselves. For example, while they refer obliquely to a "special recruitment program," they never mention MAVNI by name, which led many to speculate that it was a more widespread issue. While they acknowledge that "The AP was unable to quantify how many men and women who enlisted through the special recruitment program have been booted from the Army," they note "5,000 immigrants were recruited into the program in 2016, and an estimated 10,000 currently serving," leading many to speculate all of them could be targeted.
My post quoted seasoned defense journalists Aaron Mehta, Alex Horton, and Kevin Baron and deduced that this was, in fact, a MAVNI-only issue.  And all three correctly noted that this is, in fact, a policy change that's been rolling out over the past year.
It's true that, as Copp's story points out, that the crackdown started happening in 2016, during the Obama administration. But things have accelerated under the Trump administration, apparently under the specific direction of Secretary Jim Mattis. And, yes, this is not only going back on promises we made to these recruits.
While I fault Mendoza and Burke's writing, I don't fault them for giving the impression that racial animus seems to be part of the issue. I call your attention to an April 26 Stars & Stripes story headlined "Army loosens restrictions on privileges for noncitizen recruits in MAVNI program."
After more than a year of essential lockdown for noncitizen military recruits stuck in entry training programs, the Army has issued a policy memo loosening restrictions on privileges for these soldiers in recognition of their status, performance and conduct.

The memo was issued March 30 — just days after Stars and Stripes began asking questions about the soldiers in the Military Accessions Vital to National Interest, or MAVNI, program who have been held over at basic or initial job training since late 2016, when the Defense Department began requiring enhanced security vetting for them.

An Army spokesman said the memo "should leave no doubt" that these MAVNI holdovers should enjoy "full privileges."

The policy change appears aimed at commanders, spelling out that these soldiers should be given privileges in keeping with a permanent assignment to the unit. Brigade commanders of MAVNI holdovers are now "authorized to modify the privileges" for these soldiers at initial training units, according to the document.

"Privileges should be based on individual performance and conduct and must include privileges to permanently assigned soldiers," said the "Change 2, Exception to Policy for MAVNI Trainees and Soldiers in Initial Entry Training" memo, signed by Maj. Gen. Malcolm Frost, commander of the Army's Center for Initial Military Training. The Army released the memo to Stars and Stripes on Friday.

Asked whether they were seeing any improvements, some MAVNIs told Stars and Stripes that their situation remains the same. Others said they'd seen improvements based on the new policy.

Since 2009, more than 10,000 MAVNI soldiers were recruited because their backgrounds and talents, particularly their language or medical skills and their cultural knowledge filled a critical need for the Army. In exchange, they were offered a promise of professional advancement and a fast track to citizenship. But growing national security concerns led the Defense Department in fall 2016 to institute enhanced security screenings for these foreigners, casting a shadow of suspicion on the group and creating a backlog. MAVNI soldiers who were recruited in the months leading up to that time were stuck waiting for the completion of security checks at whatever stage of entry they'd reached. No MAVNI soldiers have been recruited since the vetting was introduced.

Shortly after the enhanced screenings were put in place, the Army issued a "stop move" order barring MAVNIs who'd been held over in early training from traveling until their security investigations were complete, according to earlier Army memos. The memos outlined levels of privileges based on the training level of the recruits and whether they were naturalized.

At bases across the country, "holdovers" told Stars and Stripes they were living under very restrictive rules — many for more than a year — at units that are supposed to host soldiers for just weeks or months. They were given few privileges and granted limited movements even on base and they were not able to work in their professional fields or practice their skills.

A June 2017 memo clarified that non-naturalized MAVNI holdovers could be approved for leave within the United States based on the discretion of their commander. But most MAVNIs contacted last month said they were stuck on base or given very limited allowances to leave with a buddy. Some were required to have a buddy even to walk across the installation. Traveling outside the country was prohibited except for extreme cases after a staff judge advocate review, the memos stated.
They were essentially stuck in permanent Basic Training, minus the training. This is truly shameful treatment of US soldiers that was stopped only when the press shone a light on it.
I'm not in a position to assess whether the heightened level of scrutiny for these volunteers was warranted. But, certainly, if we wanted to continue the program under those conditions then we should have poured additional manpower into the screening process. Instead, we put thousands of people who volunteered to serve in our military in exchange for a fast track to citizenship in limbo for years, ultimately allowing the clock to run out on them.
UPDATE:  The NYT has weighed in ("They Came Here to Serve. But for Many Immigrants, the Army Isn't Interested."):
Recruit Zhang, an immigrant from China, joined the United States military on the promise that enlisting would lead to American citizenship. He swore an oath to uphold the Constitution and was handed an Army T-shirt. But, after two years of delays, there came a sudden discharge that has left him reeling.

"They just said one word: I was 'unsuitable,'" said the 30-year-old, who has a wife and child and a business management degree. He asked that only his last name be used. "I came here legally, made an agreement to stay legally, and they have not kept the agreement."

A growing number of foreign-born recruits who joined the United States military through a special program created to recruit immigrant troops with valuable language and medical skills are being terminated before they can qualify for citizenship. Lawyers for the recruits say at least 30 have been discharged in recent weeks and thousands more are stuck in limbo — currently enlisted but unable to serve — and may also be forced out.

They are being cut even as the Army has been unable to meet its 2018 recruiting goals.

A growing number of foreign-born recruits who joined the United States military through a special program created to recruit immigrant troops with valuable language and medical skills are being terminated before they can qualify for citizenship. Lawyers for the recruits say at least 30 have been discharged in recent weeks and thousands more are stuck in limbo — currently enlisted but unable to serve — and may also be forced out.

They are being cut even as the Army has been unable to meet its 2018 recruiting goals.

Mr. Zhang's parents, a factory worker and a city official in southeast China, sold their house to support him while he waited two years to be called to boot camp. Now he may be deported, and worries he could be punished by the Chinese government for enlisting in a foreign army.
It turns out that this policy has real, human consequences.
A bit more on the checks:
The layers of clearance have grown so complex that a backlog of several thousand cases has piled up. A Defense Department official testified in a recent deposition that it would take 10 years to clear those currently waiting to serve.

"We were told they didn't have the resources to go through all the investigations," said Robin Jung, a South Korean immigrant and college student who enlisted through the program. In 2014, his brother went through the program and was given citizenship in just a few months. Mr. Jung has been waiting two years.

A number of recruits have filed lawsuits claiming the delays and denials violate constitutional guarantees of equal protection.

The Defense Department responded to interview requests about the delays and increase in the number of discharges with a short statement, saying that any recruit, including those recruited through the Mavni program, "who receives an unfavorable security screening is deemed unsuitable for military service and is administratively discharged. Each recruit undergoes an individualized suitability review and the length of time for the review is dependent upon each individual's unique background."

So far, though, recruits in the 10-year-old program have not posed an undue security threat, according to a 2017 report by the RAND Corporation. The report, which was never officially released, found that the program's recruits were generally better educated and better performing than the average enlisted soldier. It also found that there had been no instances of terrorism or espionage connected to an immigrant recruit.

Before the Vietnam War, all legal immigrants could enlist regardless of permanent status, and throughout American history a large slice of the troops who fought the nation's battles have been immigrants, from Lt. Col. Alexander Hamilton to the more than 700 immigrants who have been awarded the Medal of Honor.

Still, very few recruits have made it through the vetting process in the last two years, Ms. Stock said. They are kept waiting, unable to work civilian jobs or go to basic training and start their military careers.
More on the human side:
One Pakistani immigrant, worried about the long wait, was able to get his security report in May through a Freedom of Information Act request. The report noted the immigrant, an electrical engineering student recruited to repair generators, had dreamed of moving to the United States since he was 5, and had an American flag cover on his cellphone.

The recruit, the report stated, "has such a deep and longstanding loyalty to the U.S., that he can be expected to resolve any conflict of interest in favor of the U.S."

"I jumped for joy, I was literally dancing when I read this because I knew there would be no problem," said the recruit, who asked not to be named because he fears he could be harmed in Pakistan if he is deported.

In June he was told he had failed his security background check and was being discharged.

"I cried," he said. "I feel like I have been kicked out of my own home."

Private Second Class Lucas Calixto, a Brazilian immigrant who moved to the United States with his parents when he was 12, was discharged this spring after enlisting in the Army Reserve two years ago.

Since enlisting, he had been going through drills regularly in Massachusetts, where his unit had supported him, he said.

In June he was abruptly discharged for "personnel security," according to a form. He was given no other explanation.

Last week he sued the Defense Department in federal court, saying the discharge, with no warning and no explanation, violated department regulations and "the fundamental requirements of due process."

"It was my dream to serve in the U.S. military. Since America has been so good to me, I wanted to give back and serve in the United States Army," Private Calixto said in an email. "I know this is not coming from my military unit. They have been very nice to me. It seems as if the decision is being made by higher-ups who don't know me and are just trying to complicate things."
The clearance process can certainly be cruel and exasperating. A dozen years ago, a failure of a polygraph—known for decades to be junk science—cost me a job as an intelligence analyst that I'd been promised for months. The pretext was laughable. But this is something different: a systematic, discriminatory policy choice aimed at a certain subset of immigrants whose skills we need.