No, General Mattis Is Not Defying Trump On The Transgender Military Ban
Contrary to reports, Secretary of Defense Mattis is not defying the President on his order to bar transgender Americans from serving in the military.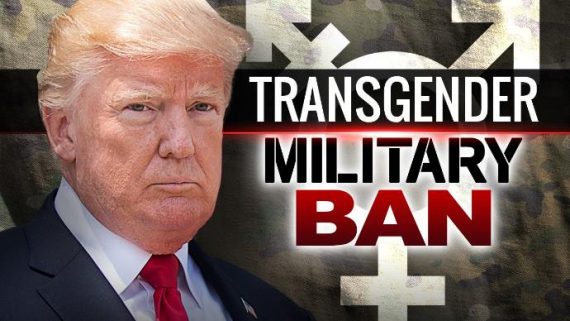 Several media outlets have been touting an announcement made yesterday by Secretary of Defense James Mattis regarding President Trump's order to ban transgender troops from the military:
WASHINGTON — Defense Secretary Jim Mattis kicked President Trump's proposed ban on transgender people serving in the military down the road, announcing that transgender service members will continue to be allowed to serve pending the results of a study.

In a statement on Tuesday evening, Mr. Mattis said that he was establishing a panel of experts, serving within the Pentagon and the Homeland Security Department, whose task will be to "provide advice and recommendations on the implementation of the president's direction."

Mr. Trump announced last month in an abrupt series of tweets that transgender people would no longer be allowed to serve in the military. The Twitter messages took the Pentagon by surprise, and since then, Defense Department officials have been trying to cobble together a policy that takes into account their desire to allow currently serving transgender people to remain, while at the same time following the dictates of a commander in chief who, by most accounts, had not put a lot of study into the ramifications of his instructions.

Last week, Mr. Trump signed the directive precluding transgender individuals from serving, but gave Mr. Mattis wide discretion in determining whether those already in the armed forces can continue to serve. By putting the onus on Mr. Mattis, the president appeared to open the door to allowing at least some transgender service members to remain in the military, contrary to his initial tweet that all would be disallowed.

Mr. Mattis's statement on Tuesday appeared to open that door further.

"Once the panel reports its recommendations and following my consultation with the secretary of homeland security, I will provide my advice to the president concerning implementation of his policy direction," Mr. Mattis said in his statement. "In the interim, current policy with respect to currently serving members will remain in place." He said he will issue "interim guidance to the force concerning the president's direction, including any necessary interim adjustments to procedures, to ensure the continued combat readiness of the force until our final policy on this subject is issued."

Mr. Mattis's announcement came as more than 140 House Democrats sent a letter to Mr. Trump calling on him to reconsider his transgender ban. The letter, released Tuesday, argued that the military should not discriminate, and said that enforcing the ban could lead to the loss of jobs for active-duty service members who have served honorably.

"Implicitly, your ban denies the value of transgender service members, and it questions the professionalism of those who serve beside them. Our Armed Forces have grown more equal and more inclusive over time, often in the face of strident opposition," the letter said. "In 1948, when President Truman moved to racially integrate the military, voices were raised in protest. They were raised again in 2010, when Congress at last repealed 'Don't Ask, Don't Tell.' At every turn, those voices have been proven wrong."
If you were to judge from the headlines, Mattis was essentially defying the President and acting to protect transgender members of the military who acted in reliance on the change in policy announced by President Obama and revealed to their commanding officers and fellow soldiers and sailors that they were transgendered. The New York Times article quoted above, for example, bears the headline "Mattis Says Panel Will Study Transgender Ban." The Hill's headline states "Mattis: Transgender troops can keep serving pending study." In The Washington Post the headline reads "Transgender ban frozen as Mattis moves forward with new review of options," while Fox News went with "Mattis freezes Trump ban on transgender troops pending review."  Even the usually restrained NPR goes with the exaggerated headline of "Mattis Puts Hold On Transgender Ban For Current Military Service Members." In reality, what Mattis did hear was far less than meet the eye, and likely only temporary.
Slate's Mark Joseph Stern, though, points out that much of the media reporting on what Mattis did here got the matter entirely wrong:
Shannon Minter, legal director for the National Center of Lesbian Rights—which filed a lawsuit to block the policy—told me that USA Today's "inaccurate reporting" is "playing into a patently bogus strategy to make it appear that there is going to be some new 'study' that will legitimize what is already a forgone conclusion: the discriminatory banning of military service by transgender people, based on a characteristic that has no bearing on their fitness to serve." The Friday memo, Minter noted, "is perfectly clear: Trump has ordered the military to ban transgender people from serving. That ban will go into effect on March 23."

Trump's decision, Minter continued, "is not based on any hastily assembled, post hoc 'study' that is being cooked up now in a transparent effort to provide a retroactive fig leaf for the president's bigotry. The military spent two years carefully reviewing all of the relevant evidence on this issue and concluded that there is no reason to exclude transgender people from military service. The cost of inclusion is literally negligible, and there is no evidence that permitting open service will have any negative impact on military readiness. The notion that there is any good faith 'study' being conducted is a blatant pretext for discrimination."

Chase Strangio, an ACLU attorney who co-authored that group's lawsuit against the ban, agrees. "Though Defense Secretary Mattis appears rightly troubled by the president's action, his statements do not change the directive nor has he been given the power to retain transgender service members indefinitely."
The Washington Post's Aaron Blake pours further cold water on the idea that Mattis is defying Trump here:
What Mattis did Tuesday night, it turns out, was what Trump had called on him to do in a directive issued Friday: Study how to implement the ban — specifically when it comes to existing transgender service members — and get back to the White House with recommendations by early next year before the ban is implemented. This was presented as Mattis "freezing" the transgender ban, when in fact it was already frozen. And it was frozen because Trump himself froze it on Friday.

That said, the directive itself and the need to delay implementation of the ban for six months show how haphazard this whole process has been. Trump tweeted more than a month ago that the government would not "accept or allow transgender individuals to serve in any capacity in the U.S. military." The actual policy is looking far more fungible than that hard-and-fast statement made in several out-of-nowhere tweets. Trump clearly jumped the gun, and now reality is setting in.

(…)

Mattis's announcement on Tuesday night is wholly consistent with [the directive issued by President Trump last Friday.] He did not go rogue here. "Once the panel reports its recommendations and following my consultation with the secretary of Homeland Security, I will provide my advice to the president concerning implementation of his policy direction," Mattis said in the statement Tuesday night. "In the interim, current policy with respect to currently serving members will remain in place."
Stern and Blake have the matter exactly right, and the media reporting on this announcement has been exceedingly exaggerated with regard to what it all means. As I noted in the post I wrote when Trump announced the ban late last Friday, the directive that Trump signed does give Mattis and the Defense Department discretion regarding how to implement the President's order. Most particularly, the order does not specifically direct the Pentagon to dismiss anyone who has come forward to as transgendered in reliance on the change in policy that President Obama announced last year. In theory, the Pentagon could decide that those people will be permitted to continue serving notwithstanding the President's order, or they could announce that they will be dismissed from the service in some manner. Additionally, the President's directive does not specifically say what should be done with regard to those soldiers and sailors whose transgender status is uncovered or revealed notwithstanding their efforts to keep it secret. However, if the President disagrees with how Mattis uses the discretion that has been given him on this issue he could issue a supplementary order providing that such people will have to be dismissed from the military in some manner. Additionally, there is very little that Mattis or any of the member of the Joint Chiefs of Staff can do with regard to those provisions of the order that bar anyone who is transgendered from enlisting in the military or from discharging anyone who comes forward as transgendered once the new order is fully in effect. It's also worth noting that by its own terms, the President's order does not go into effect until some time next year, so any talk of a "freeze" betrays a fundamental misunderstanding of what Mattis said yesterday.
As I've noted before, there is no real factual basis to support the President's ban on service by openly transgender soldier and sailors. Every study that has been done on the issue has shown that there would be no real impact on military readiness or effectiveness in such a case. Additionally, the experience of those nations where open service by a transgender individual is permitted, a list that includes many of the closest allies of the United States both in and outside of NATO, indicates that there would be no deleterious effect if the United States were to allow it as well. Finally, our own experience with lifting the Don't Ask Don't Tell policy regarding open service by gay and lesbian service members, as well as the experience of implementing President Truman's historic order more than six decades ago to end segregation in the military, shows quite well that the U.S. military can adjust to these changes and continue to be the most powerful military force in the world.
That, however, is not relevant to the issue presently before us. The President has issued his directive and the military must carry it out. Not only is Mattis not defying that order, it would entirely inappropriate and wrong for him to do so and Trump would be entirely correct if he decided to fire Mattis for taking such an action. For better or worse, the President is Commander in Chief of the military, and his directives must be obeyed except if they are clearly illegal under existing law, and even then the circumstances under which a Presidential order could be legitimately disobeyed are limited. The only circumstances that could change that would be a favorable court ruling for the Plaintiffs in the lawsuits filed against the policy both earlier this week and earlier this month or the election of a new President who would reverse Trump's decision. Unless and until that happens, the policy will be put into effect notwithstanding the fact that it is both unwise and unnecessary.