Pair Of New Lawsuits Challenge Trump's Transgender Military Ban
President Trump's effort to ban transgender Americans from serving in the military faces two new legal challenges.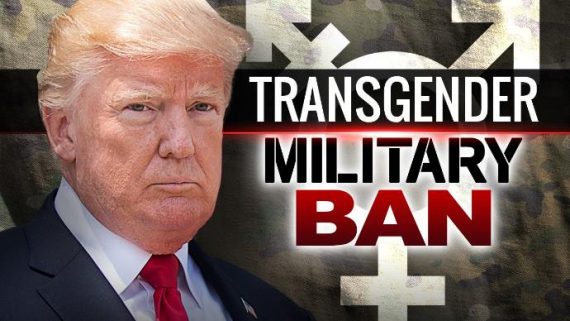 Just days after the Trump Administration issued its official policy directive to the Defense Department ordering implementation of what amounts to a ban on transgender Americans from openly serving in the military, two lawsuits have been filed against the policy at opposite ends of the country:
A pair of advocacy groups said Monday they are going to court to overturn the Trump administration's ban on transgender troops serving in the military, in the latest legal assault on the controversial directive.

The American Civil Liberties Union filed a lawsuit on behalf of five transgender service members. The suit, filed by the Maryland branch of the ACLU, argues the ban is unconstitutional and discriminatory and has hired Covington and Burling, a powerful D.C. law firm, to represent it.

Also, Lambda Legal and OutServe-SLDN, which includes currently serving LGBT military personnel, separately filedsuit on behalf of two transgender people who want to join the military and one currently in uniform, also citing constitutional concerns.

The Human Rights Campaign and the Gender Justice League are included in the effort.

"The law is on our side; justice is on our side," said Peter Perkowski, legal director for OutServe-SLDN. "Trump can't tweet his way out of this one."

The two cases follow President Donald Trump's directive Friday formally reinstituting a ban on transgender troops serving that was lifted last year. The directive also prohibits the Pentagon from paying for gender reassignment surgery but gives the defense secretary some leeway in deciding whether to kick out those who are currently serving.

Estimates put the number of transgender troops in the ranks at several thousand to 15,000.

Many advocates hope Defense Secretary Jim Mattis will take a measured approach in implementing the policy, which also covers the Coast Guard.

But while Mattis and his counterpart at the Homeland Security Department will have "limited discretion" over whether to kick out individual service members, they will not have any authority to change or delay the overarching policy that deems trans troops unfit to serve, five current and former professors at military universities wrote in a memo issued Monday by the Palm Center, an independent research institute focused on sexual minorities.
Buzzfeed's Dominic Holden has more:
Two sets of transgender plaintiffs sued President Trump and top military officials on Monday over an order that bans transgender people from openly serving in the military and that gives the Defense Department broad discretion on how to handle trans troops who are currently serving.

The new complaints argue Trump's policy is motivated by animus toward transgender people and violates the constitutional rights of transgender Americans who want to serve in the military, and they ask federal courts to suspend the policy immediately.

Trump issued a memorandum on Friday afternoon ordering a reversal of Obama administration rules that had started to let transgender people serve openly in the military. "The previous Administration failed to identify a sufficient basis to conclude that terminating the Departments' longstanding policy and practice [against out transgender military service] would not hinder military effectiveness and lethality, disrupt unit cohesion, or tax military resources," Trump wrote.

The official memo came nearly a month after Trump said in a series of tweets that the government "will not accept or allow" transgender people "to serve in any capacity in the U.S. Military."

The president has echoed a claim from many conservative Republicans that transgender service members disrupt the military's ranks and add medical costs that undermine troop readiness — a cost that LGBT groups say is just a minuscule sliver of the Defense Department's overall health care budget.

The first complaint was filed in US District Court in Western Washington by Lambda Legal and OutServe-Service Members Legal Defense Network on behalf of transgender people who want to enlist and active-duty soldiers. Plaintiffs also include LGBT groups Gender Justice League and the Human Rights Campaign. They argue the policy is "dripping with animus," and violates their right to equal protection and due process under the Fifth Amendment and right to free speech under the First Amendment.

A second suit, filed in US District Court in Maryland by the American Civil Liberties Union on behalf of six transgender soldiers, makes similar claims.

"The Trump Administration has provided no evidence that this pronouncement was based on any analysis of the actual cost and disruption allegedly caused by allowing men and women who are transgender to serve openly," the suit states.

The ACLU suit goes on to argue that the new Trump policy is based on "discredited myths and stereotypes, uninformed speculation, and animus against people who are transgender."

The new policy is not due to take effect until March 2018, but Jon Davidson, the legal director of Lambda Legal, told BuzzFeed News that timeline went out the window when Trump signed the memorandum, making the policy ready for a legal challenge.

Davidson said as of last week, transgender people were already being turned away from enlistment.

"People were willing to wait to try to enlist when it appeared that ban was going to be lifted," he said. "Now there is no point in waiting — they are being banned."
These two lawsuits join one that was filed earlier this month that was filed by a group of unnamed service members in Federal District Court in the District of Columbia. All three lawsuits make essentially the same allegations regarding the new policy. Principally, the Plaintiffs in all three cases argue that the ban constitutes a violation of their rights under the Equal Protection and Due Process Clauses because it discriminates against them based on sexual orientation and gender identity. The lawsuits also argue that the Defendants would be harmed due to the fact that they relied in good faith on the change in policy announced last year by the Obama Administration under which transgender service members would be allowed to serve openly in the military and that there would not be a per se ban on the enlistment of someone who is transgender merely because of their gender identity. In each of the cases, the Plaintiffs are members of the military who either came forward and revealed their transgender status or who are transgendered but have not yet come forward to fellow members of the military or commanding officers. Essentially, the first group of soldiers is arguing that they have acted in reliance upon the change in policy in revealing their transgender status and that it would be unjust to punish them for doing so, and that they stand the prospect of suffering irreparable damage to both their military careers and any subsequent civilian career. The second group is arguing that they are now once again living with the fear that their transgender status could be discovered, thus putting their careers at risk due to a policy that is not based in any realistic or logical assessment of the impact that allowing open service would have on military readiness.
Additionally, the most comprehensive study of this issues, which was released by the RAND Corporation just over a year ago, found that there would be no adverse impact from allowing transgender troops to serve openly. It's also worth noting that numerous nations around the world that have allowed transgender troops to serve in their militaries. These nations include a number of American allies American allies, including the United Kingdom, Canada, Germany, New Zealand, Australia, and Israel. In none of these nations have there been any credible reports of any adverse impact on military readiness and performance after the policies related to transgender troops to serve openly. Finally, as I've argued previously, the fact that the military has already been through something similar to this with regard to the repeal of the "Don't Ask, Don't Tell" policy regarding open service by gay and lesbian soldiers. That policy was lifted almost six years ago now, and there's no indication that it has had any deleterious impact on military readiness, performance, or unit cohesion. While the social issues regarding transgender individuals are not the same as gay and lesbian troops for a variety of reasons, the fact that the military was able to adjust to that change relatively smoothly, just as it did to the decision by President Truman to end racial segregation in the military, suggests that the Armed Forces would be just fine with transgender troops who are allowed to serve openly.
As I noted in my post about the first lawsuit, the Courts in these cases will be required to balance two competing interests:
On one side there is the Constitution and a series of cases in which the Supreme Court has acknowledged that the Equal Protection and Due Process Clauses do offer at least some protections to the rights of LGBT persons against action by the government. These cases go back to the 1996 case of Roemer v. Evans, in which the Court struck down a Colorado law that sought to bar local governments from expanding civil rights protections to LGBT citizens. Additionally, cases establishing these rights have included Lawrence v. Texas, which struck down laws that sought to criminalize consensual sodomy, United States v. Whitney, which struck down the provisions of the Defense of Marriage Act that defined marriage as only being between men and women for purposes of Federal law, and, of course, Obergefell v. Hodges, which struck down the remaining laws against same-sex marriage. Based on the precedent established by these cases, the Plaintiffs in these cases would seem to have a strong case in favor of the proposition that the proposed policy change would violate their rights under the Constitution, and that they have been damaged by the President's announcement due to their reliance upon the policy put in place by the Obama Administration that encouraged transgender service members to come out of the closet. On the other hand, there is a long history of Courts being deferential to the military in the implementation of policy regarding standards for military service. Where the Courts will come down in balancing those two interests will play a substantial role in deciding the fate of this lawsuit. As things stand, though, it seems to me that the Plaintiffs have a strong case here given the fact that there seems to be no credible evidence that allowing open service by transgender troops would adversely impact the military and the fact that many other nations, including nations such as Israel that have to relied on strict military readiness, have allowed transgender service and experienced no negative consequences as a result.
Since all three cases are asking the respective Courts to issue preliminary injunctions against implementation of the ban, we should get an idea fairly quickly of where the Judges to whom these cases are assigned come down. Stay tuned.
Here are the Complaints in both Karnoski et al v. Trump et al and Stone et al v. Trump et al:
Karnoski Et Al v. Trump Et Al by Doug Mataconis on Scribd
Stone Et Al v. Trump Et Al by Doug Mataconis on Scribd