James Mattis Resigning As Defense Secretary In Rebuke To Trump's Policies
In what clearly appears to be a rebuke of the President, Defense Secretary James Mattis is retiring as Secretary of Defense.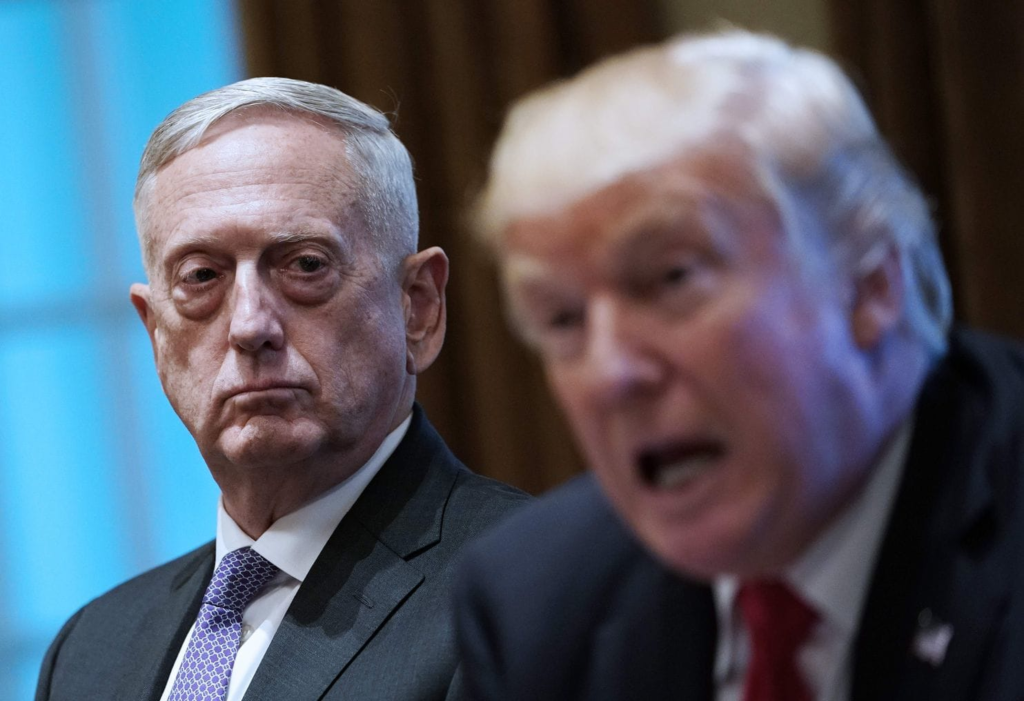 As if all the other news breaking this week and today wasn't enough, President Trump announced late today that Defense Secretary James Mattis will be 'retiring' in February, thus removing the last member of the foreign policy team that began the Trump Administration:
WASHINGTON — Jim Mattis, the four-star Marine general turned defense secretary, resigned on Thursday in protest of President Trump's decision to withdraw 2,000 American troops from Syria, where they have been fighting the Islamic State.

Mr. Trump announced the resignation in two tweets Thursday evening, and said Mr. Mattis will leave at the end of February.

Officials said Mr. Mattis went to the White House on Thursday afternoon in a last attempt to convince Mr. Trump to keep American troops in Syria. He was rebuffed, and told the president that he was resigning as a result.

Hours later, the Pentagon released Mr. Mattis' resignation letter, in which he implicitly criticized his commander in chief. Mr. Mattis said in the letter that he believes that the president deserves a defense secretary who is more in tune with his worldview.

"One core belief I have always held is that our strength as a nation is inextricably linked to the strength of our unique and comprehensive system of alliances and partnerships," Mr. Mattis wrote.

"Because you have the right to have a Secretary of Defense whose views are better aligned with yours on these and other subjects, I believe it is right for me to step down from my position," he wrote.

His departure leaves the Trump administration without one of the few officials viewed as standing between a mercurial president and global tumult. The president said he would name Mr. Mattis' replacement shortly.

The president's tweets announcing the departure of his defense secretary shocked officials at the Pentagon, who as recently as Thursday afternoon were insisting that Mr. Mattis had no intention of resigning his post, despite his anger at Mr. Trump's decision, announced on Wednesday, to withdraw American troops from Syria.

Mr. Mattis had told close friends that he would continue in the job despite his deteriorating relationship with Mr. Trump, because he viewed his commitment to protecting the Defense Department and its 1.3 million active duty service members as paramount.

The widely accepted narrative that Mr. Mattis was the adult in the room when at the White House came to annoy Mr. Trump. In October, the president accused Mr. Mattis of being a Democrat — a charge akin to treason in the current Republican administration.

"This is scary," Senator Mark Warner of Virginia, the top Democrat on the Senate Intelligence Committee, said in a tweet. He called Mr. Mattis "an island of stability amidst the chaos of the Trump administration."

"As we've seen with the President's haphazard approach to Syria, our national defense is too important to be subjected to the President's erratic whims," Mr. Warner wrote in the Twitter post.

Senator Susan Collins, Republican of Maine, said on Twitter that Mr. Mattis' resignation "is a real loss for our nation, our troops, and this Administration."
More from The Washington Post:
Defense Secretary Jim Mattis resigned from the Trump administration Thursday, saying the president deserved someone atop the Pentagon who is "better aligned" with his views.

The retired Marine Corps general's surprise resignation came a day after President Trump overruled his advisers, including Mattis, and shocked American allies by announcing he would be withdrawing American troops from Syria. Trump declared victory over the Islamic State, even though the Pentagon and State Department for months have been saying the fight against the group in Syria isn't over.

The discord caused Trump to lose a Cabinet official who won widespread praise at home and abroad but who experienced increasing differences with the commander in chief he served as Trump's presidency progressed.

Mattis said he would depart the administration Feb. 28 to provide time for a replacement to be identified and confirmed by the Senate.

Mattis pointed to some of those differences in a resignation letter he submitted to the White House on Thursday. The retired general emphasized that the United States derives its strength from its relationships with allies and should treat them with respect. He said the country must also be "clear-eyed" about threats including from groups such as the Islamic State.

"My views on treating allies with respect and also being clear-eyed about both malign actors and strategic competitors are strongly held and informed by over four decades of immersion in these issues," Mattis wrote. "We must do everything possible to advance an international order that is most conducive to our security, prosperity and values, and we are strengthened in this effort by the solidarity of our alliances."

The Pentagon released the letter moments after Trump announced on Twitter that Mattis would be leaving, saying the retired general would "retire." Trump's tweet made no mention of the fact that the Pentagon chief was leaving over his differences with the president.

(,,,)

Mattis's departure adds to new uncertainty about which course the administration might take on its global challenges, including with Iran and North Korea, amid questions about the pending withdrawal of U.S. troops from Syria and a possible drawdown in Afghanistan.

The retired Marine general, 68, had repeatedly moved to reassure allies unnerved by Trump's unpredictable pronouncements and argued successfully for continued U.S. commitments in Syria, Afghanistan and other places where military leaders see an ongoing threat.

(…)

Avoiding the spotlight and telegraphing deference, Mattis managed to contradict the president's bombast and threats without drawing his ire. The bookish history buff quietly emphasized traditional American values even as Trump publicly questioned them.

But questions about Mattis's influence grew as the president made decisions that deviated from his advice, such as pulling out of the nuclear deal with Iran, relocating the U.S. Embassy in Israelto Jerusalem and launching a new Space Force that many military leaders saw as unnecessary and distracting.

More recently, Trump ordered Mattis to send active duty troops to the U.S. border with Mexico, a move Democrats criticized as a political stunt that undermined the defense secretary's goal of making the military more effective in responding to foreign threats.

In recent months, media accounts described the secretary quietly challenging or setting aside requests from the White House, even from the president himself, further fueling speculation about a possible departure. In October, Trump described Mattis as "sort of a Democrat."
Here are the President's tweets on the matter:
General Jim Mattis will be retiring, with distinction, at the end of February, after having served my Administration as Secretary of Defense for the past two years. During Jim's tenure, tremendous progress has been made, especially with respect to the purchase of new fighting….

— Donald J. Trump (@realDonaldTrump) December 20, 2018
….equipment. General Mattis was a great help to me in getting allies and other countries to pay their share of military obligations. A new Secretary of Defense will be named shortly. I greatly thank Jim for his service!

— Donald J. Trump (@realDonaldTrump) December 20, 2018
While it isn't unusual to see personnel changes at this point in a President's Administration, the fact that the President is announcing this today, and that he announced it today of all days is hard not to notice. It was just yesterday, of course, that Trump announced, again via Twitter, that he had decided to withdraw American troops from Syria. That announcement was made, according to all available evidence, against the recommendation of all of Trump's foreign and military policy advisers including Mattis. Additionally, earlier this afternoon CNN was reporting that Pentagon officials were already preparing for a similar announcement from the President with regard to American forces in Afghanistan, a move that many reporters have said would be the "last straw" for Mattis, who apparently has spent the better part of the last two years disagreeing with the President's approach to a wide variety of issues, including things such as the cancelation of joint military exercises with South Korea, the President's approach to Russia and China, and his treatment of American allies. Each of these subjects is referenced in Mattis's letter of resignation, which doesn't contain a single word of praise for the President, making it clear that the combination of all of these recent events is likely what led to the final straw for Mattis, and that what we're witnessing here is Mattis quitting in protest rather than Trump firing him and rather than this being a simple decision on his part to retire and spend more time with his family. As a result, no matter how much goodwill we see in the coming weeks between Trump and Mattis as he prepares to leave, the fact that this is happening because of profound policy differences is far too obvious to be denied.p
It is hard to understate the importance of Mattis's resignation. In addition to being the first real high-profile resignation from the Trump Administration over policy differences, his departure means the departure from the Administration of perhaps the last voice of stability and sanity on foreign policy and military matters left in the President's orbit. That voice will now be silent and, more likely than not, replaced by someone who will largely serve as the same kind of "yes" man that Trump found in Secretary of State Mike Pompeo and National Security Advisor John Bolton, both of whom are men inclined to reinforce the President's worldview rather than question them. Additionally, the circumstances under which Mattis is leaving, just a day after the announcement of a withdrawal from Syria and an apparently impending similar decision with regard to Afghanistan, are likely to make proceeding forward with both of those policies even more controversial than they already appear to be. This is even truer given the fact that he made the Syria decision in particular against the advice of Mattis and the Joint Chiefs of Staff. While it's obvious that there were several decisions the President had made regarding the Defense Department, including the ban on transgender troops, the creation of a so-called Space Force, and the decision to send troops to the southern border in response to the non-existent threat from a caravan of Central American migrants, it is clear that this last decision was, for better or worse, the straw that broke the camel's back for Mattis, and that's why he decided to resign at this time.
Here's Secretary Mattis's Letter of Resignation:
Jim Mattis Resignation Letter by on Scribd