Trump Sends Mattis Out The Door Early
President Trump announced today that James Mattis would be out as Secretary of Defense by the end of the year.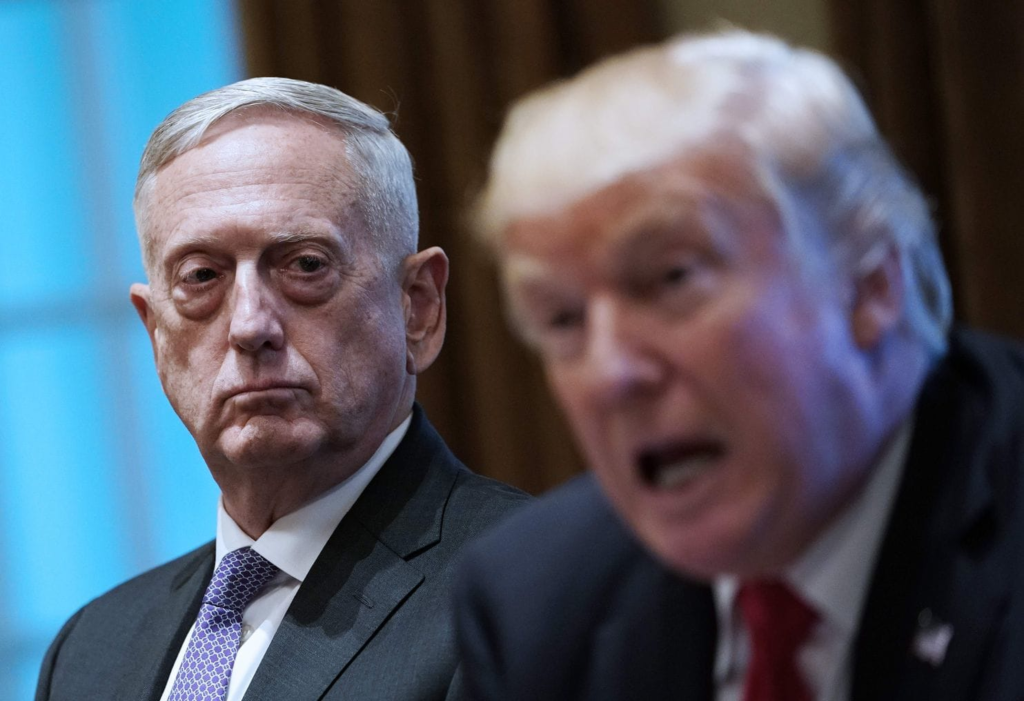 When he resigned as Secretary of Defense late last week, retired General James Mattis stated his intention to stay on the job until February so that there would be sufficient time for the President to select a replacement who could be considered and confirmed by the Senate. Instead, President Trump has decided to push Mattis out by the end of the year and named Deputy Defense Secretary Patrick Shanahan as Acting Secretary of Defense:
WASHINGTON — President Trump said on Sunday that he would remove Defense Secretary Jim Mattis, who issued a stinging rebuke of the president when he announced his resignation last week, from his post by Jan. 1, two months before he had planned to depart.

Mr. Trump, in a Twitter post, said that Patrick M. Shanahan, Mr. Mattis's deputy, would serve as the acting defense secretary.

Aides said that the president was furious that Mr. Mattis's resignation letter — in which he rebuked the president's rejection of international allies and his failure to check authoritarian governments — had led to days of negative news coverage. Mr. Mattis resigned in large part over Mr. Trump's hasty decision to withdraw American forces from Syria.

When Mr. Trump first announced that Mr. Mattis was leaving, effective Feb. 28, he praised the defense secretary on Twitter, saying he was retiring "with distinction." One aide said that although Mr. Trump had already seen the resignation letter when he praised Mr. Mattis, the president did not understand just how forceful a rejection of his strategy Mr. Mattis had issued.

The president has grown increasingly angry as the days have passed, the aide said. On Saturday, Mr. Trump posted a tweet that took a jab at Mr. Mattis, saying that "when President Obama ingloriously fired Jim Mattis, I gave him a second chance. Some thought I shouldn't, I thought I should."
More from The Washington Post:
President Trump, who aides said has been frustrated by news coverage of Defense Secretary Jim Mattis's scathing resignation letter, abruptly announced Sunday that he was removing Mattis two months before his planned departure and installing Patrick Shanahan as acting defense secretary.

Shanahan, a former Boeing executive who has been Mattis's deputy at the Pentagon, will assume the top job on an acting capacity beginning Jan. 1, Trump said.

Mattis resigned in protest last week after Trump announced the withdrawal of U.S. troops from Syria — a move that Mattis and others on the national security team strongly counseled the president against.

In his Thursday resignation letter, Mattis delivered a sharp rebuke of Trump's worldview and cast the president's foreign policy positions as a threat to the nation. Trump has complained to advisers about the brutal media commentary that ensued.
Here are the President's tweets regarding Mattis and his early departure from last night and this morning:
When President Obama ingloriously fired Jim Mattis, I gave him a second chance. Some thought I shouldn't, I thought I should. Interesting relationship-but I also gave all of the resources that he never really had. Allies are very important-but not when they take advantage of U.S.

— Donald J. Trump (@realDonaldTrump) December 23, 2018
I am pleased to announce that our very talented Deputy Secretary of Defense, Patrick Shanahan, will assume the title of Acting Secretary of Defense starting January 1, 2019. Patrick has a long list of accomplishments while serving as Deputy, & previously Boeing. He will be great!

— Donald J. Trump (@realDonaldTrump) December 23, 2018
According to his Wikipedia page, Patrick Shanahan is a former top Boeing Executive who had started with the company in 1986 and risen up the ranks to the point where he became a Senior Vice-President and a member of the Boeing Executive Council. In March of 2017, he was nominated by President Trump for the position of Deputy Secretary of Defense, the second-highest civilian position in the Defense Department. Although he ran into some trouble during his confirmation hearing when the late Senator John McCain objected to his response to questions about arming the Ukrainian government in response to Russian activity in the eastern part of Ukraine, Shanahan was ultimately overwhelmingly confirmed by the Senate in July 2017. He does not appear to have served in the military, but that isn't unusual for Secretaries of Defense in recent years.
In some sense, I suppose this move by Trump is understandable. Mattis's rebuke of the President in his resignation letter was so strong that it's hard to see how the two of them could have continued to work together even for just the next two months. Additionally, given the fact that Mattis had stated in that letter that he and President had fundamentally different worldviews, it does strike one as odd that he would be staying on trying to advise the President. While Mattis's offer to stay in his position until February so that a replacement could be named and confirmed was a generous one under the circumstances, all Presidents are entitled to have the services of people that they think are at least somewhat loyal to them. The tone of Mattis's letter makes it clear that the relationship between the two men had collapsed to the point where Mattis staying on was simply impractical.
Despite these caveats, one does have to take note of a fact that CNN White House Correspondent Jim Acosta made Twitter:
An acting SecDef, an acting AG, and an acting WH COS all during a government shutdown. #chaoschristmas

— Jim Acosta (@Acosta) December 23, 2018
What could possibly go wrong?